After weeks of routine corporate work, spending a weekend at the city going to a mall, watching movies, or playing FIFA inside closed walls does not work for me. To break the cycle, I often prefer traveling to secluded hamlets, offbeat hill stations, or even historically rich village that have not been influenced by the urban antics. Melukote is one such place humbly trying to fulfill all the above-said criteria. Melukote (also pronounced as "Melkota") is an old village located in Mandya District of Karnataka. The place has several extraordinary sites to visit, which is scattered all around the village. And almost all of those sites have a legacy to tell. Albeit with all this attraction, Melukote is not a favorite camping ground for people. The main reason for Melukote's obscurity is its proximity to other well-known tourist destinations like Mysore, Coorg, Tala Kaveri, Chikmagalur, etc. It is just 50 kilometers from Mysore and around 130 kilometers from Bangalore. But our trip started from our hometown – Chennai.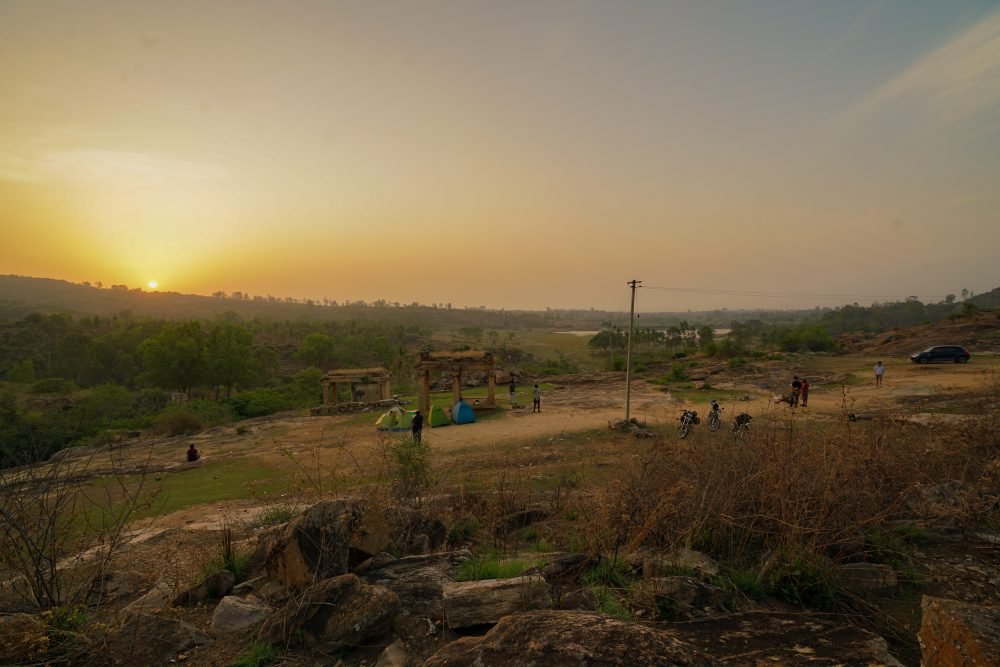 Melukote – My Journey!
Summers in Chennai can be infuriating to folks with mercury levels reaching above 40 degrees. And for this year, I did not want to visit any usual hill station to battle the heat. So, while looking for offbeat towns around Tamil Nadu, I got a call from my photographer friend Jothi (who was also kind enough to share some of his pictures for this blog). He was stationed at Melukote, documenting the village and its riches. Within a couple of weeks, I managed to gather around 15 people for the trip. Melukote is a little less than 500 kilometers from Chennai. I, along with three of my colleagues, started early to meet the rest of the group on the outskirts of Chennai. After having a short huddle about the travel plan, we began our journey towards Melukote.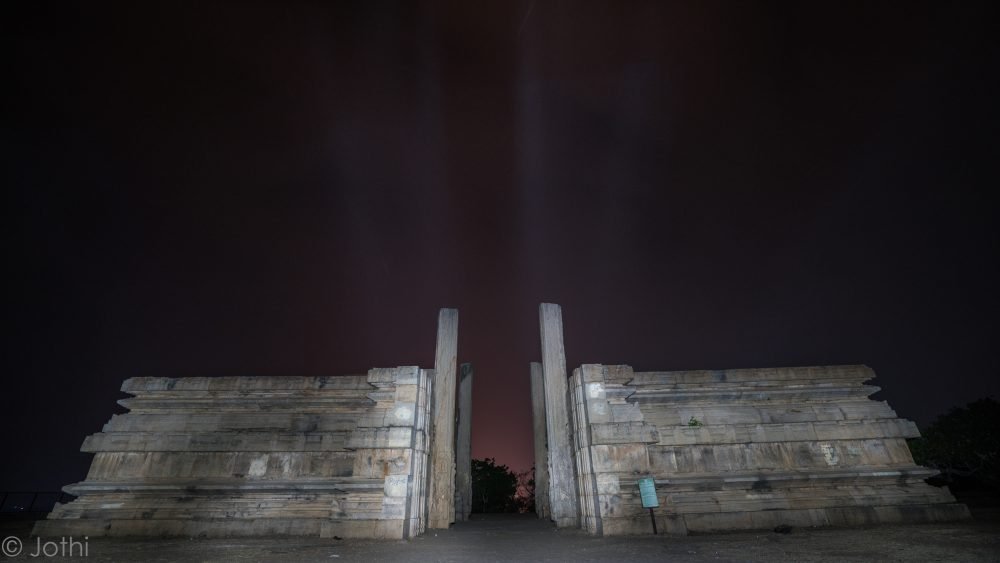 Trivia: Melukote is a cherished location for shooting rural backdrops in movies. One of the most memorable climax scenes in the Tamil film "Padayappa" starring Rajinikanth, was shot in Roya Gopura at Melkote. There are several other song sequences in movies like Aishwarya Rai starring Guru's "Barso re" and Thalapathi's "Rakkamma kaiya thattu", which have used the same location. It is also the birthplace of the late actor and Chief Minister of Tamil Nadu – Dr. Jayalalitha.
Crossing Karnataka – Tamil Nadu Borders
The initial run till Karnataka was dull as we were traveling in the monotonous Chennai-Bangalore Highway. Particularly, it was uneventful for me, as I was sleeping comfortably in the car's backseat to the psychedelic tunes of Pink Floyd. At noon, we passed through enormous arch pillars with Karnataka's sigil and a welcome sign. As soon as we crossed Karnataka Tamil Nadu Border Gate, we stopped for lunch. We had to wait a while for others, as most of them were traveling in motorbikes. Of course, it is a lot more strenuous to ride under the scorching sun than comfortably traveling in an air-conditioned car. But it's all part of the experience. We had lunch at a restaurant right after the Attibele Toll Plaza. Finding a working ATM was the next task we had, as most of the tolls did not have a POS machine (and the ones that had a machine, well, the machine didn't work). Following the cash withdrawal, we resumed traveling towards Melukote.
Tip: Stay connected with your fellow riders. Check the status of others from time to time. Also, ample rest is necessary. If a rider is tired, switch the rider to the backup car for some rest, while making someone else take over the bike.
NICE Road Confusions
Melukote is over 150 kilometers from Bangalore. And there are three routes to reach the destination – one main route that goes through Mandya, another least used route that passes through Magadi, and the longest route from Bangalore Electronic City – Tumkur Road. Before choosing the route, we had to turn to enter the NICE Ring Road. As per the plan, we had to take a diversion to join the Ring Road. But we missed the exit and entered Electronic City. The bikers went the right way and took the Mandya route, while we were meandering somewhere inside Bangalore to find the next exit to join NICE Ring Road. We lost up to an hour in the hectic Bangalore traffic. After enduring the additional congestion caused by the metro rail construction, we joined the Ring Road and subsequently took an exit towards Tumkur Road. The drive on the Tumkur Road was surprisingly pleasant, which was further enhanced by the orange dusk sky. We were an hour late to reach Melukote compared to the bikers who took the Mandya route, thanks to a wrong turn in Electronic City, and then later at Tumkur Exit. Added to that, we had to stop at every bakery or a tea shop to taste anything and everything possible!
Tip: Taking diversions and exit on NICE Ring Road can get chaotic for infrequent travelers. Even until now, my friend and I argue about the mistake during this trip, blaming it on each other (of course, he was wrong!). So, plan carefully and check the routes regularly to avoid lapse.
Next Stop Melukote
On reaching Melukote, we called the trip organizer Jothi and enquired about the camping location. The location couldn't be shared over the phone as there was almost no network coverage. The spot was also away from the village. After wandering for a while, one of the bikers came to our rescue and guided us to the campsite. Upon reaching the site, we were immediately told to turn off the car headlights. Hesitantly, we did so and got out of the car. Instantly, I realized the reason. The first thing I noticed was the dark, clear sky with splendid seeing conditions. That was a perfect spot for my astrophotography practice, as the site on that day must have been at least Bortle Scale class 3 Sky. Unfortunately, we had other plans. So, after bookmarking the site for future visits, we explored the site for a while, met others, and exchanged stories about the journey.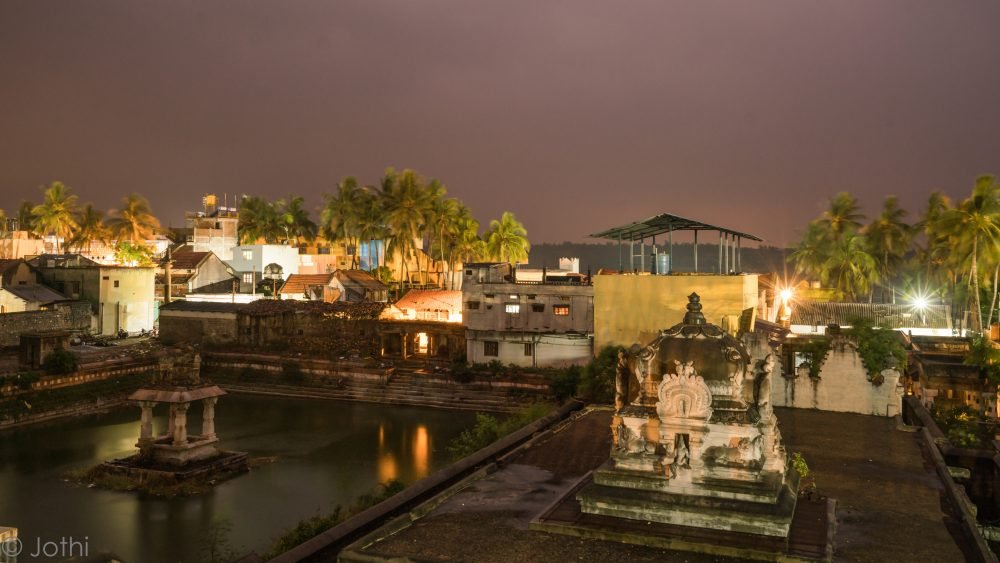 Trivia: Bortle Scale is a means to measure the night sky's brightness. Apart from its scientific usage, it is practically used by the astronomers and astrophotographers to observe and image celestial objects. Bortle scale value ranges from 1 to 9, where 1 is the best dark condition devoid of light pollution.
Food, Music, and Party
A campfire was lit, and tents were laid a bit away from the zone. There were also a few mandapams (ancient sheds) in the location, which we used as a makeshift shelter. Dinner was arranged from a nearby bistro. The dinner menu was exquisite with the traditional ragi mudde with chicken curry. It is a simple, age-old Kannada recipe made from finger millet flour and water. Mudde is highly nutrient and also has to be eaten in a specific way – swallowed directly after dipping into the curry. Once the dinner was done, everyone settled around the campfire for casual conversations and more. We had a musician in our group who captured the audience with his guitar and vocal skills. The next person tried a poem that he had written. Continuing on that note, everyone had an engaging gathering. And at midnight, we had a birthday celebration for one of the guys. Failing to get a cake in that rural area, we used the mudde as a substitution, and it worked! With the weather getting colder, there were no signs of people sleeping as few were dancing around the campfire and others gazing at the stars.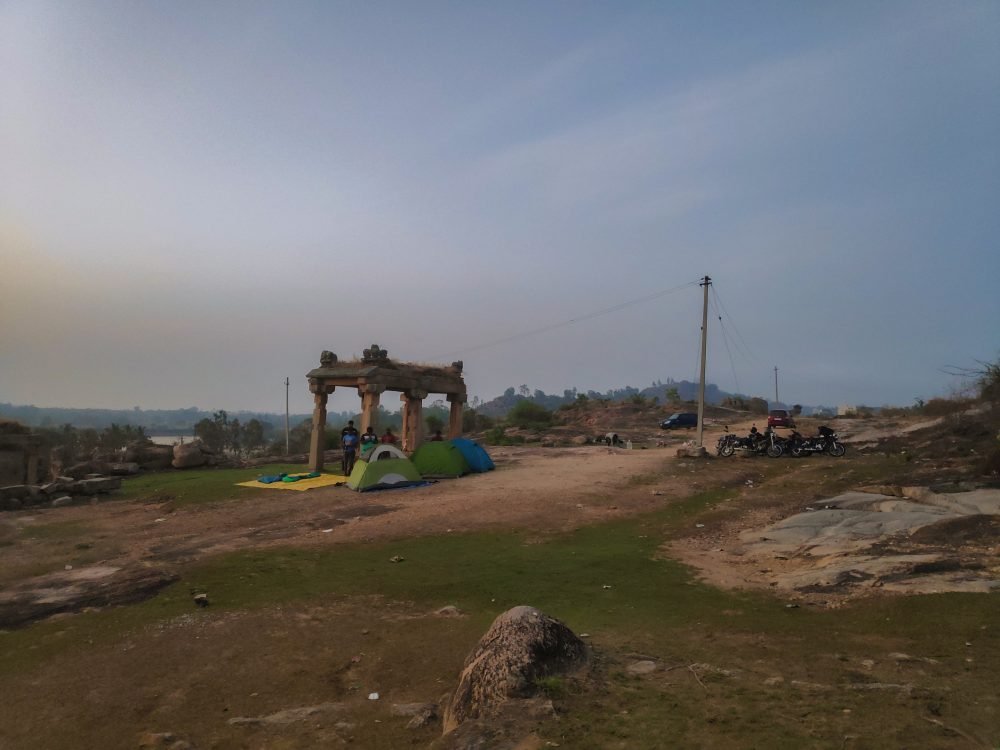 Tip: Melkote being a quiet and conservative village, camping should not cause any hindrance to the locals in terms of loud music or leftover trash. In case you are camping at Melkote, make sure to avoid pandemonium and be responsible.
Morning Exploration
After managing to get a few hours of sleep, I woke up before sunrise. The sky was moderately lit even before the first light. The site was completely different than what I had imagined. It actually was hilly and rugged. I immediately grabbed my photography gear and ascended on a rocky dune to capture the alluring landscape below. And the timing was just right, as the sun slowly rose above the skyline. For about an hour, I spent above the mound clicking pictures and enjoying the quaint scene.
Later, some of us explored the caves neighboring the site. Melukote has a whole slew of caves disseminated across the area. Adjacent to our site, there were few man-made caves that were carved beneath gargantuan slabs of rock. These caves hold important portions of Melukote's history.
History Remembered
Every corner of Melukote is rich in terms of historical value. The place is the epicenter of Sri Vaishnavism and the people following the philosophy are ardent followers of Sri Ramanujar. Ramanujar, a pioneer of the school of thought, chose Melukote as his place of refuge. He fled from his kingdom and settled in Melukote when his ideology was despised by the ruling Chola king. Settled in Melukote, he preached his philosophy and reformed the religion as we know it today. His years at Melukote led to the construction of numerous temples and its tanks in the town. And his followers gathered from all around the country to Melukote and settled there. That is the reason for the sundry caves in the region. After centuries, to this day, the caves have traces of human settlements. The caves that we entered had three distinct portions inside – an elevated slab used as a dormitory, a central multipurpose space, and another corner used as a kitchen (which could be easily identified because of the charred roof and floor).
Trivia: Since the late 17th century, people in the region do not celebrate Diwali commemorating the brutal massacre of hundreds of people by Tipu Sultan's army. Apart from this event, Melukote was subject to several other raids in which temples were looted and burnt.
The Majestic Water Tanks
The temple town of Melukote is also home to 101 water tanks constructed ingeniously in the hilly terrain. It is built in a way that once the tank in the elevated ground is full, the surplus water will be distributed to the corresponding tanks situated in lower ground, and so on. The tanks were sagaciously interconnected through a network of canals. Even in this technologically advanced era, governments are finding it difficult to fight drought.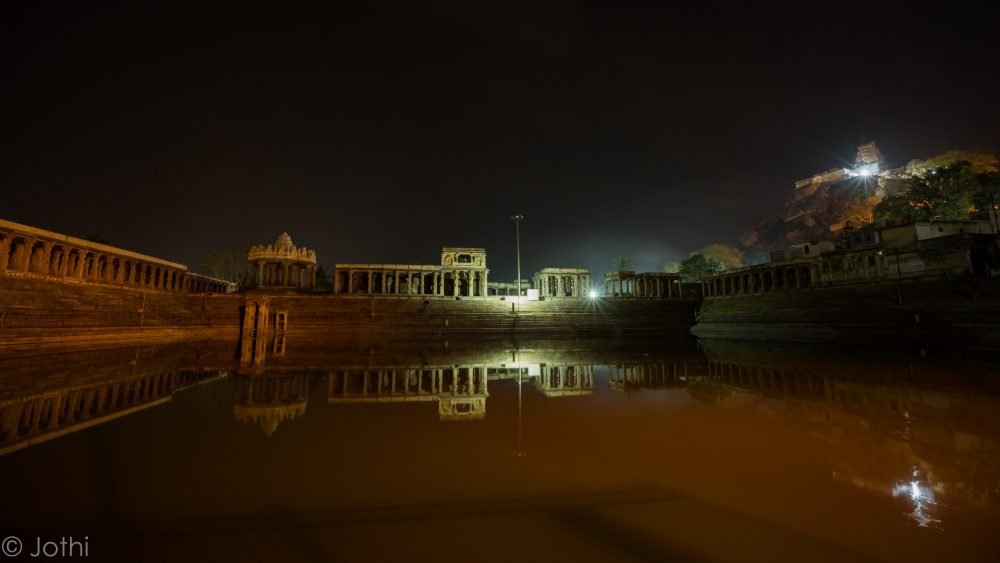 But in Melukote, these interconnected water tanks speak volumes about water management during its heyday. Currently, some of the water tanks are well-maintained by the temple administration, while others have lost its glory and needs attention. Although we visited just a couple of water tanks in the morning, we could realize the complexity at work. Of course, after reaching the tank, all of us dived in it for a refreshing bath.
Tip: The age-old water tanks can prove to be risky if you imprudently march down the steps, as almost all of the tanks had algae-covered steps.
Melukote – Things to Know!
What to Do: Melkote is predominantly visited for its religious sites. Cheluvanarayana Swamy Temple and Yoga Narasimha Swamy Temple are the two most important temple complexes present in the location. They are pilgrimage sites highly revered by the Hindus around the country. The latter is housed on top of a hillock, and there are steps leading to the temple entrance. Melkote Temple Wildlife Sanctuary or Melkote Wolf Reserve is located very close to the village. Wolf, Leopard, Black Buck, Spotted Deer are some of the regnant fauna in the region. Academy of Sanskrit Research is also present in Melkote, which has an in-house library with thousands of manuscripts and books. Although I am not interested in visiting temples for its religious value, I adore the architectural, historical, and social value of these structures. Besides temples and its tanks, you can find a camping ground effortlessly in and around Melkote.
When to Travel: Avoid peak summers, as the conditions would be harsh. The best time to travel would be right after rains, as the water tanks would be brimming with fresh water.
What to Carry: In case of camping, carry tents or sleeping bags, and torchlight.
How to Travel: Melukote is well-connected to Bangalore and Mangalore through roadways. State government buses are regularly available from and to all major towns around. Own transportation is suggested to have the best experience.
Melukote – Key Takeaways!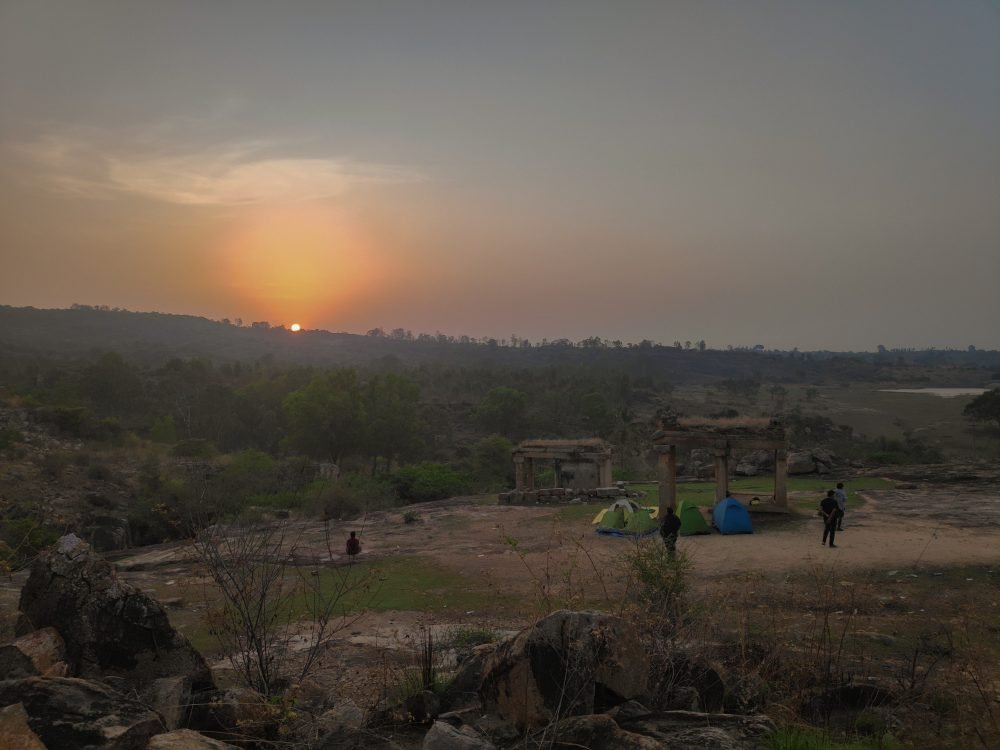 The archival town of Melukote was a startling experience for me. It took me centuries back to its prime days, as the place still holds its intrinsic character. Every cave we entered, the pond we dipped into, and the temple that we visited have myriad memories attached to it. Added to that, the place also provided a safe and unequivocal camping experience. You can visit Melkote for a day or perhaps settle down for weeks together like my friend Jothi. You will not be disappointed, as it surprisingly has a lot to offer.