In Karnataka, the Sharavati river serves as a primary source of freshwater to the surrounding districts. Spanning approximately 100 kilometers, it is one of the few east to west flowing rivers in India. And the river basin has been declared as a wildlife sanctuary, as it is a natural habitat for multifarious wild animals. Some of the animals found in this valley are indigenous to the region. The sanctuary spans a little above 400 square kilometers and offers some of the best views in and around Karnataka. Back in 2017, I, along with a dozen friends, had the opportunity to visit the region. Here's what happened during our trip!
Sharavathi Valley – My Journey!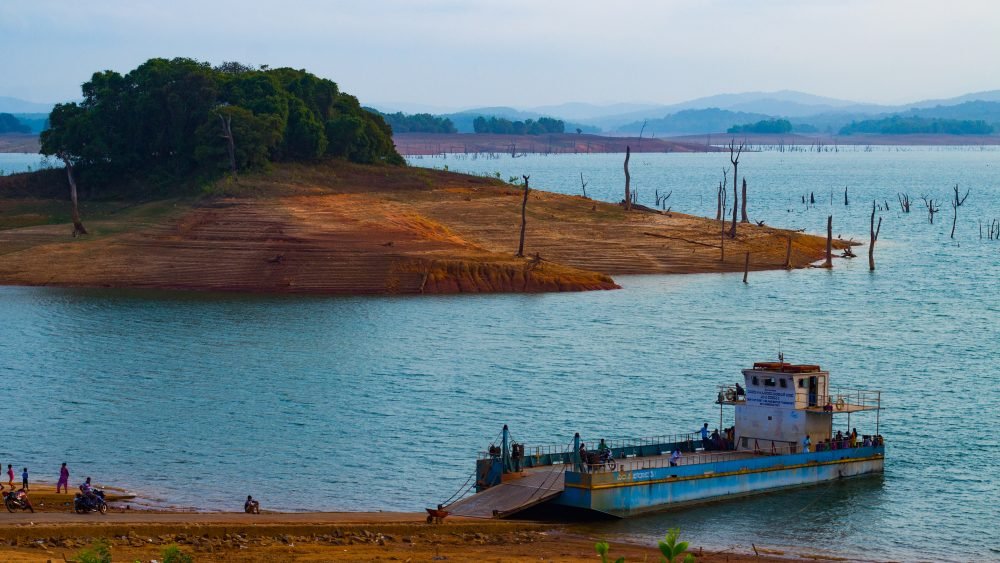 The troop comprised bikers of both genders and a backup car to carry the luggage. We were on a road trip to Goa from Chennai. Our plan was to explore as many places as possible on the way. And accordingly, we chose the route that passed through Bangalore and Shivamogga. Everyone, except me, started from Chennai and reached Bangalore. Because of important work, I had to stay back and ride to Bangalore later that night. So, in a borrowed Royal Enfield Classic 350, I started from Chennai at midnight.
The Sleepless Ride: With little to no sleep, the initial ride till Kancheepuram was frantic. That was partially due to the reckless movement of heavy container trucks, but majorly because of the fatigue from a hectic day. After just one hour of riding, I felt tired and sleepy. I realized I had to stop for refreshing before something awful happened. Within a few minutes, on seeing a bunch of colorful tube-lights (mostly green) on the road, I stopped. During nights, the tube-lights on highways are welcome signs erected by the 24-hour shops and eateries. After having a steaming cup of tea and relaxing for a bit, I continued to ride ahead. In my usual rides, I hate to stop for breaks within a short period of time. I have a thumb rule to stop every 100 kilometers in highways or every 1 hour in not-so-good inland roads. But due to the stated reason, the ride that night was an exception as I stopped for umpteen times. I picked up pace after crossing Vellore, as I had to reach Bangalore by morning 6 to join the rest of the crew.
Tip: When feeling tired or drowsy, stop the bike, get off and relax yourself for a minute, have some water, stretch for a few minutes, and then continue your journey. Stopping at a roadside tea shop for having a hot refreshment would help. Also, to avoid drowsiness, pop a chewing gum while riding (chewing gum is a lifesaver).
The Rendezvous: With heavy rock music blaring at the left ear and the cautious right ear open to the scarce highway traffic, I made it till Krishnagiri, where I had to take a right turn to reach Bangalore. The time was six already, and I did not reach Bangalore. I called my friends and came to know that they were already waiting just outside the NICE Ring Road's exit towards Hassan. After a tiresome and sleepless ride, reached the spot around 7.30 am to meet the guys finally. After the formal meet and greet, all of us had the famous thatte idly for breakfast.
Finding a Nap Spot: I absolutely needed at least a few hours of sleep. So, I exchanged my bike for the backup car. After informing the bikers to move ahead without me, I drove the car to the nearest Café Coffee Day along with one fellow traveler. Regular bikers know the significance of Café Coffee Day outlets scattered all around India. It is an amenities-rich oasis in the desert called highways, where almost everything is available right from light refreshments to gourmet coffee, a chocolate chip cookie to a tandoori chicken sandwich, a cozy couch for having a refreshing nap to a clean lavatory. As soon as I entered the outlet, I ordered a mango milkshake and a spinach corn sandwich for myself and a chicken burger for my friend. Even before receiving the order, I found a corner space with a couch and rushed to take the most sought-after nap.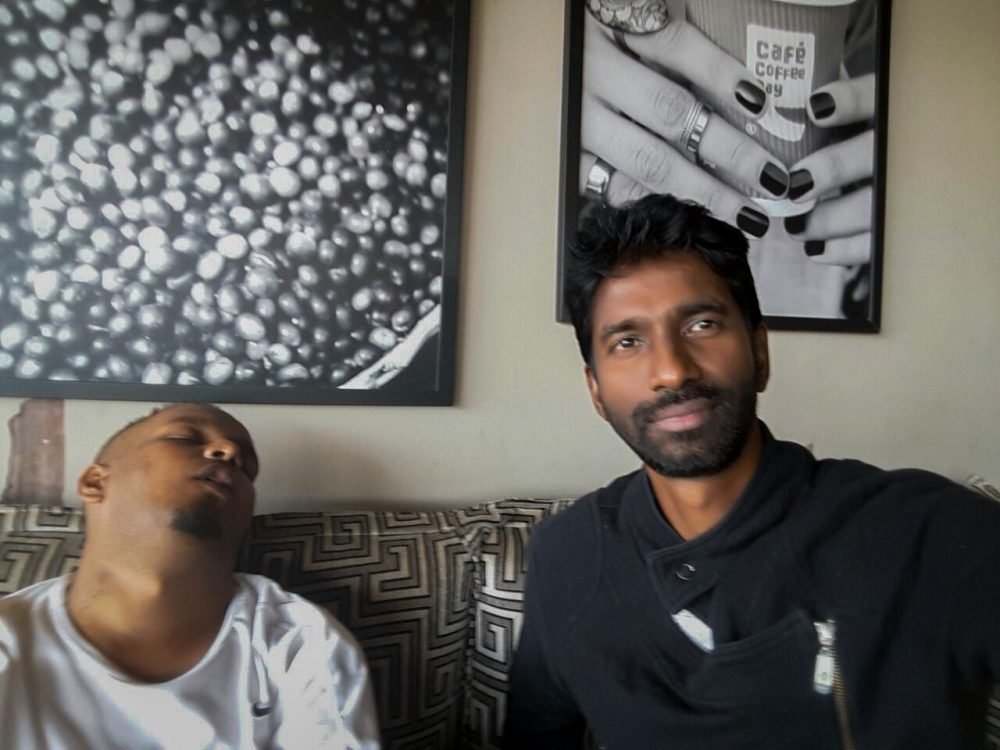 A power nap for a little less than two hours was more than enough for me to recharge my batteries for the day. I woke up to find a warm pet-bottle with just a mango milkshake. It turned out they did not deliver my sandwich as per my friends' request. I requested for a cold milkshake in exchange for the warmer one along with my sandwich. The waiter smilingly obliged. On all our road trips, we will have Coffee Days along the route in mind. Their unflinching service quality has generated its loyal customer base. Although this is not a paid endorsement for Café Coffee Day, I believe they deserve these kind words.
Tip: Remember, there's no shame in stopping for a break. Especially when riding in groups, seasoned riders tend to ride faster and with fewer breaks in between. In case you're having a hard time riding, feel free to let the group know about it.
Towards Shivamogga: After a satisfactory rest, we departed towards Shimoga (as the locals call it), whereas the others went on to explore regions around Chikmagalur. We spent the whole day traveling to Shimoga in the car, and while doing so, missed some of the best architectural sites in the state.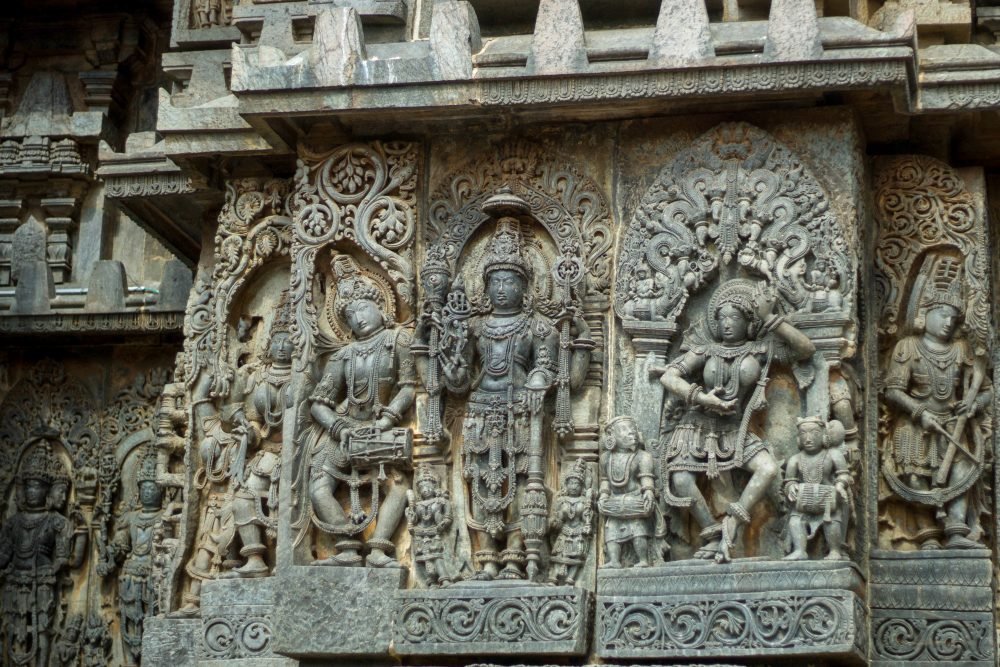 But safety is always penultimate as we had no other choice. I had to settle for some sleep, while my friend was unable to drive the car because of back pain. Finally, we reached Shimoga after hours of driving. We planned to meet the other group near Gopi Circle – a bustling market area in Shimoga.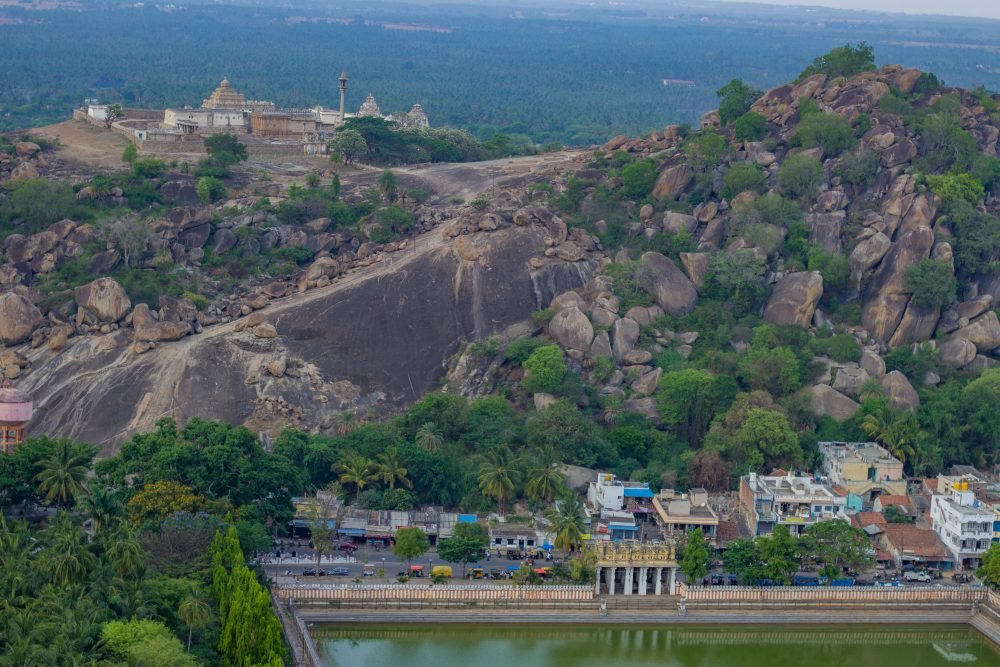 Night at Friend's Terrace: I joined with the other party as planned. And for dinner, we visited the nearby food street as suggested by one of the locals from our gang. He guided us throughout the state and also, let us stay at his homes at Bangalore and Shimoga. On entering the food street, we all were overwhelmed by aroma emanated from the 50-odd stalls. Shimoga, apart from its own traditional cuisine, also borrows from Mangalorean and Maratha cuisine. We filled up on desi chaat items and, for takeaway, ordered fried rice, naan, and accompaniments to go along with it. Within an hour's drive, we reached our friends' native home, which was on the outskirts of Shimoga town. His parents greeted us on arrival. Soon, we made our way to the terrace, which was that night's dining and sleeping place. The weather was pleasant and contributed to my proper sleep after days.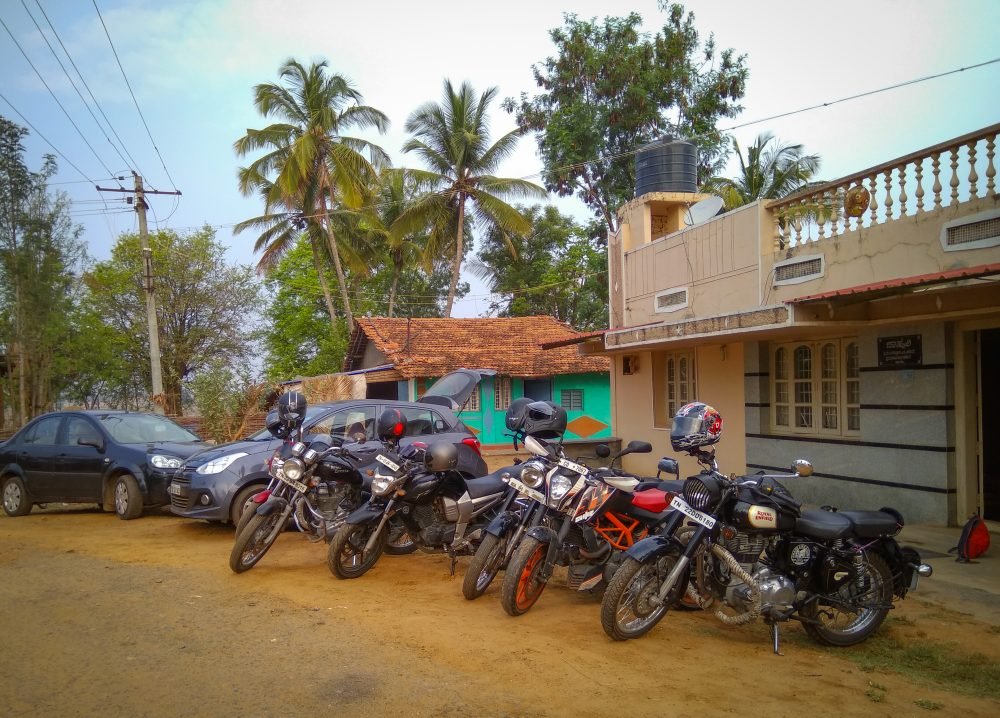 The Sharavati Basin: The Sharavati River Basin provides diverse experience with its contrast terrain and varying environmental conditions. Our plan for the day was to explore the Sharavati Basin, which has several sightseeing spots. Despite having multiple stops en route, all of us got up a bit late around 8 am, had a bath in nearby waterfall, and proceeded leisurely towards the river basin. The road towards the basin (which has been declared as a wildlife sanctuary) was scenic with tall timber-yielding trees on either side. The dense vegetation also helped in maintaining a cool atmosphere throughout our ride.

After riding for a couple of hours, we noticed a change in the surrounding flora to be diminishing. And within minutes, we reached a wide-open space with little-to-no trees around. We realized that the place was backwaters of the Sharavati river. It was contrary to our path till then, with arid red soil to be seen till the horizon and patchy islets amidst the azure backwaters.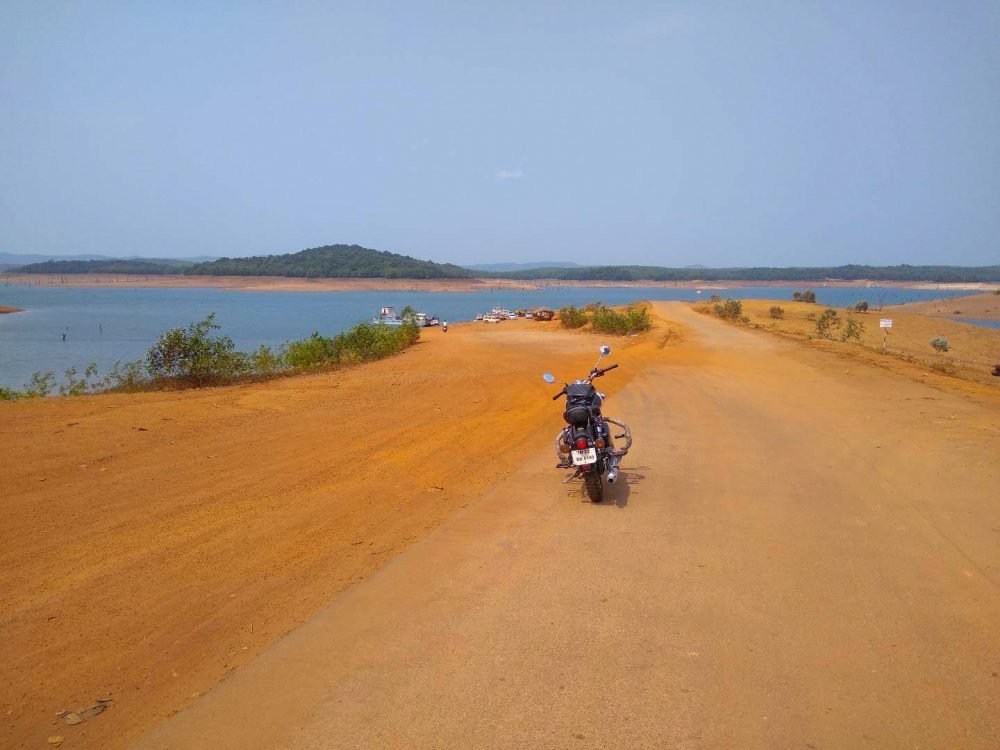 As said earlier, the conditions changed quickly within few kilometers with no greenery to be seen (except for the parched tree trunks rising from the backwaters). Still, the location was picturesque, and the backdrop was a much-needed variety.
Trivia: A river basin is an area where a series of smaller streams combine to form a larger river, which eventually drains into the ocean.
The Backwaters: The terrain offered an open dirt track of sorts, as we took turns riding the then-newly launched KTM Duke 390. After walking around the mounds and taking pictures, we had lunch at a small hut-turned-eatery located near the backwater shore.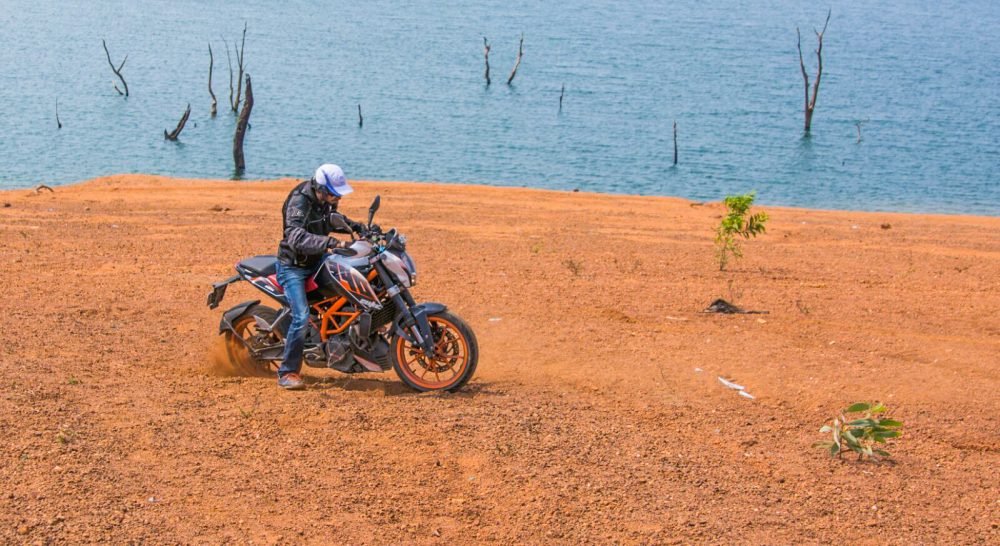 I still remember the place as it had the best Puliogare I have ever had. Karnataka is famous for its Puliogare, and I have eaten it all around the state. Still, this small unnamed joint outplayed their competitors by miles, in my opinion. Then, we had to go across the backwaters to the other side and continue our journey. There were two options for us – to circle all the way around the backwaters for around 15 kilometers to reach the opposite side or take the ferry ride for 20 minutes. Of course, we took a ferry ride with our vehicles onboard. The ferry was crowded with tourists, locals, and also vehicles ranging from mopeds to heavy trucks. The state government maintains the ferry service, and the ticket rates are reasonable.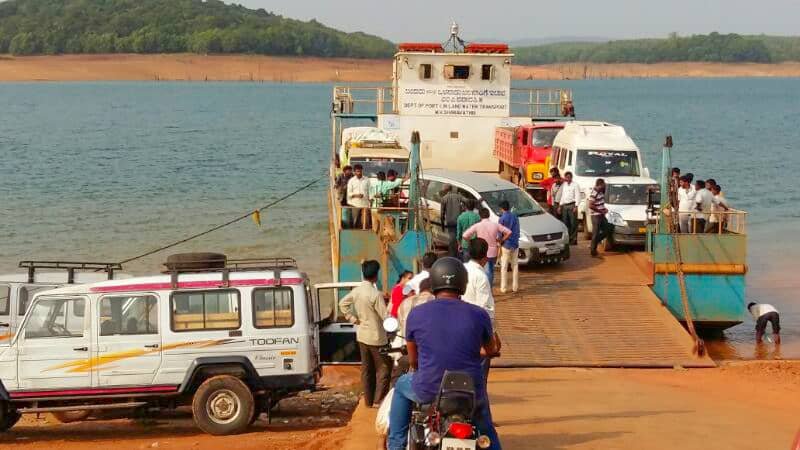 Camping at a School: After the ferry ride, we spent the evening exploring spots in and around the wildlife sanctuary. We did not go deep into the region as we did not have the time nor the necessary equipment to venture into a wildlife sanctuary. The sky turned darker at a moment's notice, and we were not prepared for the night. We could have gone back to the backwaters to camp, but the place was unsafe to camp and added to that we did not have permissions from the respective officials. We had to improvise and find a secure place to camp. As we were hunting for the right location in a small village near Sagar, a playground was visible, and immediately, we hoped to camp at the place. But before setting up the camp, we needed to ascertain a few details like safety, weather, permissions, etc.
When we got into the playground compound, we noticed it was a government school. This warranted for permission, as the playground was within the school premises. So, one of my friends who knew Kannada went to a nearby house and enquired about the place. Fortunately, it was the local councilor's house, and he gave us the approval without hesitation. The tents were laid around a flagpole, which was situated in one corner of the playground. We spent the night gazing at the stars and recollecting the memories of the day before. Everyone retired to their respective tents just hours before dawn. We had to wake up before the sunrise and leave without troubling the local residents. Therefore, all of us half-mindedly got up and left towards Jog Falls.
Tip: Never compromise on your or your group's safety. You sense the bike chain to be loose? Stop and take care of it. Feeling sleepy? Stop, refresh, and then proceed. Still sleepy? Find a spot for a quick power nap. Lost your way? Stop and check your phone for the right direction or better ask a passer-by. Though you might find these issues to be trivial, there are lots of awful incidents caused because of these!
The Dawn Chorus: The roads leading towards the world-famous Jog Falls were extraordinary. Though I would not term the terrain as hilly, it offered us just the right blend of elevation and turns. We reached the Jog Falls Bridge just as the Sun climbed above the horizon. Instead of proceeding further towards the falls, we spent up to an hour on this bridge. And the time spent was totally worth it.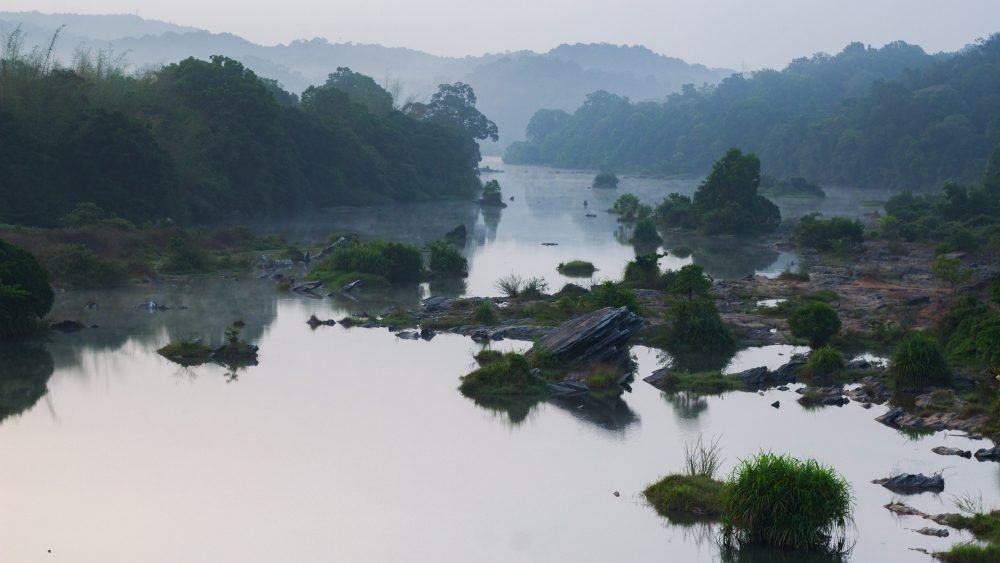 The lighting was just perfect for the photographers (Jothi and Harish, who took a few of the images in this article) in our group to take charge, as others took turns for their images to be taken. In the meantime, I had the opportunity to observe the river below and the thickets on both sides. The region was flourishing with wildlife, especially birds. I still can remember the sweet music orchestrated by Koels (Indian Cuckoo) hidden in the bushes. We tried recording the sound but terribly failed at doing so, as the high-frequency melody was too delicate to be captured. But never have I ever experienced such beautiful bird calls.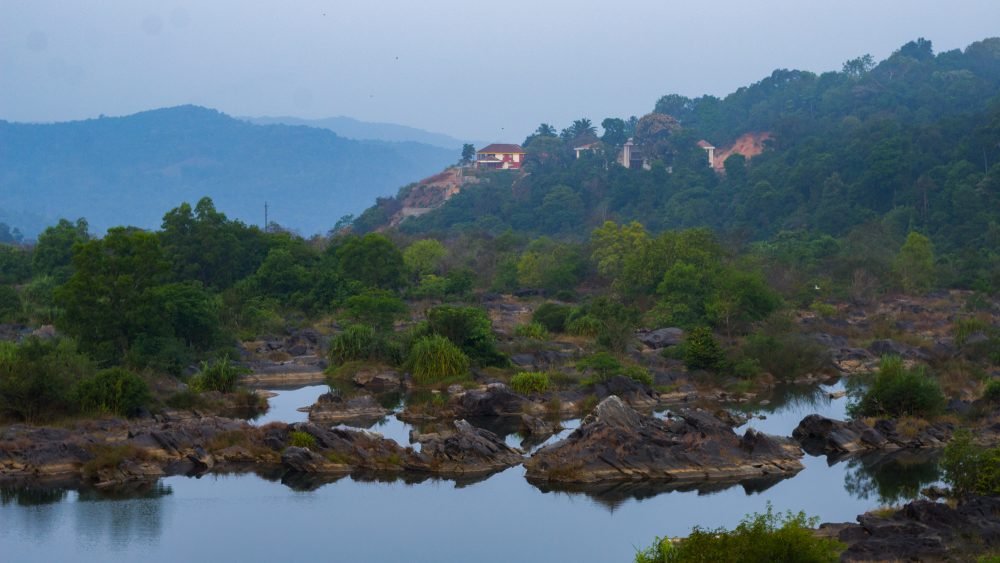 Later, we moved towards the Jog Falls, which was just 5 minutes away. After parking our vehicles, we had to walk a few minutes to reach the viewpoint. The Raja Falls (The tallest among the four cascades of Jog Falls) was not at its prime, as there was just a thin cascade falling hundreds of feet into the ground. Our timing to visit the falls was not right, and in case, if you are planning to visit the Jog Falls, plan accordingly.
Trivia: Jog Falls has been ranked 13th in the waterfall database and is the second-highest plunge waterfall in India. Plunge waterfalls drop vertically without contacting the underlying rocks.
Sharavathi Valley – Things to Know!
What to Carry: If you are visiting these places on a road trip like us, then be prepared with the biking essentials like protective gear (helmet, jacket, guards, and shoes), basic bike tools, sunglasses, power bank, GPS enabled phone with downloaded route map, Flashlight, Tarpaulin, tents or sleeping bags, etc.
How to Travel: The best place to explore the Sharavati Valley Wildlife Sanctuary is from Shivamogga Town. Shivamogga a.k.a. Shimoga is one of the main towns in the state and is well-connected to other cities through roadways and railways. The town has all the facilities like hotels, restaurants, malls, etc. There are also tour services available from Shimoga town to the Wildlife Sanctuary and Jog Falls.
What to Do: Sharavati Valley Wildlife Sanctuary offers a lot of sightseeing places with diverse conditions within a small region. The backwaters and the ferry ride are not to be missed if you are nearby.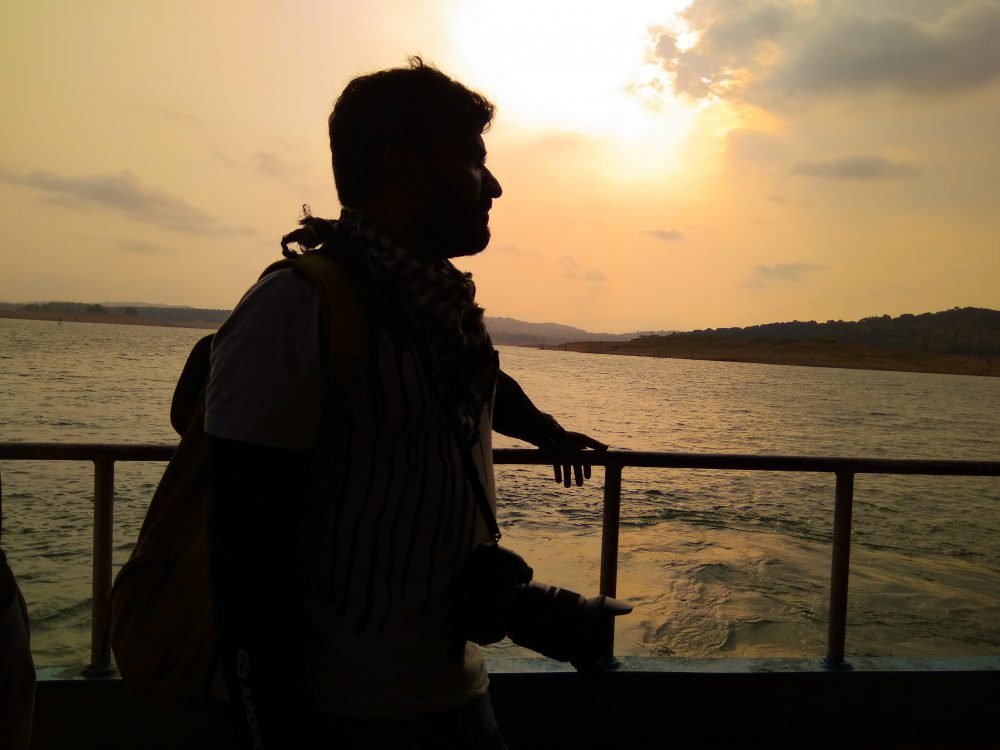 There are numerous ancient temples famous for its intricate architecture all along the way. Shri Murudeshwara Temple with the gargantuan Shiva statue is located a few hours away. In Shimoga, you also can go for Tiger and Lion Safari. The region is thriving with wildlife and is a favorite ground for photographers from all around the world.
When to Travel: There are no restrictions on traveling to any of the above-said places. It is suggested not to travel during monsoon for a comfortable trip. Once the monsoon ends, you will have the chance to witness Jog Falls in its full glory. Added to that, the backwaters also would be in good condition.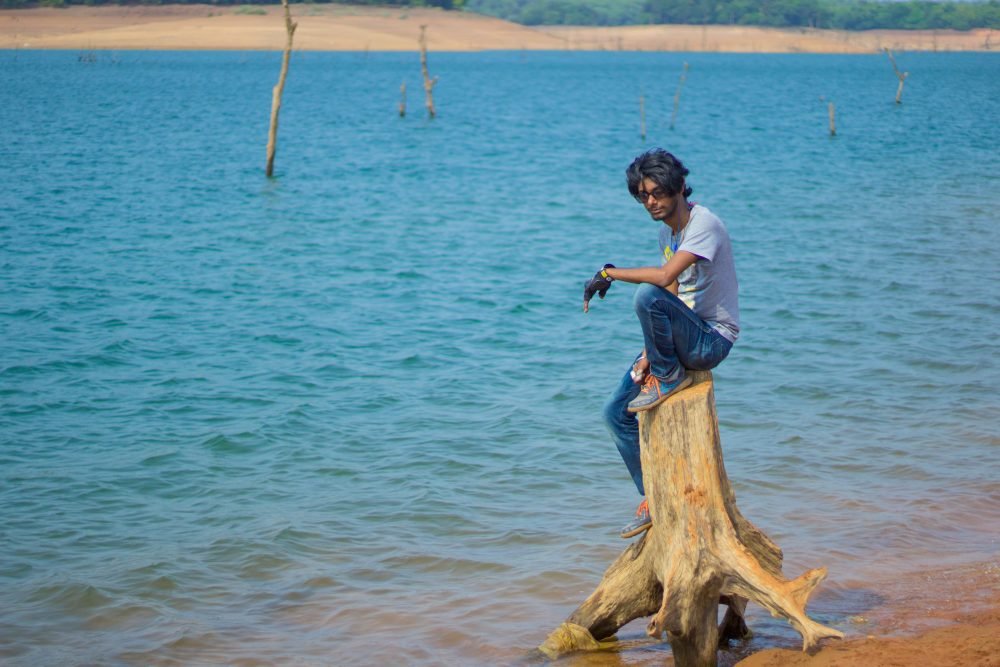 Sharavathi Valley – Key Takeaways!
After the Jog Falls visit, we continued our journey towards Goa. The afternoon ride in Uttar Kannada was exhaustive due to the hot and humid weather. But once we went past the Goan check post, the ride was smooth again in its narrow highways. Finally, after three days of an exhilarating ride, we reached Goa. Each and every day was unique and offered contrasting experiences.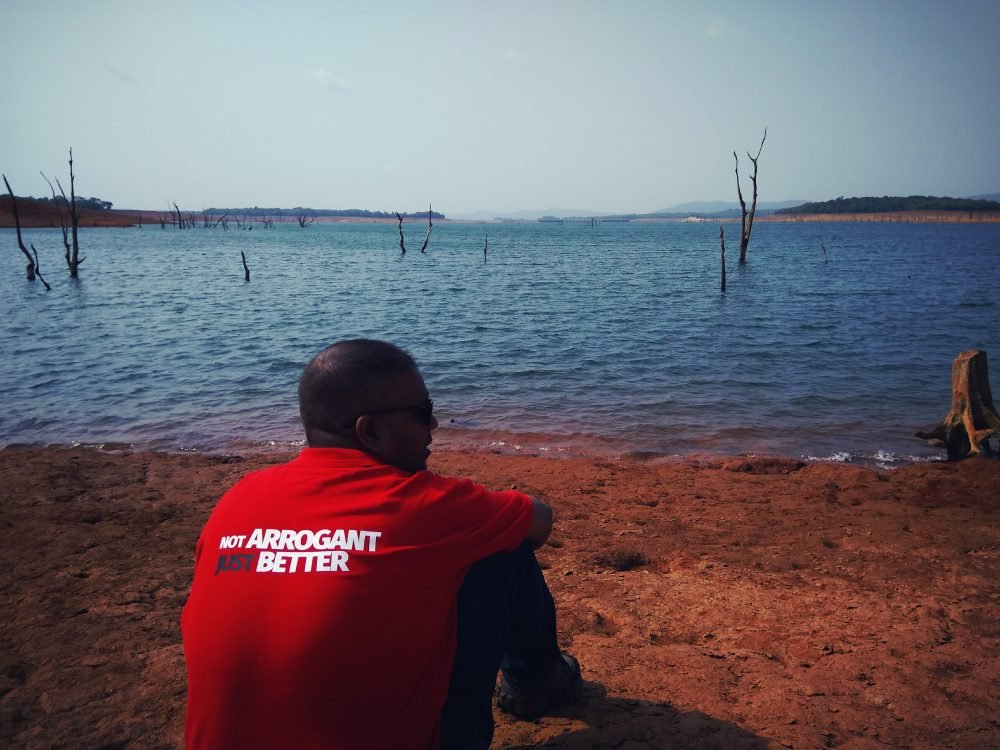 Most of the young Indian traveler's hope would be to travel to Goa with friends. We could have visited Goa by train or flight (which is a separate experience in its own), but it would not have offered us the adventures that we had – be it the camping night at a public school, the power nap at a coffee shop, or visiting offbeat places like the backwaters at Sharavati Valley Wildlife Sanctuary.