Work – a tiring torpid routine most of us continue doing week in, week out dispassionately to make ends meet, all the while accumulating more wealth for the corporate overlords! Although this definition of work does not apply for all, it is how I define a nine-to-five job. Added to the heavy workload, it was a ruthless summer in Chennai, and it made me go berserk. While the weather was blistering hot in Chennai, there was a storm brewing in the Indian Ocean, with Southern Tamil Nadu and Kerala being the likely targets. That was reason enough, and without any concrete planning, five of us from my office decided to skedaddle off down south. Our destination was Kutralam (Courtallam – anglicized official name), which is 600 kilometers away from Chennai. The Kutralam town is what it is because of the waterfalls in the region and an enormous tourism business generated by them. It is a dainty tourist hotspot that gets congested during peak season and desolate while offseason. Our journey, as mentioned, was a spontaneous and extremely short one, as we just had a weekend to traverse approximately 1500 kilometers, all the while exploring few locations. If you also need a similar experience to break your dull routine but hesitant to go for it, then this writeup should motivate you!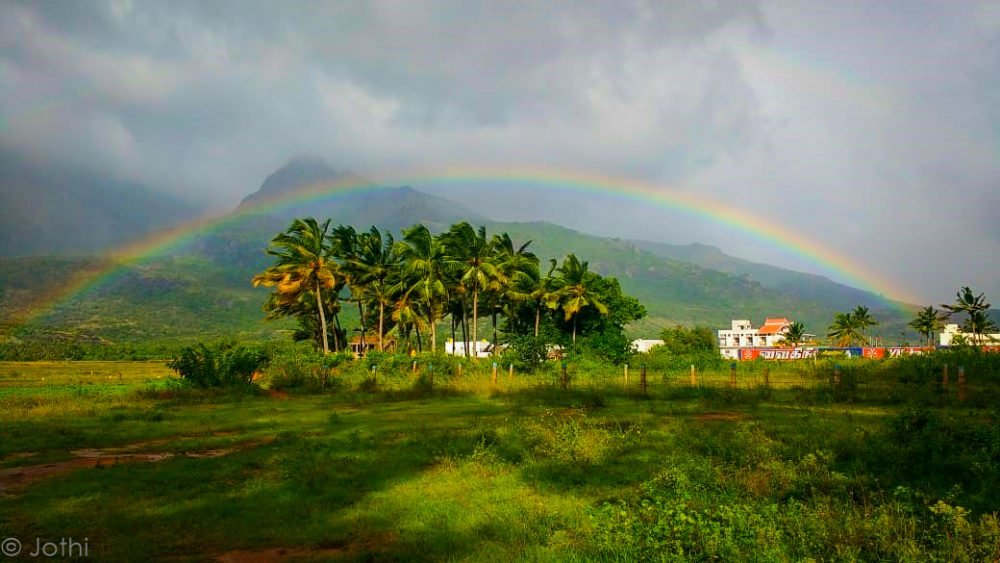 Kutralam Falls – My Journey!
If we had to choose a favorite day of the week, I believe we unanimously would choose Friday – the last weekday followed by two days of relief. Rightfully, most of us would love to party on a Friday or Saturday night so we can have ample time to recover from a bad hangover caused by a bottle of Bacardi. But this one Friday, we partied, but a party of a different kind. With no hotel bookings or any route plan, we were prepared to improvise in any situation. It was 7 pm, and we clocked out on time. Everyone rushed home to take the bare essentials, as it was just a two-day trip and nothing more. Later, around 9 pm, we met at a common point and began our journey.
Beating the Traffic!
Getting out of Chennai from the southern exit through Tambaram is almost an impossible task without wasting hours. From 8 pm – 11 pm, the traffic in the NH45 would stretch kilometers from Chrompet to Chengalpet. All intercity buses and private vehicles move through this road at that time. Therefore, we took an unconventional, longer route through OMR (Old Mahabalipuram Road) and joined later at Chengalpet. Although this is a long way, we would save ample time and cover more miles comparatively. Just before reaching Chengalpet, we stopped for food in a small roadside diner. There are several such joints one after the other throughout the NH45 with appealing green lights welcoming the wayfarers. The diner proved to be a supernal place that served a basic menu with exceptional taste, that too at easily affordable pricing. If you get a chance to drive through this path, instead of visiting the first-string establishment, gamble on a small highway diner!
The Overnight Drive
Having a filling dinner made us sluggish, but we just got started. Pushing the lethargy aside, I drove for hours together with just a couple of short breaks in between. After 4 hours' drive, we reached Trichy outpost for refreshments. We had a steaming hot ginger tea to shake us up for further travel. I switched seats with my friend at the backseat and made him drive further as he had an adequate sleep till then. Trichy is the central transport hub of Tamil Nadu, and again the roads here get crowded even in early mornings. Drive from Trichy to Tenkasi (where Kutralam is located) through Madurai is a narrow rural highway with agricultural lands on both sides. The time was around 5 in the morning, and still, we could see no signs of the sun. The sky was not cloudy as well. This made us skeptical about the rainfall predictions on Southern Tamil Nadu. If we failed to experience the storm and its rain, the whole purpose of the trip would've been defeated. With little hope left, we proceeded towards Madurai.
The Morning Routine
It took a little above 2 hours for us to reach Madurai. We were deliberate to avoid entering Madurai city and maintained on the bypass. We stopped for breakfast at a decent South Indian restaurant. This time we could not stop at a small roadside eatery keeping the facilities in mind. We needed a restaurant with proper restroom. If we miss this stretch, then we wouldn't have had a proper place for hours. And, trust me, never gamble on such affairs. So, during travel, always keep this in mind and stop at the right place. We could have used Coffee Day, as I have said in my previous articles, but at 7 am, in and around Madurai, it is not possible. You also can go one bit higher and look for a 4-star hotel for the facilities (that is if you don't mind paying 500 bucks for a sandwich and coffee). When you are traveling every month like us, you will have to find frugal ways to cut costs whenever possible.
Tip: Did you know you can use basic facilities at a hotel like drinking water, restrooms, etc., free of charge. Indian Sarais Act of 1867, empowers you with this privilege and you can exert this right at a five-star hotel or even a small hostel.
Towards Tenkasi
The restaurant that we stopped in the morning offered a good breakfast and even better restroom facilities. Subsequently, we proceeded on Tenkasi-Madurai Road. During this stretch, I was scoping for places to visit in and around Kutralam. I remembered that my friend Jothi's hometown was Kadayanallur – a small village en route. Hence, I called him to inquire about the places to check and was pleasantly surprised knowing he was already in his hometown with another tribe of travelers. He also added that the weather was pleasant with intermittent rains.
With this much-needed boost, we selected Kadayanallur as the upcoming destination. We had 3-4 more hours to reach his place, but the trip got further delayed because of the stops we made. One of the guys in the car was obdurate about stopping at Srivilliputhur – a town renowned for its Palkova. As a matter of fact, Srivilliputhur has its GI tag (Geographical Indication tag) for exclusively producing its Palkova. It is a sweet made by condensing milk along with a few other ingredients. In case you happen to cross the town, be sure to treat yourself with this sugary delight.
Trivia: While writing this blog, Tenkasi has been announced as the newest district in Tamil Nadu. It has been sliced out from Tirunelveli District. Kutralam now is a part of the newly formed Tenkasi District.
Eye of the Storm
Distractions should be avoided at all costs. That's how we started the trip. But we already knew that we were not going to follow it. Since we had one too many breaks, we could not catch our friends stationed at Kadayanallur on time. They went out to visit Thenmala Dam. However, the good news was that it started to drizzle on our way to Kadayanallur. Even though we all ate lumps of Palkova, our gluttonous minds took the better of us and made us drive in search of food. We could not find any shop to be open on the highway, and trusting Google Maps, we turned to a confined rural road. And within minutes into the road, it started raining cats and dogs. It turned out to be one of the best driving memories I have ever had, as Pink Floyd's Seamus was playing in the car stereo, which countered the violent storm outside.
We joined the other end of the highway within half an hour, and still, there was no trace of rains calming down. In fact, the storm stepped up its game. We reached a rickety luncheonette for afternoon meals. Rainwater was already dripping inside through the tiny gaps in the roof that was made out of palm leaves. We found a corner without a leak, but that was not for long, as the sidewall, which was just a tarpaulin flew away. Still, we were content with the interrupted lunch we had. Well, rains were what we had wished for, and we got it!
Tip: Before any road trip, have a look at weather predictions for the regions you are traveling to. Bike trips can be deadly under turbulent and stormy conditions.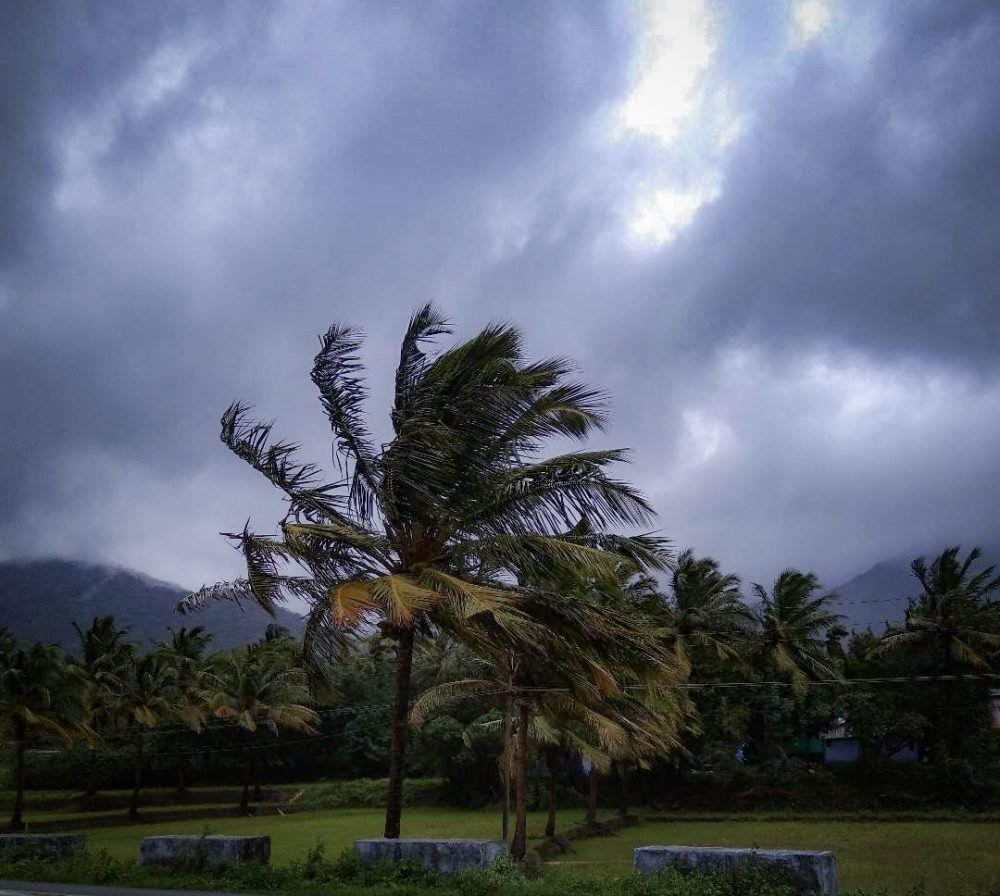 Kadayannallur
The car was parked roughly ten meters away from the eatery, but still, we got drenched when we attempted to run to our car. We continued our journey towards Kadayanallur, which was just another hour. Meanwhile, the other group reached Thenmala. The friend who has Kadayanallur as the native informed us that the village has some of the best Padhaneer (Padhaneer or Neera – a non-alcoholic drink made from palm tree sap). He also specified us to go to the Kadayanallur Railway Crossing, which is the exact place to find toddy sellers. Besides that, he also warned us not to get ripped off. So, as advised, after crossing the Kadayanallur village, we found the railway crossing. There were half a dozen stalls with never-before-seen fruits displayed.
Along with the fruit sellers, there was an old chap in a cycle selling the infamous toddy. After strategizing and practicing our bargaining skills, we warily approached the toddy seller. He was quite friendly, and his serving skill was top-notch. He handed each of us a palm leaf that has been embellished in the shape of a bowl, and before we could inquire, he emptied his bottles of Neera into our palm-leaf bowls. Added to that, he started refilling it. Except for one dimwit, all of us denied the refill. Still, the seller was persistent. After we took a firm stand, he folded and demanded us to pay Rs.800. Flabbergasted by his claim, we asked for the breakup. Instead of replying with the breakup, he then demanded Rs.700. After haggling for quite a while, he agreed for Rs.500. With the satisfaction of getting a good deal, we called Jothi to narrate the episode. But we were trolled badly by our friend for spending five times the cost. That is one costly lesson that I would never forget in my future travels.
Trivia: There is also an alcoholic version of Padhaneer – Toddy. Toddy or Palm Wine is made from fermenting the sap extracted from the Palm trees.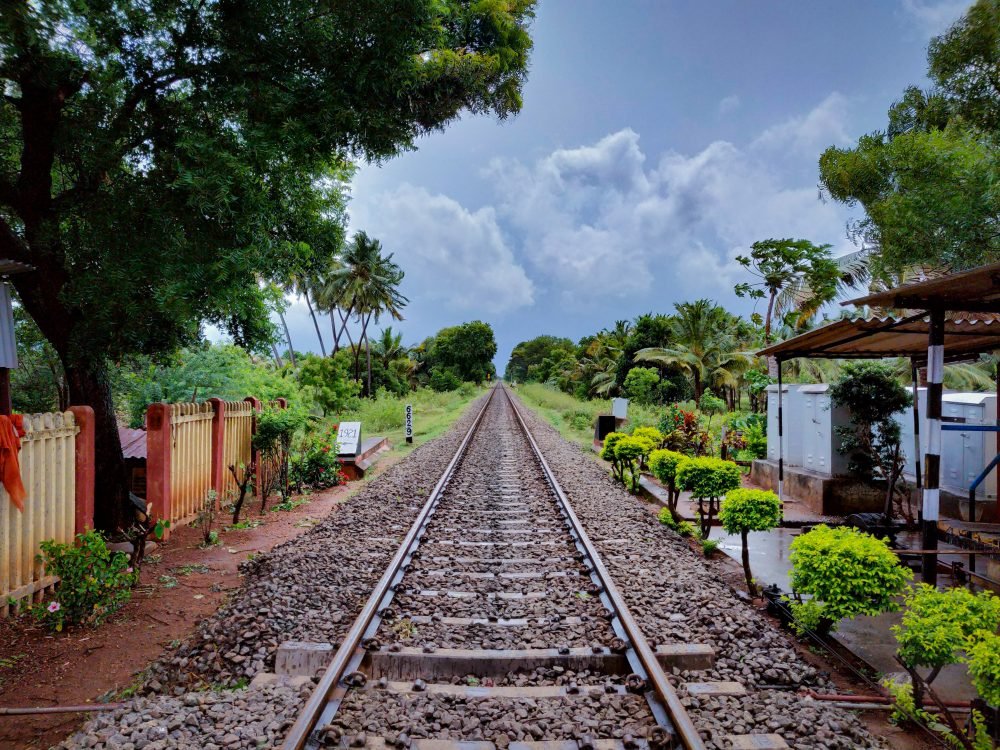 Thenmala Hills
Disregarding the fact that the toddy seller outwitted us, we continued towards Thenmala to meet the other group. It was just an hour away from Kadayanallur. By the time we began, it was mildly drizzling. You couldn't get wet from it, but still, you could feel the sprinkle. But as we progressed further and reached Thenmala foothills, the winds transitioned from strong breeze to a severe gale. We stopped the car and got out to feel the wind. I haven't felt gusts this strong ever before; The wind currents were too strong for us to stand without any support. We clicked a few pictures and continued to ascend the Thenmala Hills.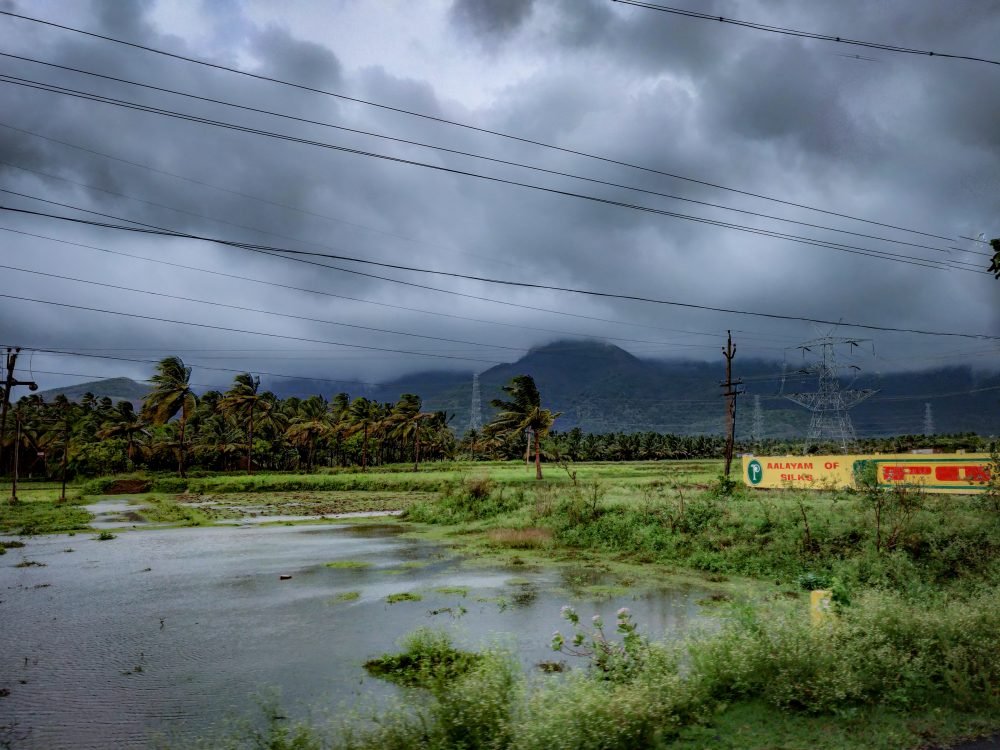 Thenmala is an eco-tourism destination located at Kerala alongside the Tamil Nadu Border. It is the first such location to get that tag in India. Rightfully, the region is the home to dense tropical forests with the presence of diverse wildlife. We visited the base of this venture, which has been named as Kallada Irrigation Project.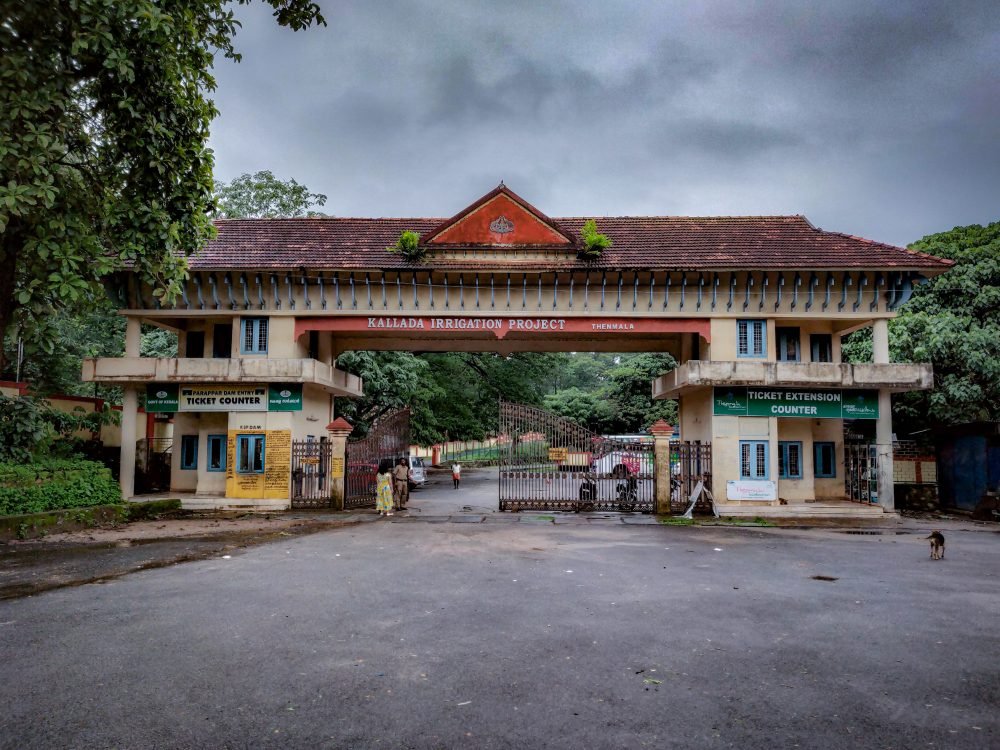 Parappar Dam, or more generally called as Thenmala Dam, provides an unrestricted source of irrigation water to the ayacut around the region. The Dam also has given rise to a huge reservoir upon which you can enjoy boat rides.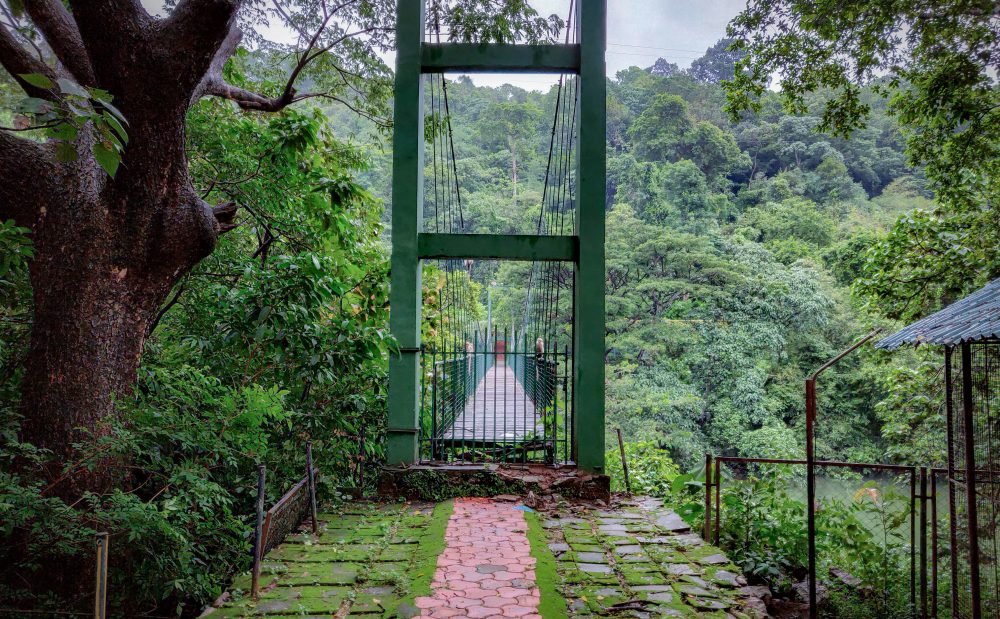 After visiting the Dam and walking on the famous suspension bridge above one of the canals, we retreated back to the parking. Several fast-food joints and tea shops were present in the adjacent junction. Pazhampori – a sweet golden-yellow fritter made out of Nendram bananas – which were displayed in a tea shop stole our eyes. The tray with at least a dozen Pazhamporis was emptied in a moment's notice as the steaming hot snack was perfect comfort food for the weather.
Trivia: The name Thenmala is a combination of thaen (meaning honey in Malayalam and Tamil) and mala (meaning hill).
Ordeals of a Spontaneous Trip
We met the other group at Thenmala Dam in the evening. Our next plan was to travel to Kutralam. The rainfall got more intense by the minute. Although the rains were happy news, we were concerned about the overflow at the Kutralam Falls. Because of the tiring journey, instead of frugally sleeping in the car, we needed a proper place to rest. It had been more than 24 hours of continuous driving without sleep. Each of us drove in turns and made it for more than a day. In an hour's drive from Thenmala, we reached Kutralam town. For the night, we got a tawdry motel room as the better ones were full. On reaching our room, we ditched the luggage and strolled out for dinner.
The name "Kutralam" is famous for two things – Waterfalls and Parotta. Parotta is a flaky layered flatbread. Each region of Tamil Nadu has its own version of Parotta, but Kutralam is the most renowned place of all. The popularity is mainly because of one age-old establishment named Courtallam Border Rahmath Kadai (or simply denoted as Border Kadai). That night, we tried a different restaurant and regretted immediately, as the orders were delayed, and most of the items on the menu were not available. Other than the unpleasant dinner experience, we got doused in the rain while returning to our shabby room. Sleep was also disturbed by a scourge of mosquitos and midnight ramblings from the next room.
Tip: Border Kadai is a renowned eatery in Kutralam. You can inquire about any local you find in the region, and they will guide you to the spot. Also, official outlets have been set up in Chennai.
Kutralam Falls
People from around the region and beyond visit Kutralam for its thriving year-round waterfalls. In total, there are nine well-known falls out of which Peraruvi (meaning Great Falls), Aintharuvi (meaning Five Falls), Puli Aruvi (meaning Tiger Falls), and Pazhaya Aruvi (meaning Old Falls) are the major ones. All these falls are located very close to each other, and it is possible for people to visit more than once on any given day.
Our friend asked us to come to the main falls very early in the morning to beat the crowd. We began at around 4 am from our room. While one our way to the Main Falls, we could see the impact caused by the storm as an array of trees were uprooted on both sides of the road. Within a few minutes, we spotted an enormous tree blocking our way ahead. And there was no other alternate route to the Main Falls. Clearing such a huge obstacle would take several hours if not a day.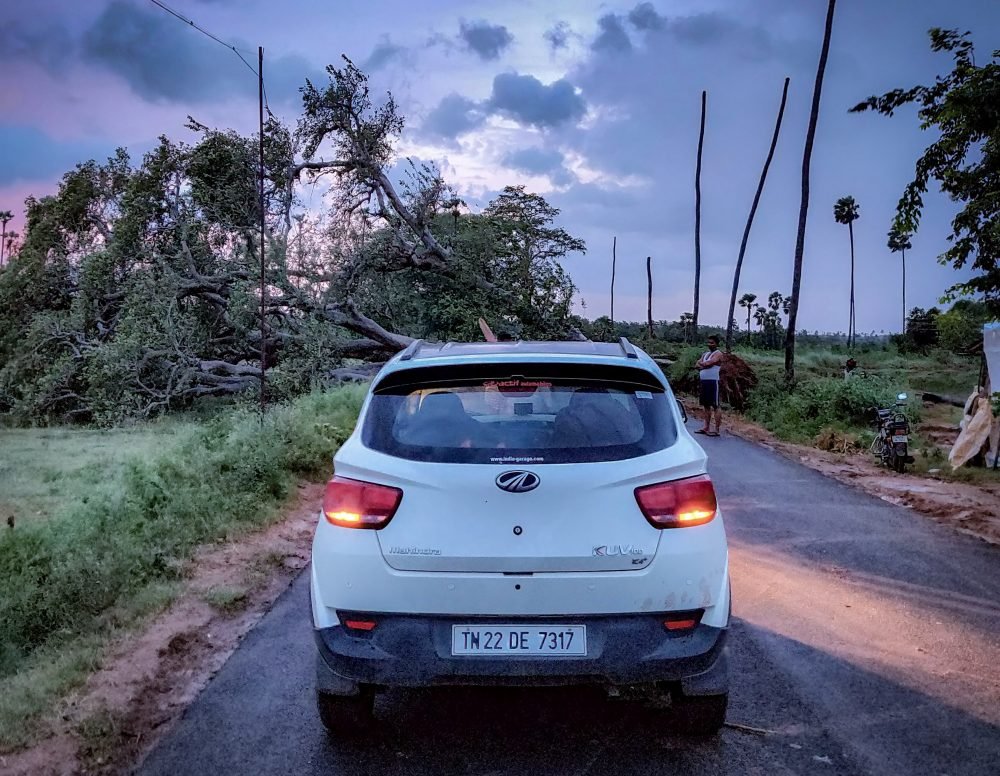 Because of this hindrance, we could not reach the Main Falls. Also, due to high downpour, authorities might restrict access to the Falls. We had to improvise and change our plan. Later, we settled on Puli Aruvi, as it is a much smaller and accessible waterfall. By the time we reached the falls, the place was crowded, and it was hard to find a parking spot. As the other waterfalls were restricted for the public, tourists paraded to Sitraruvi. It was difficult for us to seep through the crowd to reach the falls. Also, there is a small temple before reaching the streams. But it would be insolent not to experience the cold herbaceous Kutralam water nourishing your body and soul. Also, if you get the chance, try visiting more than one falls!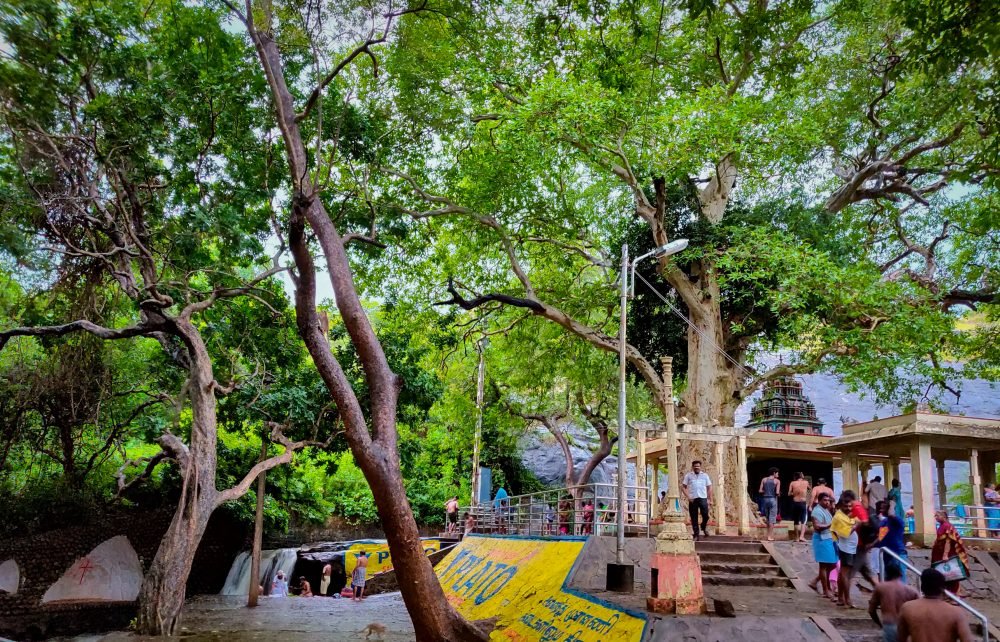 Kutralam Falls – Things to Know!
When to Travel: Tourists flock to Kutralam during the summer holidays. And that might be the best timing to go if you neglect the hassles of overpricing in lodges and restaurants. During monsoons, falls would be closed because of the heavy discharge of water. Contrarily, you may enjoy the storm as I did on this trip. Also, authorities arrange an annual festival called Saral Vizha (literally translated to drizzle festival) during the months of July and August.
What to Do: The major attraction of the town is its waterfalls. Apart from that, there are several temples located around the region like Kutralanathar Temple, Srivilliputhur Andaal Temple, and Papanasanathar Temple. There are a host of activities that can be done on the Western Ghats. For instance, in and around Thenmala Reservoir, boating, biking, and trekking are quite popular.
How to Travel: Kutralam is well-connected through roadways and railways. The nearest railway station and bus terminal are in Tenkasi. Many families have the habit of traveling to Kutralam Falls by hiring a van or mini-bus, depending on the number of passengers. Kutralam does make for a pleasant family tourist destination. If you are planning to travel with family, book hotels in advance and avoid hiked rates.
Kutralam Falls – Key Takeaways!
It was a rainy Sunday morning, and we hesitantly had to leave Kutralam to get back to our dreary routine. We had one last objective to complete in the trip. While returning to Chennai, we entered Madurai city for lunch at the famous Madurai Konar Mess, and later at Famous Jigarthanda Shop (name of the shop is "Famous" and Jigarthanda is a beverage indigenous to the sleepless city – Madurai). Unfortunately, a couple of hours is not enough to even scale one region in Madurai, and the city deserves a completely different article altogether.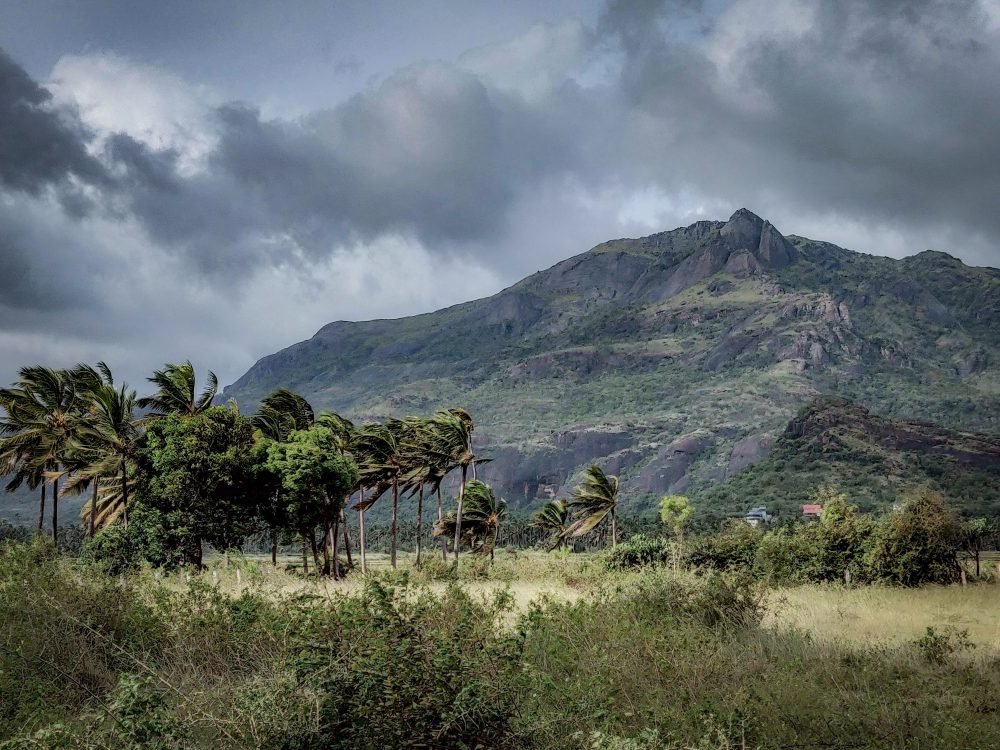 We drove for a little above 1600 kilometers within 40 hours, and this road trip might sound tiring for some and eccentric for others. But it's all about the company you have and the experience you share that makes the trip a memorable one. It sure is memorable for me, and if you haven't had such experience, it's about time!