India is a highly diverse country in terms of people, culture, language, and food. But the list does not end there. In terms of geology, resources, and its terrain, the country has almost all of the conditions – normal and extreme – within its boundaries. But even with this immense availability, there are several restrictions and difficulties for camping in India. Camping is usually done away from the clutches of a city. For instance, my astrophotography hobby requires me to travel away from the cities in search of dark skies. Safety is one of the major concerns for people who camp out in such remote sites. We have to take care of our expensive equipment. Apart from that, even women and kids accompany us at times. That calls for even rigorous vigilance as their safety has to be ensured. We have always had some kind of difficulty with something or the other until we visited Harangi Backwaters in Karnataka. I will jot down a few noteworthy information about my experience at Harangi Backwaters.
Nisargadhama And Harangi Backwaters – My Journey!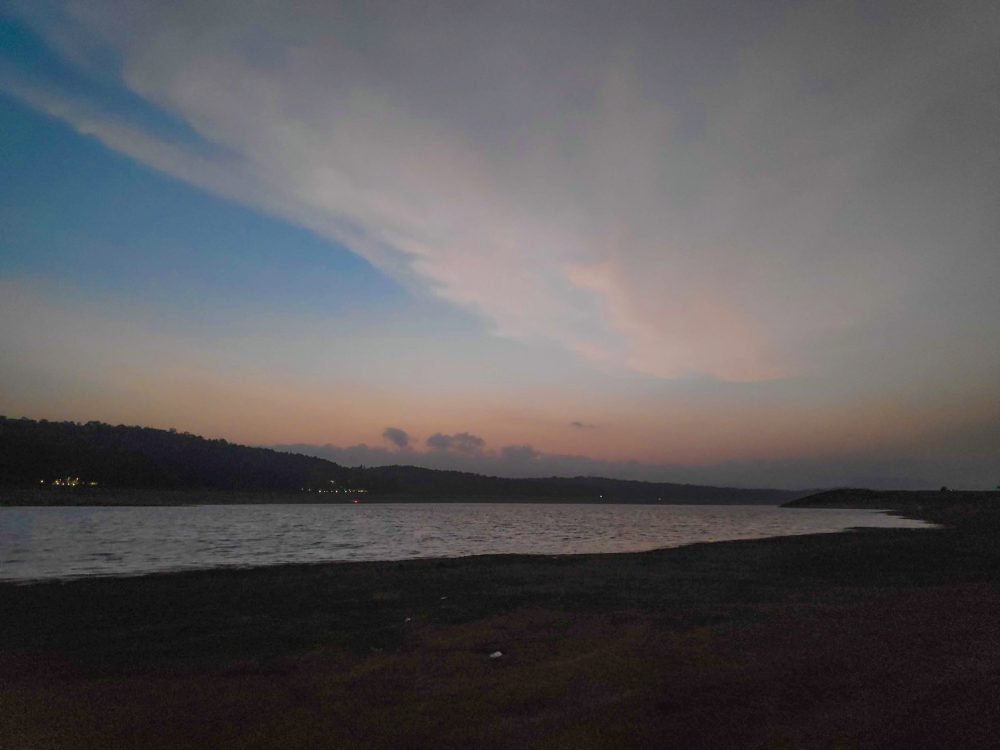 Our plan to camp at Harangi Backwaters was just for one night. Earlier this year, I, along with a group of friends, went on a road trip to Coorg. As per our usual routine, while on our journey, we took a detour to visit smaller towns, explore the sight-seeing and picturesque locations, enjoy local cuisine, etc. It was a five-day trip, and we started from Chennai to reach Melkote by the end of day one. Melkote is a culturally rich old village in Karnataka. We camped a night there. I have also written an extensive blog about my experience at Melkote. Make no mistake, camping at Melkote was wonderful. But it had its shortcomings, which was not the case at Harangi Backwaters. So, after an exhausting night camp and a good night's sleep, we started our journey towards Harangi Backwaters.
The Morning Fiasco
As we started, we could spot several temple tanks spread throughout the village. We stopped at one of the water tanks to take a quick bath. All of us stopped our cars and bikes, got out, and prepared ourselves for an insanely cold bath. Eager to get in, one of my friends forgot to take the car key out of the ignition and closed the car. Few of us tried to unlock the car while others were happily swimming around on the waters. The car got locked, and we did not have any other way to enter the car other than to break the windows. We even had a friend who is well versed in car mechanisms. He tried to pop open the door lock but failed to do so. We had an army knife at our disposal. The knife had a glass breaker in its handle, and it comes in quite handy at times like this. So, my friend tied a towel around his hands for safety and broke one of the rear windows.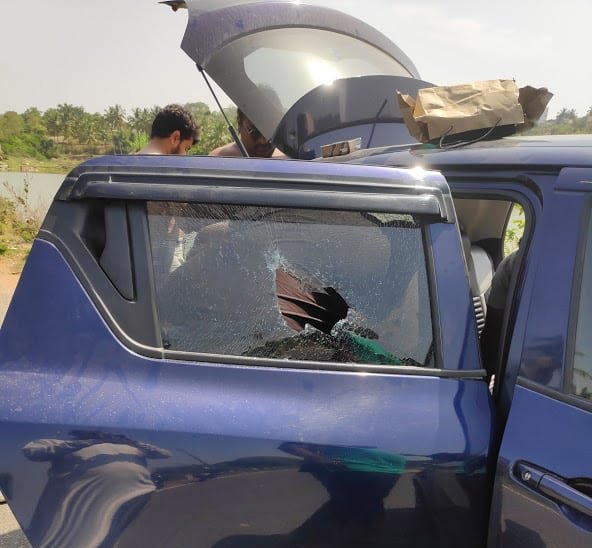 With a couple of moderate strikes, the window glass shattered in the center. With utmost caution, he opened the back door of the car and retrieved the key. Unfortunately, if you come across this scenario, you can try this. But of course, check for any mechanic sheds nearby, as they will have the necessary tools to unlock the doors. While all this was happening, we had breakfast at a small bistro nearby. We devoured some local delicacies such as Kara Bath and Kesari Bath along with Vadas. After finishing breakfast, herbal tea (a strong black concoction made from several herbs) was served to all. Few liked it; many found it difficult to drink. Meanwhile, the car was ready with duct tape covering the entire back door window.
Tip: Breaking the window at the back door is the better choice as it is cheaper and easier to replace. Also, choosing the right spot to break is important.
The Jazzy Highways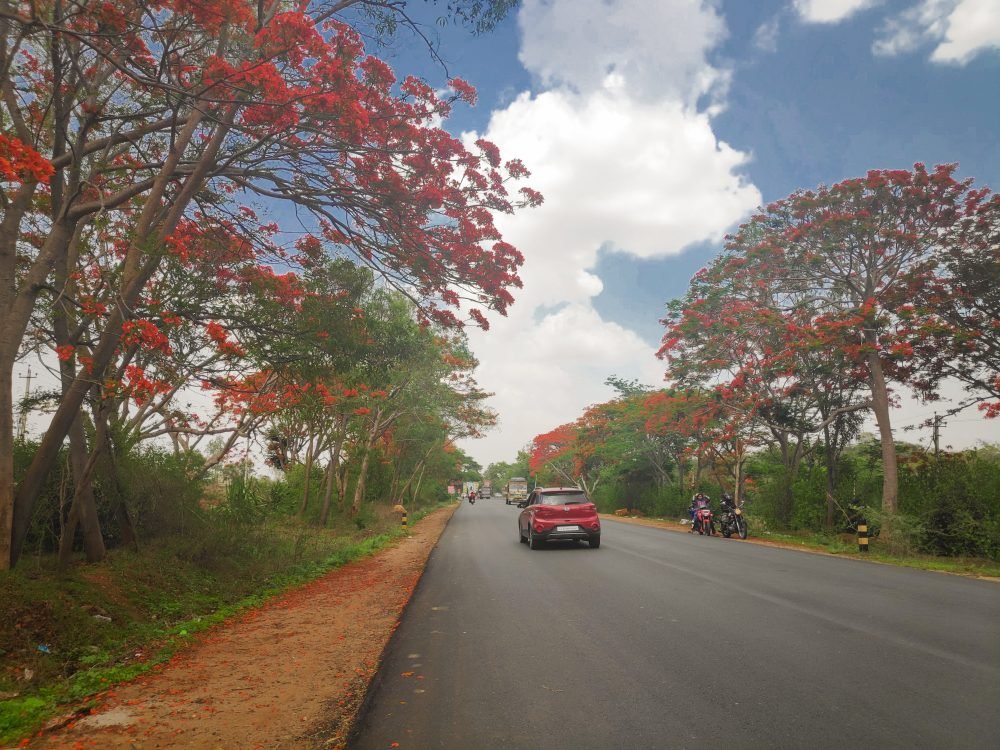 Our commute towards Harangi Backwaters is around 150 kilometers, which is a little above 4 hours' drive. As usual, we did not head straight to our destination and stopped numerous times. We had a couple of places for halting in mind before beginning our journey. But apart from that, the journey called for a few more. So, once the car key issues were sorted out, we journeyed through country roads towards Mysore. I rode a Royal Enfield Thunderbird accompanied by a couple more bikers. The rest traveled in two cars – one Toyota Innova and a Hyundai i10. Traveling on a motorbike during autumn is a worthwhile experience. And it was just the right time for us to enjoy the scenic woods on either side of the highway. Few stretches of the highway were saturated with brownish-orange and red-colored leaves, which fell from the trees around. Also, it was not annoying to ride a bike in an afternoon as the sun was mellow. If only the roads were endless and nothing else to worry about, I would ride those roads as long as I can (Pardon me if I contradict myself later in this article). Patches around Mysore will be pleasant almost year-round due to its geological position, with several lakes and few small rivers originating in the region. Our plan was to visit a beautiful green paradise called Nisargadhama before reaching Harangi Backwaters. But before that, we had to stop for lunch as all of us were starving.
A Punishing Stretch
As soon as we crossed the Mysore region, there was a dramatic change in scenes. The sun, which was pleasant an hour ago, had turned cruel with no prior notice. Our search for a restaurant also was not fruitful. During this stretch, the crew decided to split into two – one to go in search of a car repair shed to fix the window and another in search of a decent restaurant. Since I was riding a bike, I, along with other bikers, went in search of a comfortable restaurant. We needed a place for good food, but more importantly, a shelter from the punishing sun. The hunt for a shelter changed from a good restaurant to any decent eatery. But we could not locate any place nearby even with the help of Google Maps. The next eatery we found on the map was almost an hour away. We informed the guys traveling in a car about the location and proceeded forward. On the way, we found a street vendor selling tender coconut. That was one big relief for us as it quenched our thirst. Everyone drank at least two tender coconuts, some even three and more. After having the tender coconuts, we sought refuge under a tree nearby and waited for the cars.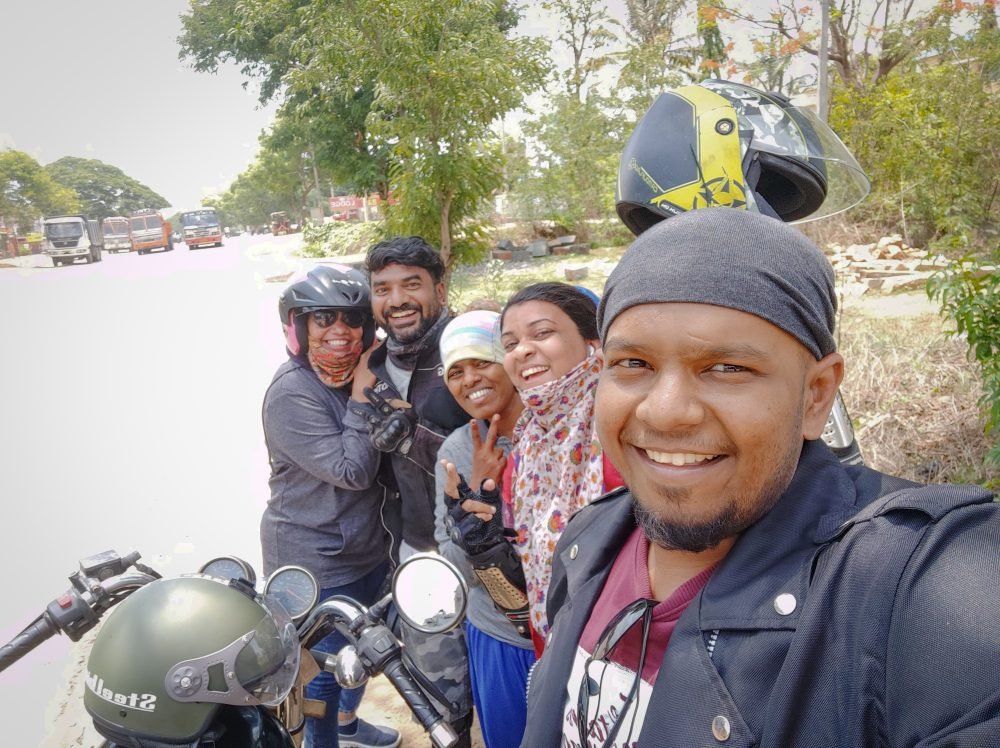 They also reached the spot without fixing the window as they could not find any mechanic shed. Just when everything was going smooth some while back, this particular stretch was arduous and challenging. The duct tape that held the cracked window glass did a decent job. Still, glass bits scattered from time to time. Because of that, we had to drive slowly, which further delayed our journey.
Tip: Riding under the afternoon sun is always difficult. Dehydration might cause you to lose control that might result in accidents. Always carry a water bottle while riding bikes. Also, tender coconuts are the best source of hydration with all the necessary nutrients and electrolytes. I would bet, one tender coconut is better than a bottle of sports drink like Gatorade, Monster, etc.
Time for Some Rest
Time was a little above 2 in the afternoon, and the sun showed no mercy. Pulling our socks up, we rode to the nearest hotel we found. It was a large establishment right beside the highway with ample parking space. We parked our vehicles and got rid of the protective gear. It sure was a relief to remove the heavy jacket from my tired torso. But the relief was short as the restaurant's air conditioning system was not working. But a roof above the head is better than nothing. I just ordered a good old bowl of curd rice to cool down my organs. But few did not resist from ordering what they desired, as they were traveling in the comforts of a car. This particular establishment is not like a Coffee Day, where we can relax all we want. Luckily, it took a while for the ordered food to be served because of the crowd, and that was ok as it gave us ample time indoor to recharge our vitals. The lunch ended with everyone having a tall glass of fruit juice. Hesitantly, we got out of the restaurant but was pleasantly surprised by the overcast conditions. The next stop as per Itinerary was Nisargadhama.
Navigation Errors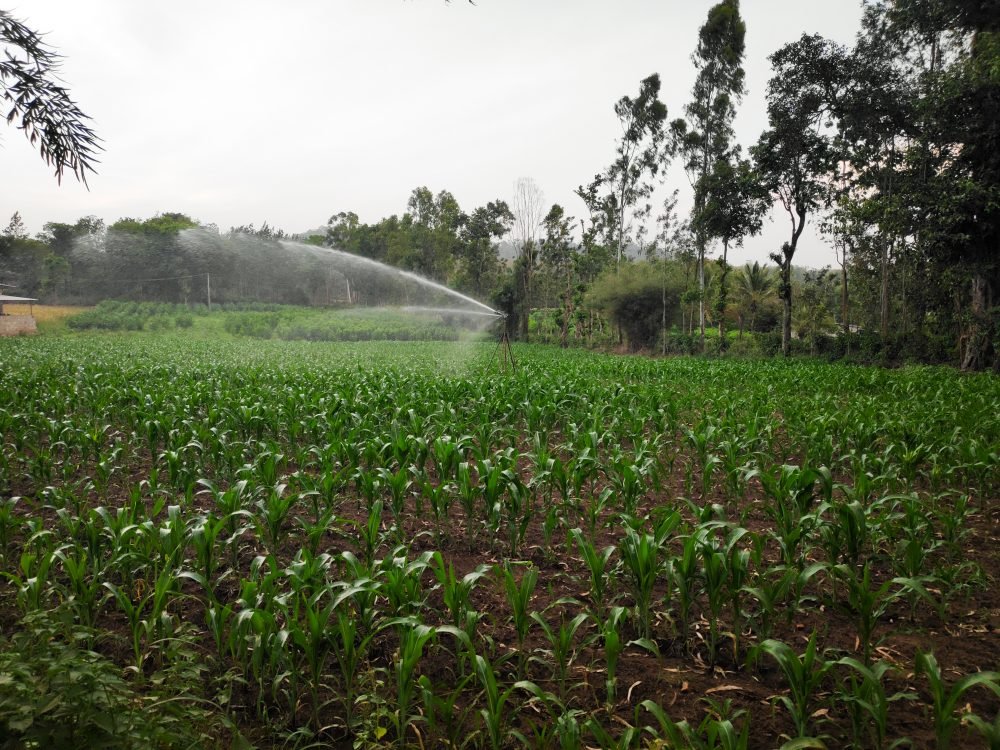 Nisargadhama is a delta formed by the Kaveri river in Coorg district. This was suggested by one of the friends from the region. We had a good amount of time to reach the Backwaters. So, after setting Nisargadhama as the destination in Google Maps, we continued our journey. It was just an hour away from our location. As we traveled, the maps led us to a small mud trail. Heedfully, we proceeded further. The trail shrunk even further, but still, the map showed that the destination was just 5 minutes away. The trail was so narrow that our cars could not proceed further. So, one of our bikers rode further to scout the place and returned within a few minutes. Our instinct was right! That was a dead end. On enquiring a passer-by, we came to know that we reached the opposite bank of the Kaveri river. And it took us another half an hour to retrace our route and circle around to the Nisargadhama entrance.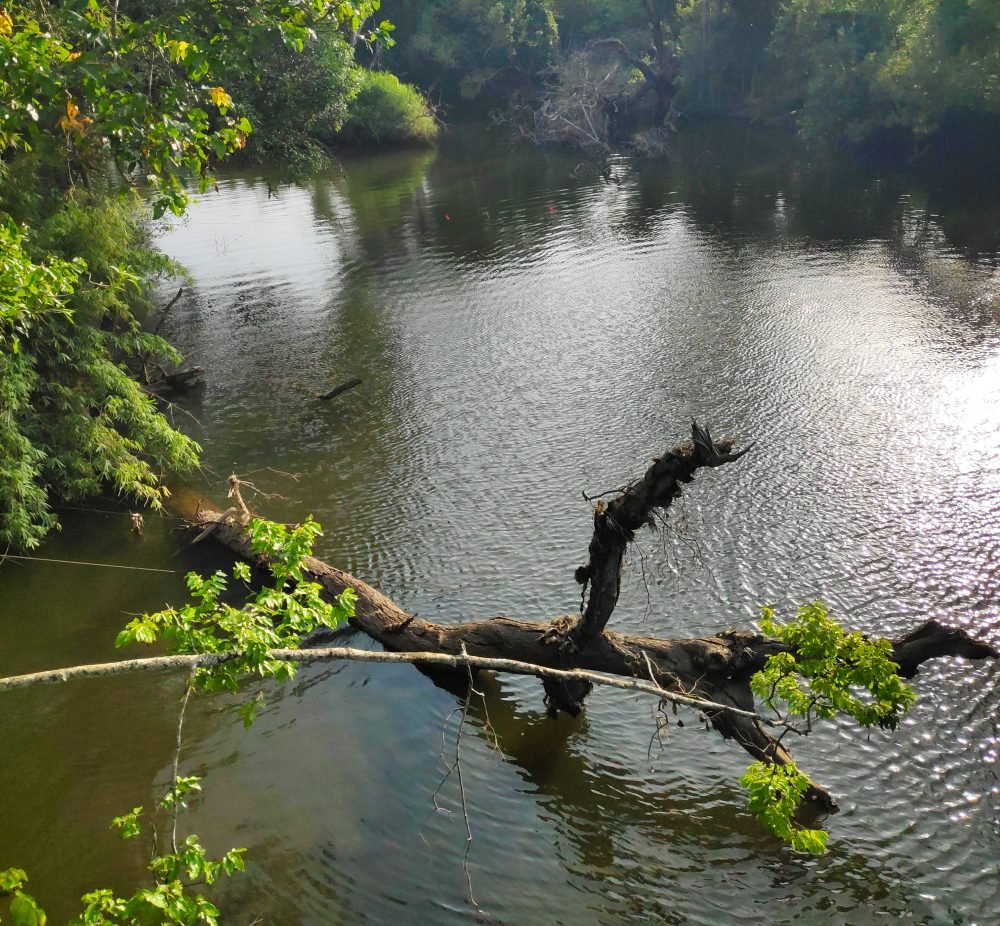 Tip:You can follow Google Maps for navigation, but as you all know, it is not 100% right. So, during long-distance travel, before following an AI chosen route, check if there are alternate routes available. Also, quick guidance from a local would always be better than Google Maps any day!
Kaveri Nisargadhama
Despite the mix-up, we reached the Kaveri Nisargadhama entrance around 4 pm. My friend had earlier said that it is a tourist spot that attracts people for its natural beauty. When I reached the entrance arch, it looked like a theme park, and it was over-crowded with tourists. Right beside the entrance, there was a ticket counter, and opposite to it was a huge corridor with various stalls. The stalls ranged from food items to toys. It was very hard to find a parking spot as well. To be honest, I did not expect this when my friend described the place to be "serene." The ticket to enter the park is affordable, and after taking the tickets, we joined the queue to get inside. It was a narrow gate, and once we crossed the gate, we had to cross a dainty suspension bridge. A small branch of Kaveri ran gently below the bridge.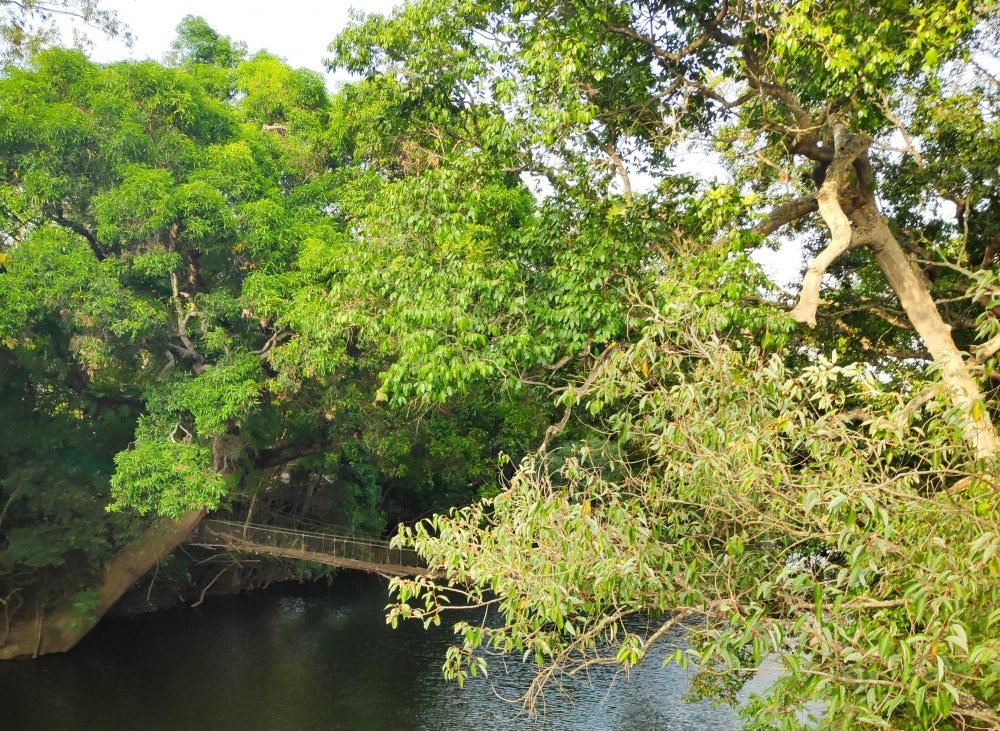 Tip: There are isolated mounds of sand depositions in the shallow stream. It further pacifies the running stream, allowing the tourists to get in the water comfortably. Even kids are allowed in these areas to enter the water. This makes it a major attraction for the local family tourists who flock the spot during summer vacations.
Forest Island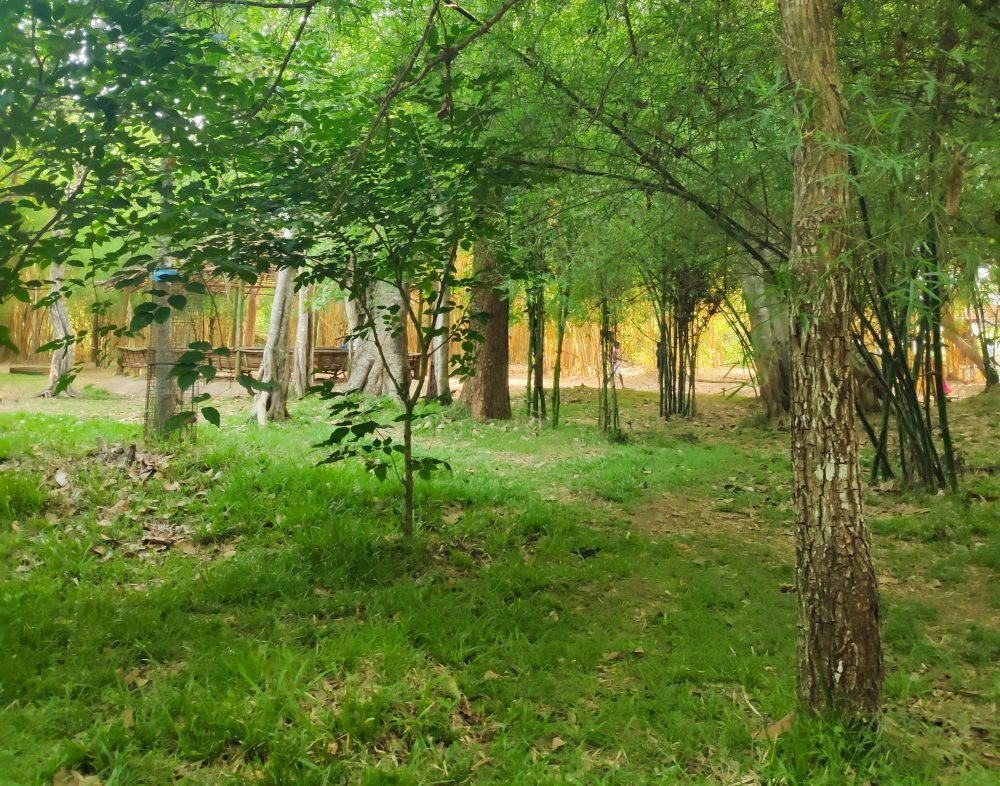 Small pedal boats and skiffs were used for taking tourists on the rivulet. Pricing was around Rs. 200 per person for the pedal boats. We skipped it and moved further inwards to a thick cover of trees and bushes. A small controlled forest environment is maintained within the park. Tree presence majorly includes bamboo, teak, and sandalwood apart from a variety of other small plants and wild scrubs. Within a 15-minute walk, we reached another branch of the Kaveri river. Basically, the river divides into several small branches and converges again within a couple of kilometers. This leaves behind a small mass of land in between. The locals call this the Nisargadhama Island. Because of the rich mineral deposition on all sides, thick flora covers the region. And due credits to the Karnataka state government to maintain it properly and convert it into a park for the public. Easily, one can spend more than a couple of hours going around the place and enjoy the beauty. Once we crossed that entrance and bridge, the place really was serene and admirable.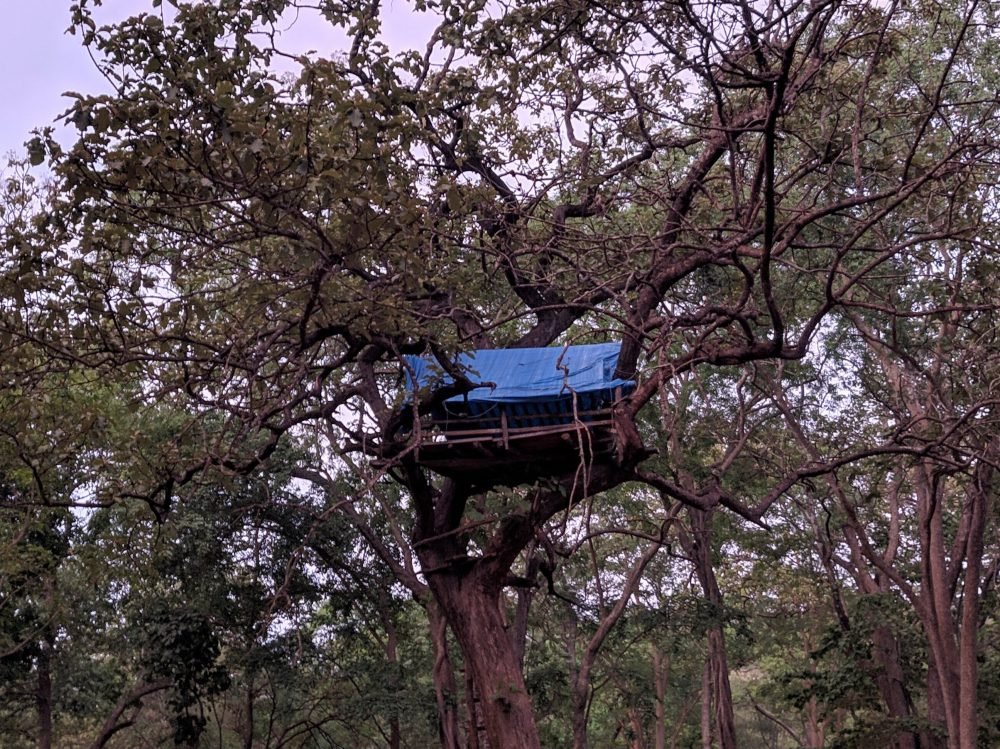 Trivia: The park also has a lot more to offer than the face value. Essentially, it is a 64-acre nature resort for tourists. Apart from boat rides and elephant safaris, the forest department offers staying options with guest houses and tree-top bamboo cottages.
The Alluring Forest Route
Once the exploration at Kaveri Nisargadhama was complete, we set our destination as Harangi Backwaters. It was just 20 kilometers away. Time was around 5 when we left from Nisargadhama, and the map showed that it would just take 40 odd minutes to reach. We leisurely cruised through the highway for 30 minutes and took a short trail into a muddy road. What an amazing road it turned out to be!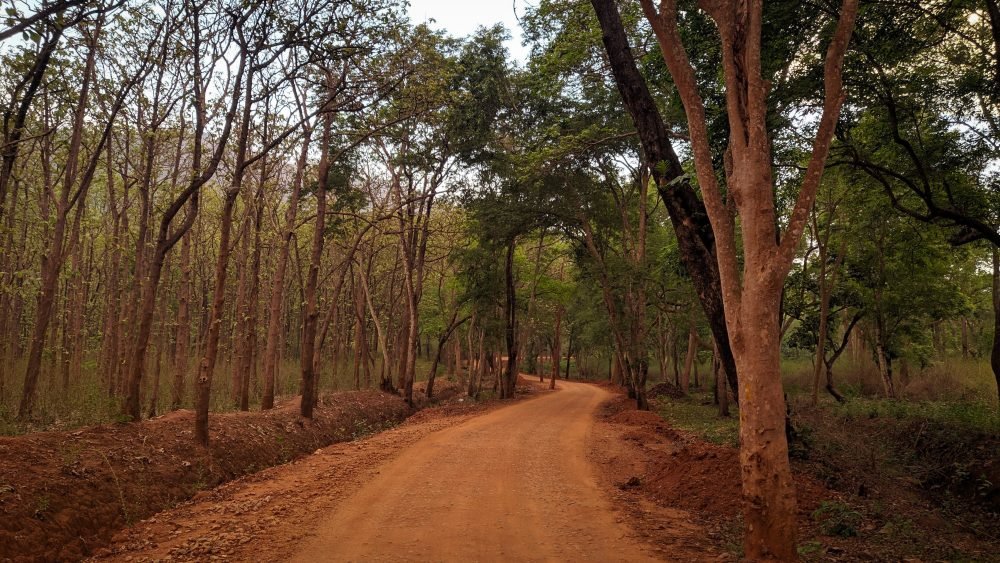 The reddish mud was complemented by the sunset orange hue, and the whole surrounding was within the palette. The route was filled with teak wood on the sides. Also, we found a few tree-top watchtowers for monitoring wildlife. The region is not known for aggressive wild animals but is just graced by deer. Instead of driving further, we got down and was enjoying the evening hues. Sometimes, a simple thing like a muddy road in the middle of a forest is all I need. To be honest, it is one of the most picturesque views I have ever had. We tried to take images, and to be honest, the cameras do not compare even the slightest to our human eyes. Such was the beauty.
Harangi Backwaters
Driving just ten minutes into the forest led us into the backwaters. As we entered, the sun was already below the horizon, but its last peeking light rays saturated the sky. It got even better as we drove further in-depth. It was a wide-open land, and the backwaters from the reservoir occupy the center stage. Stunning! The area had several layers of ground – some forming mounds and some flat patches at times.
We drove the vehicle around the perimeter of the backwaters just to get the feel of the region. It was a natural dirt-track of sorts, as it was absolutely fun to ride around in that uneven terrain. After all the driving fun, we had to choose the correct path for us to settle down. We chose an elevated region in the east bank of the backwaters. After shutting off the vehicle lights and parking, we walked close to the waters. By then, the area turned into a completely dark zone. Also, it was a new moon day, I believe. Stars were shining so clear, even at around 7 pm. A very small band of light pollution rose from a town which was few kilometers away.
A Perfect Camping Spot
After settling down, just a couple of us went into that town in search of dinner. We did not prepare for dinner earlier, and that is silly of us. Sometimes in rural and remote places, you will not find any eatery. It has happened to us earlier as well. But fortunately, that night we found a small dhaba about ten kilometers away. It took more than an hour for us to procure food, as the small dhaba was overwhelmed by the huge order from us. We got a couple of dozen rotis and egg curry to serve 15 people in the band. Our delayed return did not deject our folks. By the time we returned, they had readied campfire and was enjoying music played by our in-house musician. The dinner was over in no time. After collecting and keeping aside the garbage for disposing of it later in a trash bin, we gathered in front of a lonely tree in the vicinity. We had a solid session where we discussed topics ranging from car mechanisms to astrophysics. Of course, gossip was a main part of the session. The reason I prefer this place for night camping compared to others which I have visited is that Harangi Backwaters balances and manages to fulfill all the camping prerequisites. Although we were tired from riding the whole day, we were awake till early dawn.
Nisargadhama And Harangi Backwaters – Things to Know!
When to Travel: Harangi Backwaters is safe to travel all year round – be it summer or winter. Even monsoons would not be too harsh here. But in order to avoid any surprises, I would suggest you travel between October and April.
What to Do: Camping is a prime reason for traveling to Harangi Backwaters. As of Nisargadhama is concerned, families prefer touring and exploring the place – especially the kids. Nisargadhama is more like an exquisite nature park for the nearby locations.
Where to Stay: There are several hotels all along the stretch. Also, within the Nisargadhama, there are cottages run by the state government. Harangi Backwaters has influenced the budding of new resorts constructed within the forest region.
Nisargadhama And Harangi Backwaters – Key Takeaways!
People would not travel to Karnataka just to visit Harangi Backwaters or Kaveri Nisargadhama. But there are quite a few mindboggling natural wonders around. If you are traveling to Coorg or Bangalore, it is definitely worth your time to explore these amazing locations. And if you are looking for camping with all the important features like safety, accessibility, permission, etc., then this is the place for you!