Leh-Ladakh is usually famous amongst the bikers for its scenic routes and adventures. One must do that if you have 10-15 days (or 2 weeks) to spare. But if you belong to the working class and you travel based on the number of leaves per year, don't you worry! You can still do Ladakh just like I did and not miss out on anything. Read why you MUST visit Leh-Ladakh at least once in your Lifetime!
Flying to Ladakh
Many airlines have recently started their operations to Leh, the regional capital and you can reach there in just a few hours.
We took a direct flight from New Delhi to Leh and were already mind-blown even before landing. The aerial view of Ladakh is something magical; no less than floating in heaven. If you have heard about a saying "Zameen aasman ka farak hai," you would know what I am talking about. Don't forget to grab a window seat while flying as you will witness an aerial view of picturesque snow-capped mountains, deep valleys, snaking rivers and green patches.
Book your tickets well in advance to save money!
Quick Tip – Ladakh is a sensitive region and security checks at Leh airport are particular. Photography is strictly banned at the airport, so avoid getting into trouble. During a return flight, backpacks are not permitted in hand carry for safety reasons so please pack accordingly as they will be sent in as check-in bags. Only ladies are allowed hand purses but only with essentials. Confirm with your airline before boarding!
Exploring the Best of Ladakh
Ours was a standard 5-day itinerary where we made sure to cover most of the region and were back home on the 6th day. I am sure this is ideal for most of the office goers. Let me break it down for you:
Day 1 – Leh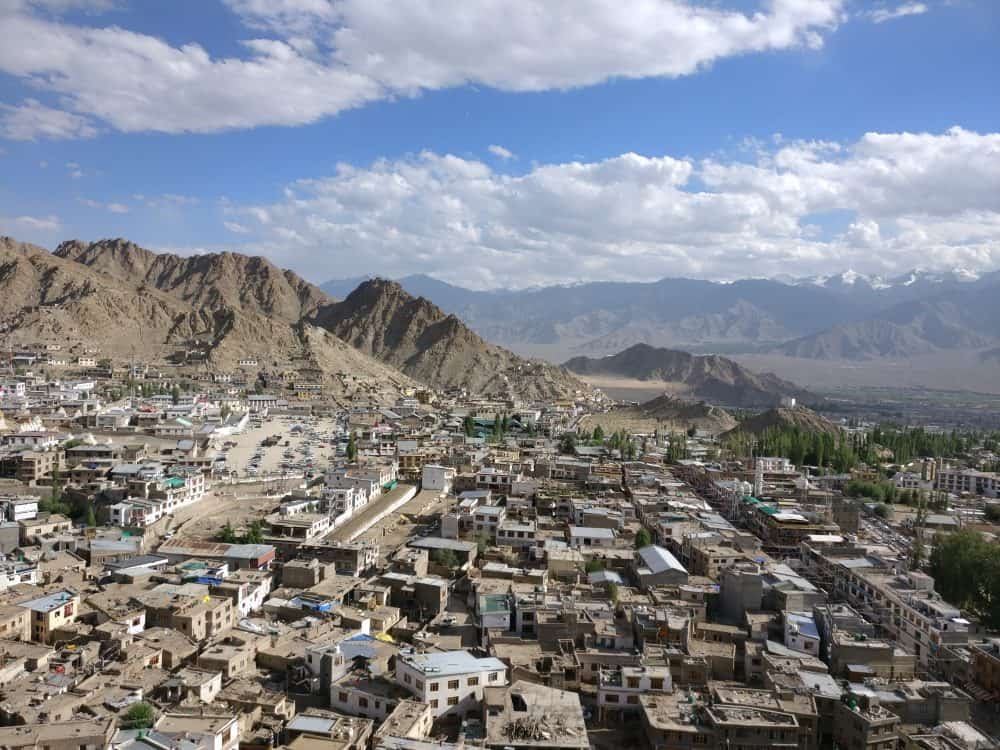 Leh is the capital of Ladakh. Once you arrive at Leh, make sure you spend at least a day in the city and adapt to the oxygen-deprived climate. Take enough rest and head out for local sightseeing in the evening. Leh Palace, Shanti Stupa and Leh Market are the famous tourist spots. Take a stroll and buy some local souvenirs such as mini prayer flags and prayer wheels, monk statues, pashmina shawls and stoles, paper-mache articles. O/N at Leh.
Day 2 – Sham Region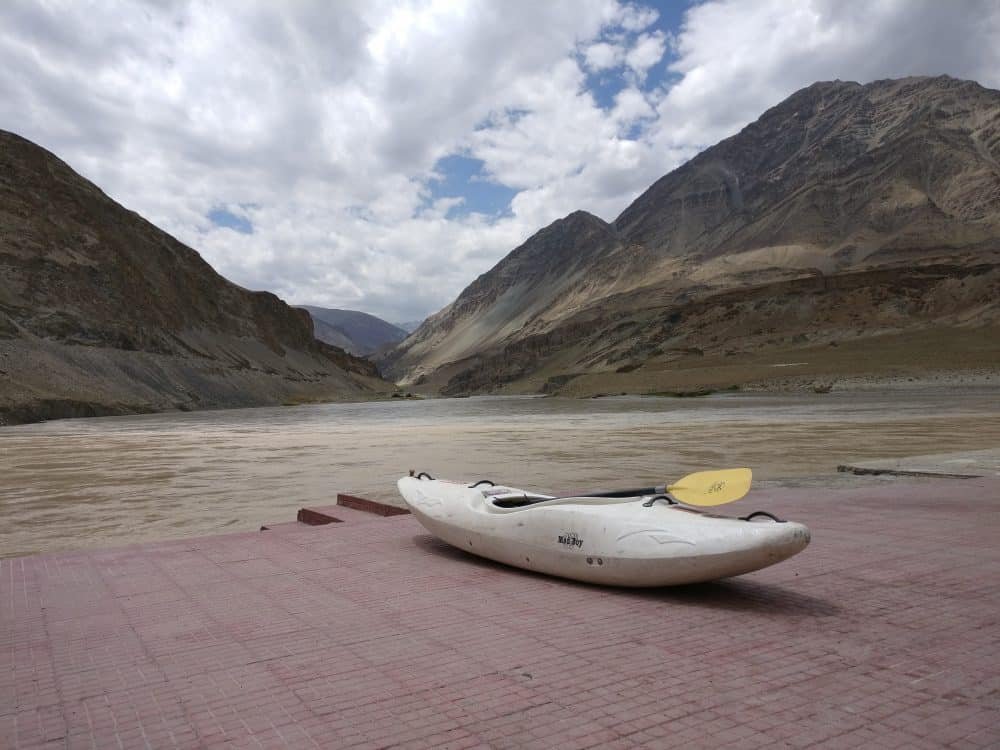 Sham region offers a variety of places and will introduce you to the essence and culture of Ladakh. You can spend a day listening to the stories of Soldiers and Kargil War at the Hall of Fame Museum, learn about Buddhism and Tibetan influence at the Likir and Alchi Monastery, look at the magical Sangam; confluence of Zanskar & Indus River, demystify the Magnetic Hill and take blessings of Guru Nanak Dev at Pathar Sahib Gurudwara. O/N at Leh.
Day 3 – Nubra Valley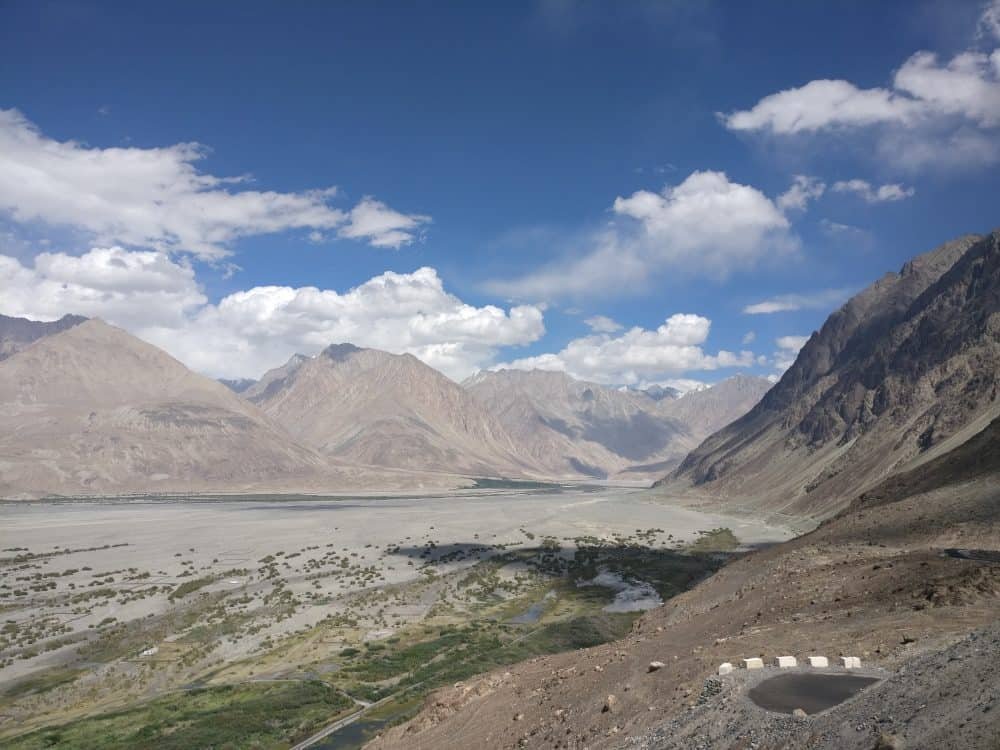 While driving from Leh to Nubra Valley, be ready to have your high moments at 18,380 ft., as you will pass through Khardung La (the highest motorable road in the world). Avoid staying longer as the oxygen levels are extremely low. Before arriving Nubra, you can go for Quad Biking ATV ride at Khalsar sand dunes and try Double Humped Camel Safari at Hunder Desert. Also, visit the Diskit Monastery for sightseeing and Panamik village for a hot water dip. O/N at Hunder or Sumur Desert Camp.
Day 4 – Pangong Tso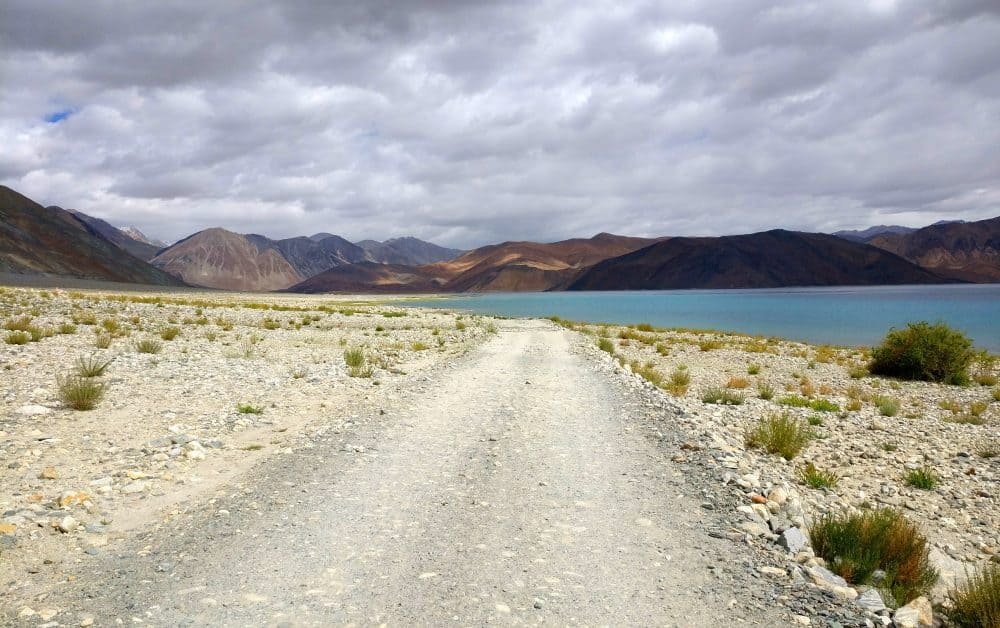 Your journey from Nubra Valley to Pangong Tso would be the longest as many times the direct route is closed. Cars usually climb up Khardung La again and head to Pangong via Changla Pass 17,350 ft. (third highest motorable road in the world). Pangong has become a symbol of Ladakh after Bollywood tourism through movies like "3 Idiots (2009)." Spend time at the color changing lake and watch the sunset at its bank. O/N at any Lake Camp.
Day 5 – Leh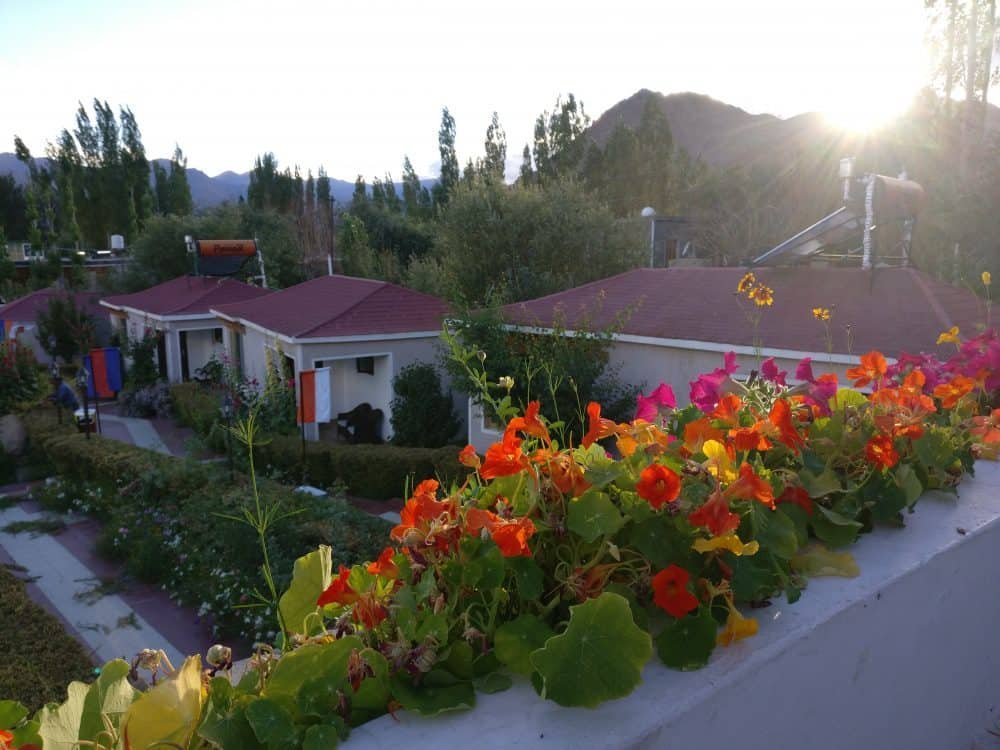 After enjoying sunrise at the lake, check out Shey Palace, Thiksey, Hemis monasteries, Stok Palace Museum & Sindhu Ghat on your way. You are likely to return to Leh by evening, so enjoy your final day in Ladakh and pack your bags for a return flight the next day. O/N at Leh.
We also visited the Druk Padma Karpo School also known as Rancho school from 3 idiots fame, but it is now closed for tourists. If you have extra days, then extend your trip to Tso Moriri Lake or the Mountain Lake where you are going to experience a different kind of magic.
Some Quick FAQs for Your Journey:
Where to Stay in Ladakh?
If you are not aware already, Ladakh is a great camping destination. So it would be ideal to stay in camps throughout the journey. Leh is a bustling town so you can fulfill your luxuries and food fantasies in the hotels, but as you drive uphill, the resources are limited. As a nature enthusiast, my choices of stay were mostly eco-friendly lodges, homestays, and camps; especially in Nubra Valley and Pangong Tso.
They are not just environment-friendly but are also a means to support the local families and rural communities of Ladakh who run them. They are very pocket-friendly and provide all the essential amenities excluding 24-hour electricity supply which is an issue in the region. You will not have too many food choices because the area is not agriculturally rich. So just keep your comforts at home and eat like the locals.
Suggested Stays:
Leh – Singge Palace or Zen Ladakh
Nubra Valley – Nubra Ecolodge
Pangong Tso – Camp Redstart
How to Travel in Ladakh?
Once you arrive Ladakh, you will be on roads for the rest of your journey. If you booked this trip via any Travel Agency Package then they will take care of this, else you can explore on your own. Leh can be best explored on foot, and the local market is within walking distance from most of the hotels. But for going further, you need to hire cars or bikes.
If you are confident about your driving, then self-drive is fine. But from my personal experience, I would suggest you hire a taxi with a local driver who knows all routes and risks and can help you reach destinations on time, especially at night. Since the network is limited, keep an offline map handy. Also, choosing the right vehicle is essential as the roads are tricky. So no matter how many persons you are, always go for SUVs (Innova would be the best). There could be a risk of landslides and avalanches in the region so do check the forecast and plan well in advance.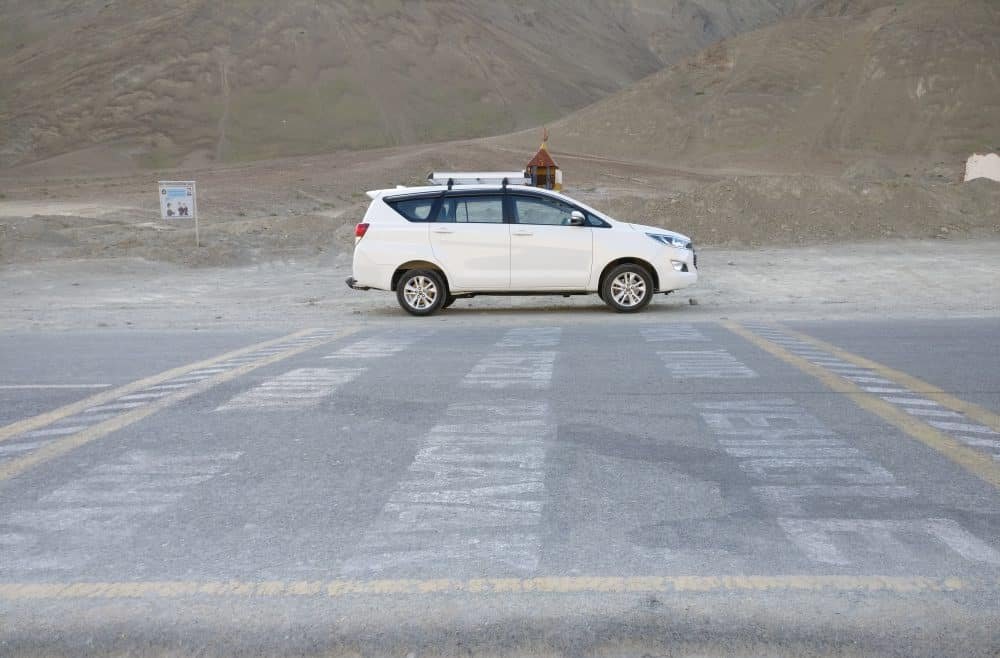 Recommendation for Taxi Service: Travel A World
Contact Numbers: 0177-2671880 | Mobile: +91-8091071800, +91-9218333000
Permissions Required: To travel within Ladakh, you will have to obtain a permit from the government known as Inner Line Permit (ILP). The primary purpose of this permit is to keep a check on movement in the sensitive areas. You can directly apply it through this link. It will ask you for an identity proof, so please keep it handy – http://lahdclehpermit.in/
But for the final verification and stamping, you are required to go to certain offices in Leh. But if you are on a tight schedule, then you can have a word with your hotel or your travel agent (if any) for getting the ILP, you can pay them some money if needed.
What to Pack for Ladakh?
From my experience, the temperatures in Ladakh can't be trusted. It often fluctuates, to the extent that it can be scorching and cold in a single day. Traveling light is the first thing. Do not carry too many things if you are flying.
Clothes and Accessories: Since I went in the summers, I packed very basic clothes, but a warm jacket and shoes are a must. It will be extremely handy during Winter. It can also get windy at times, so a wind-cheater with a hoody and a regular beanie would come handy. The sun can be torturous so do carry a cap. Avoid too many woolens in summer. You can also purchase something local from there itself and keep it as a memory. Sunglass is a must to protect your eyes (Polaroid would be best).
Medicines: The overall change in the climate, high altitude, low oxygen levels, fluctuating temperatures can sometimes cause our body to experience altitude sickness. If you already suffer from any medical condition, please visit a doctor before planning your trip.
While you are on the road, you are less likely to find a doctor or a hospital, so keep the medicines handy. We were advised to buy oxygen cylinders in case of emergencies. You can purchase them on the first day itself from Leh.
My doctor prescribed me Diamox tablets to prevent altitude sickness (Check with your doctor and only take what is prescribed).
Sun Screens and Lotions: Sun is usually harsh, and you might get sunburns and tans. So always wear sunscreens and lotions to protect your skin.
Food and Water: If you are allergic to something, then carry your own food. Otherwise, purchase snacks like chips, biscuits, energy bars, etc. from Leh itself as you won't find many shops on the journey ahead. Food will be made available to you at the hotels and camps. Carry plenty of water as it is advisable to stay hydrated throughout.
Mobile Services in Ladakh
Ever imagined a world without social media? Yes, it exists! Ideally, Ladakh is a place to cut off from the rest of the world, but it is okay to be connected in case of emergencies. Inform your families in advance about the network issue. Prepaid connections don't work in Ladakh! So it is better to buy a postpaid SIM, preferably BSNL or AIRTEL. You are likely to get the network in Leh and few parts of Nubra Valley, but Pangong Tso is mostly a No Network zone. We had to use our driver's phone to communicate with our family.
Take a Pledge for a Sustainable Eco-Tourism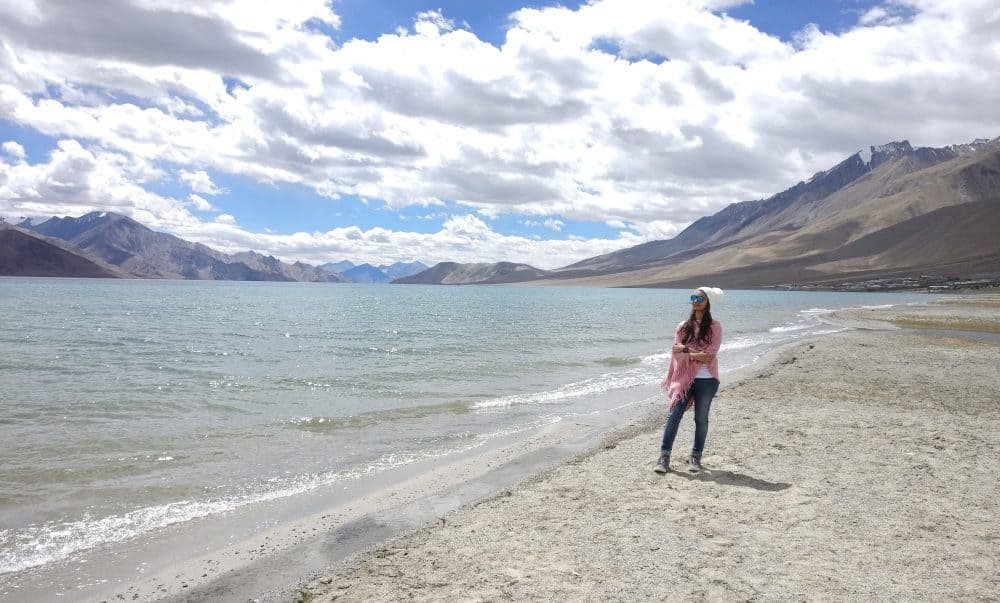 Before you plan your trip, let me tell you that Ladakh has a very fragile ecosystem. After Bollywood tourism, the tourist influx has increased four folds and will continue to grow. The locals are coping up with development but also fear natural calamities just like the floods that nearly destroyed Kedarnath. Therefore, as tourists, let us not exploit the nature and destroy the scenic wonderland. I invite you to take a pledge to explore Ladakh in the most environment-friendly way!