In this age of Instagram that happens to be extremely superficial, it is indeed very easy to get carried away in the continuous loop of cliched travel quotes popping up on our feeds and reminding us of how 'rosy' and 'oh-so-perfect' solo travel seems to be.
Out of some hundred quotes that we come across daily, the one that had majorly dismissed my intent of traveling solo or traveling, in general, is the one that you too would've come across multiple times! ~ 'Just Go!'. Of course, easier said than done, but to be honest, it took me quite some time to understand the intent that comes with travel, the one that goes beyond cliched half-truths.
However, I'd be lying if I were to say I was never influenced by the reel travelgram of the Insta-community. Like many other aspiring travelers, I would happily feature myself in the same loop. But my first ever solo trip to Jodhpur, Rajasthan had thrown me back with how different real life solo travel is! It is not just about picture-perfect stories. In fact, real-life travel is a lot more different than a life of reel travel. In the visual platform of Instagram, it is very difficult to have an insight into the backstory and extremely easy to flow with the picture-perfect travel snippets!
But let truth prevail, I was influenced in ten-folds every time I read such a cliched quote.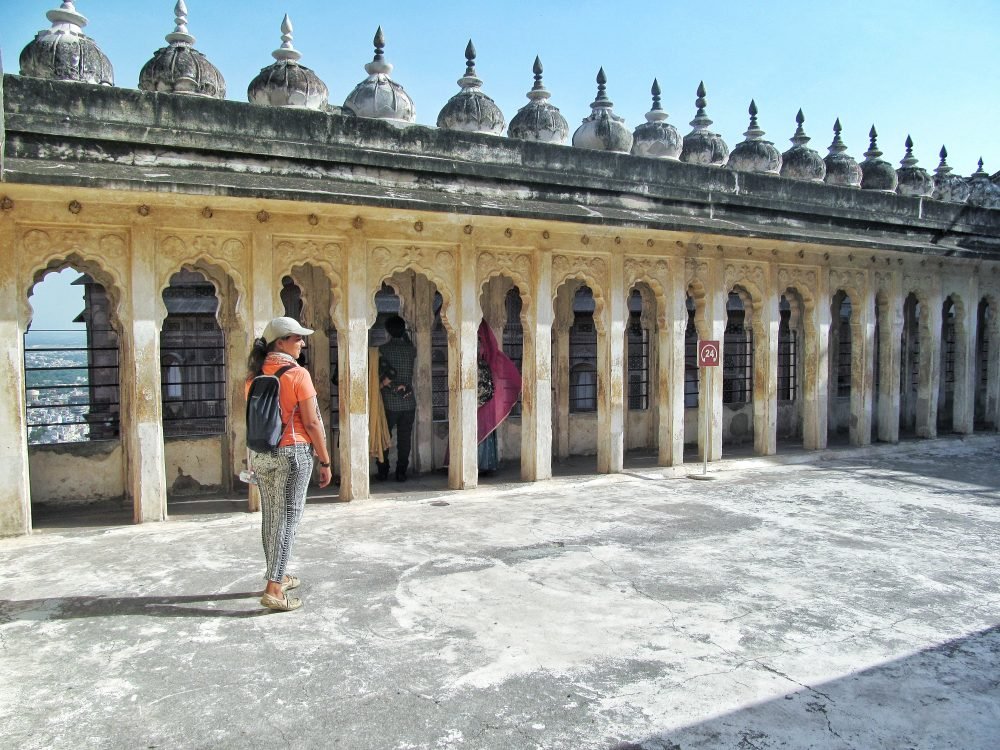 Today I start this post with a rant; but back then, I'd only sit on my couch scrolling through endless travel quotes, assuming those to be real. I was just one of the many others who was flown by the idea of seemingly perfect trips on Instagram. Until one fine morning…
I was stranded at an unfrequented bus stop for 5 hours!
Starting off at 7:30 am I remember running till my breath choked with a 90 L heavy rucksack that's twice or more my size to board the only train that ran between the far-off village, Tilonia, Rajasthan (that I'd called home for the past six months) to the nearest town of Kishangarh which was the boarding point for my bus to Jodhpur.
Hitchhiking my way up to the station that was about 2 km away, I'd finally reached Tilonia station panting only to realize that the train was delayed by about 20 mins! The fact of having booked a connecting bus terrified me more, but with options running hard, all I could do was to keep calm and wait till the train arrives. After a long impatient wait, I finally reached Kishangarh station, threw my rucksack in the boot of an auto rickshaw and asked the rickshaw wallah (auto driver) to speed up. But as tryst had it in its cards, I reached at 9:02 am only to come to a depot that had no buses at the halt.
'Holy Shit, did I just miss the bus?' ~ I spoke to myself as I ran through the other side of the road, heavily gasping to go up to the counter, and feeling disgusted to learn about an ongoing Government bus strike!
Despite running out of feasible options, I was in no will of canceling this trip. In fact, that wasn't even the last thing I'd thought of doing. In a depot that saw barely anyone walking in, I was the only, passenger among the other staff members. Scared, worried and completely hacked off I thought of walking out of this mess and calling it a day, but the absence of a free will dragged me through this vex! With every minute that ticked by, what broke into my ears was the news of private buses either going low on their schedule or commuting overcrowded. But for better or worse, buses to Jodhpur were even rare!
As I sat, idly not giving up on this trip and being completely hopeless from within, I was also willfully hoping for some miracle to happen. My mind just kept on wavering like a see-saw, one moment I thought of walking out of this completely unforeseen situation while in the next, I just acted stubbornly and decided to not give up so easily!
As I rested my neck by the edge of the bench, looking upwards at the slowly rotating fan, speaking in a croaky voice one of the staff members approached (in Hindi), 'Bus ko aane me der hogi, Jodhpur jane waali bus ka ana mushkil bhi hai' (the buses are late, and the bus to Jodhpur could be a tough take!) ~ 'Mein online tickets check kar rahi hu, ek bus hai 2 baje ka, usme agar ticket mila to wahi book karlungi' (I'm looking for tickets online, there's one bus that's scheduled at 2 pm, if there's a seat, I'll go with that one).
Certainly, that seemed safer and comforting an option. With no prior hesitation, I went on and booked the ticket. In the middle of a long wait that was, of all the uncertainty since the wake of this day, I sat patiently; waiting for the bus to arrive as I also exchanged small talks and fleeting conversations with the elderly staff members of the bus depot. While my fear was seeming to settle down, and I'd started to somewhat feel comfortable in the discomforts of this sticky situation, my worry, seemed to be at a rise as I sat by the bench and angularly opposite to me sat an old man suspiciously staring without the blink of an eye!
To my surprise, after about ten odd minutes, he walked up to one of the staff members and started asking about my whereabouts. (In Hindi, questions like, 'Ye ladki akele yahaan par kya kar rahi hai?' (What is this girl doing here alone?) – Even though he faked his C.O.N.C.E.R.N, his lewd looks were a clear indication of his intentions.
I was stunned at his desperation, but kept my calm and did not respond to his annoying pull-off until he came up with any stupid move! That decision seemed sane. But nothing of that sort happened and was really satisfied to see a few more staff members intervene and take care of this situation firmly. Confirming to me, they said, 'Aap yaha safe hai, chinta na kare' (You are safe here, don't worry) and offered me Dal Baati Churma (Rajasthan's popular dish). I was flattered with the coincidence.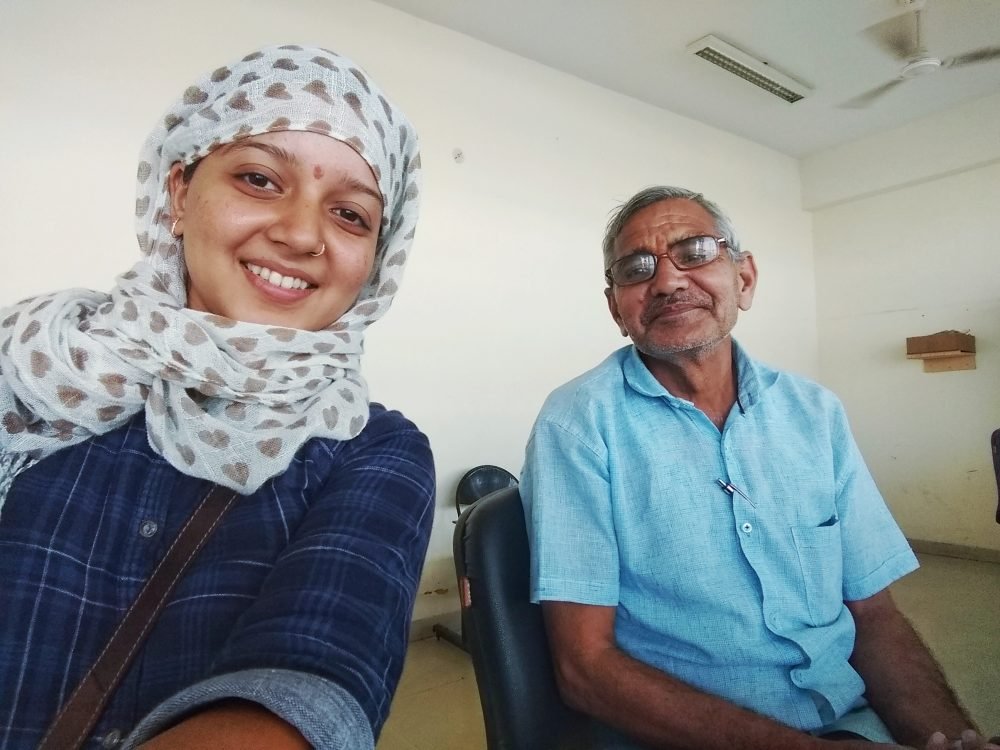 Overwhelmed by their hospitality, all I had to say were 2 words, 'Dhanyavaad, Namastey!' as I moved on to board the bus.
'Indeed, what an eventful day', ~ I thought to myself as I laid by the window pane of my tiny sleeper coach, looking forward to what more my first ever solo trip to Jodhpur had in store for me. As I reflect back, I am balled over by the plans the road had for me! In the middle of none of what was foreseen, I was only moved by the little acts of kindness and of course strangeness, the road had hit me with.
Of course, this ambiguous turn of a wait for about 5 hours followed by bittersweet memories from the Kishangarh bus depot was a treasure of life lessons but these had soon taken a backseat when for the first time in forever…
I checked in to a dorm booked in a backpacker hostel.
Located somewhat away from the old city of Jodhpur, I'd checked in at the girl's dormitory of a hostel. I was glad to have a dorm completely to myself. But taking into account the off-season, the hostel seemed to be pretty much vacant with only one solo female traveler (yours truly 😢) checking-in.
As much as I was in comfort of having an entire dorm to myself my mind was also consumed with passing thoughts of molestation and even worse, 'What if I am raped?' ~ Instantly, I remember grabbing my phone and re-verifying the reviews only to promise myself of a safe check-in, which was followed by a comfortable night's sleep and reflecting at the thoroughly eventful day with a lens of humor!
Come next day, and I wake up to the morning Sun scrolling through my Instagram feed and being really excited and was completely looking forward to visiting the old blue city of Jodhpur, that houses ancient blue Havelis and the majestic Mehrangarh Fort. Everything seemed exciting until…
I was in the middle of the Blue city of Jodhpur.
In the backdrop of the high rise structure of the Mehrangarh Fort coupled with Jaswant Thada and the Rao Joddha desert park, I stood in the congested narrow lanes of the Blue city of Jodhpur. Completely in awe of the well-ornated blue houses and Havelis teamed with mint doors and windows, but had reality hit me when I was actually taken back, filth covered streets, overflowing uncovered drains and the pungent smell flowing through the tiniest nooks of the old city of Jodhpur.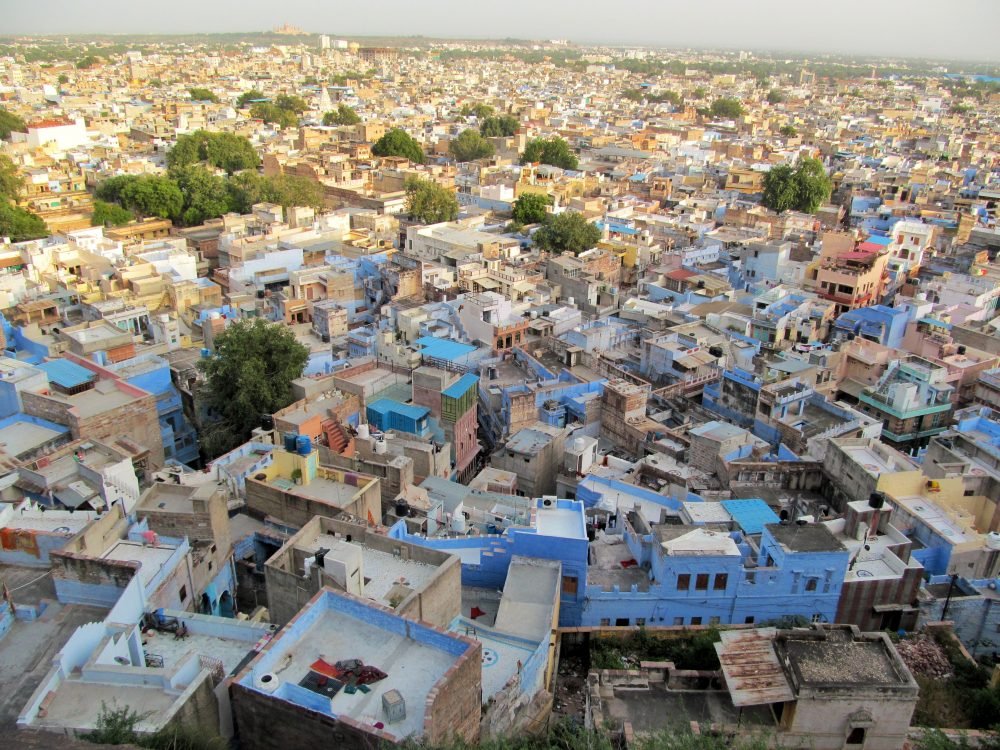 In one moment I was awestruck at the majestic beauty of the Mehrangarh, while on the other I hated standing by those overly crowded mismanaged lanes that only lead to the dismay of a very basic waste management system. In the litter that had ladened the narrow turns of the streets, carelessly disposing of even a single wrapper ached me. I remember walking on a diverted path for about good 7 minutes to spot a dustbin and dispose of the waste wrapper correctly.
In one moment I was taken by the narratives of a bygone era with a pleasant afternoon wind floating by while in the other, I was disheartened to walk up to a high rise point only to spot the 'Not-So-Blue-City-Of-Jodhpur.' From where I stood, one side of the city posed a huddle of yellow houses which comes up to be known as the Sun City while on the other, a huddle of the not-so-blue houses could be spotted which is referred to as the (not so) Blue City of India.
Over constant conversations with my guide, I'd come to learn how the blue houses of Jodhpur were being painted in yellow just out of a will of change!
In one moment, I wandered by the old school bustling market spotting ancient temples and historic buildings while in the other I walked amidst an array of local shops continuing their ancestral trade based on their caste as per the ancient Indian caste system!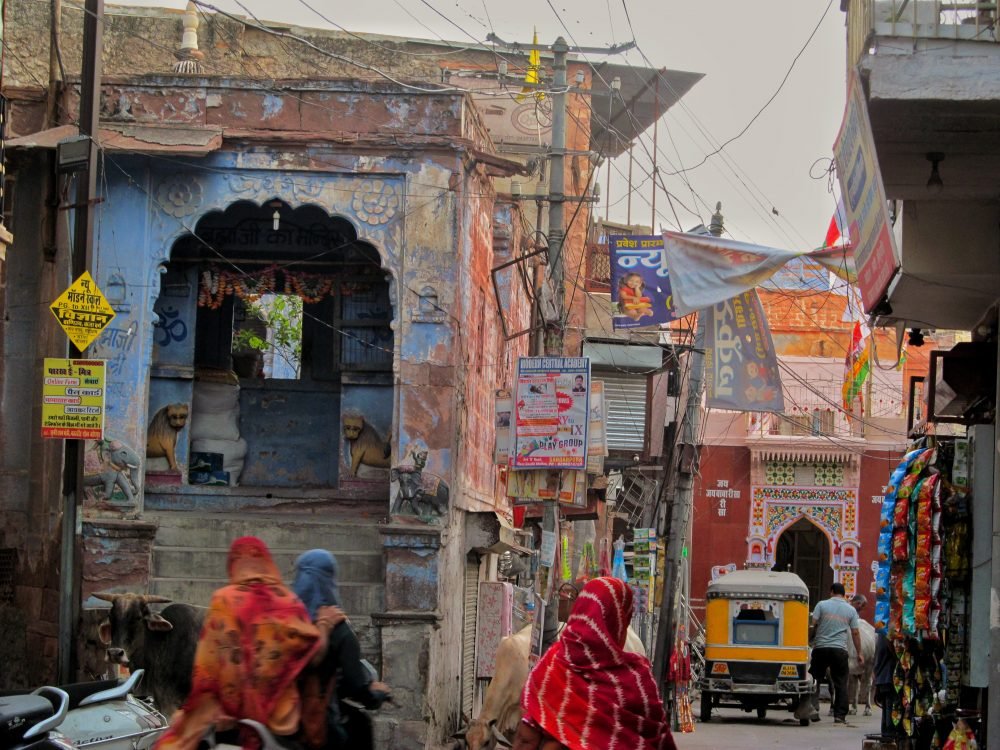 Real Tip – Do yourself a favor, don't get consumed with the highly photoshopped blue images of Jodhpur on Instagram. Instead, go with the least of expectations and you'll be in a win-win situation. In fact, not just Jodhpur, let it be for every other place instead!
Ever since my fascination with visiting the Blue City to the letdown of the same, I've tried this tip. Here's what you can do ~ Google about the place, do your research well, be familiar with the spots you wish to visit but don't allow yourself to consider it of being 'real'. Lesser expectations. Greater surprises! My tryst with Jodhpur was baffling until…
I mouthed a white lie.
After constant bargains, I'd finally booked the rickshaw to drop me to the bus depot. At the start of the ride what felt like a casual inquisition, continued throughout and had started to startle my comfort.
From my whereabouts to my profession, he seemed to be interested in tiny details of my life. After he continued shooting questions for a while, I trusted my gut and a glimpse of our conversation seemed to be somewhat like this ~ Auto driver (in Hindi): "Kya kaam karte hain aap?" (What's your profession ?) ~ Subdivisional police inspector (fortunately, thanking the timing of the universe, I was dressed in Khaki cargos and a mustard shirt that seemingly resembled an appearance of police! 😉
After closely nearing the destination ~ Auto driver (in Hindi): "Wo to aap policewaale hai isliye, nahi to kiraaya to waise 150/- hota hai." (Since you are the police I've reduced the fare, otherwise, the fare comes down to 150).
Know before you go – The weather in Jodhpur for almost the entire year remains warm and sunny which is why it is known as the Sun City, so, in order to keep the houses cool, they are painted blue in color (but, Alas! I suppose that's quickly changing), while this seems to be one of the many reasons, my guide shared two more! The second one being, the color blue keeps away mosquitos and termites and the last one is my favorite ~ Centuries ago, when foreign tradesmen crossed the desert of Osian (a temple town at a distance of about 70km), the blue city of Jodhpur appeared like an oasis and this brought the local tradesmen more business! Interesting, isn't it?