Ta na na na na na na naaaaa… Ta na na na na na naaaaaaa…
Two things before I start this article:
Folks who've shared their childhood with Swami and Friends will read this with a smile.
Folks who've never seen or read Malgudi Days, please go watch/read it and come back with your homework done.
Prescript: For those raised in the late 80s and early 90s, Malgudi Days carved out of R.K. Narayanan's Swami and Friends is more than a frail childhood memory. Our shared universe with Swami and Friends always strikes a chord with our inner child.
The word "Malgudi Days" brings out a childish smile in us. This is exactly what happened when I was on a solo trip from Kanyakumari to Kashmir somebody said Malgudi Days is a real place and I was ready to embark on this childhood dream.
I discovered that R.K. Narayanan's "Swami and Friends" was shot in the Malgudi town of Agumbe. All thanks to Shankar Nag, the director of Malgudi Days who brought to life the imaginary world of Swami and Friends. And before I knew it, my bags were packed for the rural rusty trails and mud houses of the Malgudi town to relive Swami's dreamland.
The Journey: I started early from Bangalore bus station to reach Agumbe. The roads are so good that I slept through most of it.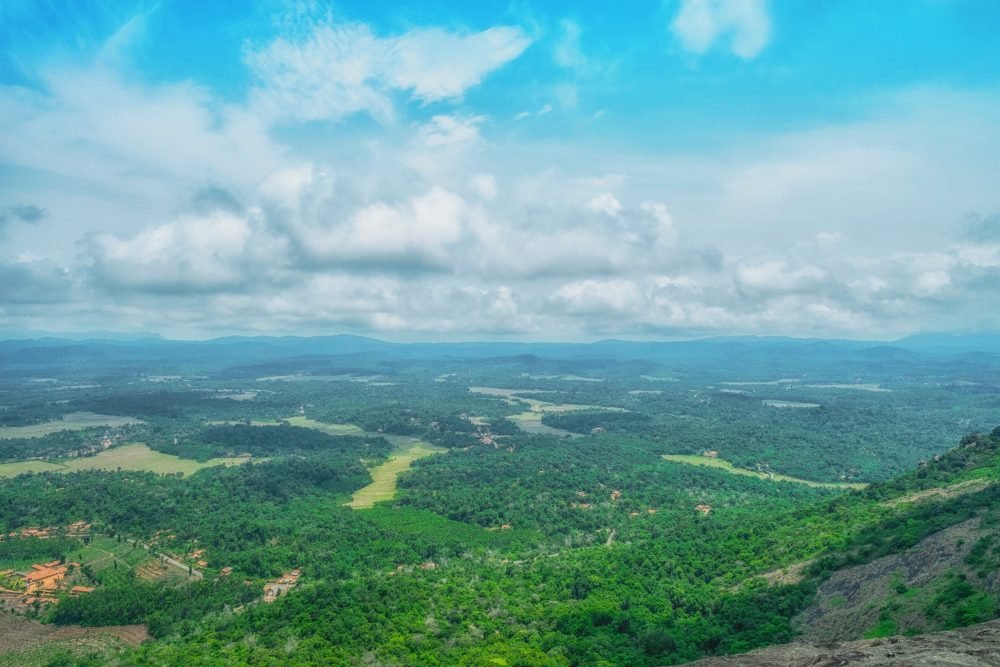 About Agumbe (Karnataka)
There is more to Agumbe, beyond being the Malgudi town. It is popularly known as the King Cobra capital of India.
Hiding amongst popular neighbors like Bangalore, Agumbe bets to be an off the grid destination. It is located in the Shimoga district of Karnataka.
Due to heavy rains that Agumbe blessed with, it is also referred to as the Cherrapunji of the South.
It is home to endemic species of flora and fauna, which makes it the last surviving lowland rainforest of India. This also highlights the invincible need for us to travel responsibly.
Agumbe has many faces. It looks absolutely different when soaked in monsoon and at other times when parched in summer. The earthly sweet smell of rain turns every corner of this little town green. However, monsoon in Agumbe is so severe that a friend turned back with a bag full of fungi infected clothes after spending a monsoon in Agumbe.
The weather conditions make a visit post monsoon, that is September or October, most recommended.
Exploring Agumbe and Malgudi
Swami's Home: To traveler's delight, Swami's home as shot as in the Malgudi days is now open to all. For those who want to live their own childhood dream in the Malgudi hamlet, can stay there. It is open to travelers. It is popularly known as the dear Kasturi Akka's home that warmly welcomes travelers.
Waterfalls: Thanks to being the last surviving rainforest of India, Agumbe is a paradise full of waterfalls. Many named and many randomly oozing out the green mountains. Here are a few must-visits in the list:
Kunchikal falls: It is a massive 1492 feet high waterfall, said to be one of the highest in India.
Jogigundi falls: The water falls from a height of around 20 feet, creating a pool retreat.
There is plenty to explore like: Oanke Abbi falls, Barkana, Barnana, Koodlu Theertha falls and more.
Trek to Kundadri: Set at an altitude of 3200 feet, one can either drive up or trek to the hillock. There is an ancient Jain temple, believed to be constructed in the 17 century and two ponds surrounding it. Surprisingly, unfolding the view of the greenest paddy fields, dense forest surrounded by mountains and backwaters of the Varahi dam.
The Rainforest Research Station: Agumbe receives the second highest rainfall in the country. Those keen to explore herping or macro photography, can get opportunities for sighting and clicking endemic species.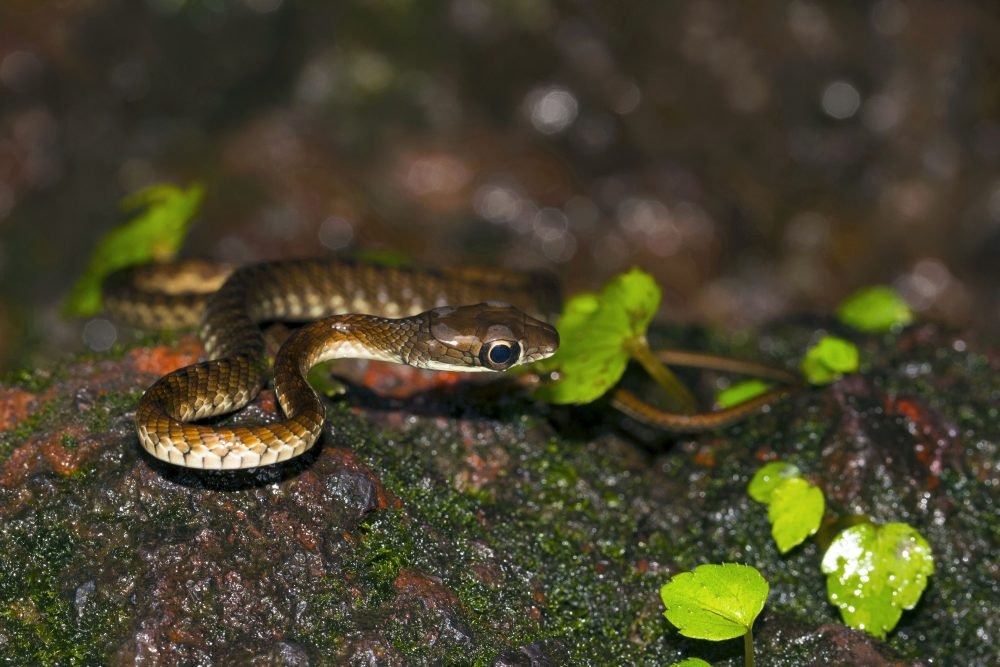 The Kavaledurga Fort: Take a stroll around the ruins of the palace. Hike up to the vantage point, opening up to the panoramic view of the backwaters of the Varahi dam.
Sunset Point: A quick 10 minutes drive from the village, leads to one of the most sought after sunsets in the world. On a clear day, this place opens up to the view of the sun setting in the Arabian sea.
Pro Tip: Keep a water bottle, and wear comfortable shoes.
Agumbe Cultural Exploration
Yakshagana: Yakshagana, the classical saga of music, dance, and stories derived from ancient scriptures and epics. "Yaksha" literally translates to the "nature spirit" and "gana" to "song." The artists perform from the dead of night to twilight in authentic Kanada language. Interestingly, it dates back to the 11 to 16 Century CE. Isn't it wonderful to see how this art form has survived across the anarchic centuries!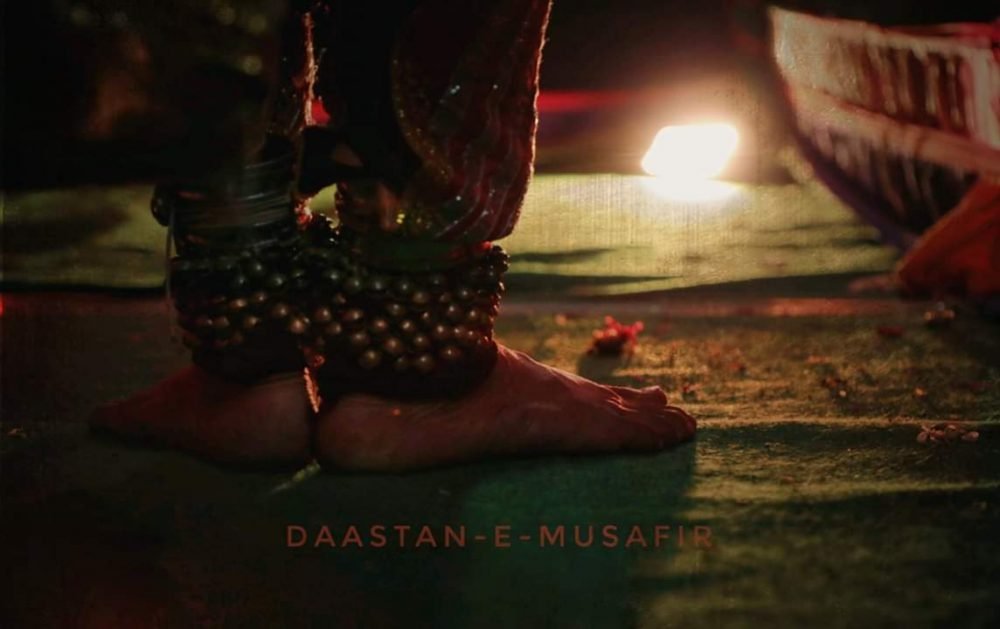 Ardent thanks to my host, Shashank, I was able to attend two Yakshanganas on a week-long trip. Attending Yakshagana is like no usual festival.
It was 2 am, the whole village and folks from other villages travel great distances to experience this performance. Everybody sat anywhere and everywhere as they watched the performance without a blink of an eye or sleep. Occasionally, a tray full of tiny buttercup milk tea reached the audience, and they cherished it with love. There, leaning my back against an old tree with a buttercup tea in hand and performance so powerful in sight, I realized how different an India this is. Imagine around a hundred folks, gathering from dusk to dawn to watch a drama unfold. Imagine an India where people are not locked at home with their mobiles and television sets alone. Imagine an India where people wake and sing and dance along with the artists all night. Everybody abandoned the comforts of their home for the night. Everybody laughed together. Despite cold and sleep, everybody was present living the tales of culture. I couldn't help but smile that this India.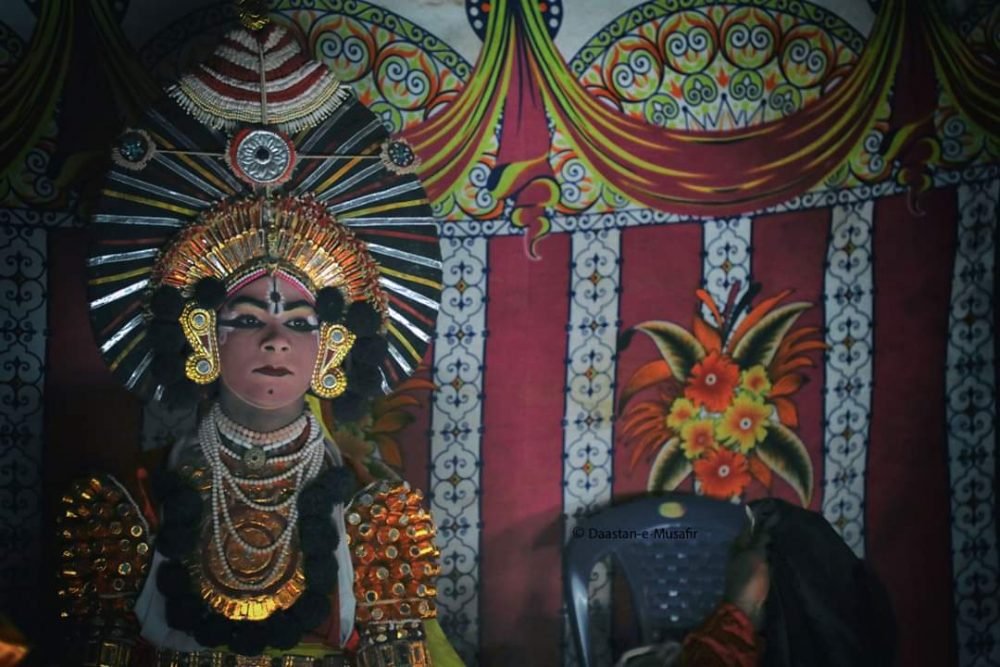 "Don't you want to see the drama backstage," Shashank said breaking the reverie of my thoughts. We rushed backstage. A hustle of artists unfolded. Some were waiting for their performance, some were resting, and some were painting their faces. Interesting, there are no fancy make up artists in Yakshagana. The artist themselves paint their faces, kohl their eyes deep and black, dress in vibrant satin silks and wear heavy crowns carrying a legacy of epic tales. Though they perform all night but nobody tires.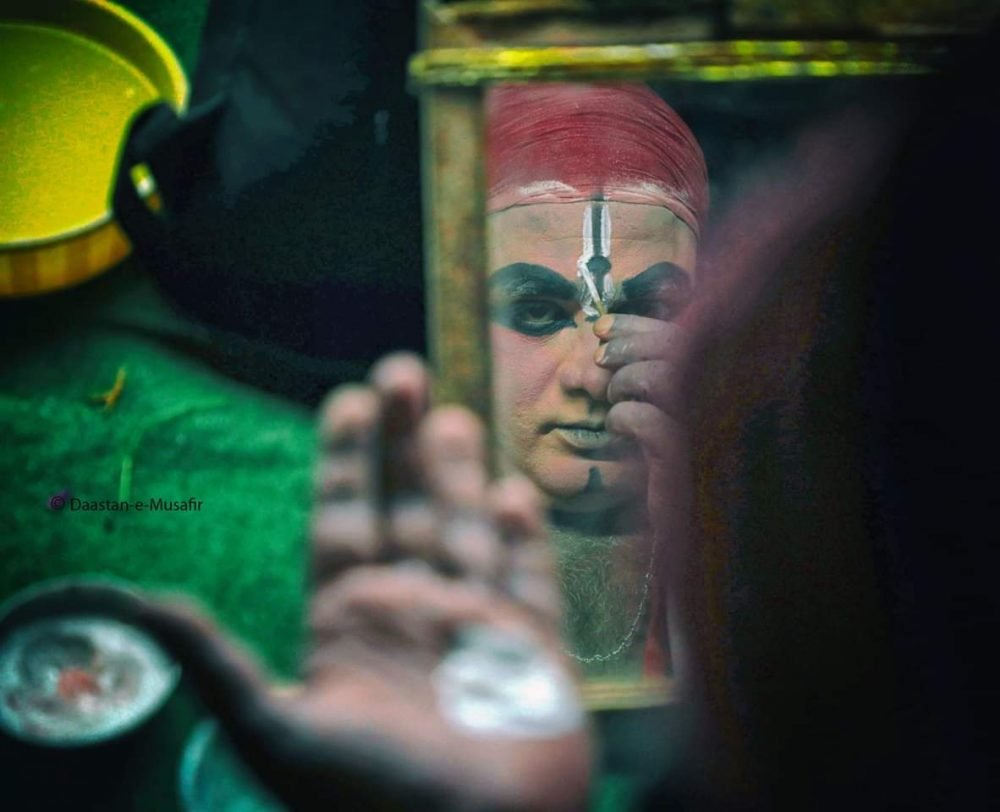 The drama, both on stage and backstage has moved me towards an India that we seldom meet. Towards an India far from the city glitters. Towards an India, our children may never see. But they ought to. We all ought to! So I take this as a heartfelt responsibly to urge all you dear readers to experience Yakshagana, at least once. For the simply reason, that this is an India, we can't let go of.
Stay: I stayed with Shashank. He runs a small homestay called Hingara, which is 350-year-old traditional Kannada home. Yes, three hundred and fifty-year-old home, still beautifully preserved.
Food: I was fortunate to taste some of the traditional cuisine made with lots of love. I heartily recommend that you must explore the taste of Agumbe. Here are a few suggestions:
Nool Puttu with sweet coconut milk or spicy gravy
Khotto
Akki Rotti
Neer Dosa
Kayi Kadubu
Agumbe | Magudi – How to Get There?
Airport: The nearest airport is Mangalore (108 km)
Railway: One can reach by two railway stations: Shimoga (90 km) and Udupi (55 km).
Road: Take a bus/drive from Bengaluru to Agumbe (357 km)
In case there is no direct bus, take a bus to Theerthahlli from Bangaluru and then to Agumbe.
Things You Should Remember!
In case you are visiting Agumbe around Monsoon, carry an extra pair of clothes.
Most of the mobile networks don't work here. I was using Vodafone when I got to Agumbe, and no network was a real delight. Those who want to stay connected Airtel postpaid should do fine.
Around monsoon, the government restricts entry to certain waterfalls and forest covers. Check around before you head out.
Being the Cherrapunji of the South, Agumbe is home to uncountable leeches. Carry a bag of salt and anti fungi medicines before you embark on this monsoon adventure.