It's been quite some time, and I wanted to go solo somewhere around Bangalore, I was looking for places to visit but yet, not to go anywhere that looks close to Kerala as I just had a short trip to Kasaragod for Vishu. My quest began, and I zeroed on Coorg. Because it has Namdroling Monastery (also known as the Golden Temple) to visit and 2-3 falls, and I thought I should pick one. I didn't want to do tea/coffee plantation trips or go on a trek this time. I also made up my mind to use public transport mostly. I booked my bus tickets on Redbus, and I wanted a cozy place, so I picked one on Airbnb – a hill view place. I took a list of places I wanted to visit and checked maps only to find that each place is in one corner and Madikeri is the point that connects them all. I figured that I could possibly visit at least 7 of them. 2 t-shirts and other essentials in a small backup and I was all set to explore Coorg on my own.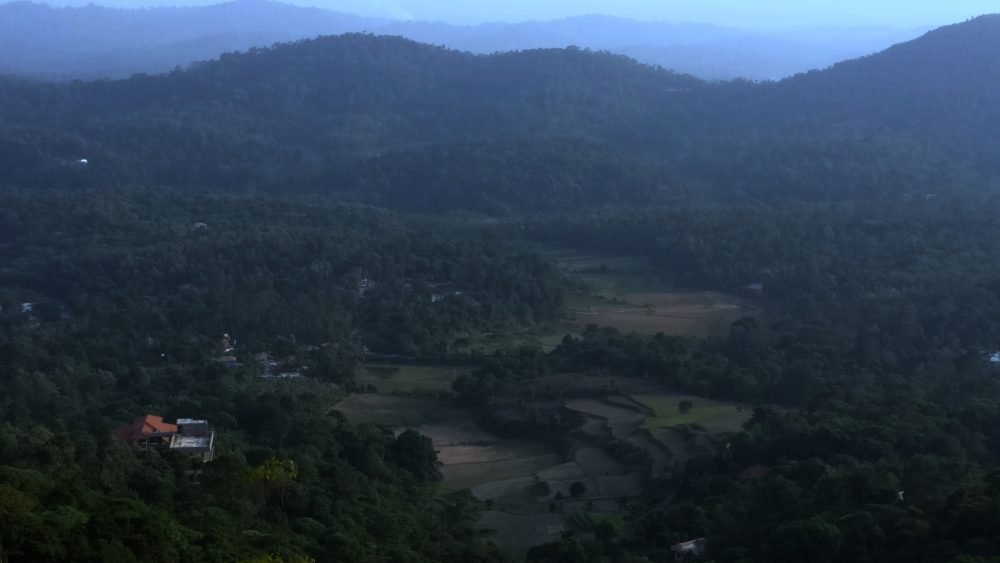 Saving Money vs. Giving in for a Nice View
I reached at 5:45 AM and luckily, my hosts were okay for the early check-in. They also were kind enough to pass on a good auto driver's mobile number so he could pick me up on time. I reached Coorg and went straight to my Airbnb place, and I thoroughly loved the view from there. Since it was hilltop, I had to spend 70 bucks on the travel each time.
If you're going solo and if you'd like to save bucks, I'd recommend Zostel or similar backpacking hostels. Around 10:00 AM I called the auto driver, and he dropped me at the Madikeri bus stand. I clicked pictures of the board with the bus details and figured I should go to Kushalnagar, and from there, I should take an auto to the Golden temple. Kushalnagar was a solid 40 minutes ride in the bus, but, Oh boy! The ride and the views. Spectacular!
Tibetian Temple & Tibetian Food in South India
I went to the Tibetian temple that had massive Buddha statues, and there were Buddhist monks around. I went to the Malaya restaurant and ordered a Thupka and Momos. Giant momos that you don't get to see anywhere else in South India and indeed, lip-smacking. The Thupka was good though, was not close to what I've had at Ladakh.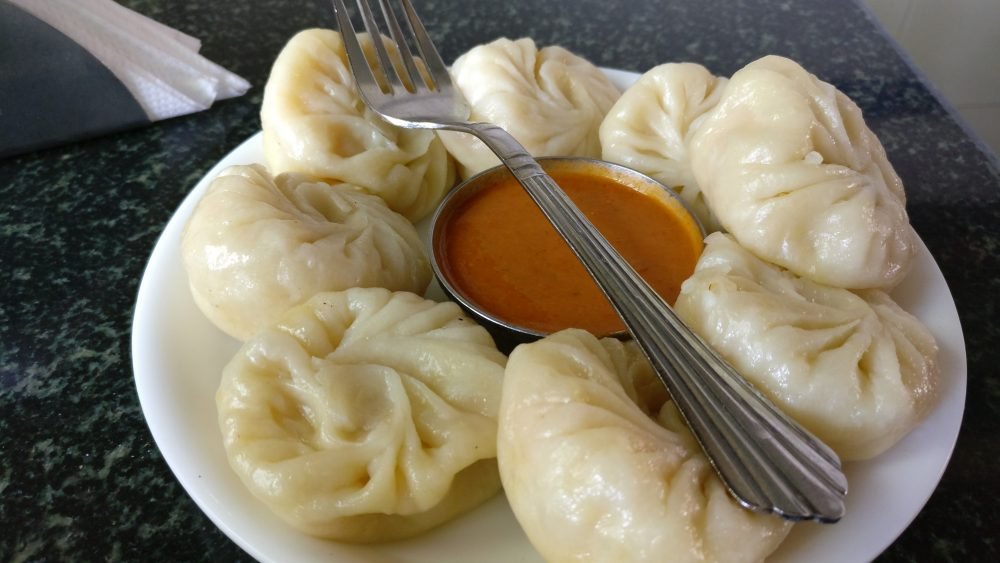 The auto driver told me to visit Nisagardhama which was not in my list, and it was a few kilometers from Kushanagar, so I did visit. It's a small eco-park that has a boating place but nothing else. Probably, a good place to kill time if there are kids with you, else, I'd ask to skip. I got a few small bottles of homemade wine from Nisagardhama's shopping complex. I'd suggest you talk to your host or the auto drivers to take you to the right place. They have amazing flavors ranging from pomegranate, chillis and dry fruits.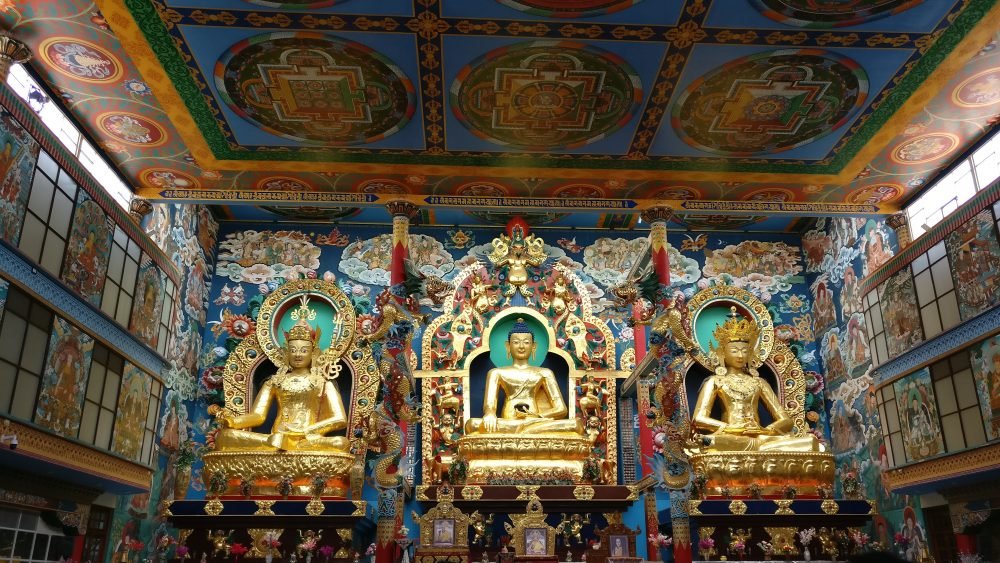 I returned to Madikeri bus stand and went to Rajas seat which was just 2 Kms from there, it is again a small park but with a good view and it is best to visit during the sunset, so you get to experience the view. I walked out to try some lychee gooseberries and went back to my stay place around 6:00 PM and had a hot cuppa watching the hills view (apparently, that's the name of my Airbnb stay place).
Tala Cauvery and Triveni Sangama
I wanted to visit Bhagamandala and Talacauvery the next day, and the bus frequency works according to the temple's timings. You get a bus at 6:00 AM which I apparently missed and took the 10:30 AM bus. There are a few private buses as well. Bhagamandala is a good 1-hour bus ride from Madikeri and the views, again, were amazing. The temple also provides lunch starting from 1:00 PM, and that's the best bet because there are very fewer restaurants around.

There's Hotel Mayura nearby and looks like the only decent place you can have lunch at, otherwise. You also get to visit the Triveni Sangamam that's walkable from Bhagamandala before you leave to Talacauvery. There's a minibus from Bhagamandala that takes you to Talacauvery which is just 8 km from there. The minibus started around 2:00 PM and dropped me off at Talacauvery, and the conductor also informed that we'd start back to Madikeri at 3:30 PM. From Talacauvery you can take stairs (around 300 I hear) to Brahmagiri hills for a good view.
Did I Make it the Abby Falls?
The bus took its own sweet time, and I reached back to Madikeri around 6:00 PM and rushed to Abby waterfalls which again is a 10 km breezy auto ride. It was their closing time, but I had the luck in my favor that they allowed me inside. From Abby falls – my auto driver took me to other places to visit like Raja's tomb, Omkareshwara temple, shopping place to pick spices, chocolates and tea. Around 8:00 PM I had my dinner and took my night bus at around 11:00 PM from the private bus stand.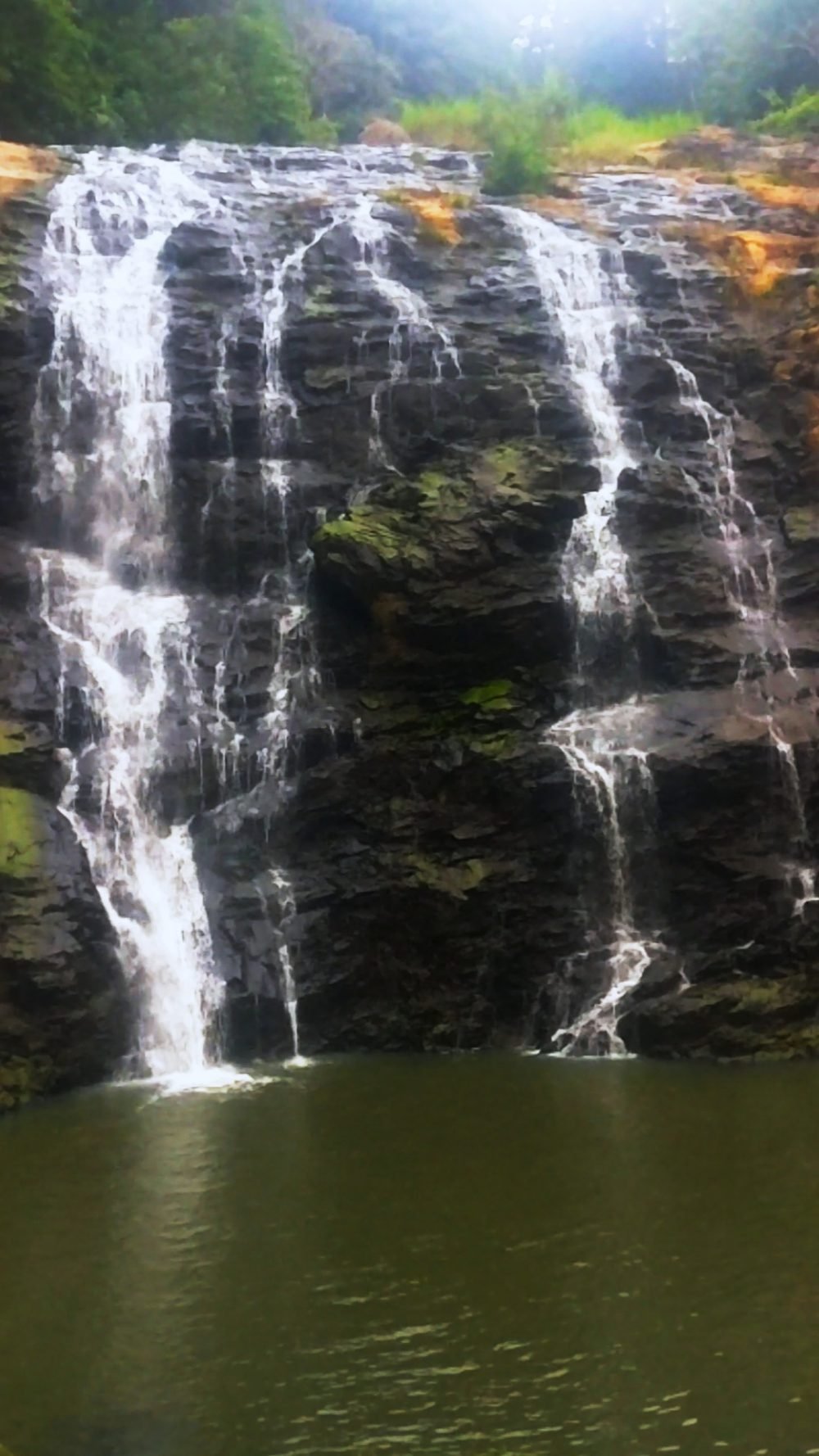 Would you like to do something different from the above?
There are more places though to explore – you can visit the Dubare Elephant Camp if you're interested and it is accessible from Kushalnagar. Mandalpatti is a place that's known for the beautiful sunrise, but the roads are closed right now, but you can still visit taking the longer route. Other places are Harangi Dam, Mallalli Falls, Chikli Hole dam, Nalknad Palace, Sri Mrithyunjaya Temple, Iruppu Falls and Nagarhole at a distance of 50+ km in radius. I didn't have enough time, but I'm planning to visit again during August as I hear that the waterfalls range are much better at that time.