About Spiti: A high altitude cold desert located in Himachal Pradesh. It is characterized by barren mountains, treacherous passes, long rivers, and dreamy landscape. The Moonland is home to thousands of years old monasteries and is definitely one of its kind.
About Spitians: When I think Spiti, I think of her. Her in a little woolen dress running around the muddy trails of the village. This little girl aged merely three taught me the most important lesson by far. A lesson the people who run this world don't understand but should. A lesson that says a lot about this valley that many of us would soon tread to fashionably vacation in. I'd say, there's no meeting Spiti if you don't explore the hearts of the Spitians. So allow me, dear reader, to share a story. It's called the biscuit story.
The Biscuit Story: The sky spread wide across the mountains in the Spiti Valley. Somewhere in a small village called Mudh, little white mud houses were cherried on muddy village trails. I hopped out of the homestay to find a girl with a herd of sheep.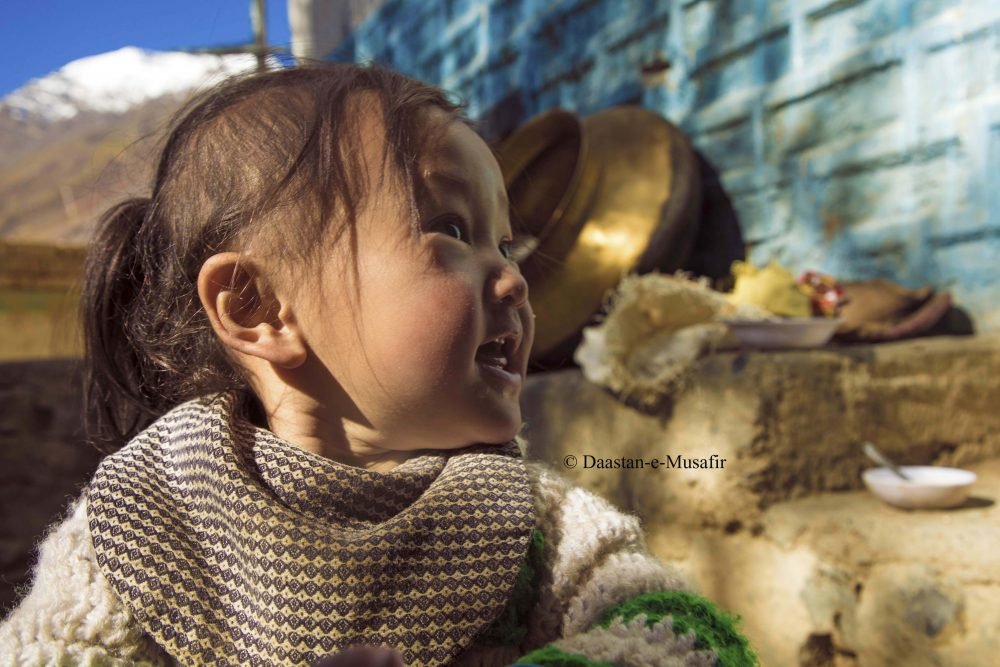 The moment she saw me, she held my hand close and took me to her home. Her home being a small dark room with a high window closer to the ceiling. Her mother was roasting beans as light entered and fell on her face from the window. The smoke from all the roasting illuminated the window. Her mother invited me over and served a handful of beans. Soon her aunty walks in the scene and offers her a pack of biscuits. It was one of those, the one in which two little packs of biscuits are wrapped into one. We ate beans and chatted for a little while as she toyed around the pack of biscuit. Soon she opened the pack to discover that it wasn't one pack but two. Can you guess the first thing she did when she found out that there were two packs instead of one?
Her instinct was to immediately extend her hand, holding a pack towards me. Her instinct was to give away anything that was more than what she needed.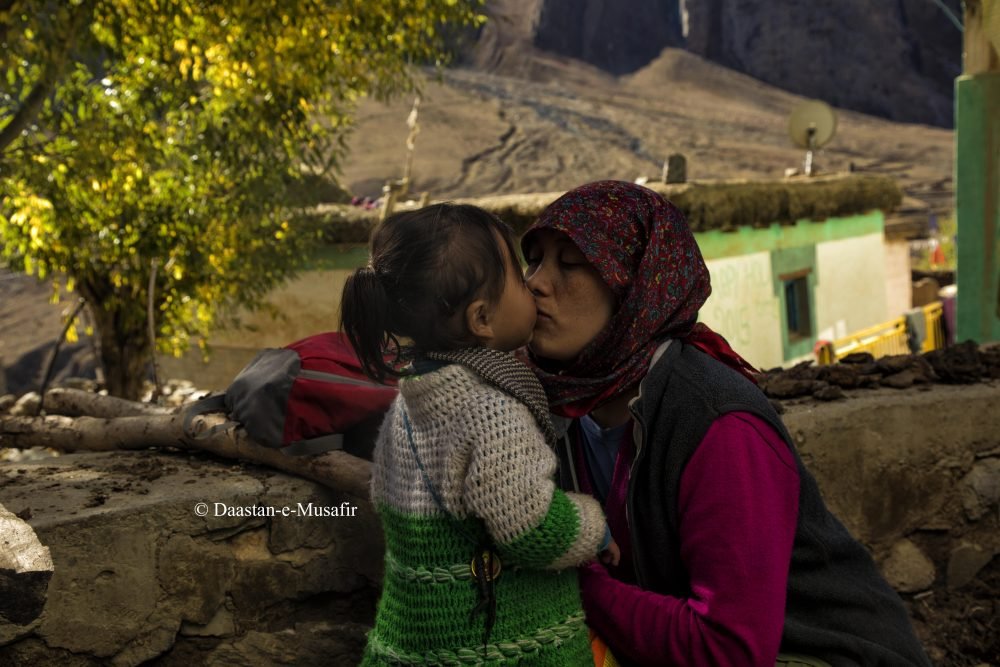 Imagine a three-year-old who understands that. Imagine a village who brings up children that way. Keesha's heart knew no bounds of love. There were no calculations in her love. It was just there, pretty much like the mountains, the sky, and the river. And I can proudly say that the most important lesson I've learned in life, comes from a little kid in the Spiti Valley, aged merely three.
That afternoon, we were leaving Mudh. There was some construction work going on at the roadside, right outside the village. There were a few workers lunching at the side of the road while others worked. The trail was muddy, and a hurricane of dust roared, as our four by four vehicle passed by. I looked outside the window to notice that out the little hurricane of dust must have disrupted the workers eating just a few steps away from our cab. I asked the driver to stop and rolled down the window to apologize for the inconvenience to the workers who were eating. As I craned my neck out to say sorry, all of them started smiling and waving goodbye, before I could utter a word. They asked us to visit soon.
You see, I firmly believe that people are the soul of a place. There's no exploring any destination, without exploring the hearts of its inhabitants.
Spiti is untouched and unspoiled not only in terms of landscape but also the heart of its people knows no dirt of corruption. Here a few things you simply can't miss in this heavenly valley:
1. A Silent Walk in the Chitkul Village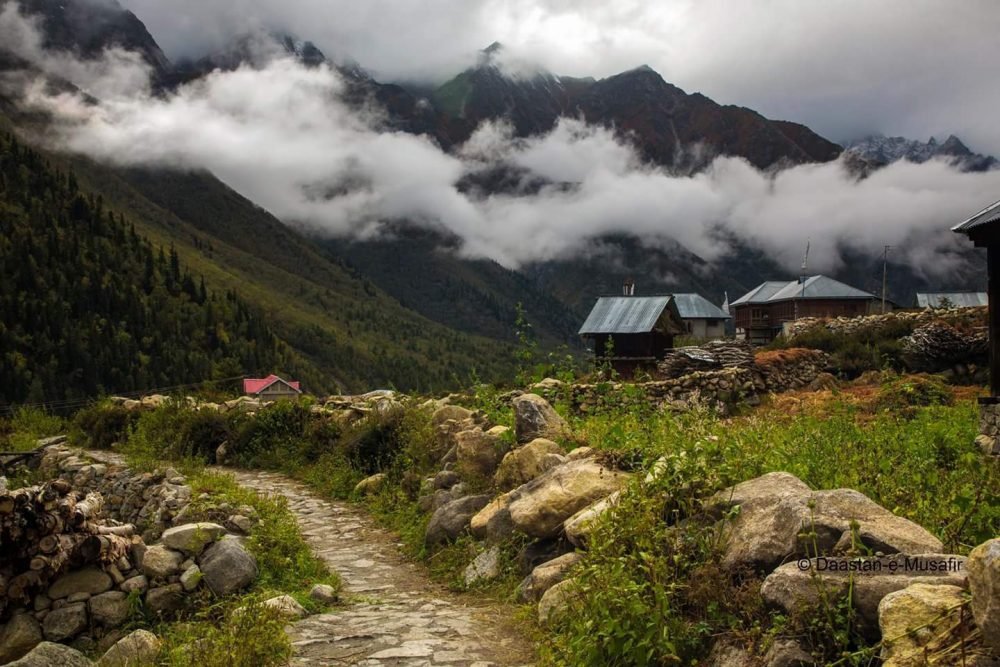 Chitkul village looks like straight out of a Himalayan postcard. Somewhere in the magic of traditional Kath Kuni houses, cobblestone streets, a river, called Baspa, flowing from the foot of the village—travelers lose their heart. It is also popularly known as the last village before the Indo—Tibetan border. Though, famous on the touristy circuit, the village maintains its scatinity and natural scape.
Pro Tips:
Note that there are no ATMs
Bid goodbye to the cellular network
Over the last few years, a lot of travelers have made Chikul a hit destination. This, to some extent, has disturbed the peace of a few old village folks. I think travelers deciding to visit Chitkul, need to be a little sensitive towards the privacy of the village folks. For instance, some of the old village folks may not be very comfortable being photographed without their permission.
2. Shades of Chandratal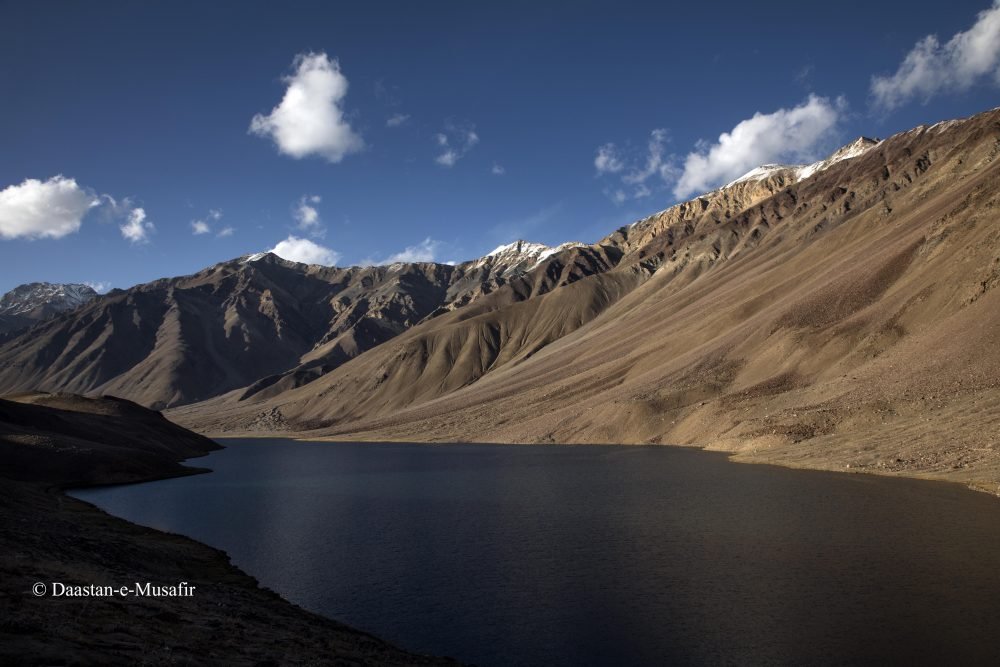 A visit to this about a kilometer long and half a kilometer wide lake is pointless, without knowing about the many legends it is wrapped in. Chandratal literally translates to the "lake of the moon."
Legend has it that "Chandra", the daughter of the Moon and "Bhaga" the son of the Sun, were in love. Their parents' though were not so keen on this union. Hence, they disapproved. Chandra and Bhaga decided to elope and get married. Chandratal, the lake is considered to be a mark of their reunion.
Another local legend claims that fairies visit Chandratal at night. No kidding, some of my travel mates even claim to have seen tiny little fairies. Wish to try some luck?
Pro Tips:
Camping adjacent to the lake is not allowed. Make sure that you book a nearby campsite just a few minutes away from the lake. In season time, most of these campsites are full. Thus, pre-booking is a must.
Even if you visit the lake in summers, nights can be really chilly and windy. Make sure that you carry a backpack full of woolen clothes.
Cellular network is not your best friend here. Though BSNL works, most of the time.
There are no ATMs nearby. Please withdraw cash in advance.
3. World's Highest Post Office
Set at an unbelievable altitude of 4440 meters, the post office in a village called Hikkim—is the world's highest. A lot of travelers and locals, of course, take delight in sending mails from this little post office. I made a list of all my folks who love receiving postcards. When we got there, an old post mater happily helped us along with many other travelers in sending postcards to our loved ones from the world's highest post office. While writing these postcards, my faith in the postal services was questionable. You see, it's a tough trail. Hikkim is not your nearby grocery store. It is difficult to get there. The roads are harsh, and the journey can be an arduous one. The mails have to first get to Kaza, from Kaza the mails are further dispatched to other places. The postcards travel through many mountain roads—good, bad and ugly to finally make it home. To my surprise, all my folks received the handwritten postcards. Isn't that almost magical?
However, what makes this post office even more important is that this is the only mode of communication for the locals and the visitors. The mobile network isn't trustworthy, sometimes BSNL works, and other times it simply doesn't. Okay, it mostly doesn't work. No internet. Nothing! If it were not for this little post office, Hikkim and other nearby villages would have been isolated from the rest of the world. Isn't it simply marvelous to realize that in the day and age we live in, there is a village in our country with a post office being its' only bridge to the outside world!
4. The Mummy of Giu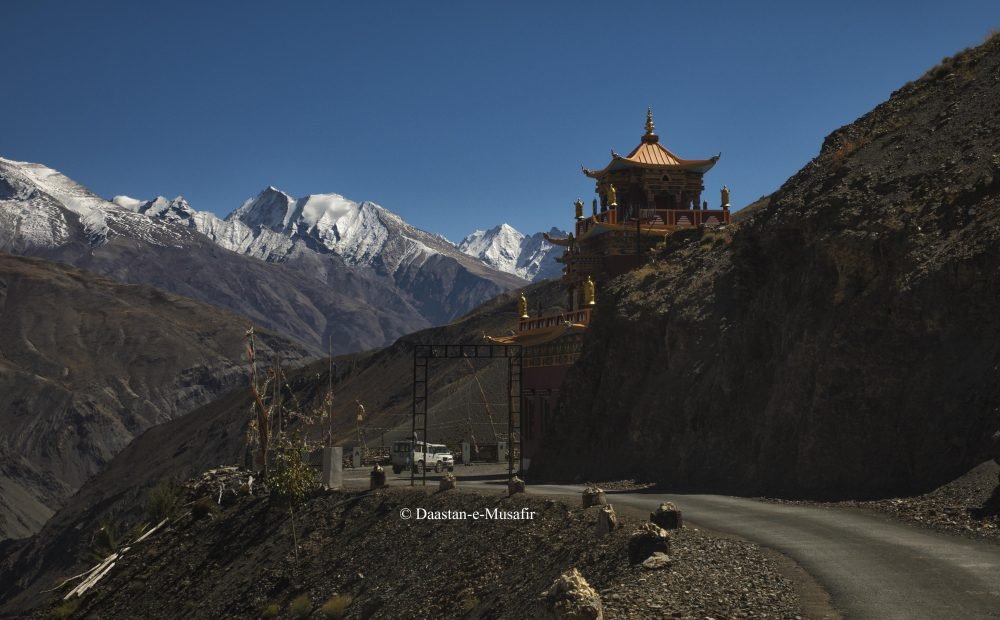 Where else could you possibly find a "mummy" in India? Our very own Spiti Valley has many secrets, and the mummy of Giu just happens to be one of them. As per folklore, this mummy is of a lama who "left his body" while meditating at the age of around forty—five, thousands of years ago. However, carbon dating proves that the mummy dates back to 1475. Yes, 1475! Surprisingly, the remains of eyes, teeth, and hair still survive. It is believed, however, can't be factually proven that this mummy belongs to the monk, Sangha Tenzin. A glass cubicle is a revered home to the mummy in the Giu monastery, go check it out!
5. Night Sky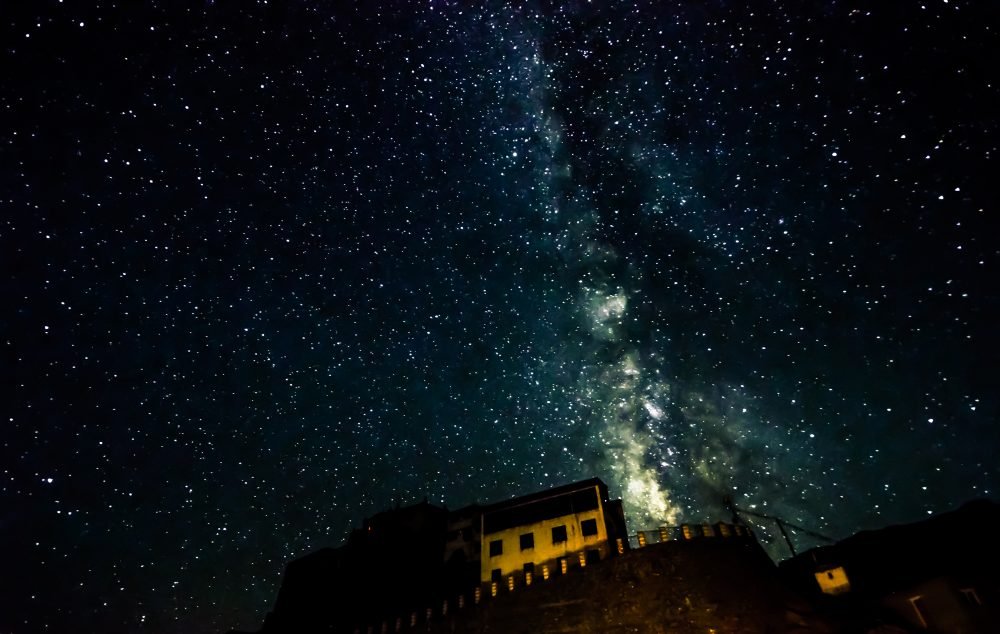 Komic, Kibber, Mudh, Tabo— all these villages are a dream come to for stargazers and night photography enthusiasts. Spiti certainly has one of the best night skies in the Himalayas.
Popular Circuit: This is the usual itinerary that travel folks follow in Spiti. Not to say that you've got to follow it, but to illustrate a general idea of how to go about places.
Day 1: Chandigarh to Kufri (127.2 km / 4 to 5 hours)
Day 2: Kufri to Sarahan (147.5 km / 5 to 6 hours)
Day 3: Sarahan to Sangla (80 km / 3 to 4 hours)
Day 4: Sangla to Chitkul (23 km / 1 to 2 hours)
Day 5: Chitkul to Kalpa (62 km / 2 to 3 hours)
Day 6: Kalpa to Nako (100 km / 4 to 5 hours)
Day 7: Nako to Giu to Dhankar to Mudh (122 km / 4 to 5 hours)
Day 8: Mudh to Kaza (55 km / 2 to 3 hours)
Day 9: Kaza to Key Monastery – Comic – Hikkim – Langza to Kaza (63 km / 3 to 4 hours)
Day 10: Kaza to Chandratal (51 km / 6 to 7 hours)
Day 11: Chandratal to Manali (48 km / rough roads can't quote the time, good luck!)
Day 12: Manali
Day 13: Manali— Chandigarh (312 km/ 8 to 10 hours)