Last year, I went to the U.S. on a research-based work trip. And during my month-long stay across various regions in the country, I went about sightseeing the world famous stuff such as the Streets and Skyscrapers, Water Falls and Beaches, Parks and Forests, Lakes and Rivers, Art Museums and Historical Buildings, Massive Canyons and Deserts, Casinos and Entertainment Hubs, etc.
That's how everybody sees the U.S., right? Well, I think there is a lot more to it. Let's find out!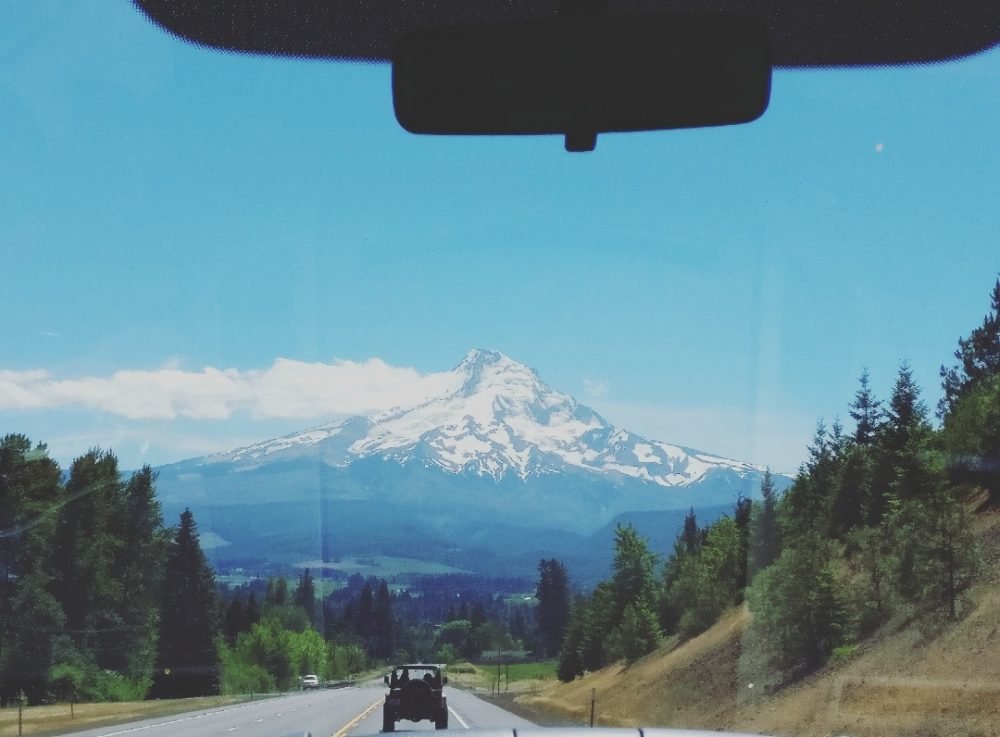 But Why Oregon (United States)?
I am not sure how many of you know of this state in America. When I first heard that my conference was happening at the University of Oregon located in Eugene, Oregon, I was intrigued to know more about the state because I had never really heard much of it. Also, last year, a new documentary series on Netflix called Wild Wild Country had come up, based on the life of a famous Indian philosopher and a controversial guru – OSHO.
And the trailer had mentioned Oregon! Now, I suddenly knew that Oregon is famous for all the wrong reasons and wanted to dig the information further. I browsed the internet, visited travel websites and read some articles. To my surprise, here's what I discovered – An American state with miles of stunning coastline, forests and farms, dramatic scenery, surging waterfalls, wild rivers, countryside vineyards, and picturesque cityscapes. And I knew, Oregon is going to be such a blissful escape!
Where Exactly is Oregon Though?
If you are not familiar with the geography of the U.S., let me break it down for you – The United States can be divided up into five major regions: the West, Southwest, Northeast, Southeast, and Midwest and has 50 States in total.
Oregon is a state located in the West region, just between Washington and California. To be precise, it is a part of the Pacific Northwest region of the West Coast that interestingly makes it one of the four states in the U.S. to have coastline along the Pacific Ocean along with Washington, California, and Alaska.
The Magic is Real Here!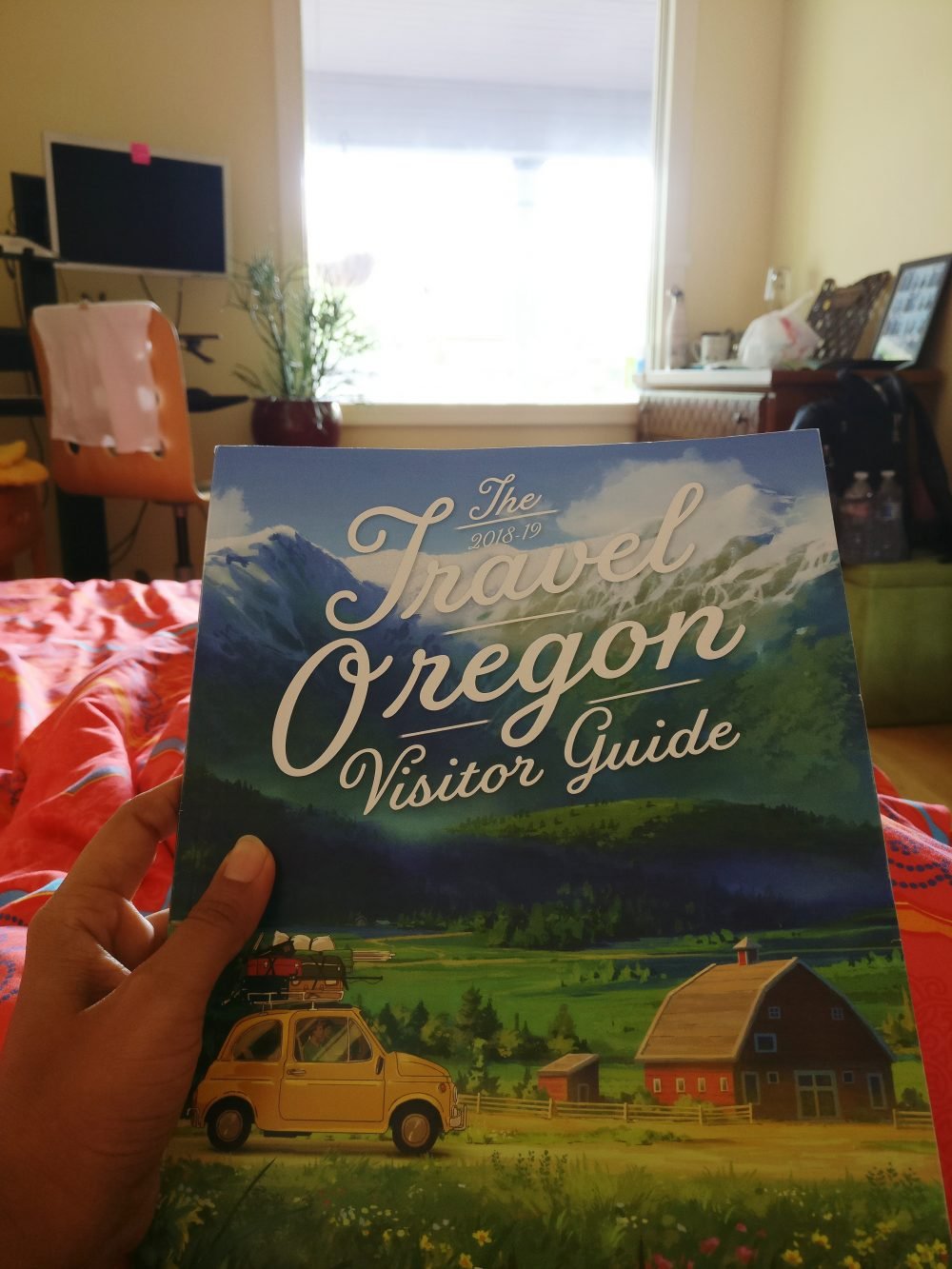 Scenic natural wonders humble Oregon and the magic it holds is enigmatic. It is a vast state and trust me, you would want to see all of it. The best way to explore Oregon is to do it regionally or by picking up destinations that stimulate you. You can check the local guide here. Since I had a limited number of days, I fixed my eyes upon some of the most fascinating regions that came on my route. I started my journey from Portland and was on the road for the rest of my trip. Let me navigate you through my excursion!
Portland Region
Known for its off-the-cuff vibe, artistic lifestyle, classy architecture, fun-filled nightlife and madness for food, Portland's urban atmosphere breathes life into Oregon and has something for everyone. You may ride in an aerial tram above the Portland skyline or may even stroll along the Willamette riverfront and take a boat ride in the waters. If you are into art, there are lots of local Art Galleries and Museums that are open till late at night. You are likely to watch an artist in action, painting the street walls or designing some piece of modern art.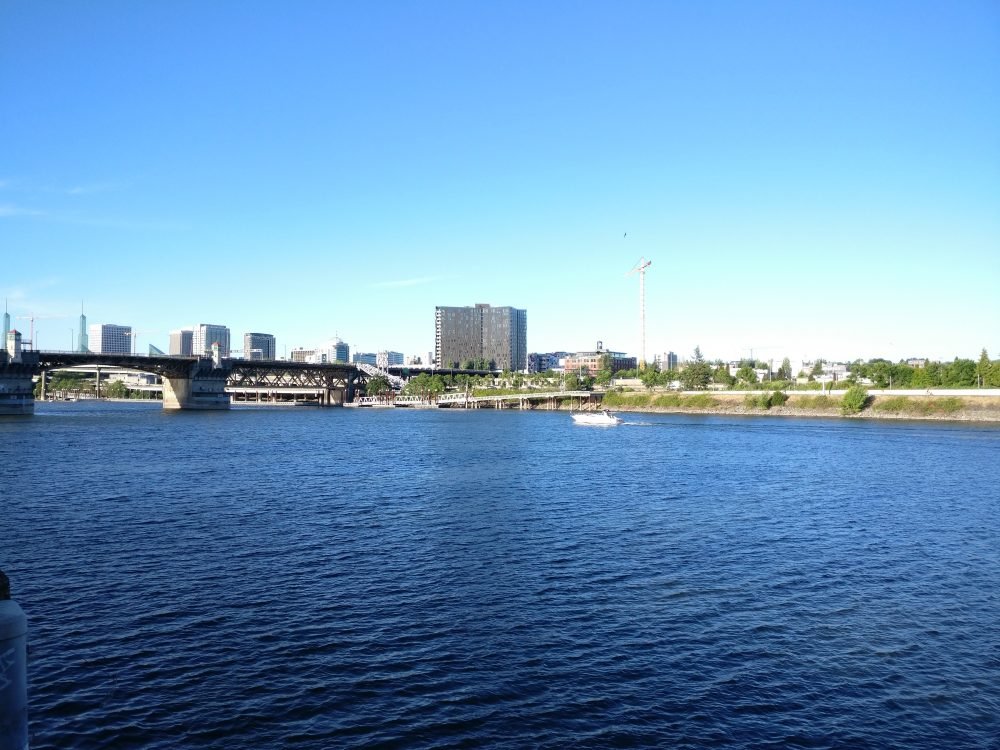 If you are looking for entertainment, many cafes host Karaoke Nights and Musical evenings to jazz up your evenings. There are Theatres and Cinema Houses in downtown for a classic visual experience.
Well, you will absolutely love Portland if you are a foodie! The streets of Portland are usually bursting with swanky Food Carts, serving all kinds of global cuisine, creative, and the local craft beer. Many roadside stalls also sell fresh farm fruits, dairy and meat products. And if you are missing Indian food, there are many Indian restaurants where you can also have Dosa, Biryani and a cup of Masala Chai.
Powell's City of BooksDid you know? The city of Portland houses the world's largest independent bookstore called the Powell's City of Books which has a massive inventory of new, used, rare and out-of-print books. It has also been rated as one of the coolest bookstores in the world.
The Oregon Coast
With the coastline extending up to 600 km, there are endless options to enjoy the ocean madness and soak in Vitamin Sea. The Pacific coast in Oregon can be called the People's coast as it remains free and public all year round. There are many beaches along the shore where you can try water activities and adventures such as jet boating, wind and kite surfing, kayaking, fishing, beach sports, wildlife watching. You can explore the harbors and tour the lighthouses. There are also some pristine state parks and coastal forests, flanking the ocean that offer rewarding hikes and trails and a picture perfect view of the sea. You can even go camping in the woods that require pre-booking.

I chose to explore the Tillamook Coast, which is a quick scenic drive from Portland. And instead of taking the touristy coastal tour, I opted for a personalized Airbnb Experience – Nature Walk, Whale Watching and Bonfire at the Beach offered in Portland. You may check lots of other Airbnb Experiences here. We drove along the Tillamook County and landed up at Cape Lookout State Park for an hour-long hike. Nestled in the lush green dense coastal forest, the park is among the Three Capes Scenic Loop at Tillamook Coast and offers stunning views of the ocean. You can trek along the rocky terrains, hug the trees, bathing in the forest goodness and spot some local flora and fauna there. As you reach the trail top, you can try your luck at spotting whales if you look closely into the ocean underneath. I spotted around nine banana slugs on my path and also tried some wild berries that are native to the coast.

The Pacific banana slugDid you know? Banana slugs are North American terrestrial slugs that are often yellow, resembling a ripe banana, which is the source of their name. The Pacific banana slug is the second-largest species of terrestrial slug in the world.
After the hike, we headed straight to the Pacific City Beach, located in the south of Tillamook County. As we arrived, we saw plumes of water breaking through the ocean surface and soon realized that we have finally spotted the whales!
We parked our car at the beach itself, and I helped my Airbnb guide Garrison set up the Bonfire. We sat down in the sand and looked at the mesmerizing ocean and the big Haystack Rock ahead of us. While heavy winds swept the shoreline, we warmed ourselves up in the fire and played some soft music. We made a sandwich for dinner and watched the sky turn dark as the sun began to set. It was by far one of the best coastal experiences of my life!
Columbia River Gorge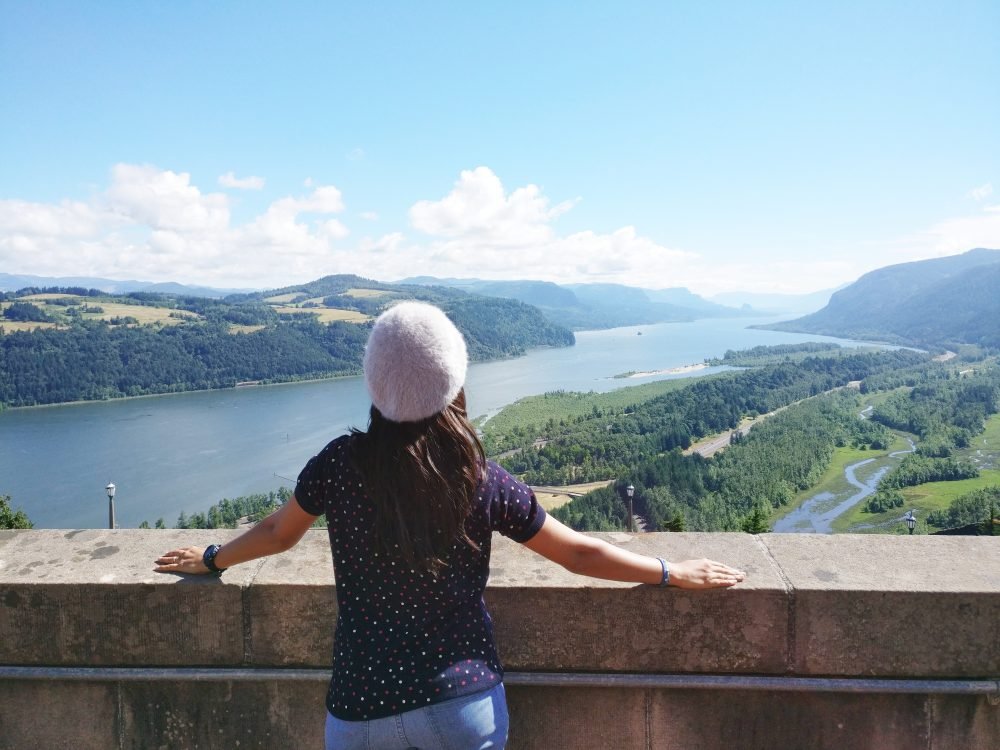 For having the mightiest rivers, giant waterfalls and awe-inspiring vistas, Columbia River Gorge was declared as the largest scenic area of America. There is a scenic lookout on the highway called the Crown Point that was designated as a National Natural Landmark. It has a small observatory called Vista House, from where you can enjoy a panoramic view of the Columbia River. Along the Columbia Highway are the stunning Multnomah, Bridal Veil and Latourell falls where the water spills down from the majestic cliffs, falls over the rocks and splashes into thousands of tiny water droplets, reflecting portions of the sunlight. Experiencing the falls is just like watching an act of magic.
Vista House

Columbia Highway

Multnomah Falls
This region is also an excellent place for adventure lovers as you can cycle the roads or do mountain biking in the gorge. It is hard to resist the water sports in the Town of Hood River which is known as the windsurfing capital of the world. The gorge is also a world of food and drinks. You can cherish local wine, craft beer, and farm fresh dining as you drive uphill.
The Eagle Creek FireDid you know? The Eagle Creek Fire massively destroyed Columbia River Gorge in 2017. It was found that the fire was started by a 15-year-old boy who was igniting fireworks and threw it into the Eagle Creek Canyon in the region. The fire lasted for nearly three months and ended up burning 50,000 acres of the forest cover. Therefore, many sections of the famous scenic highway still remain closed to public access and are under restoration.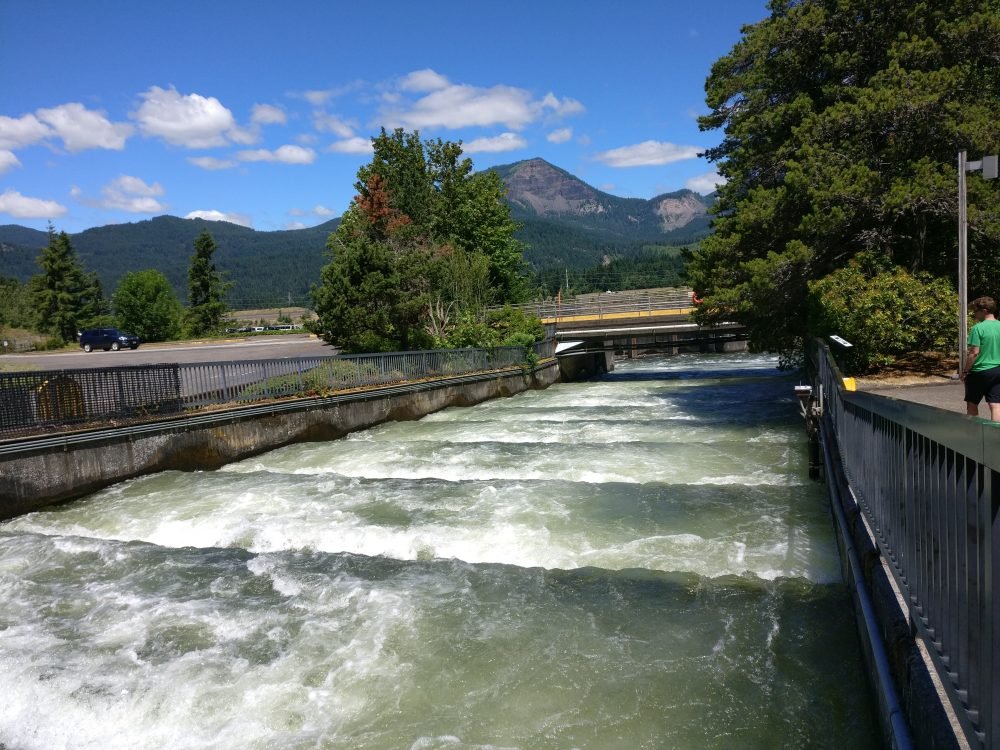 You can also visit the Bonneville lock and dam which is a National Historic Landmark and Oregon's largest fish hatchery. The visitor center offers free admission where you may watch salmon climb fish ladders and learn something about the aquatic life and hydropower generation in the state.

Mt. Hood
This region is the home of the tallest mountain, a volcanic wonder, snowy peaks and beautiful lakes in the state. Mt. Hood is the highest point in Oregon, covering six ski areas with 11 glaciers and is a base camp for skiing where even the Olympians come for training. It is the only place that holds America's most extended ski season. It is a potentially active stratovolcano but is currently considered to be dormant.
At an elevation of about 6,000 ft. in the southern edge of Mt. Hood, lies the Historic Timberline Lodge. The mountain lodge is designated as a world-famous ski resort that hosts some of the only year-round skiing on earth.

Timberline Lodge Did you know? Timberline Lodge was built by the local artisans of Works Progress Administration only using stone and wood from the surrounding forest during the Great Depression in the United States in the 1930s under the leadership of President Franklin Roosevelt.
Mt. Hood is a part of the Mt. Hood National Park that features the famous Fruit Loop – a scenic drive between the mountain and Town of Hood River. The loops consist of valleys and green patches that nurture acres of fruit orchards, wildflower fields, lavender farms, and vineyards. You can get down at various fruit stands and pick up some farm fresh fruits, nuts, ice-creams, candies, cookies, donuts, syrups, and other consumables. We got down at Packer Orchards which is a 4th generation sustainable family farm selling seasonal fruits and fresh homemade bakes.

You can also explore the Alpine Lakes such as Trillium Lake, Lost Lake, and Mirror Lake and try some water activities. All of them offer a unique view of the mountain. Since I had only one day and so much to explore, I decided to book a sightseeing tour of Mt. Hood and Columbia River Gorge organized by Sea to Summit that covered everything mentioned above. It is one of the most scenic, informative and pocket-friendly full day tours available in Oregon.

Other Must Visit Places in Oregon
If you have days to spare, I would highly recommend to stay longer and explore the region deeply. When you are specifically planning a trip to Oregon, then there are some other places that you might not want to miss –
Willamette Valley
If you are a wine connoisseur or just love drinking wine, Willamette Valley is a relaxing place to sit at one of the regal vineyards and enjoy a glass of world-renowned pinot noir prepared from the classic red grapes. In fact, it is believed that a trip to Oregon would be incomplete without visiting this wine district.
I happened to be at Eugene, which is the second largest city of Oregon, located along the Willamette River. It is famous for its craft breweries, authentic food, history, art, culture, and the Saturday Market which is the topmost things do in Eugene. Eugene is also the home of the University of Oregon where I went for my research and annual conference.
Phil Knight / NikeDid you know? Phil Knight, the founder of Nike Corporation, is a native of Oregon. He graduated from the University of Oregon where he ran track under field coach Bill Bowerman who is the co-founder of the world-famous apparel and sportswear brand. He also has a state of the art campus dedicated in his name called the "Knight Campus" at the University of Oregon.
Crater Lake
Being the deepest lake in America, and one of the deepest on earth, Lake Crater is ranked as one of the 7 Wonders of Oregon. Located in Southern Oregon, it is famous for its deep blue color and transparent water. You can go hiking or skiing the Crater Lake National Park.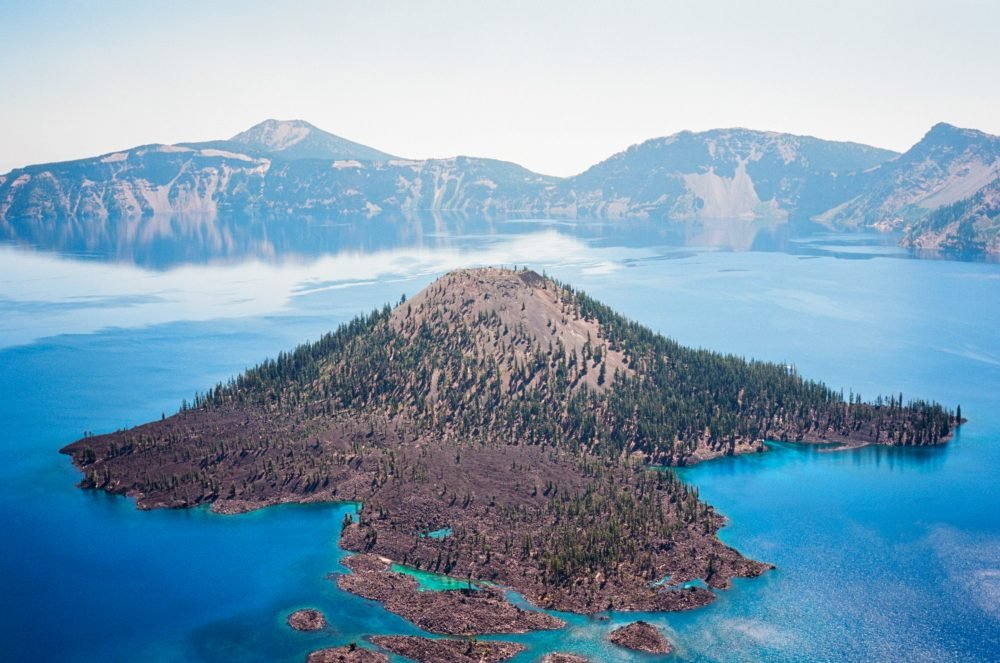 How to Reach Oregon?
The most convenient way is to travel is to fly to Portland International Airport (PDX), which is the largest and the most well-connected airport in Oregon. You can start your journey from the city and drive further into the state. Or the other way is to reserve the Greyhound buses that take you into the town via amazing scenic routes. It entirely depends on where you are coming from, what is your budget and how much luggage you are carrying.

Getting Around in Portland
I was in the city for three days and traveled around mostly on foot and sometimes on TriMet buses. But just for fun, you can board the Max Light Rail or Streetcars that run through the streets and corners of Portland. Or even hire a bicycle and hit the road! Also, if you are a student, you may show your student ID card and even get a free ride on the buses if the driver is kind enough. Try your luck and save a few pennies!

Oregon is an American Dreamland
As I drove along the Columbian highway, peddled down the Coastal Forests, strolled on the Pacific Beach, and hiked upon the Mighty Mountains, I experienced an entirely untapped America that many Indians in India and in America don't really know of. Surprisingly, none of my Indian relatives staying in America have been here yet.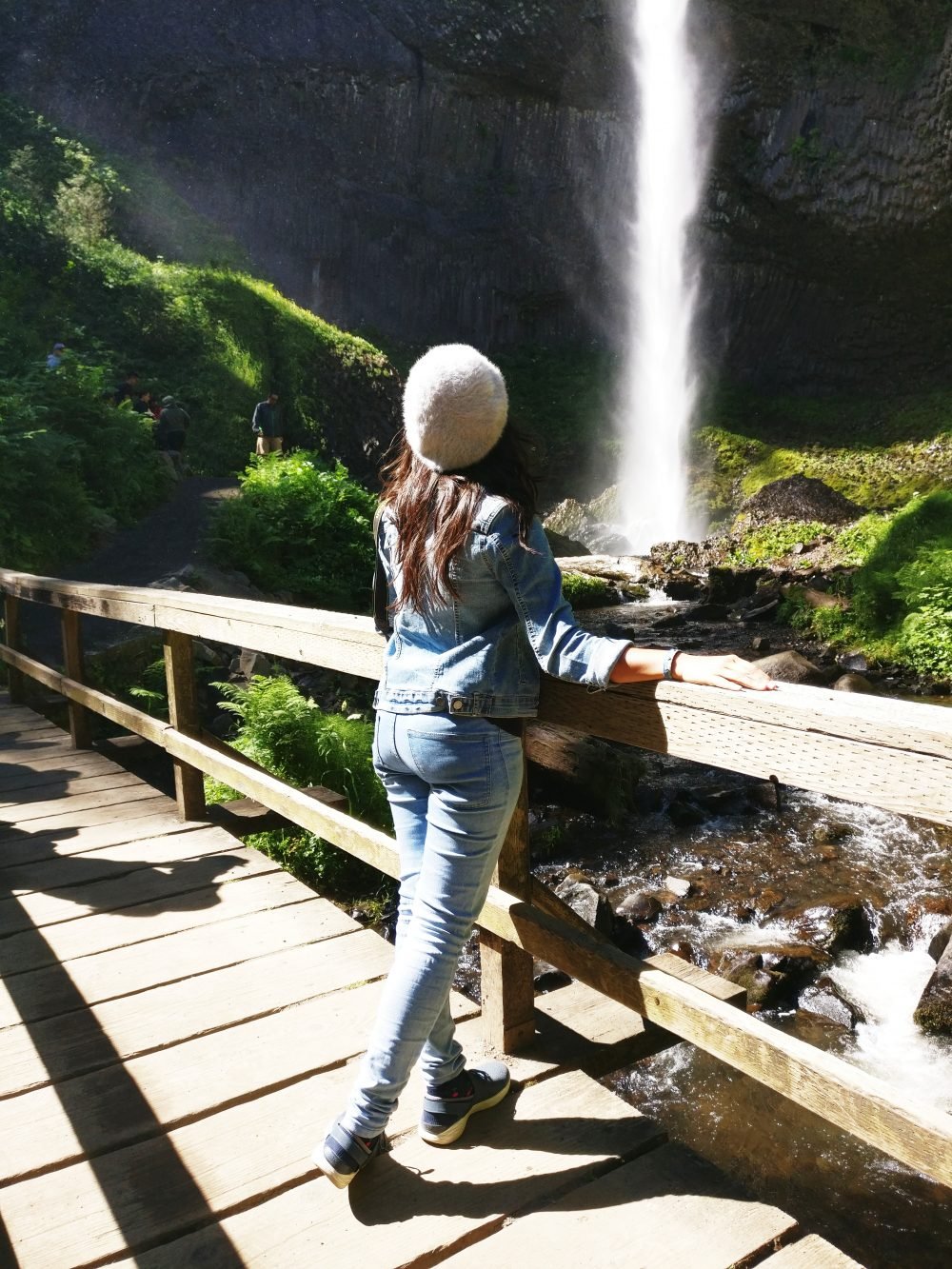 Well, Oregon is indeed America's scenic dreamland where every region has a distinctive charm attached to it, and you will discover each wonder only when you visit there.
And as rightly said by Tom McCall; an American politician and journalist – "Oregon is an inspiration. Whether you come to it or are born to it, you become entranced by our state's beauty."