So, why the North East? Because, I'm done with South India – I've done enough of tea plantations, boat house, temples, beaches, trekking, and tent stays on mountains, etc.. Also, done sufficient of North because I've spent 10 days at Ladakh, and from then on, any place in the North looks like a miniature of Leh-Ladakh to me. With this, I also ruled out Nepal and Bhutan. That's how I zeroed on North East. Some research and my boarding pass read "Guwahati" and yes, that's the nearest airport. And, mine was a group trip. But, North East checks it all if you want to go solo – safe, friendly people who will genuinely help you, you can stay connected because unlike Ladakh, you get proper signals and 4G internet, budget-friendly stay places, etc.. My trip lasted for a week, and I only wanted it to be longer!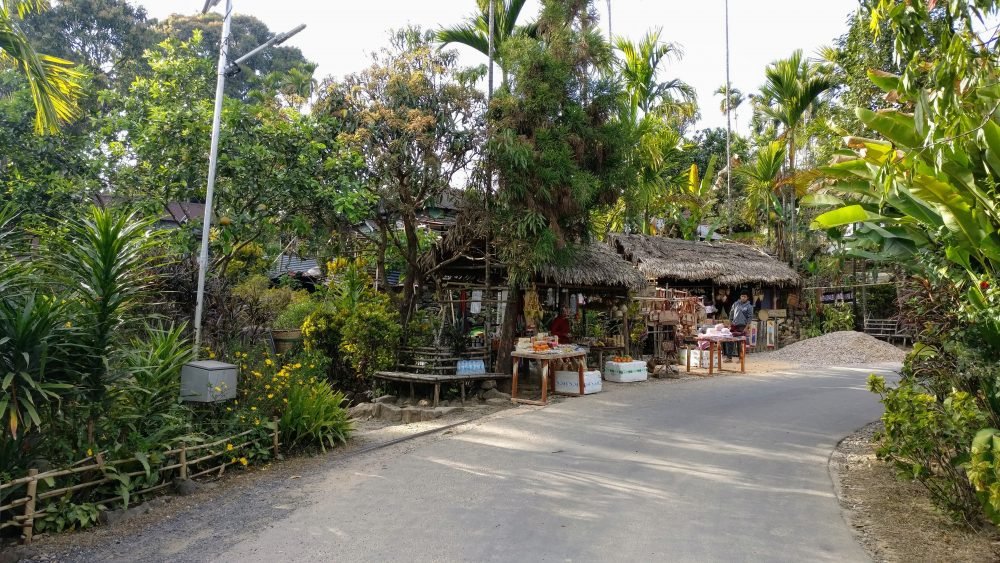 So, the first day – I got down at Guwahati and had booked my cars for the entire week. My first stop was Shillong which is a 2.5 hours drive. You'd see taxis waiting right outside the airport to take you to Shillong. I also heard some shared-taxis would cost you less than 200 INR. There are buses as well. You can choose accordingly!
Shillong-ing
We first drove to a viewpoint called "Laitlum canyon" that has an amazing view! You might feel like you're driving through New Zealand at parts, to be honest. Shillong is extremely clean, and you would witness cute homes and not a corporate jungle. The drive is refreshing, and you can easily spend an hour or two at this canyon and click all your "mountains are calling" pictures here!
From canyon, we went to Krang Suri Falls and I just leave it to you to see the picture below to decide. The most beautiful falls I've ever been to! You will have to pay and rent a life jacket if you'd like to swim and I'd say, go for it! There are two parts of Krang Suri, you also have a lake-like part where you can go for boating, but I'd not suggest because there are other rivers that are more beautiful and clear and a must-boat to coin a term.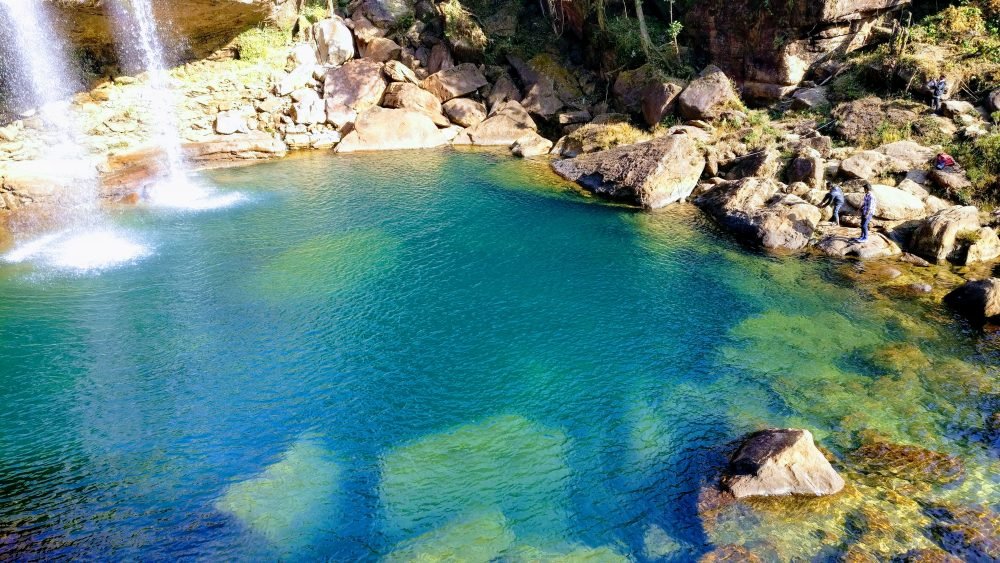 Shillong is indeed a place you can visit around the year, but I'd suggest checking the water flow in these falls before you visit.
There are a few more falls to visit but anyway I would be spending another day at Shillong, so I left to Cherrapunjee. There are buses that you can take, plan according to your budget. I did some shopping at the police bazaar and went quick. You'd get shawls and ponchos at a decent price and don't forget to bargain your way.
Cherrapunjee'd
Of course, all of us know that it rains throughout the year at Cherrapunjee, but, let's check out! My drive itself was very beautiful, and I had some stops to click pictures to flaunt, and I went to Mawlynnong – the cleanest village in Asia!
It's a small world by itself. You'd find people selling beautiful handmade products and the women in this village and otherwise wear a checked cloth, they pin it to one of their shoulders like a mini-saree, and they look gorgeous indeed. They talk in English, so you'd not have any language issues around. They also serve a lip-smacking yet straightforward food in this village. It's just some white rice, dal, and a veg/nonveg sabji but a wholesome meal. I thoroughly loved it!
There's a bridge to climb and look at the Bangladesh border. I spent around 2 hours in this village and left to Dawki River for some crystal-clear water boating.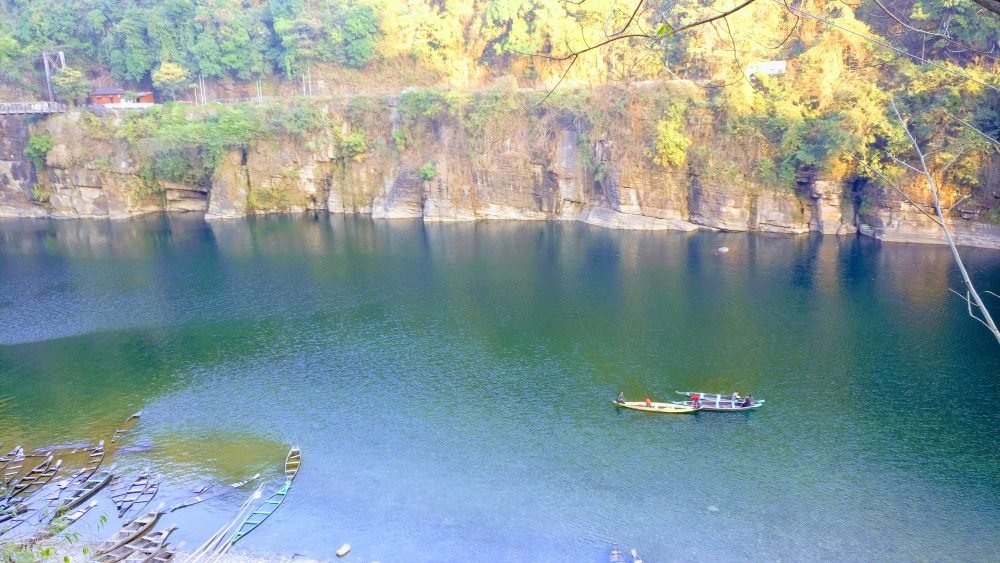 You'd witness 7 or 8-year-old boys parking their boat like a pro; they keep practicing here. So, Dawki river is where you'll get as close as possible to Bangladesh, and you also get to taste/buy their pickles. The boat ride costs 300 INR per person and brownie tip? Go in the evening so you'd get to see the sunset by the time you return. You can also jump into the clear cold water and swim, and the boat would take you to the part where you see white rocks and stones around.
It was almost 8:00 PM when I came back, and I binged on momos to end my day! And, Of course, it rained!
A deadly trek to the double-decker Living Roots bridge
I call it deadly because I'm over-weight, I've L5 disc slip and also, my stamina is low. I had a hard time to finish and get back; I was able to do it with the help of my friends.
My suggestions? Keep your fitness in check, quit smoking and other activities that might hurt your stamina. Otherwise, there are places you can stay at the living roots bridge; you'd see the numbers written all over the places during the trek or you can also take your own tent and stay over. You'd be crossing four beautiful bridges before you reach the living roots and 30 minutes from the bridge, you'd see a beautiful swimming area and another 30 minutes for the rainbow falls.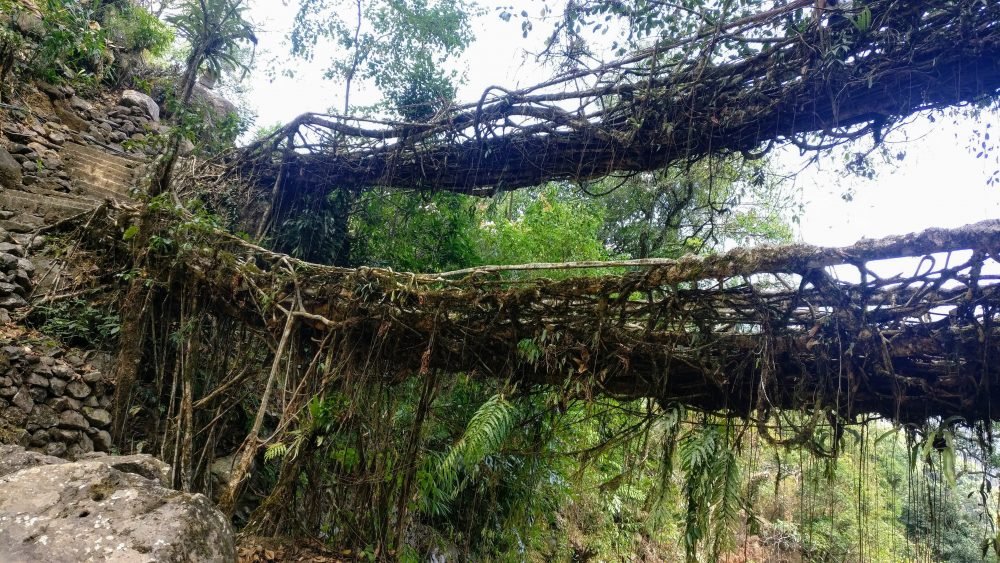 It would be tad difficult, but the entire trip would be un-fulfilling if you miss this. So, I'd definitely suggest this place. You don't really need a guide for this trek, but you can take one if you'd want. They charge you 600 bucks for a group, and it is 1000 bucks if you want the guide till the rainbow falls.
Mawsmai Caves and Places around
Because, you'd have sore legs, muscle spasms, and back pain and what not? It is better to go on a day tour to the Mawsmai Caves and visit the falls on the way back to the room for more rest of course. The caves are of 2 parts, and you'd have to squeeze your way through it. If you're lucky, you would witness rain and have some hot Maggie and tea for company.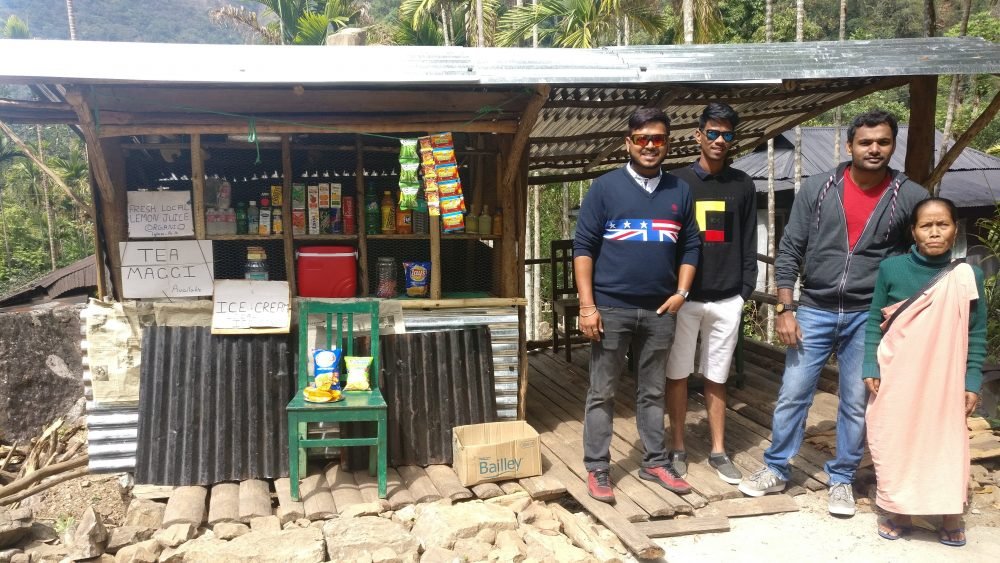 Elephant falls and Brahmaputra River
I always make it a practice to reach the nearest spot from the airport to spend the previous night of my travel. So, I came back to Guwahati and on the way got to visit the elephant falls – since my trip was during the offseason, this was the only falls that had good range. We also stopped to look at the seven sisters' falls and the Umgot river. If you had by any chance missed boating at Dawki, this place is equally clear and beautiful.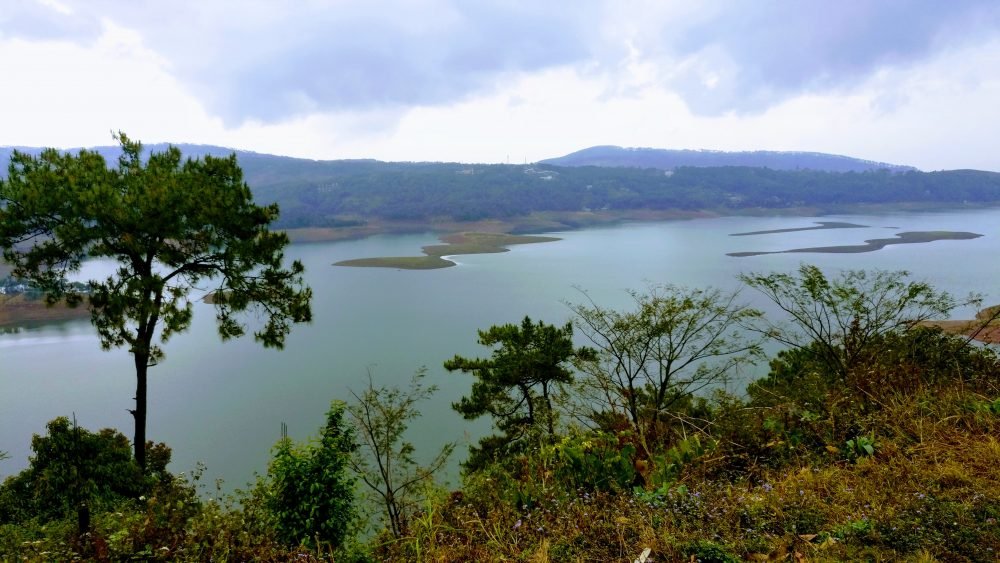 You can either choose to just visit the Brahmaputra river during the sunset or dinner and opt the cruise. I would suggest the sunset because you don't get to see the river in the night. On the cruise, you'd get to see the traditional dance and music, and the cruise dinner though was not worth the money spend kept the tummy happy. The traditional dance was amazing, indeed! It takes a lot for people to stick to their traditional roots and keep the culture going these times so it'd be a token of encouragement if you visit them.
Kamakhya Devi Temple
This temple is quite famous and is crowded here. So, either go early or pick the VIP tickets if you can spend. I had no time, so I chose the ticket that cost around 500 bucks. The traditions followed in this temple are a tad different from the usual, and that makes the temple pretty interesting!
I thoroughly enjoyed North East, and there are other parts to explore as well, but, until next time! ☺