Suddenly somebody hopelessly in love with India exclaimed, "but then there is no real India, it has many faces!" Each lane and bylane of this country is painted in different shades of culture, belief, religion, work, rituals, festivals and so on. The dance of how magically all this strings together is called India. Often, while I was sitting by the window of a rickety bus on the Kanyakumari to Kashmir journey, I realized how this is true, the many-faced country ~ INDIA.
Here are a few heartfelt experiences that seem dreamlike yet true to the core of India:
Sunrise at Kanyakumari
Having rested for a night at the Swami Vivekananda Ashram in Kanyakumari, I walked to the tip of India~ in a twilight of hope to experience the magic of the fire that awakes the world. It's a breezy 20-minute walk from the ashram. I arrived before the sun to a marooned beach, fixing my tripod at the right angle, waiting for the fire to set ablaze the sleeping sky.
Within minutes everything changed. The marooned beach was busy being filled with aunties, uncles, kids, their relatives, and their relative's relatives: the whole world started pouring in. So many people, little space with everybody wanting to secure the best vantage point; unfurled crazy confusion amongst all folks gathered. Kids crying, men commanding, women shouting and there I sat atop a little rock, rebelling for my little spot with the tripod fixed.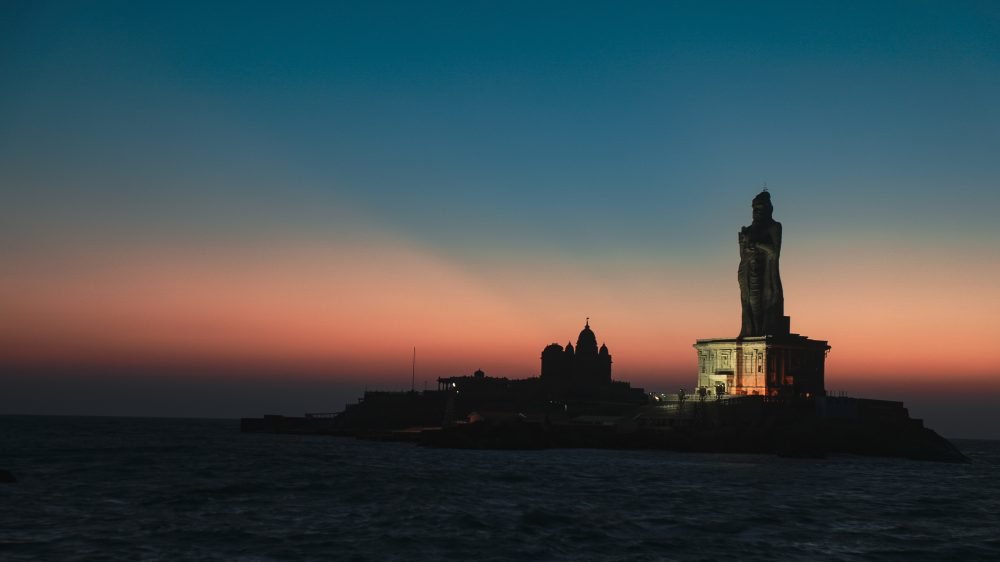 It didn't stop there; instead, this is where it all began. As the sun moved from its journey to paint the sky crimson by the minute, folks moved to panic by the minute.
And then suddenly the first ray of light set it all right. At that moment when a single ray of sunlight broke free through the clouds, all us confused folks stood still~ as if we are experiencing an anthem of nature. Aye, it is an anthem of nature bookmarked in my journal.
Pro Tips:
Stay: The whole of Kanyakumari is crowded with hotels. However, if you are traveling on a budget, staying at the Swami Vivekananda Ashram is a great idea. The ashram offers basic rooms with a cot and shared bathroom in just 200 INR. It also has a huge meditation hall and enlightened folks casually strolling around.
Here's the catch: The Ashram guys don't give the rooms easily, unless you throw a fit or tell them that you don't have anywhere else to go. Good luck figuring that out.
Don't miss: The Vivekananda Rock Memorial: In case you are planning to experience a sunset on the Vivekananda rock, you will have to take a ferry. The entry stops at 4 pm.
Sunset at Kokankada
I'll put it as simply as possible: See this before you die!
One has to hike up to Harishchandragad and then to Konkanda for the sunset. Harishchandragad is a hillfort located in Ahmednagar, Maharashtra. This is a fort straight out of the scriptures tracing its origin as back as the sixth century. In the fort campus is the Kedareshwar cave. This cave homes a five feet tall Shiva Linga. The Lingam is surrounded by pillars. Legend has it that the four pillars signify the four yugas: Satya Yuga, Treta Yuga, Dwapara Yuga, and the Kal Yuga. As per the lore, a pillar breaks at the end of each Yuga. Only one of the pillars survives now, denoting the present Kalyug. The temple, the cave and the ruins of it all, definitely rings an octave straight from the bylanes of scriptures and maybe even something more, something more spiritual, beyond definition. Something not words but only experience can define, such is the magic of Harishchandragadh.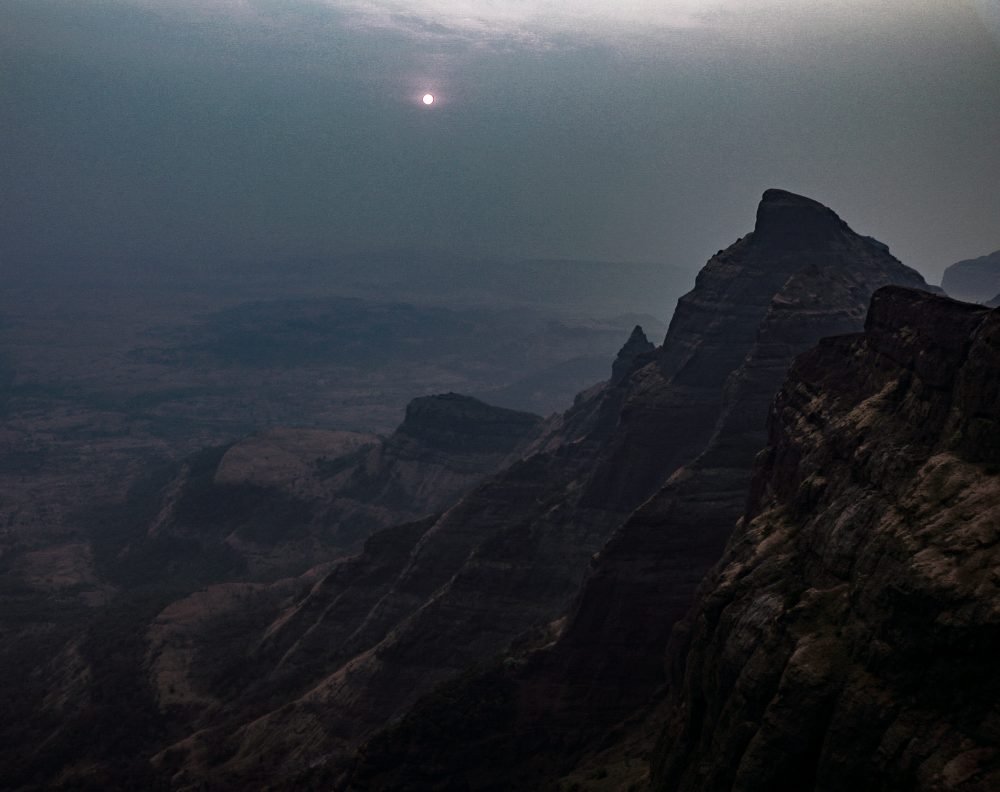 An easy hike from the temple is a path into the woods that leads to the Konkan cliff. From the marvels of the architecture of man to the marvels of the architecture of nature. Konkanda is not just a vertical cliff. It hangs over the Konkan region in such a manner that whatever you throw in the valley comes swirling up because of air pressure. Let's say that I throw a dried leaf, it will go down at first, towards the valley, and then come back magically rising in the air from the cliff. I know I am running the risk of sounding neurotic while writing this, but this is how it is. One has to experience the magic of this mysterious cliff!
Pro Tips: An undeniable relief in this experience on the trail is Nimbu pani in the summers of Sahyadris. In case you are trekking in Monsoons, carry raincoats or ponchos.
Tribes of Karnataka
Let's cherish them before they are lost in the abyss of modernization.
India has many shades and avatars, and we mustn't forget that tribalism is an integral part of it. Discovering a new tribe has been the purest joy of traveling across the many-faced country. With most of the tribes standing on the edge of extinction and facing a cultural threat from the modern ways of the new world, it is not just an experience to cherish but a responsibility for us to keep writing about them.
Rooted deep in folklore is a forgotten tribe called the Halakki, found in the Uttara Kannada region of Karnataka. The women and the songs they sing makes the tribe truly unique. I'd rather save the feminist card, but these women across endless centuries, have maintained the cultural distinction and sang songs about legends, occasions, and everything under the big blue sky. They are known to have a song for everything and anything. One of them, named Sukri Bomma Gowda has even been awarded the Padma Shri for folk singing.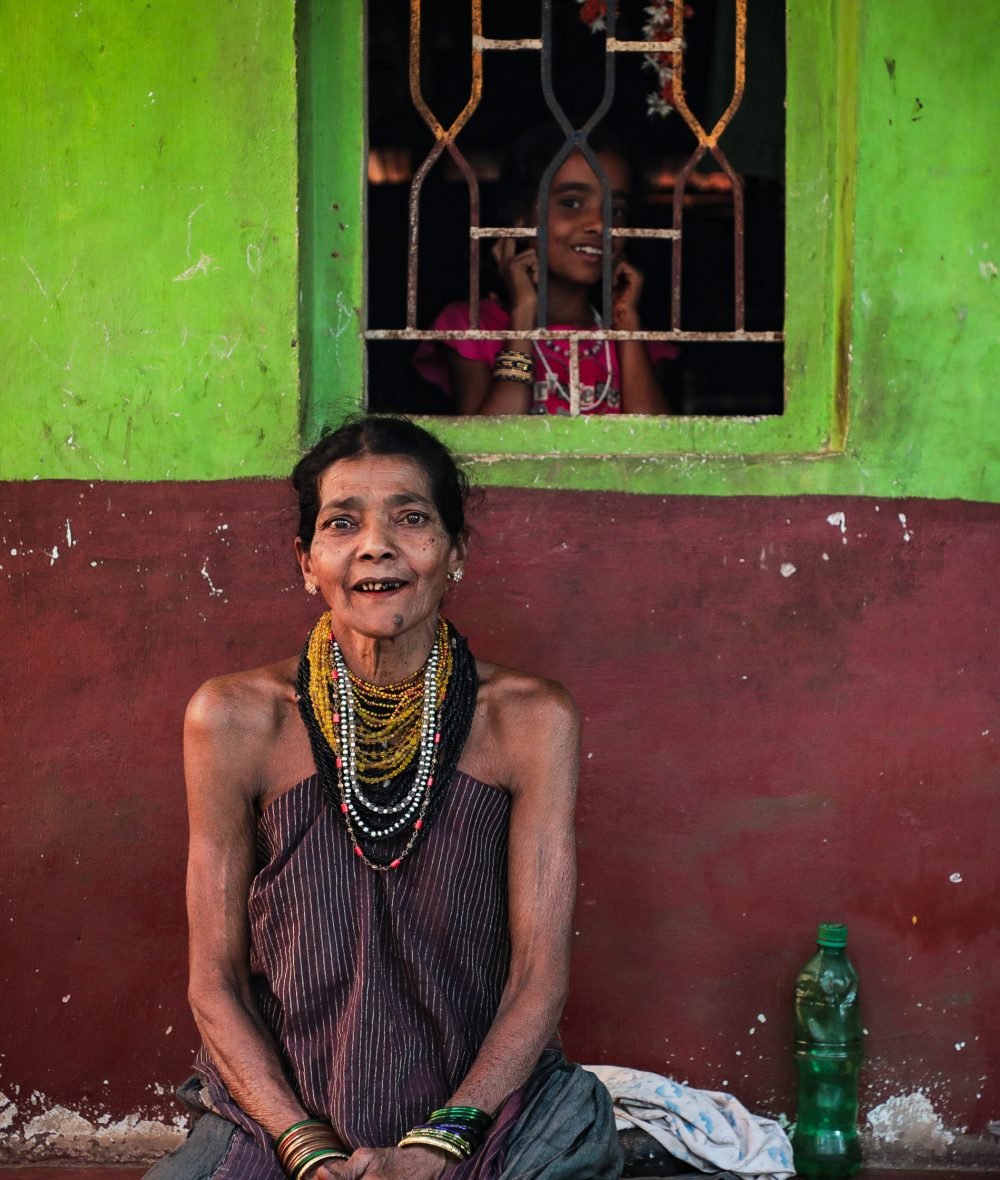 How dynamic are the faces of the phenomenon called India, is soon realized here. I was in Gokarna when a local boatman suggested that I should visit the Halakki. It took a quick ferry ride and a mere fifteen minutes for India to change. From the hippie whirlwind of Gokarna to a world of mud houses drooping with roofs of dry coconut leaves, folks walking barefoot, women with a unique dress style, and chickens, yes, wandering chickens on muddy trails.
Nonetheless, it is amazing how Rs.10 ferry ride transports one from the fancy firang Gokarna to the tribal Ankola.
Pro Tips: Sukri Bomma Gowda is still alive. She sings, sometimes. I wonder if the tradition would fade after her. Go meet her.
The Villages of Kutch
In a state called Gujarat, is a small tortoise-shaped land called Kutch. Home to 939 villages, where thousands of workers create 16 (at least that I know of) types of embroidery works, each contributed by a different community. When I arrived in Kutch with a broken foot on a wheelchair, my host asked me, "So how would you like to see Kutch?" I didn't quite understand the magnitude of this question. He elaborated, "Would you like to see the barren ranns that turn into seasonal islands during monsoons? Or the wildlife sanctuary? The unending desert? Or the cultural expedition of communities living together? Would you like to meet hundred-year-old generations of potters or embroidery karigars or exotic carpenters?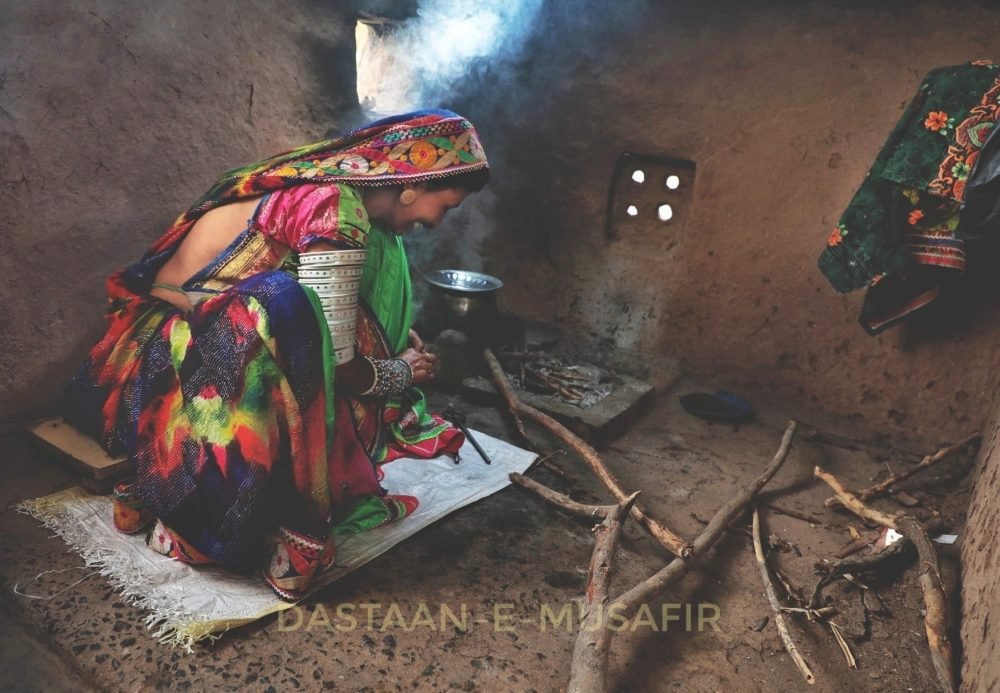 I wondered, if I'd ever be able to see the whole of Kutch, forget the whole of India.
Pro Tips: Get a local host! It will help you understand the yarns of their culture with grace. It may seem easy to get to the core of Kutch, except for which it is not. This is true at many levels. What I mean to say is, Kutch is beyond, far beyond the Rann Utsav. There is so much more to the soul of Kutch. Take, for instance, there are villages in the heart of the desert with no roads, no signboards, no people — just sand. However, once you make it to the village, a sense of discovery overwhelms the air. The discovery of a new art form, an abandoned village or a new community or God knows what all in Kutch.
Warning: Don't photograph womenfolks without their consent here. There are certain sensitive communities, and we must respect their privacy, lest you come back home with a broken camera.
Take a long, long, or possibly the longest train journey ~ in a sleeper class
This wasn't easy at first, you know. I was scared. But even before I knew it, I was home in a train full of a new found family!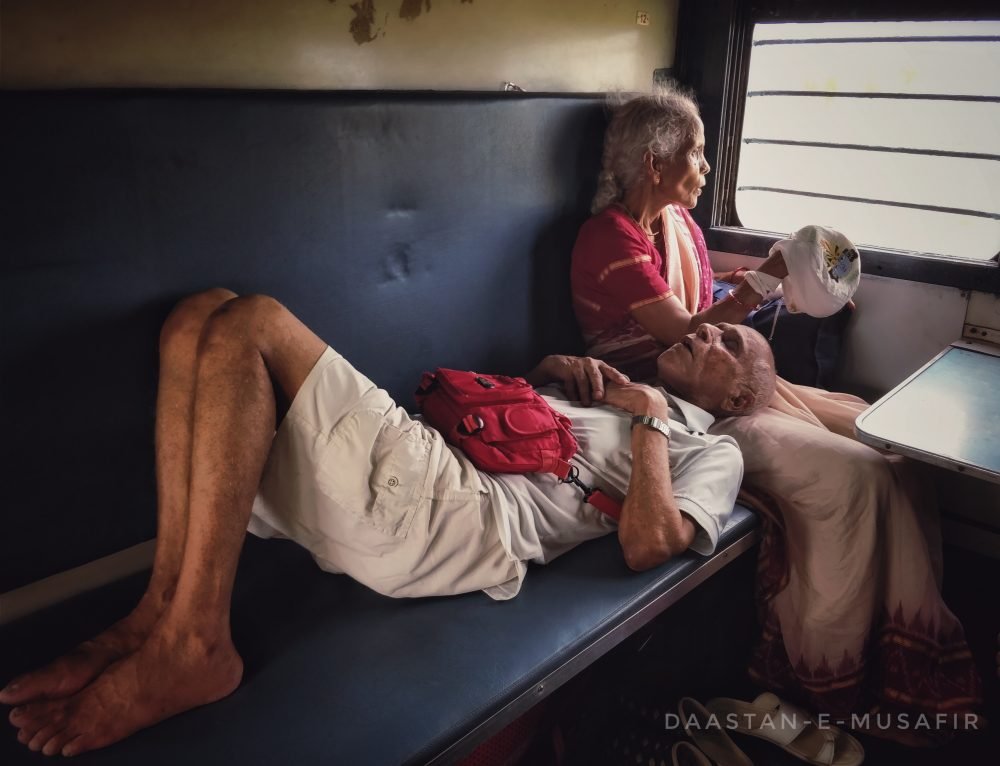 In between here and there, is something called "I am getting there"~ that's what a train journey is about. One is neither here nor there but is floating between both. There is nothing to be done and yet so much to be done. I secured a sleeper class ticket in less than a thousand rupees from New Delhi to Kerala, as I geared up for the Kanyakumari to Kashmir quest. Apart from being easy on the pocket, the sleeper class world is far more amazing than the closed curtained and sleepy folks in the air-conditioned tiers. On a long train journey, I bet you'd find a loving mother, a candy uncle, a favorite staff guy, a howling kid who fathoms the end of the world, a random stranger you like, a random stranger who likes you and takes all the train journey to effort a smile, a family who shares their stories and oranges with you.