From a young at heart introverted teenager to grow to be an ambivert it's been a gradual process.
A lot of this constant life change has been and continues to be coupled with exploring the city of Bombay (Mumbai) and along the way exploring tad bits of myself as well. My introverted self has always turned towards the solitude seeker in me and has delighted me to enjoy my own company not among a lot of people.
In this endless journey of being comfortable in my own company, I've fancied the edition of Bombay that has always stayed true to my calling, the one that has consistently won to balance the equation of silence over chaos amidst foreign icons in the city I've had called home for a good fifteen years.
In this listicle, you could find all the nooks of Bombay that have strung close to my call of striking the harmony between chaos and silence in the Bombay buzz.
In and around Colaba
1. Barely Any or Zero Tourists!
Chasing Sunrises at this overly touristic spot with barely any or zero tourists.
I fondly remember walking down the Indo-Gothic corridors of the Taj Mahal Palace Hotel in the absence of tourists but in the happy company of giggles and laughs of local dog strollers.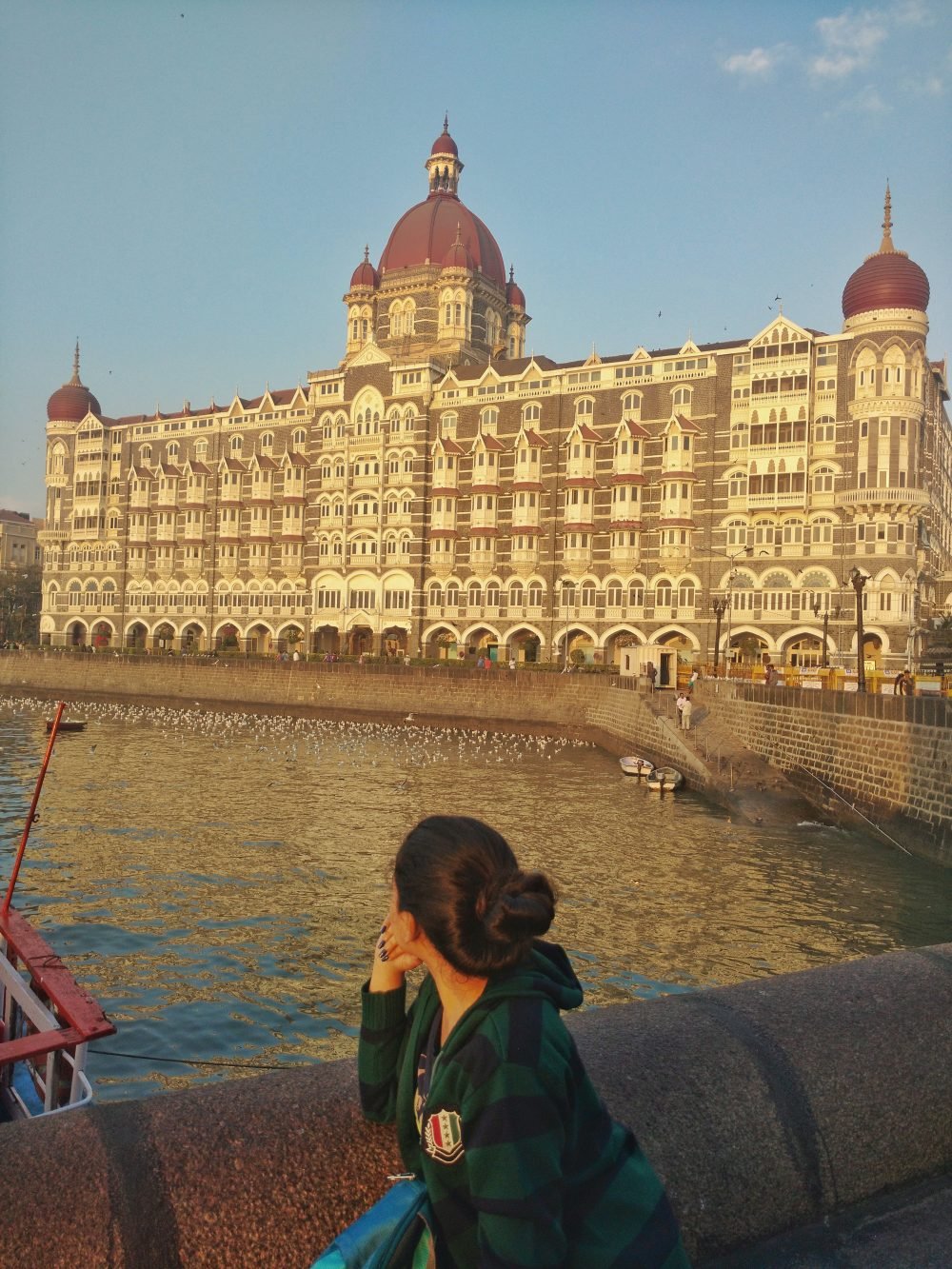 From brisk walking to match up to the pace of fellow cyclists, casually sitting by the centuries-old edges that lovingly pulled and pushed the waves of the Arabian Sea to exchanging smiles and comforting conversations with 70 odd grey-haired travellers coming from faraway hinterlands acquainted me to the version of the Gateway of India, I'm head over heels in love with.
Playing with, chasing or standing amidst pigeons under the scorching Sun with thousand other tourists could make for an excellent Instagrammable picture but spotting a sea full of dotted pearl-white seagulls makes for yet another vista. The Gateway of India I'd embellished during the golden hour of every Monday morn was unlike the one that is overly decked with crowds of tourists.
It was unlike the one that resembled the pace and the population of a city that is always on the go. It was just like an emotion that sat quietly beneath the veil of a rising Sun admiring the silence that only felt golden to treasure. Such was my nook to admire scarlet Sunrises that anchored my heart in the colonial houses by the Arabian Sea and dipped my wandering mind in the neon orange hues of the newly born sky.
Entry – Free
2. India's First Gothic Church
Having a rendezvous with India's First Gothic Church that is rumored to be haunted.
In a quaint neighborhood, by the shores of the Arabian Sea stands 'India's First Gothic Church' ~ The Afghan Church which is also known as the 'St. John the Evangelist Church'. I'd struck my eyes for the first time on this strikingly beautiful piece of architecture on a bumpy bus ride down the lanes of Navy Nagar in Colaba, South Bombay.
It was a rendezvous that could be calculated down to only about two minutes! But down a month's time, I was to be found standing right before this tall building which seemed to kiss the clear blue sky. With a mouth wide open in awe I wandered around the premises of the church to intricately appreciate the gothic beauty it actually was!
The Afghan Church

The Melancholic Cemetery
With grand arcs, basalt tinted colorful patterns on glass windows and bells that came from England in the early 19th century, it stands out to be known as the best of all the churches in the Western part of India. Adjacent to the church sits a cemetery dedicated to the soldiers of the Anglo-Afghan War of 1838. Like every other cemetery it wears silence and melancholy, but unlike quite others across Bombay, it adds specs of horrific drama with barren branches of trees spreading wide, and amber dried leaves scattered all over the ground.
In the hotfoot of the city that is, I only feel fortunate not to have missed out on this gothic gem that I've only fallen more for!
Entry – Free | Photography might not be allowed unless you visit during the Sunday mass.
In and around Kala Ghoda
3. Centuries-Old Art Gallery
Chasing horizons of art in a centuries-old art gallery.
With every new Monday that was born and new plans that were welcomed, what had always stayed at the top of my list was to pay a visit to the art and photography displays of Jehangir Art Gallery that kept changing weekly.
What seemed like a plain hallway with art exhibits from the outside was a complete game-changer on the inside. It was more than what seemed like a concrete terraced ancient building.
In fact, it only felt more homely to wander by the many galleries that affectionately served as a window to widen my perspectives and envision meaning from a world of colors, sketches, and scribbles. To when meaning couldn't be deciphered, and aesthetics seemed to bounce beyond the stretches of my imagination what caught me glued to those colorful displays were warm inquisitive conversations with the artists and the photographers.
It could be just an art gallery to the entire world where people just walk in because of free entry, but to me, it was a world wholly perched far off, a world that was beyond the bars of age, sex, and race. It was a world that only spoke of visuals, art forms, photographs and perspectives, where the language was just of imagination ~ to far and beyond.
Entry – Free | Photography not allowed.
4. 150-Year Old Jew Synagogue
Having my first-ever glimpse of a Hebrew script at a 150-year old Jew Synagogue.
In the aesthetics of the Kala Ghoda neighborhood among many other historical buildings that spell the ethos of a bygone era of Bombay, it is in the blue moods of the Knesset Eliyahoo Synagogue that I've always admired.
The palette of blue shades that wraps the Jew synagogue wasn't merely a building of historical religious importance but instead a pinhole to the Jewish culture that Bombay has beheld since ages.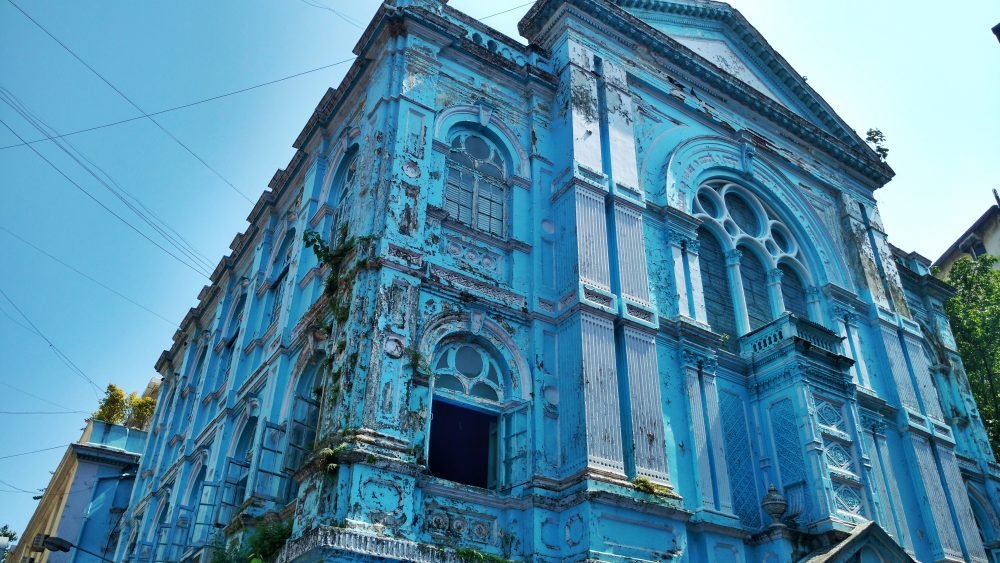 It is by the tall glass window panes and the vintage wooden furniture of the synagogue that I'd first gotten a chance to see a script of Hebrew or learn a wee bit of the culture that it is. *The newly renovated Jew Synagogue differs in color. It is now in the shades of indigo and white, unlike before when it stood in the shade of sky blue.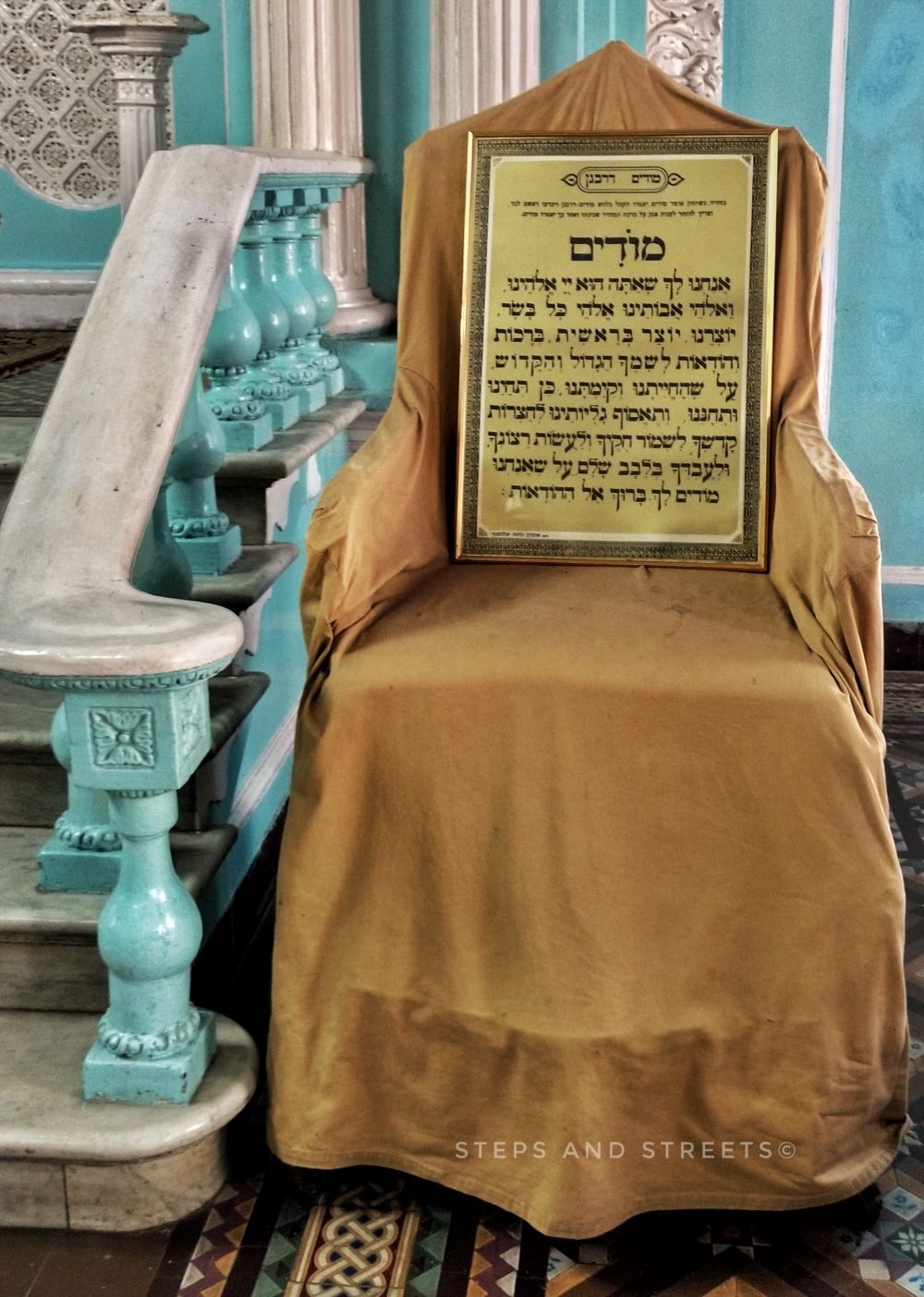 Entry – Free but might require you to carry a photocopy of your ID proof, and photography charges could cost you about INR 100 ($2 approx).
5. Bombay's Famous Commercial Vicinity
Being exposed to the masterpiece of modern nude art in Bombay's famous commercial vicinity.
Walking past the murals of the Kala Ghoda nook and among the many other colorful buildings stands, the DIG Modern Art Gallery draped in creams and whites. Meandering by the hallways of the DIG Modern Art Gallery or merely standing wonderstruck before a masterpiece has exposed me to a world beyond the stretches of my imagination.
Any person walking in or even noticing it to beautifully crave a corner around the street in itself is a rare sight.
But the rarest I could spot as a challenging 18 y/o, proactively utilizing my free lecture was to walk tip-toed balancing the equation of silence amidst a display of nude art pieces being exhibited in the celebration of vivid art.
Such was the extempore of modern art here.
Lucid, imaginative and having a strength of conveyance.
Art has been of no relative importance in my upbringing years. In fact, I'd barely known of any art before; neither had I learned to appreciate it in any form. But over the past few years, of finding comfy nooks in the golden silence of these art galleries, what I've majorly learned despite my inability to decipher it, is appreciating it, be it in any form.
The sense of stretching my vision beyond the whitewashed walls of this Modern Art Gallery has stored my mind in the secrecy of a cosmos beyond the borders of society and well at the same time has also perched my itchy feet in a very fond corner of this gallery that is dimly lit; from where I can not sense the city rush move beneath my feet. And, am only happier!
Entry – Free
6. Souvenir Shopping Mode!
Going souvenir shopping at a shop that sells historic postcards and photo books.
Amongst all the other things I leave back and step into a nomadic life with my rucksack and a suitcase as my company, it is the essence of the places that come along with souvenirs that I cling to.
A year back as I was to move out of Bombay after a long rendezvous of about fifteen odd years; I went souvenir shopping in the very city I'd called home for long. Of course, I went hunting for something unique. For the first time in forever, I randomly stumbled upon the Chhatrapati Shivaji Maharaj Vastu Sangrahalaya Museum shop.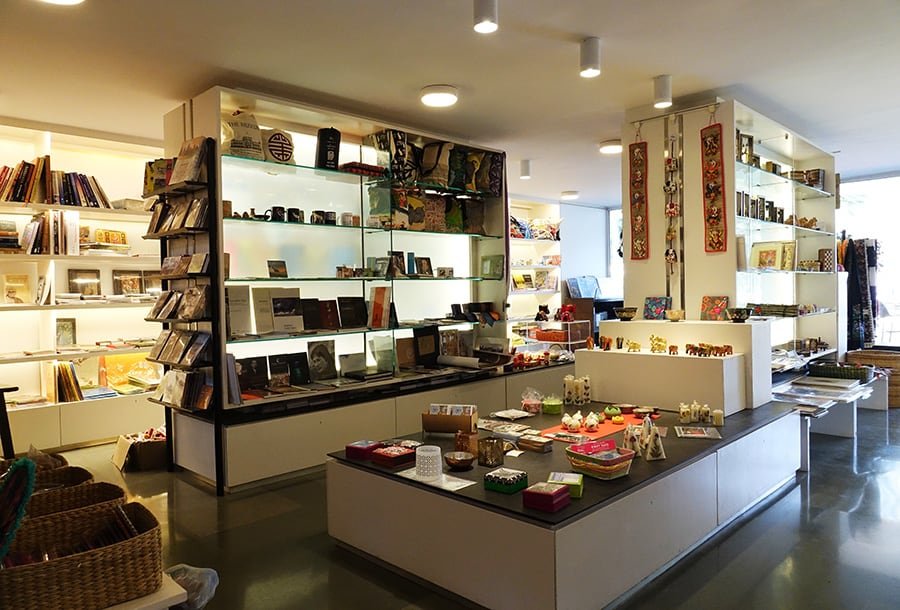 I walked through the glass door spotting a number of tourists walk through the entry gate of the museum, but none stepping into the shop, the solitude shopper in me seemed happy with not more than one or two shoppers around. 😉
Among a handful of other things that seemed familiar, my heart instantly fell for old paintings, historic photo books, stationery items printed with centuries-old manuscripts and some vintage bookmarks that convey the unsung history of Bombay. Nonetheless, I was happy picking up souvenirs that spoke of the activism of women leaders in India, postcards of bygone historical eras and Mughal manuscript-printed notebooks!
I wonder, what could've been better!
7. The Golden Silence
Admiring the golden silence that pays a deaf ear to the city that is.
I'd be the last person on this planet to spot a tad bit of a difference between the lines of modern and contemporary art or with that said; be it art in any form despite my love for undeciphered art and serene hallways of art galleries!
But yes, if you are somewhere sailing the same boat, I'd love to stress on paying a visit to this tranquil Gallery of Modern Art that speaks of masterpieces not just in colours but as well in sculptures, that which has spick and span interiors in a dome-shaped building and that which is completely immune to all the hustle, bustle, pace, and, chaos of the city hum.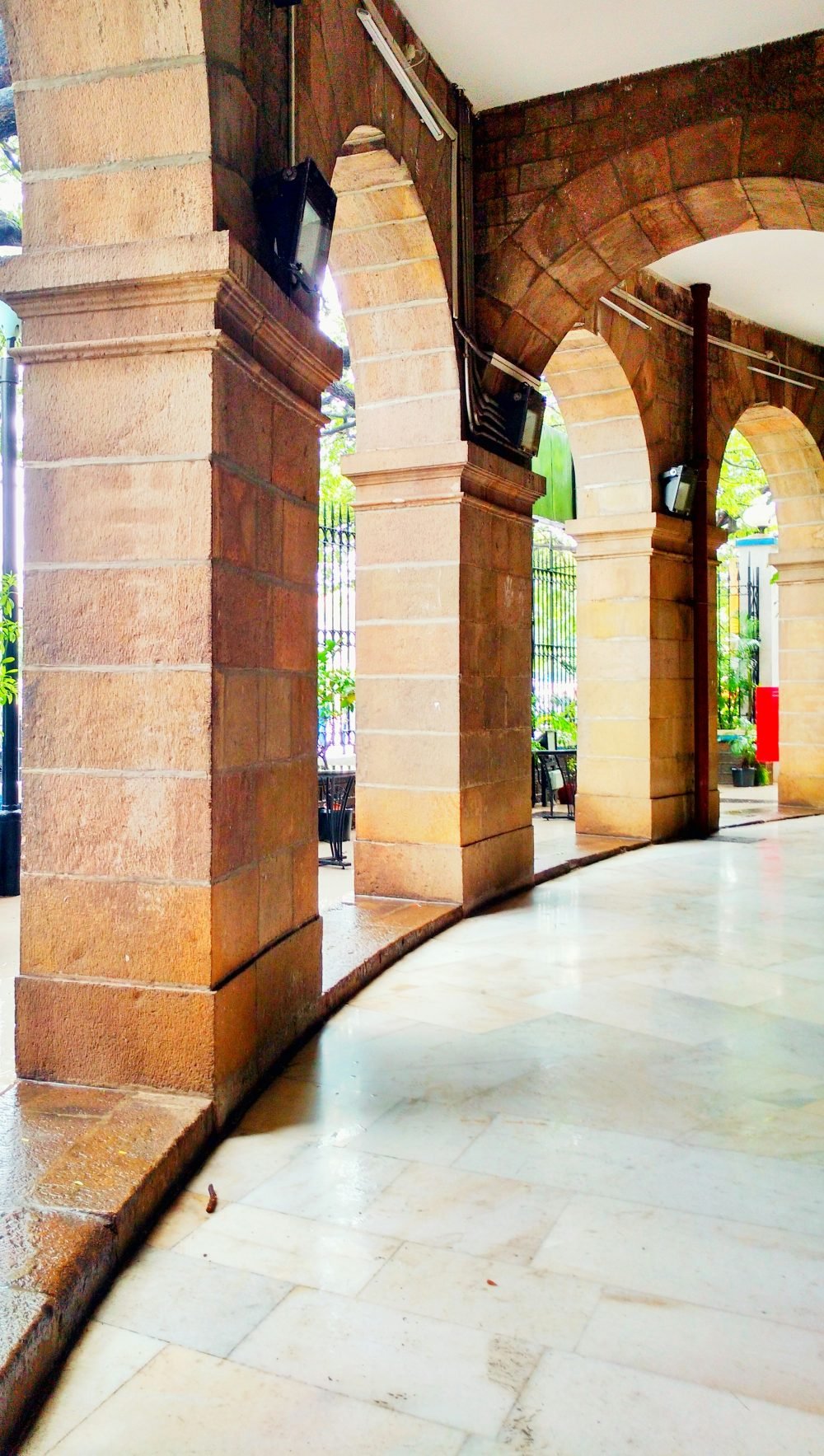 From all the lectures I've had bunked, this nook has always been the one that has conveyed meanings and insights through pure silence.
Entry – INR 20 for Indian Nationals; INR 500 ($7) for Foreign Nationals. Photography not allowed.
8. India's Only Standing Steel Building
Emoting what ignorance feels like at India's only standing steel building.
Underneath a veil of ignorance and negligence; by the edge of a busy ongoing street stands the commercial Esplanade Mansion (previously known as The Watson's Hotel) which continues to be recognized as the 'Only Standing Steel Building Across India.'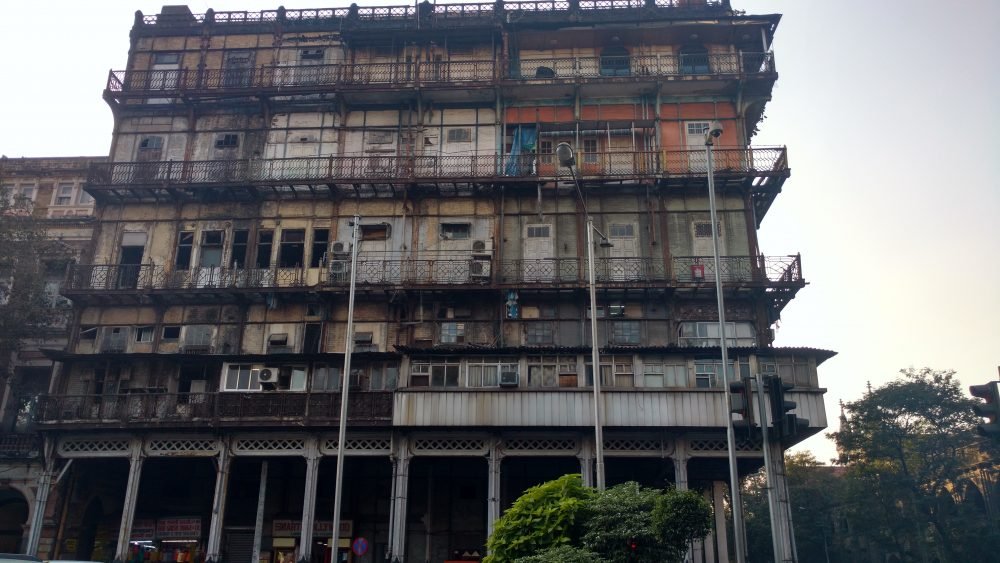 Walking on the wide ancient staircase among a plethora of electric wires, meter boxes and flocks of pigeons what it holds within are wide steel pillars that have caught rust over time and layers of dust on the stories hidden beneath the steel walls.
Indeed awe to be excitedly roaming inside and playing down the extravagantly wide rust-worn steel stairs in such a mansion that is now room to a lot of offices and a mini art gallery which is hidden to everyone's sight.
And this time, well even mine!
In Byculla
9. Bombay's Only Chinese Temple
Reminiscing the oriental past of Bombay at its only Chinese Temple.
Not quite obviously visible, literally hidden from the noise of the city and familiar only to the lengths, breadths and the people of the neighborhood, sits the not-so-big Chinese temple of Kwan Kung in a quiet vicinity of Byculla in the South of Bombay.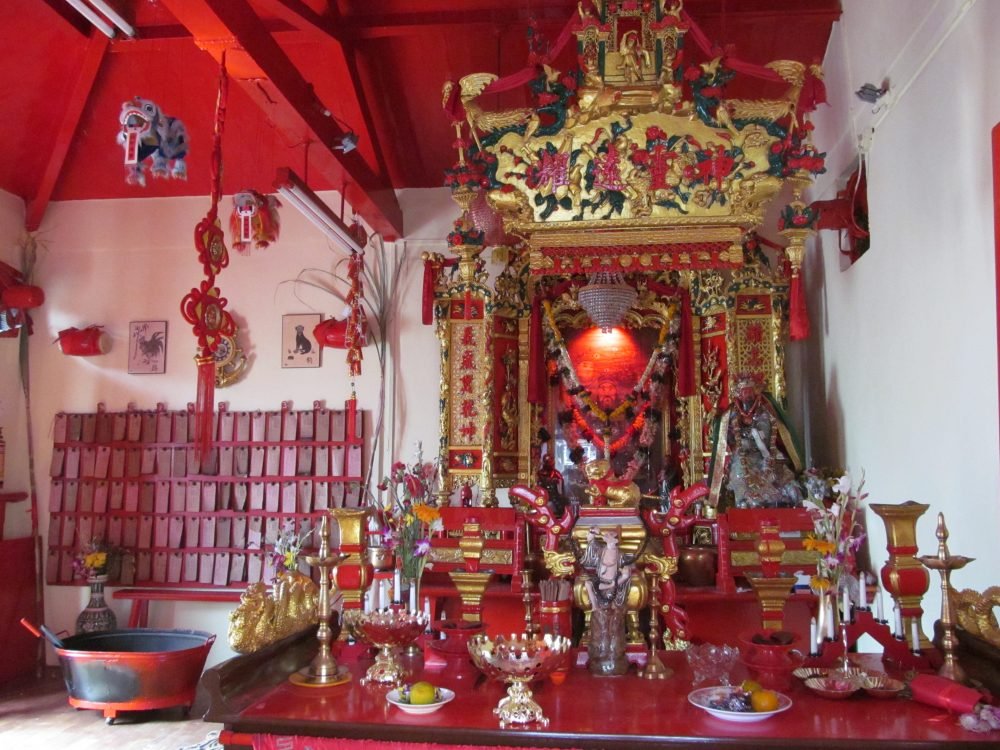 Tinted in a pale cream shade with hints of red and green colors, the 80-85-year-old Kuan Kung temple survives to be one of the last remnants of the Chinese inhabitants in Bombay along with a small cemetery nearby. Despite calling Bombay my home, it took me about 15 odd years to learn about the existence of a Chinese temple in my very own city.
Vivid red temple indoors, golden ornate and a peaceful neck of the woods, it has been an ideal retreat to pause and reconnect in an abode of spirituality in this ever-gushing pace of the city that keeps going on and on.
10. Bombay's Oldest Museum
Having an eye for the rarest of the rare at Bombay's oldest museum.
Strolling down the blue corridors of the Bhau Daji Lad Museum and photographing for about two and a half hours did not just open my eyes to perceive and appreciate the golden intricate decor but also took me back in time to the era of history that seemed plain boring in the bold black font of my school days' history textbook.
From learning the back in time ethnicity of the State of Bombay (that was split into Maharashtra and Gujarat in 1960) to the trade history, BDLM has caught an eye of a history fanatic.
But I'd guess that's what museums are for and I'd nod a plain yes.
But there's more to BDLM than plain history.
It is one-of-a-kind in the heart of Bombay with beautifully maintained artsy walls, well-decorated wide stairways, colorfully tiled floorings but what stands out to be my personal favorite is unearthing the stories from the window panes, and the curtain throws. I'd say that's the least to appreciate in a museum, but I'd let the pictures do the rest of the talking!
Entry – INR 10 for Indian Nationals; INR 100 ($2) for Foreign Nationals.
In and around Walkeshwar
11. The Rhythm of the City
Humming to the rhythm of the city away from the humdrum.
On all those days where I'd chosen to befriend the solitude seeker in me, I would treat myself to an evening atop the verdant Malabar Hill where from the entire city could be seen through a bird's eye view.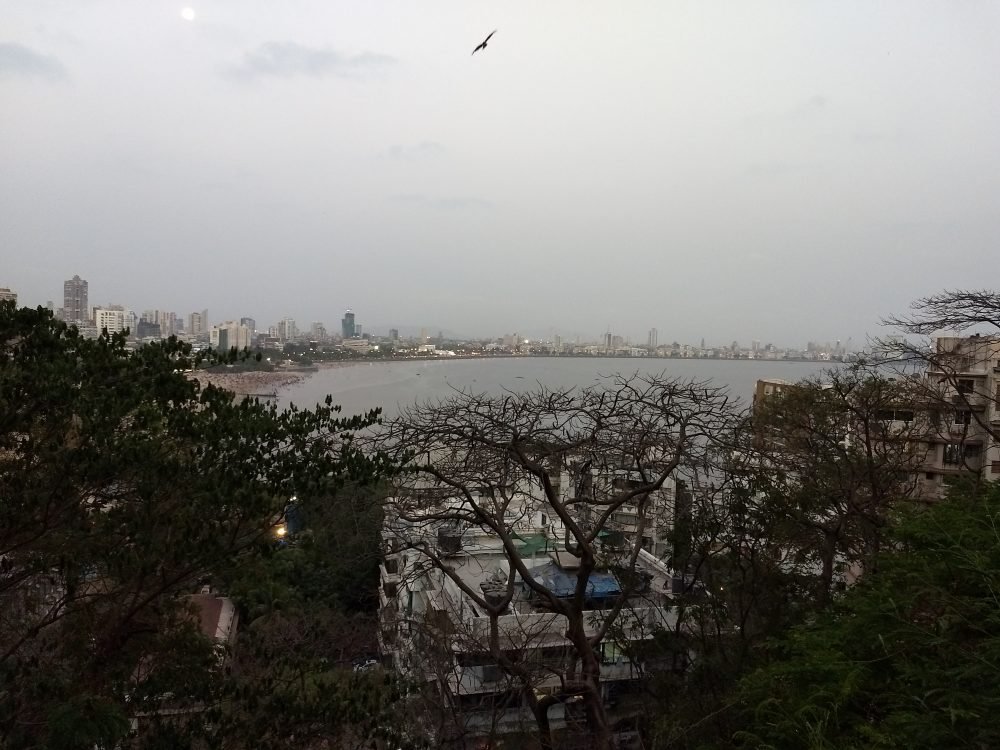 Dotting crowds loitering on the sandy stretches of the Girgaum Chowpatty, fishermen sailing afloat their fishing boats after a days' catch to sitting atop from where the crowds seemed to be left out and everything that I could feel was blended in the aroma of the cool breeze of the sea, the twinkling lights of the Bombay skyline, the language of city lights and the murmurs of lovers engaged in their comforts of PDA (Public Display of Affection).
Such is Bombay for me.
An emotion that is just as fleeting as the sea breeze. A relationship that lasts longer than the traffic delays. And a sentiment that is heavier than the rush of a Bombay local.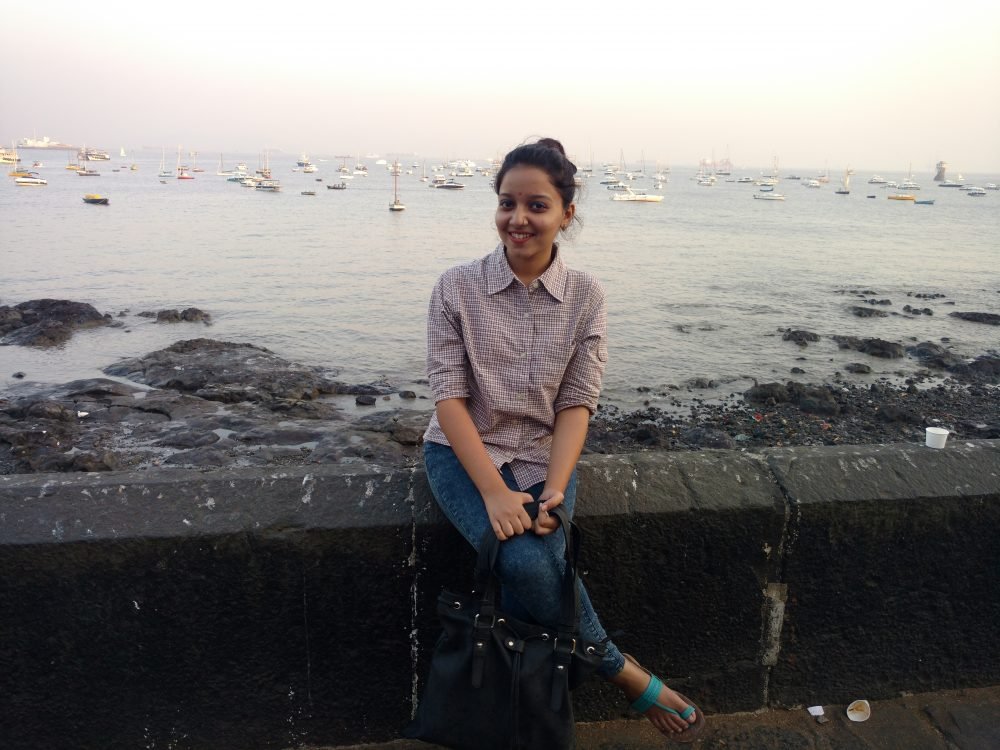 Such is Bombay for me. At times, chaotically silent well on some, silently chaotic. An ecstasy. A melancholy. As well, a mix of both worlds.