As I close my eyes, I enter my paradise. Dear Kashmir, I long to breathe you in as I did as a child.
To grow up and belong to a place that the entire world talks about is both fascinating and burdening. But in the end, whatever the world says, it is home, my home. So, I am here to share a piece of my home with you — a small piece of peace. While there is so much to talk about, I would like to take you on tour to one of the most prominent symbols of tourism in Kashmir, which is the Dal Lake. Surrounded by majestic mountains on three sides, this natural beauty is famed for its heritage houseboats, serene shikhara rides, and the floating vegetable market.
Dal Lake – Srinagar – Kashmir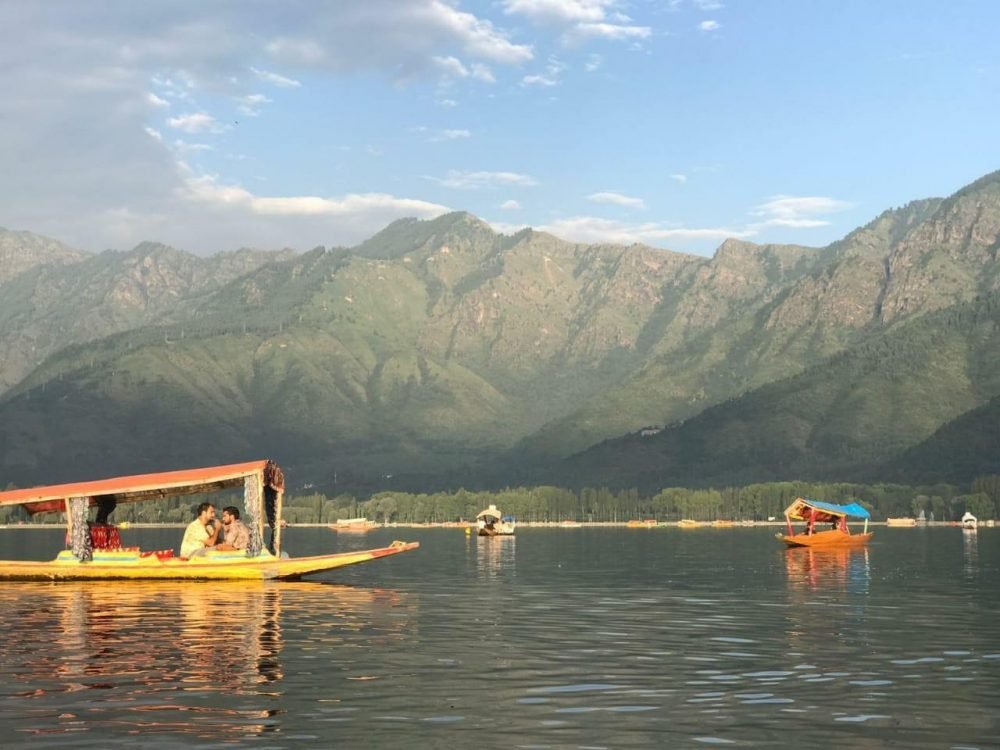 Visiting the Dal at any time of the day in any season will leave you with the bliss of calmness and serenity. The early mornings are the time when you can experience the unique floating gardens in the natural wetlands of Srinagar, which are the prime source of vegetable cultivation. These fresh vegetables are then sold on the Shikara on the lake. This exceptional, colorful floating market is set against a beautiful backdrop and is worth waking up for in the early dewy mornings. This place is a world in itself. There is so much life in this place, the backwaters, the small channels, the old canals, houses on the lake, people working on farms in the lake. All of it transports one to a different era, a different world altogether.
For me, the most magical and unforgettable memory is going on a shikara ride around sunset. Rowing on the Dal is like having a conversation with Kashmir. It feels like you are full of tranquillity, gliding over the waters towards the horizon where the sun is settling down slowly, leaving the sky in enchanting and enthralling colors. It is up to you whether you want to take the tour of the entire lake or just from one end to another, but if you are going for the first time, I would suggest keeping one evening free to just take in the feel and beauty of the place. While riding the shikara, you will also come across sellers on their shikara, selling various items, from flowers like Lotus to antique jewelry, paper machete products, and much more. There will also be professional photographers who can take your picture both in traditional attire and otherwise. All these people are so friendly; if you like conversations, they can tell you so many stories of Kashmir or share their own experiences and memories, which for me, is very endearing. You will also come across the famous Chaar Chinaar, a tiny island in the middle of the lake comprising, like the name itself suggests, four magnificent Chinar trees providing beautiful scenery for your photography. The entire ride is very comfortable and soothing. The sound of oars splashing on the water, the cool breeze, a view of mountains while on the shikara ride, dipping your hand in the lake as the shikara glides on slowly is all you need to have a most relaxing evening.
Coming to the houseboats, for me, they are no less than experiencing a fairyland. A luxurious stay with all the facilities, floating in the lap of nature itself. They are beautifully constructed, are entirely wooden, laden with antique furniture, chandelier, sometimes a small library, a dining room, a living room, bedrooms, and a small deck in the front. The wood used is nicely carved, the windows have crewelwork curtains, and throughout the houseboat, Kashmiri carpets are used. At least one night stay in a houseboat is a must for anyone visiting. The Dal looks enchanting at night, and once you stay there, you would not want to leave at all!
Another thing that I absolutely love is going on a drive along the shoreline of the Dal, which is encompassed by a boulevard. You can even stop by and visit the Mughal Gardens such as Shalimar Bagh and Nishat Bagh from there itself. But a late evening drive with family or friends is what I prefer more. While looking out of the car window, we see the vastness of the lake, its fountains, the beautifully lit up fort on the Hari Parbat. And there will always be people sitting on the parapet talking, sipping tea or coffee, little children playing or sometimes even swimming in the lake or people taking a walk along the shore. It is a part of their daily lives, a part of their home, their routine and thus becomes a part of their selves. And while driving on the boulevard, another one of my favorite things is to stop by near a roadside barbecue vendor. They provide you with the most delicious steaks of barbecued chicken or mutton served with various chutneys and roti. Just sitting there in your car along the shoreline having this wonderful warm meal is something you cannot miss.
Apart from being a tourist attraction, Dal is actually a source of livelihood for hundreds of people. And also a source of inspiration to several poets, writers, painters, and photographers. It has been written about and captured in so many ways, each unique, each with a new perspective, a new life. It holds a different space for different people, and I think that it has something for anyone and everyone. No person who ever visits Dal leaves empty-handed. Even a Kashmiri like myself, having seen it all my life, I still get something new out of it every time I visit. There is always something that I had not seen or experienced before. Something that had not caught my eyes or senses before. And that is the beauty of it. No matter how many times we visit the Dal, it is never dull or monotonous. It is as fresh and novel as the first time.