Have you been through the feeling that one gets while removing bookmarks of pages you no longer need because a long-term plan has finally been executed? That's what I am doing now, removing bookmarks from over twenty pages of packing lists and other trivia relating to the Everest base camp for solo women travelers.
Every Trekker's Closet Dream!
Everest base camp is something I had dreamed about for a long time. It had been on my 30 before 30 list, before wedding list, lifetime bucket list, New Year resolution list, you-name-it list for the longest time and to get it off my goals feels rewarding. It was one of the top three things of my resolutions list that I renewed every year, and to finally be there for New Year's was an incredible coincidence.
Mid of 2018, I began working out and shopping for this trek, hoping to make it somehow in the winter. (Thanks to Rahul for hopelessly waiting for me to try several colors of the exact same jacket at Uniqlo – I wanted to look great at my awesome picture at the top! Two days into the trek, we were all smelling like Yaks, and I doubted whether I'd make it alive for the photo. Also, Pro-tip- spend more time training than shopping.)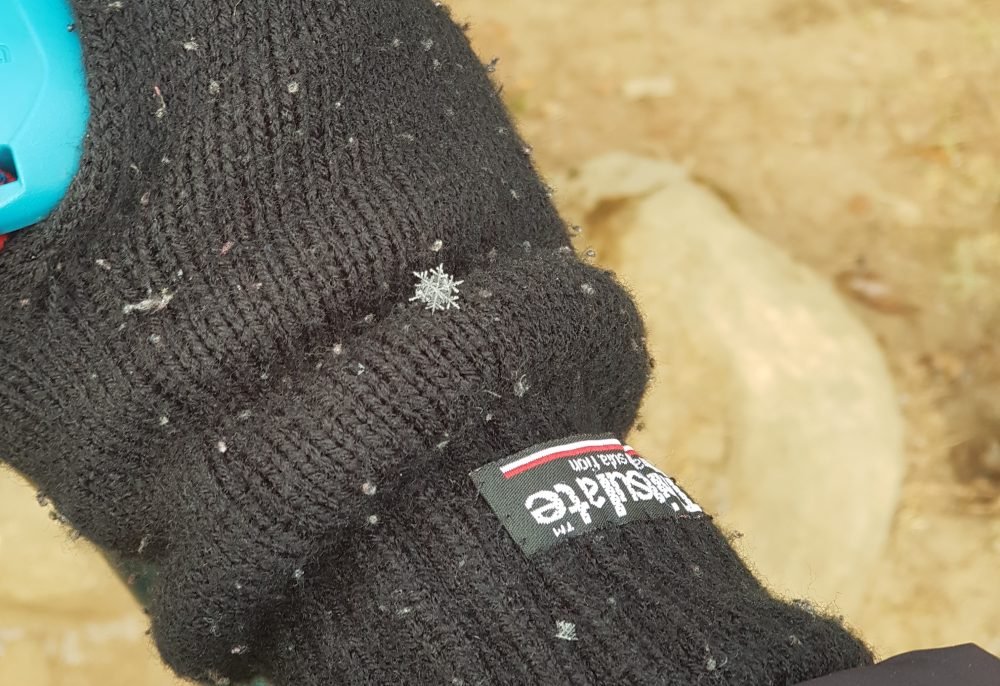 I am fortunate for so many things that fell in place for this trip to take off. The many lucky things that happened along the way that make incredible stories of their own. The little farewell meets before I left for the trip by various friends, friends who got me the best airfare deals, came with me for shopping, friends who lent some of their trekking gear, friends who came to meet me during my transit in Delhi and the epic-run to catch my Kathmandu flight because I got late hogging Aloo parathas, and Papdi Chaat was just the beginning of an incredible adventure.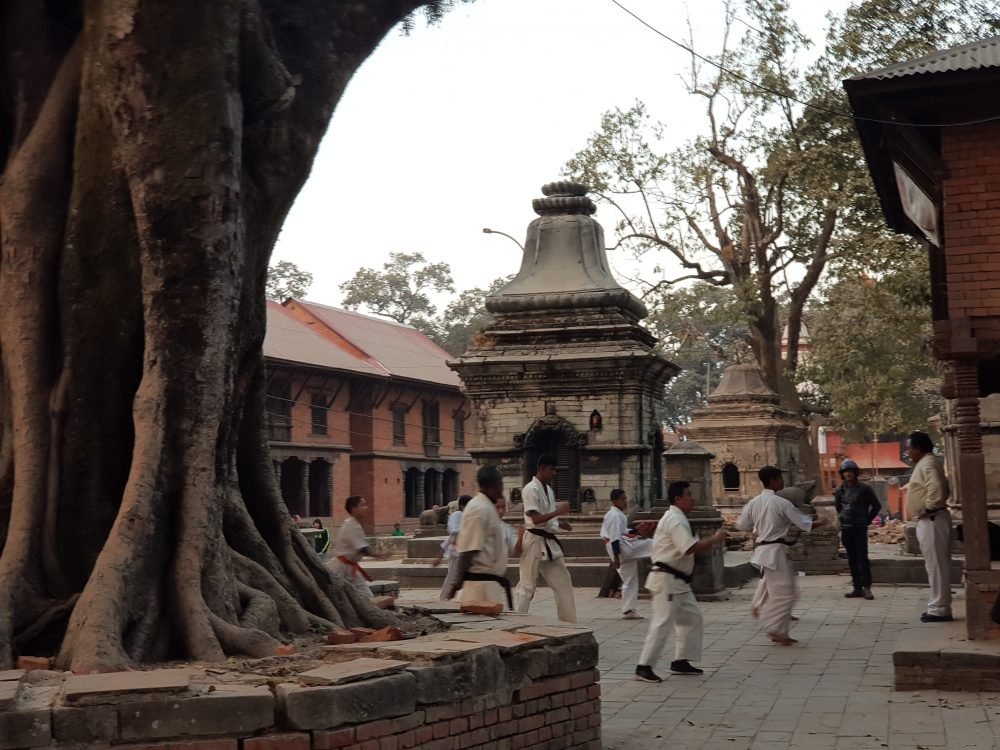 Now that I've made it sound like it was nothing but fantastic, I'll get down to a little detail- this trek was one of the hardest things I've ever done! For the entire duration of the trek, my only pass time was counting my own steps. For eleven days, from morning to evening, I counted an average of thirty steps before I stopped for a minute of active rest (slower steps) and after four such cycles – two minutes of complete halt.
One Step at a Time.
No, I'm kidding. On most days, my pace was that of a tortoise, and I felt like taking five-minute rests after two minutes of walking up. It just struck me that I never counted Mississippi like Ross!
"One Mississippi, two Mississippi, three Mississippi …all the way to Base camp" would have been more interesting! But life is full of such moments, boring and hard to endure.
Pies and Hot Chocolate at Minus 20 °C!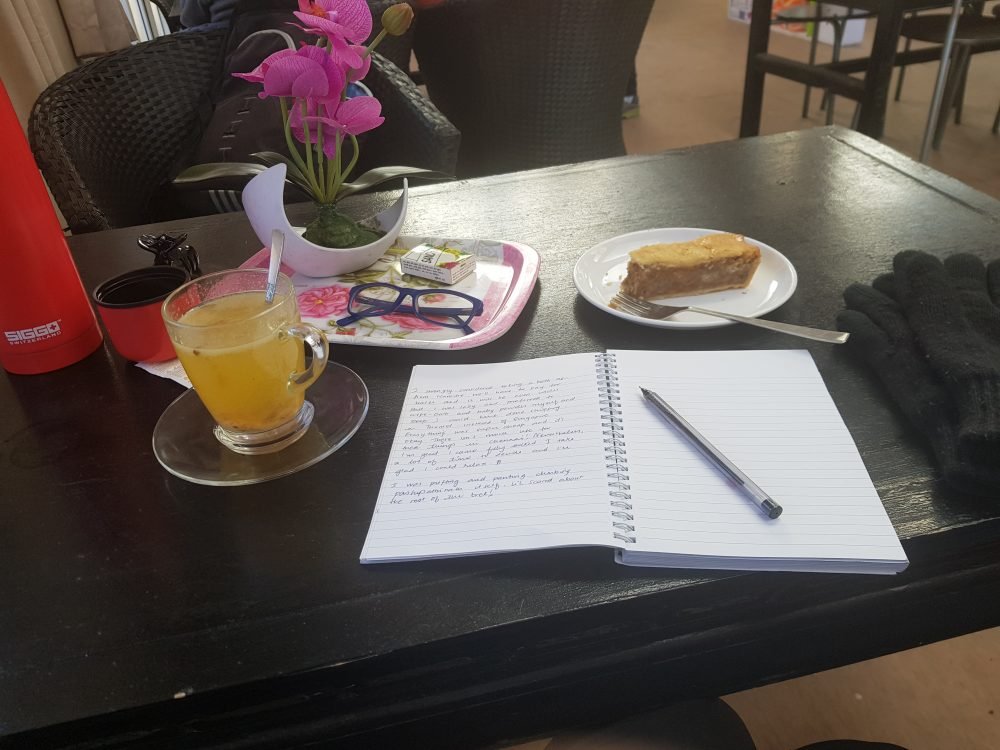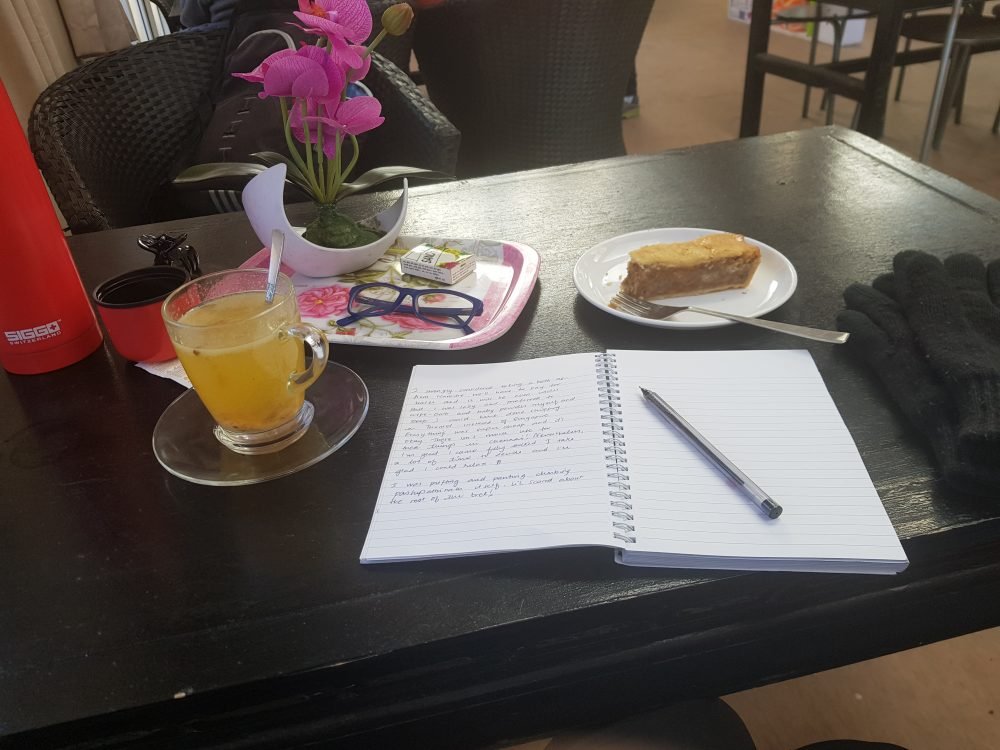 You haven't had a problem with high altitude baking until you've tried baking at the highest habitable altitude on earth – Apple Pie at World's highest bakery at Lobouche! They even offer a baking course for 15K NPR. We had a great time with the cafe owners charging our mobile phones there for free till they closed, clicked pictures and helped them promote their Instagram page!
World's Most Dangerous Airport!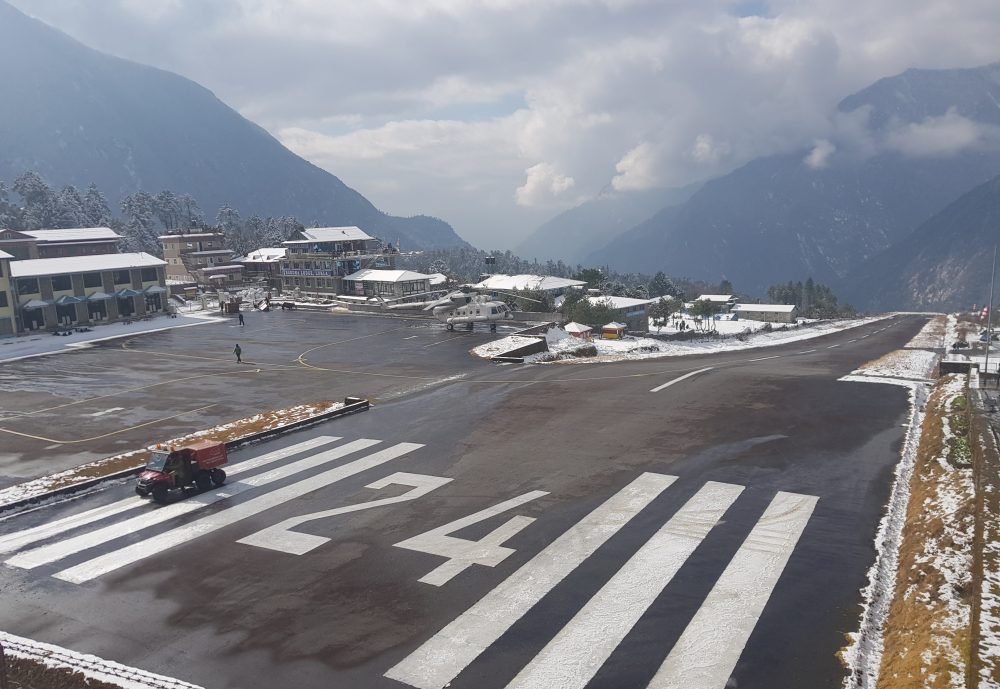 My favorite part of the trek is how it began and ended – at the Lukla Airport; I still wonder why they built a runway at the edge of the cliff when there's plenty of space in the village. If the weather conditions are bad, this could be the worst part of the trek- you may have to cancel the trek entirely. However, that would be the brighter side when you realize the alternate case would have been being inside a rickety plane in the world's most dangerous airport in bad weather. Some have even spotted the pilot with his stash of Khukri rum under his seat. Fun!
Swaying Walkthrough Suspension Bridges.
While the trek began with great enthusiasm, the following days were full of physical strain and discomfort. I quickly became sour grapey about the whole thing. If you had asked me then, the best one-word description of the trek would be – Annoying. The first few days, especially the climb to Namche Bazaar, was daunting. I used to wonder why anybody would go for Everest Base camp but not post pictures of Everest first and were posting pictures of suspension bridges instead. No photograph on Instagram does justice to how annoying it is to climb up 500mts and then again down, in repetition for days. Why couldn't they just build another suspension bridge here? That's why the bridges are special. The dispiriting climb up and then crossing the bridge, especially when it is so windy that the bridge sways (a bit). If you're lucky, a herd of Yaks would be crossing it with you, thumping behind and if you fall, it's only 500m drop to an icy stream below.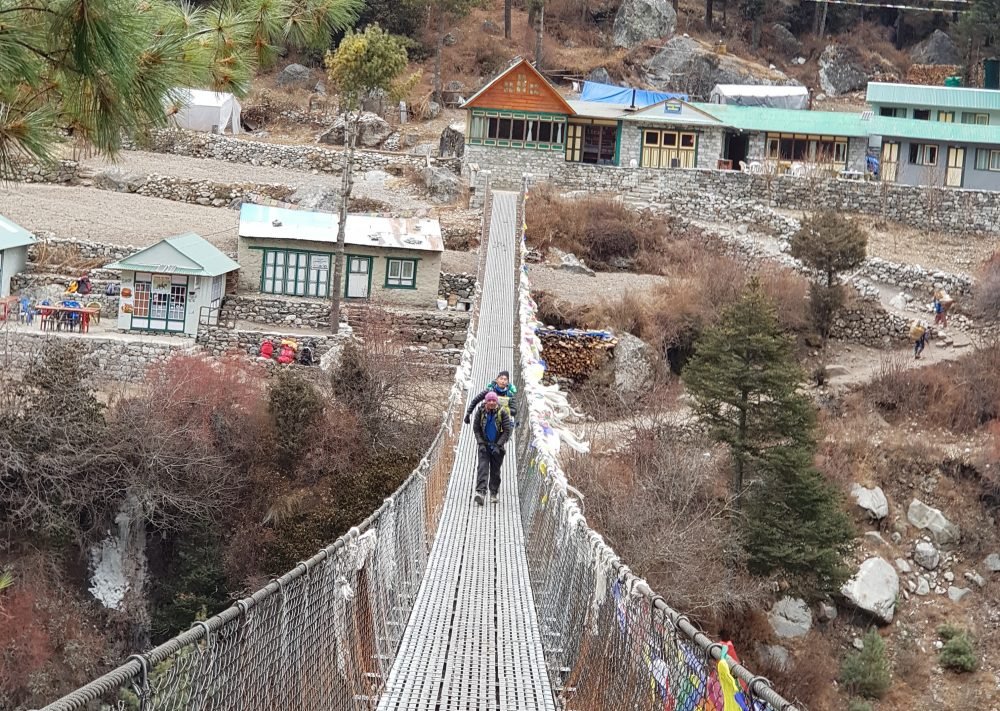 Food and stay are decent, if your expectations are lowered to that of a regular Himalayan trekker, but many tea houses have funny posters to lighten it up for you, if the laxative doesn't work.
Choosing the Winter Trek:
The best seasons to go April-May or October, but I chose December. It turned out better than I feared, though I've been told that it would be easier in the Summer. In December, I felt the route was rather crowded; I can't imagine how crowded it would have been in the peak season.
We began the trek on 22nd December at Kathmandu. It was 8 degrees, and none of us showered as we were freezing! Our first day was wasted at the airport with no take offs due to windy weather conditions at Lukla. The second day, we bothered to shower anyway, little knowing how expensive water was going to get in the following days. We got the 3rd flight to Lukla and attributed our luck to the shower and previous day visit to Pashupatinath.
Christmas at Namche Bazaar!
On Christmas Eve, we reached Namche Bazaar. Our trek leader's name was well suited for the season- Santa Tamang. Drinking and smoking are strictly not advised during the entire trek, and local drinks weren't worth taking the risk, but Khukri Rum and Nepali Rice wine has its own fans. The least temperature was around -25Degrees C and the drinks were usually mixed with hot water, honey, and some lime.
By Christmas, I had a severe cold, bleeding nose and a bunch of teenage porters sat around me and cheered me to chug down the hot Rum connection. "Maám, nothing will happen. Close nose like this, and open mouth in like this. One gulp only."
New Year's at Gorakshep!
On New Year's Eve, we reached Everest Base camp about 2.30PM, hugged and celebrated with co-trekkers. We had become familiar with those who walked at our pace along the trail and bumped into them at the same tea houses for meals or stay. We spent two hours clicking pictures and tucked in early into our sleeping bags at Gorakshep, the nearest tea house from Everest base camp, waking up briefly at midnight to wish our families. January 1st morning began early, around 3 AM for those who wanted to climb to Kaala Patthar for a better view of Everest and be back by 8 AM before the others got ready for our departure.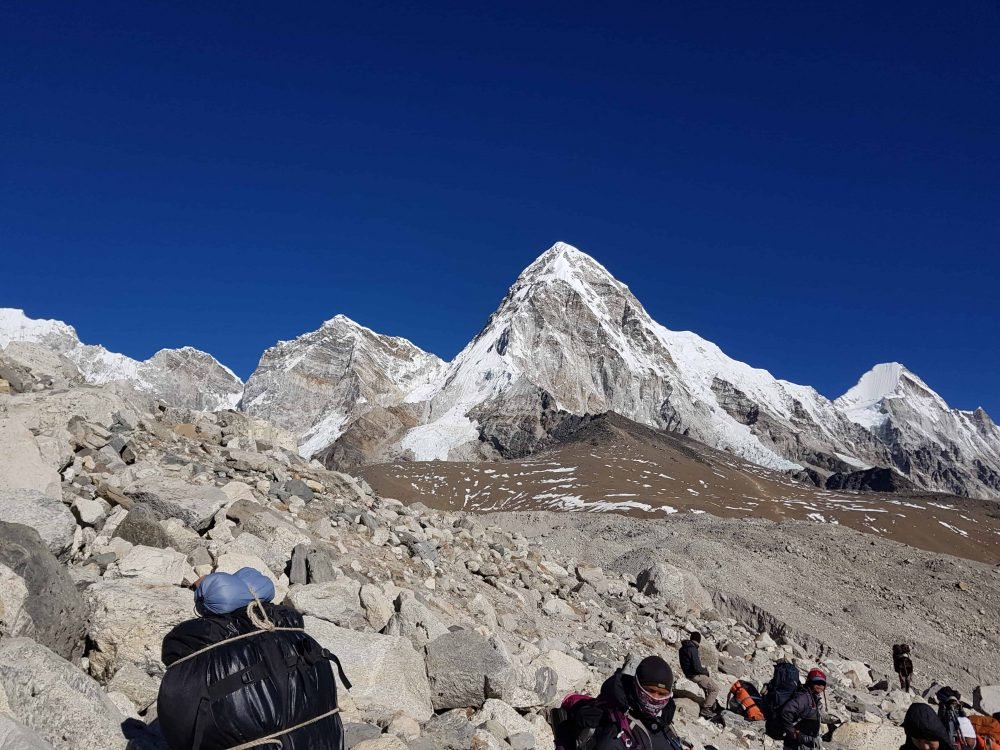 By now, we were all grumpy cats. Having accomplished the goal, we were hoping we could take a chopper back to Lukla than walk back the exact same route. Most treks have a different route for the descent, but EBC has the same path for both onward and back. We realized many people chose to fly up to EBC in a chopper and only walk down or Climb up only and fly back to Lukla. The latter is probably the best way to do the trek. Though doing the entire trek on foot is an achievement as a test of will and patience, "Walking down" isn't much of an achievement and flying over the Everest region offers glorious views from a chopper.
Stuck in a Snowstorm on our Last Day!
The last day (Namche to Lukla) was the crowning moment of the entire trek – a little snow followed by a heavy blizzard, walking slowly sipping beer or rum, snow fights with kids in the villages en route, delayed by hours, stuck in the dark with our torch batteries running out and taking shelter for hot chai and pakora in a three-time Everest summiteer's hut.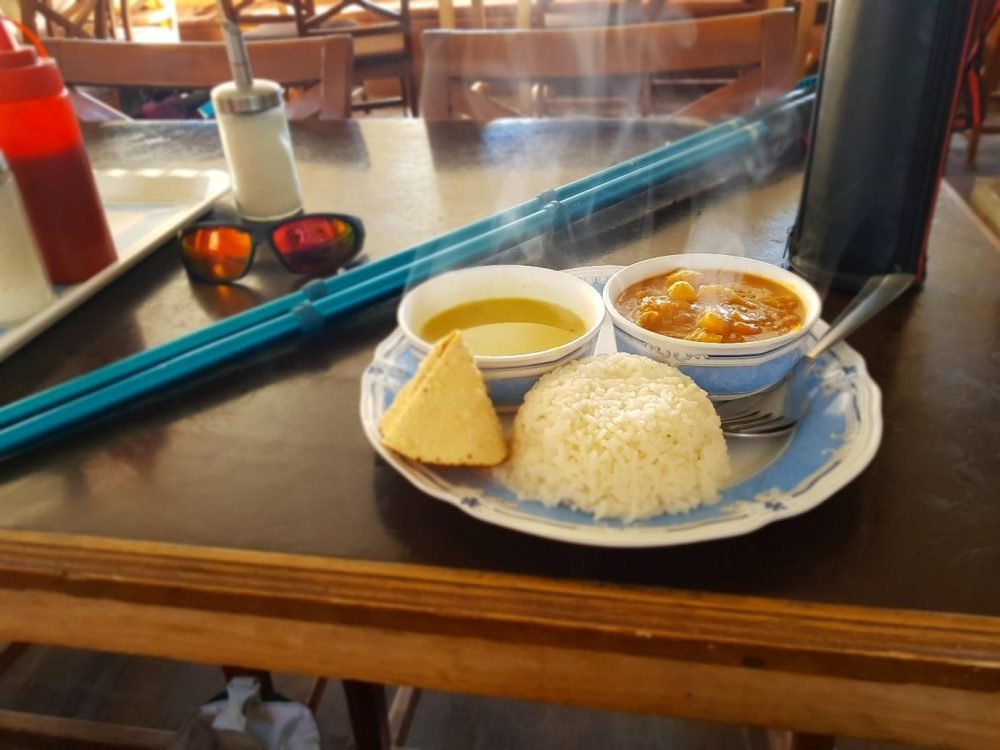 The First Shower after Two Weeks.
Back in Kathmandu, we showered for the first time after nearly a fortnight. Water flowing out of a tap, wow! Eat all you can buffet, I am coming for you. No, we don't need mirrors in the house anymore, can't see myself! Standing under the shower for a good half hour, strolling around Thamel and Durbar Square for souvenirs and good food and sleeping in proper beds, no more tea houses!!
For those interested, here's a bit more information for you:
Day Wise Itinerary:
Day 01: Departure from Home City.
Day 02: Kathmandu: Sightseeing and Trek Preparation
Day 03: Kathmandu – Lukla – Phakding [2,652m/8,700ft]: 3 – 4 hrs
Day 04: Phakding – Namche Bazaar [3440 m/11,280 ft]: 5 – 6 hrs
Day 05: Namche Bazaar Acclimatization Day
Day 06: Namche Bazaar to Deboche[3820m/1253ft]: 5 – 6 hrs
Day 07: Deboche to Dingboche [4360m/14304ft]: 4 – 5 hrs
Day 08: Dingboche – Duglha [4,600 m/15,090 ft]: 3 – 4 hrs
Day 09: Duglha – Lobuche [4940 m/16,207 ft]: 2 – 3 hrs
Day 10: Lobuche to Gorak Shep (5,170 m/16,961ft), visit Everest Base Camp (5,364 m/17,594 ft): 6-7 hours
Day 11: Gorak Shep – Kala Patthar – Pheriche [4280 m/14,070 ft]: 8 – 9 hrs
Day 12: Pheriche-Pangboche-Tengboche-Namche Bazaar [3,440 m/11,280 ft]: 6 – 7 hrs
Day 13: Namche Bazaar – Lukla [2,800m/9,186ft]: 6 hrs
Day 14: Fly Lukla to Kathmandu
Day 15: Final Departure
Budget and Planning: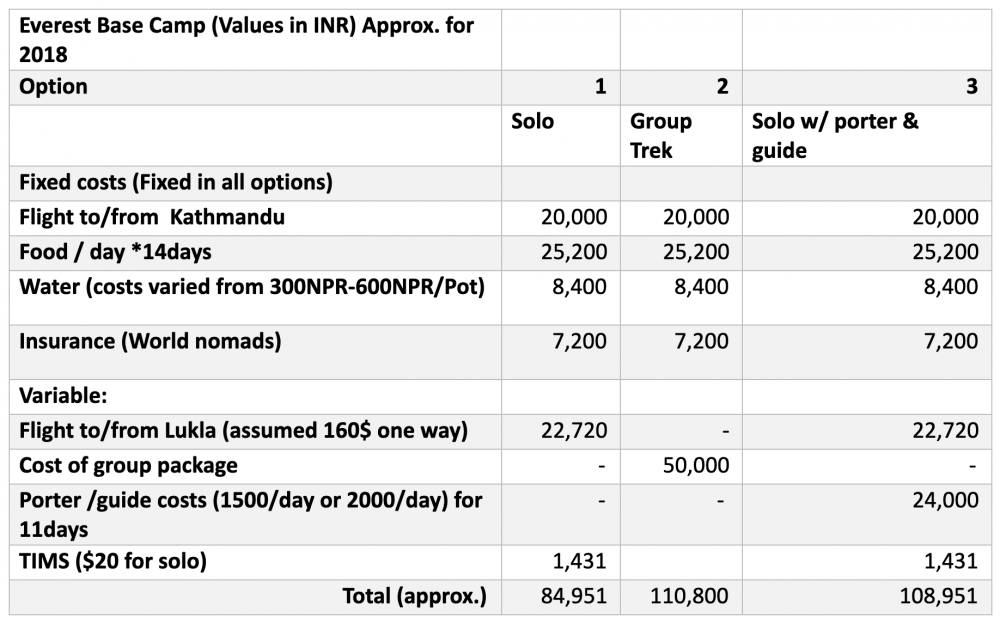 Like with most treks, despite comprehensive planning, there will be moments upon landing when you will realize you know nothing. Things on what you really need, you may not, food- what to avoid, hole on the floor type of toilets, traffic rules and a little bit about altitude sickness.
---
Hence, here's a three-part guide in the forthcoming posts:
Whether the Everest base camp is for you and choosing the right group in India.
Planning for Everest Base Camp: Shopping, Training, and Budgeting.
Day wise Journal – Food, Itinerary, and what to expect.