It was just another work day, and I was in the middle of filing away some documents for a client. Nothing really dramatic happened. One second I was looking at this endless stream of papers, and the next I wanted to run away from everything.
Have you ever felt that way? In the middle of a work week, you feel as if you are suffocating and you need to get away from everything and everyone. And then you ignore and it goes away? It was that same feeling for me, only I didn't ignore it that day. I figured life is too short. What is it that millennials say these days? You only live once, right?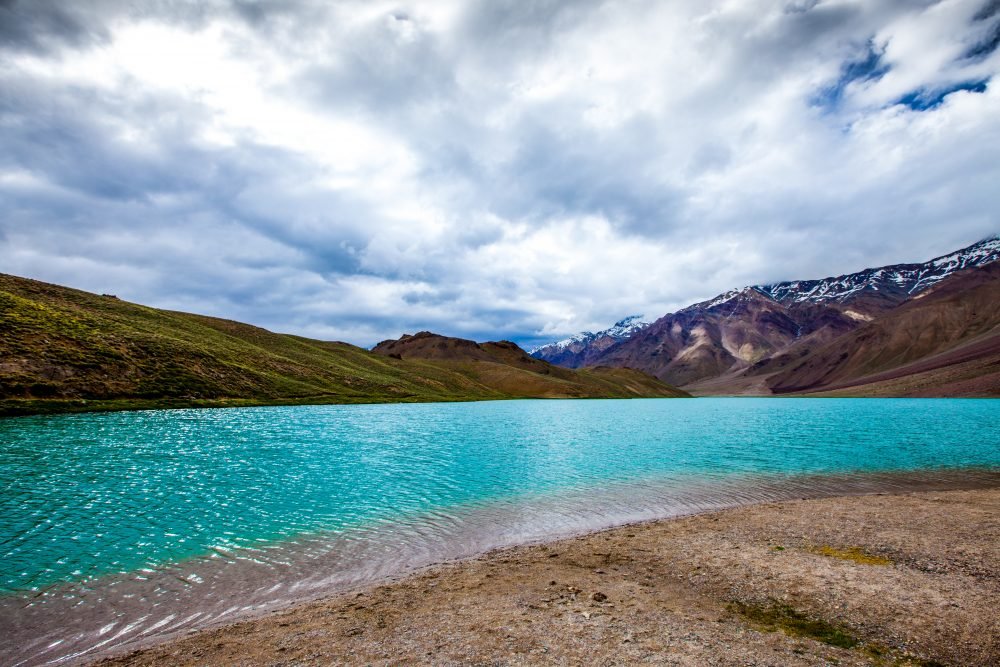 Nothing dramatic happened for the next month. I called up a few friends and decided it is time to go to the Himalayas. We called up hotels, made reservations, and planned a hike to the elusive Chandratal (or Chandra Taal), reportedly the most beautiful lake in the world. And that is the story of how I ended up experiencing the most life-changing event of my short time on this planet.
Our Journey to Chandra Taal Lake
We took a state transport bus from Delhi to Manali, and from there, we hired a jeep. It burned a hole in our pocket, but the views on the journey were more than enough to cover our losses. Clear blue skies and a cool breeze accompanied us all the way to Batal. There were a few dhabas on the way, and I swear, those steaming hot bowls of Maggi are the best meal I have ever had in my entire life.
There is a 15-kilometre trek from Batal to Chandrataal. You can also ask people for a lift, but it is better to be mentally prepared for a walk. When we reached the camping grounds, we were exhausted like donkeys. We set up our tent, made some more soupy Maggi and retired for the night.
The camping area is about 3 kilometres from the lake. We took off before sunrise and were at the lake in just under an hour. And it was like all the exhaustion from the last few days, all the suffocation from the last few months, all the weight I had been carrying around for years just evaporated into thin air. I felt as if I had been transported into an otherworldly place, where time stands still and it's just you, one with nature.
The lake stood calm and still in the dark, wee hours of the morning, and the gentle ripples in the crystal clear waters were the only indication that it is indeed water and not glass. The valley was covered in a green blanket, and the mountains stood in the background as if protecting the lake from the rest of the world. There was a small hill tucked away, and its reflection in the lake kept being disrupted over and over again by the ripples. I had never seen the shade of blue I saw in the lake that day.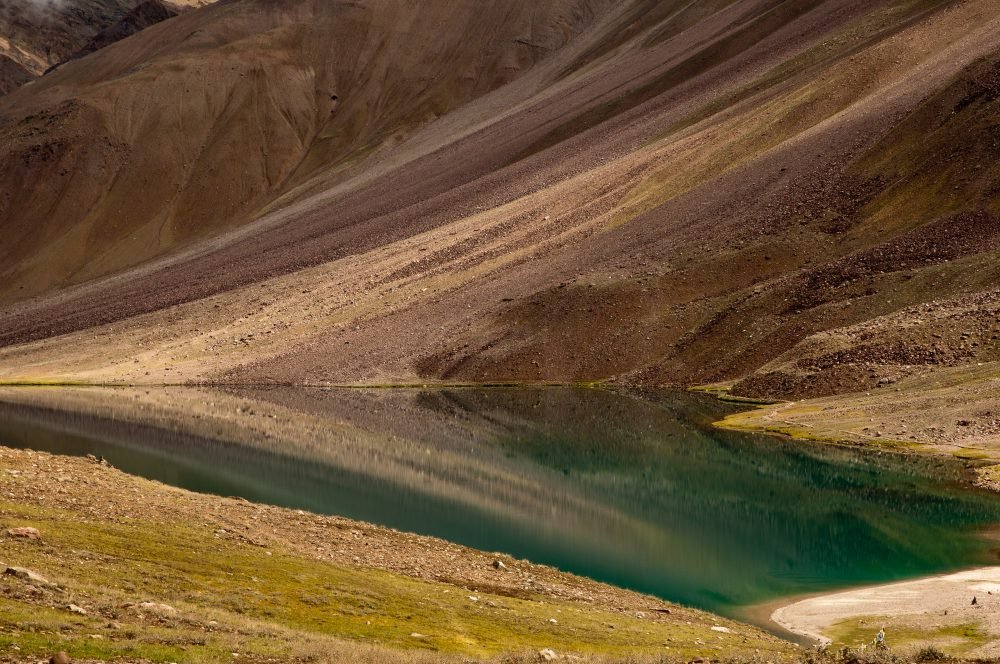 The sun rose behind the tall, imposing mountains, and the sky filled up with hues of gold, orange and yellow, the lake gracefully dancing in the colors of the sky. It was simply mesmerizing to watch this delicate dance of nature. We sat there for an hour, not one of us uttering a single word, experiencing the beauty and otherworldly quality of this place that we had stumbled upon.
How a Walk in the Woods Changed my Perspective on Life!
As my friends made plans to return to the camping grounds, I stayed back, wanting to explore the small lakes around Chandrataal and take a walk in the woods nearby. It was a bright, sunny day, and the forest was filled with different autumn hues, yellows, oranges, shades of red from crimson to burgundy, all the way to earthy brown tones. It was if a toddler had spilt his box of crayons all over the earth, and refused to pick them up. As the sun shone through the leaves, at times it felt like I had left my old life behind, as if I was in a parallel world where there was no one but me and the forest.
The leaves made a crunchy sound under my feet, and with each step, I felt I was walking away from everything that plagued me. I felt like I was in a fairy tale world, and every at every turn, the sights were more beautiful than the last. Garlands of green and gold, fiery orange and deep crimson, sunlit clearings feeling like golden pavilions of a long forgotten elven place… the splendours that surrounded me were so much bigger than all my troubles. I felt simultaneously free and extremely small, free from my problems, and small in front of all the beauty that surrounded me.
At that moment, I decided that it was time to make changes in my life. And I have never looked back since. This is how travel changes us. It brings forth something that was buried deep within us, makes it come to fruition, and helps us realize what we knew all along. What are our problems, if not puny botherations, in front of magnificent mountains, and awe-inspiring waterfalls? I had never felt as small, and consequently, liberated, as I felt that day in the woods.
I returned to the lake, and by that time it was crowded by throngs of tourists. So I decided to head back to the camping grounds, to my friends, resolved to turn my life around and do whatever is necessary to get where I want to be. And that, my fellow travel lovers, is how a trip to Chandrataal changed my life for the better.
Now, enough of this waxing lyrical, let's figure how to get to this piece of heaven on earth.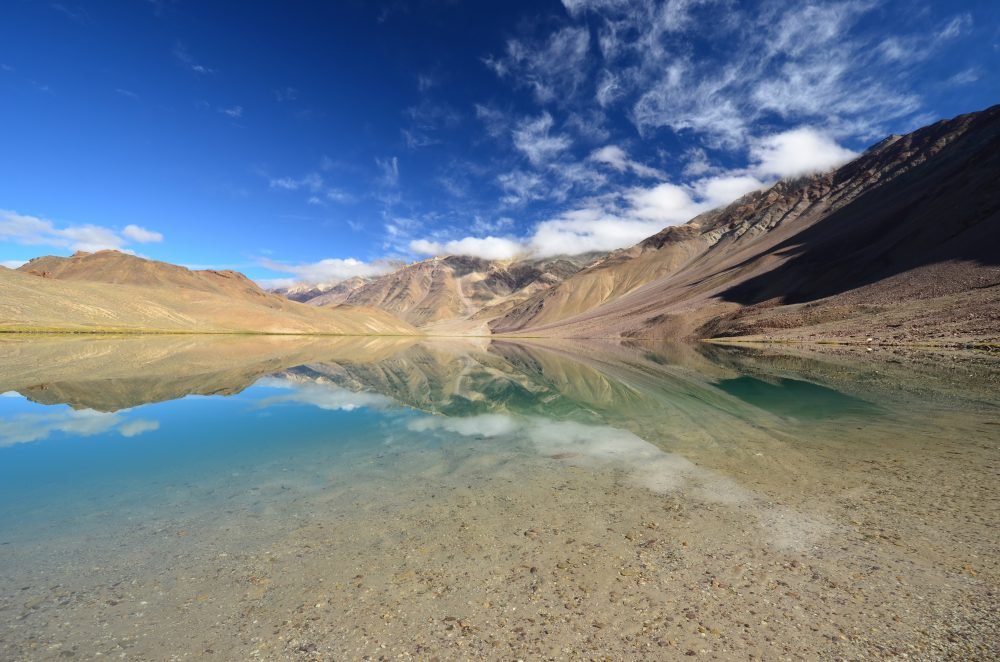 How to Reach Chandratal?
From Manali to Kaza, it is only 200 kilometres, and it is quite a pleasant journey. There are several waterfalls on the way, and most are safe enough to take a dip in. after covering nearly 150 kilometres, you will reach Batal, and you need to leave the Kaza road behind to get to Chandrataal. It is only 15 kilometres from Batal to Chandrataal. If you like hiking, give it a shot, but you can cover this stretch in an hour if you can get a lift. Once you reach the camping grounds, you can set up shop, as the lake is only a hok, skip, and jump away.
How Much would it Cost?
Depending on your choice of travel, the entire trip could be covered in as little as a thousand bucks, or the cost can go high as INR 15k. It all comes down to how you want to undertake the trip. If you plan on hiring a jeep from Manali, all the way to Batal, and then the lake, you will spend around 13-15k, excluding the camping charges and meals. There are several taxi services, and if you are travelling with friends, you can split the cost to make the whole trip cheaper.
But there are budget options for solo travelers too. Buses from Manali to Kaza leave every morning, with fares as low as INR 150-200. Get off the bus at Batal, and from there, you can either go trekking for 14 kilometers to the camping area or ask for a lift. You can hire a taxi too, but the services are not reliable, so I wouldn't recommend counting on that.
Frankly, the hike is a little boring for me. The landscapes are all the same, and the trek is flat, with nothing interesting in between except stray dogs and occasional dhabas. However, if this is your first trek, you may find it interesting, so go for it. If you do take a lift, try to stick with the people you arrived with, so you don't have to go hitchhiking again on your way back.
The camping grounds are set farther away from the lake to protect the lake and prevent littering in the area. If you do not feel like camping, you can rent a room at the Batal dhaba, or at the PWD rest house. The accommodations come with meals and are as cheap as 150-200 INR per person per night. But the booking at the rest house can be a bit tricky, and the dhaba may be filled to its capacity in peak season. So make sure you confirm your reservations before leaving. On your way back, you can simply take the bus from Batal to Manali the next day.
If you play your cards right, the entire affair will cost you around 1500 INR. So, what's your excuse now? Plan your trip to Chandrataal today, and see for yourself what the hype is all about.