Floating Past a Thousand Islands and Romancing on the Dragon Legend Cruise.
I have always associated cruising with romance. The idea of getting away on the waters with your special someone is fantastic – just the two of you far away from the regular life on the land. You have absolutely no responsibilities, nothing to worry about and you can entirely focus on each other. While doing our readings on the famous cruising places, my partner and I realized that we should probably do it differently since it was our first wedding anniversary. Why not be on a cruise in the much quieter waters, less crowded and still high on romance?
Vietnam it was!
One day while skimming through a travel magazine, I found out a place called Halong Bay in Vietnam that had been declared as one of the New Seven Natural Wonders of the World. I marked it on my bucket list, did some research and was instantly attracted to the place and the idea of cruising. That was it! We already knew where we were headed for the celebrations.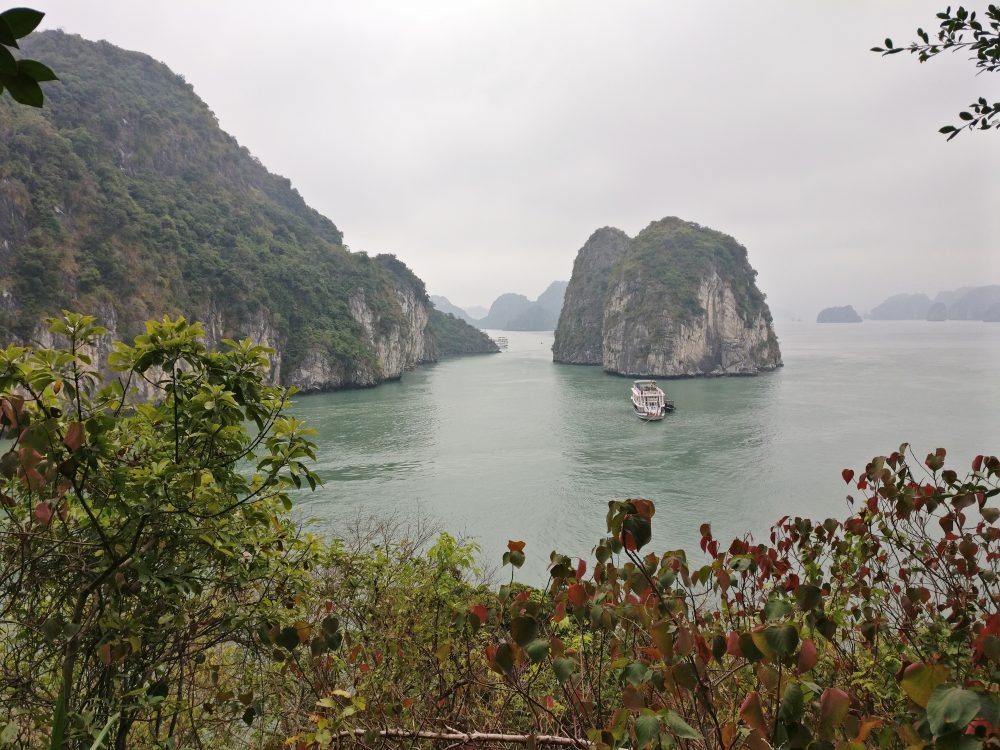 Initially, when we chose Vietnam as the place, our family and friends were surprised. Just like them, many Indians have no clue what Vietnam has in store. Unlike the typical tourist destinations of the world, Vietnamese landscapes are incredibly gorgeous. And moreover, Honeymoons and Romantic Anniversary Getaways do not always have to be in Europe. So we finally decided to hover on Bai Tu Long Bay; a huge unexplored chunk of Halong Bay for our romantic adventure.
Let's begin with the know-how and some stories about the place:
What is Ha Long Bay? (or Halong Bay)
Developed over millions of years through geological processes in the sea, Halong Bay is a seascape carved by nature. Situated in the Gulf of Tonkin in North East Vietnam, the bay holds outstanding universal value for its 2,000 limestone islands and rocky towers that emerge from the serene waters. Spreading over an area of 43,000 hectares, these limestone towers rise from the sea in a variety of sizes and shapes; standing strong and spectacular.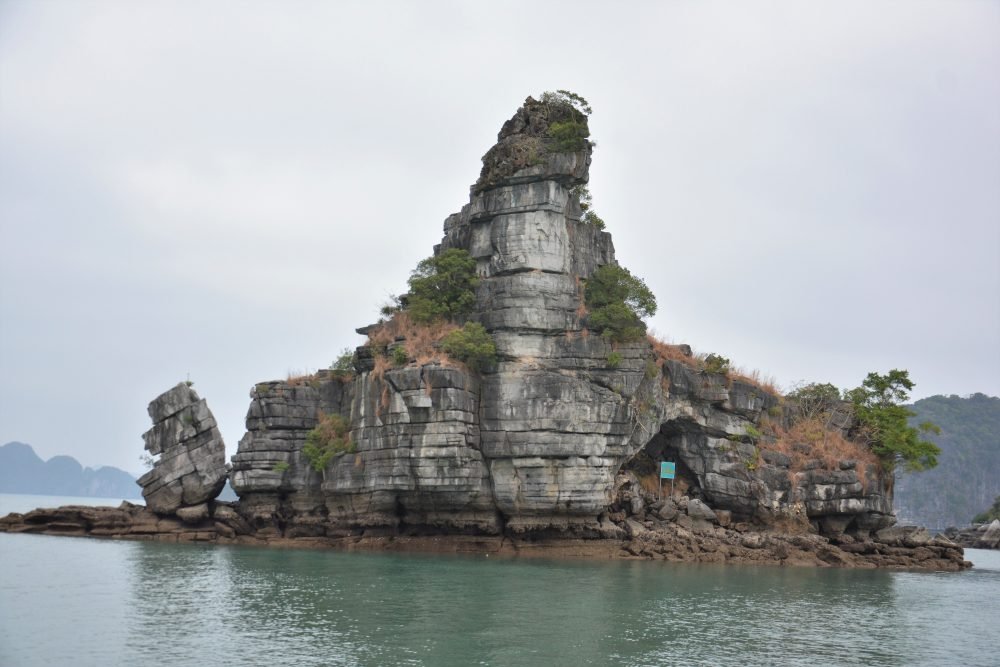 With nearly a 20,000 years old inhabitation, Halong Bay was designated as a World Heritage Site in 1994. There is no doubt to why Halong Bay holds a name in the New Seven Natural Wonders of the World and is also Vietnam's top most tourist destination.
Though there has been archaeological evidence of how early people survived and thrived in this area, most islands remain uninhabited today. They are all covered by dense, green foliage, while some have also turned into majestic caves.
What is Bai Tu Long Bay?
Bai Tu Long Bay is an area within the Halong Bay also called The Bay Less Travelled, which has a fewer number of the limestone islands and mountains, but they are no less impressive. It shares similar geological characters with Halong Bay and yet is an offbeat cruising route because it is deserted and a less visited tourist area.
What's in the Name – The Dragon Legend?
According to the legend, years ago when Vietnam was a newly formed country, the natives had to fight against the invaders coming through the sea. To help people defend their country, a Mother Dragon and her children descended to Earth and destroyed the invaders by spitting fireballs. Upon hitting the land, their spat turned into great limestone islands and towers that formed defensive walls that the invaders could never overcome. They protected the area and never returned to heaven. Later, they turned into humans and helped people forever.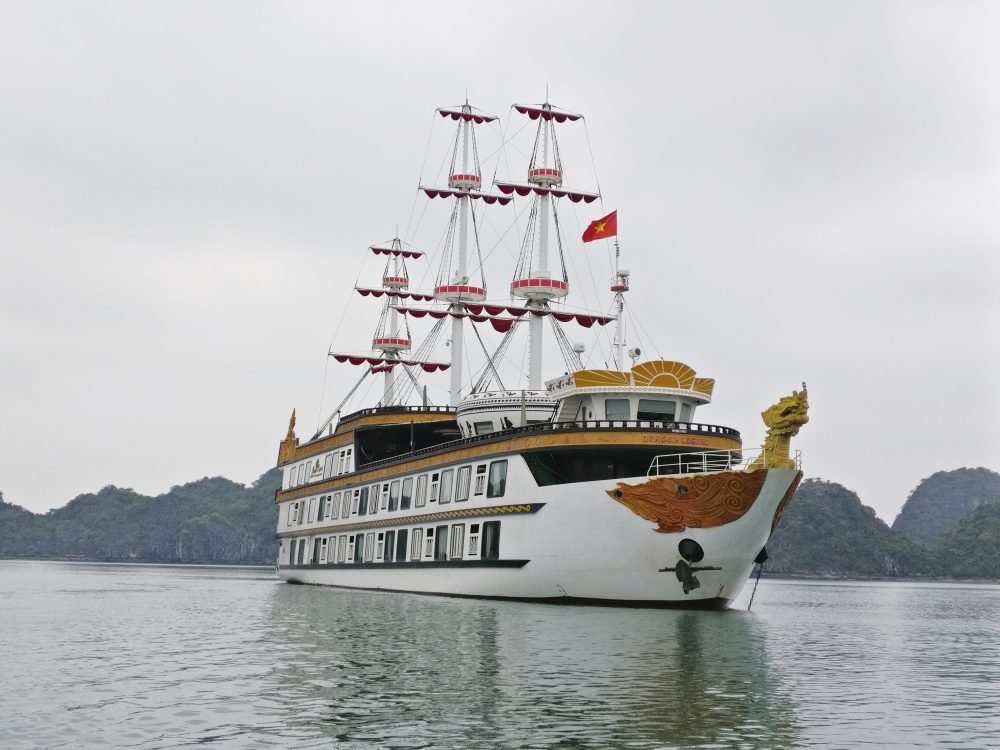 There is a strong belief that the people of Vietnam have originated from a dragon and eventually, older generations named the bay as Ha Long Bay, i.e. where "Mother Dragon descended" and Bai Tu Long Bay meaning "Thanks to the Dragon's children."
How to Reach Ha Long Bay?
Halong Bay is 144 km east of Hanoi, the capital city of Vietnam. There are transport services available from Hanoi, Halong City or Cat Ba Island. We took a connecting flight from New Delhi to Hanoi via Bangkok. We spent a day in Hanoi and opted for Halong Bay cruise on the next day. No matter whichever cruise you book, they will offer you an organized tour including pick-up and drop-off services at the famous hotels in the Hanoi Old Quarters. So always book that. It is cheaper and convenient.
The tours usually start by noon so you will be picked up early morning. It is nearly a 4 hours' drive from Hanoi to Halong City. You will be dropped off at Hon Gai International Harbour and will be transferred to your cruise on a ferry. Upon return, the same process follows in reverse, i.e. Cruise to Harbour to Hanoi or whichever drop off point you choose.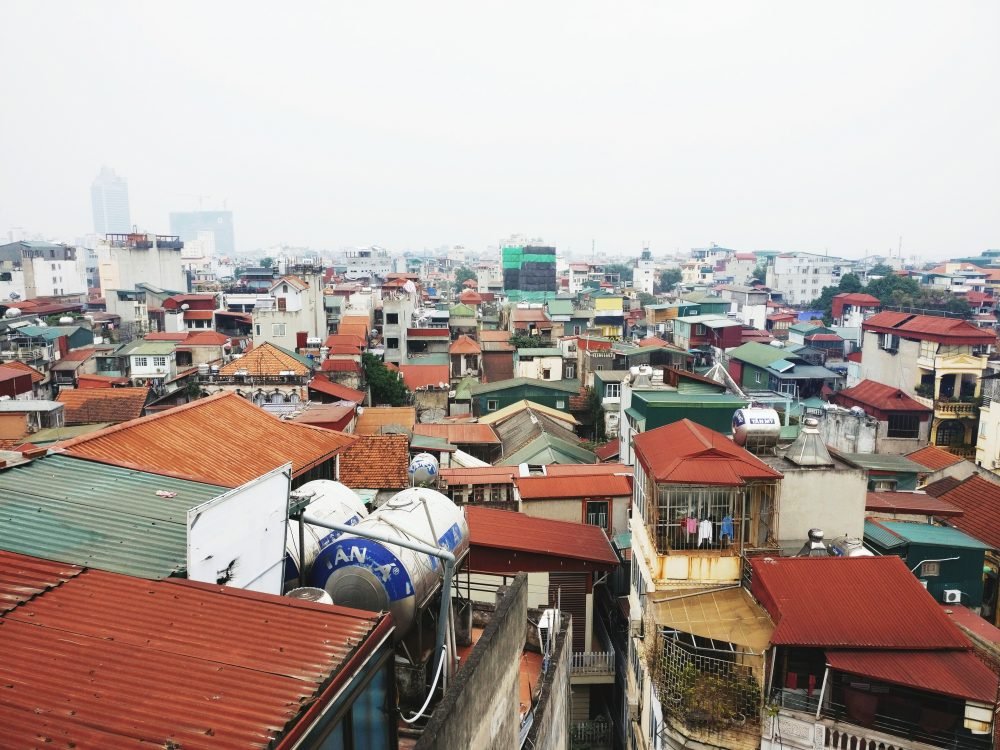 When to Visit Ha Long Bay?
It is okay to visit Halong Bay all year around. Each season has its own charm, but Spring (March, April) and Fall (September, October) are usually considered the best time to visit the bay.
Since our anniversary falls in the month of January, we visited Halong Bay in its winter season. The temperatures were between 16-20 ℃, and it also drizzled at night.
How to Pick the Right Cruise?
Well, once you have decided upon the place, the next big challenge is always to finalize upon the Cruise Company. With more than 200 cruises available at Halong Bay, choosing the right cruise could be a big travel drama. So here are the pointers that you can follow –

1. Where do you want to go?
Halong Bay has three main areas – Ha Long Bay, Bai Tu Long Bay, and La Han Bay. Even though they are geographically similar, the main difference lies in the tourist influx because most of the boats float in the Ha Long Bay area. You can decide depending on which route you want to travel.
We chose Bai Tu Long cruising route as we wanted to beat the crowd and enjoy the pristine waters and islands just for ourselves, but that definitely comes with a higher price tag!
2. How long do you want to stay?
Again, the operators offer different types of tours –
Day Tour – Where you get a taste of the Bay on a half day cruise, without the overnight stay.
Overnight Tours – Where you can relax longer, sleep on board and wake up to amazing views. They could be 1N2D or 2N3D or 3N4D depending on your travel plans and how profoundly you want to explore the region. The budget will also play a significant role, as more the number of days, more will be the expense.
We opted for 1N2D Boutique Voyage at Dragon Legend Cruise because that fitted our budget and time constraints. It is ideal for most of the travelers as you can experience the best of everything within a day and get back the next day.
3. What do you want to do?
Every boat company offers a different route, facilities, and activities. You just don't pick the boat; you pick an entire package which also means the transport, the food, and the events. The everyday activities are – Kayaking, Tai Chi Classes, Cooking Classes, Swimming, Squid Fishing, Cave Exploring, Visit Floating Villages, and Visit Pearl Farm, etc. This also depends on how long you want to stay on board. Simple logic, more the number of days, more activities covered!
At Dragon Legend Cruises, they offered us Kayaking, Tai Chi Classes, Cooking Classes, Swimming, Squid Fishing, Cave Exploring and Water Puppet Show for 1N2D Bai Tu Long Cruise package.
4. What Kind of Accommodation do you Want?
With so much competition among the boat companies, the boat styles differ as per the requirement of the travelers. There are smaller boats available on a low budget with essential amenities, and there are large boats that offer luxury and better quality standards but at a higher price. But also keep in mind that larger cruises will naturally have more people, doing activities with you and sharing the decks with you that might affect your experience. So it all depends on what suits you. It is always better to choose something that won't hurt your wallet and would still give you the best cruising experience.
We researched a lot on the boats and could not think of anything better than the Dragon Legend Boat; a luxury cruise operated by Indochina Junk. It has everything you need for a happy stay!
Dragon Legend Cruise, Halong, Vietnam
How to Book the Cruise?
Most of the cruises have their own website so you can select your package and book it online. It is always sensible to check deals, offers and compare prices at many travel websites. The rates may vary depending upon the season. You can check the Dragon Legend Cruise website for more details.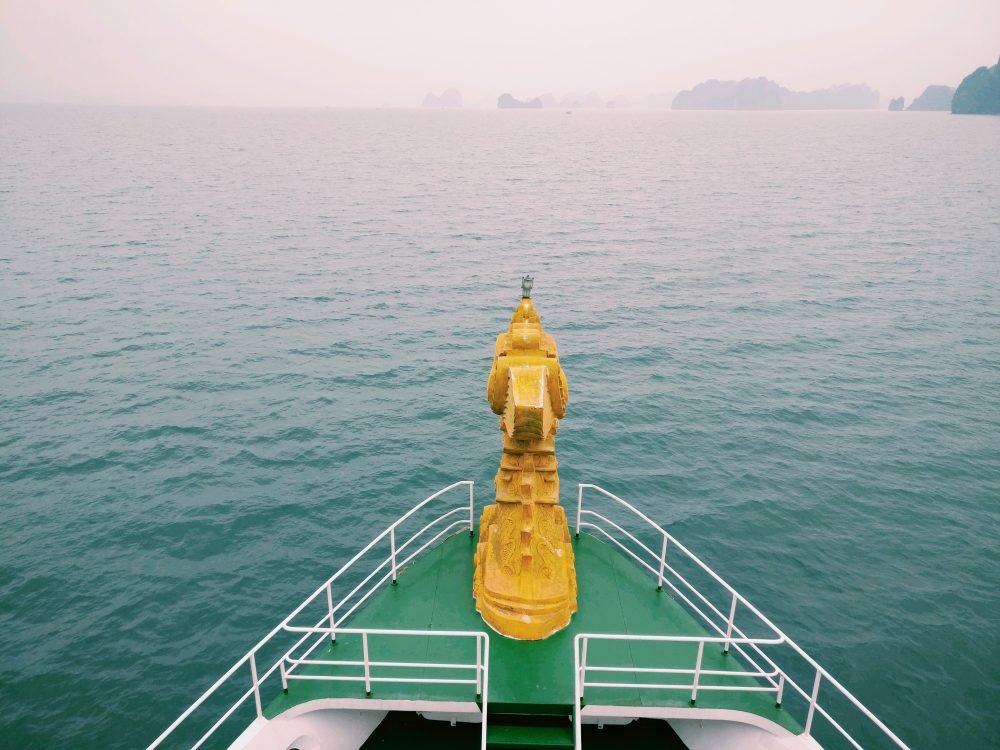 Cruising Bai Tu Long Bay on the Dragon Legend
Being the only company with extensive involvement in Halong Bay, Indochina Junk was the first one to be awarded official permission to take tourists to Bai Tu Long Bay. Indochina Junk works with locals to preserve the environment and educates their guests throughout the cruise. The Dragon Legend Boat is one of its two high standard wooden junks, with luxury 24 cabins voyaging to remote corners of Bai Tu Long Bay.
The Boat – Inside – Out
The boat has four decks, two of them dedicated for the cabins, one for the restaurant and the activities and topmost entirely devoted to the sundeck. The exterior has a distinctive Dragon Head emerging out from the front portion of the boat that characterizes the Vietnamese Dragon Legend. You will genuinely feel that you are riding on a majestic dragon!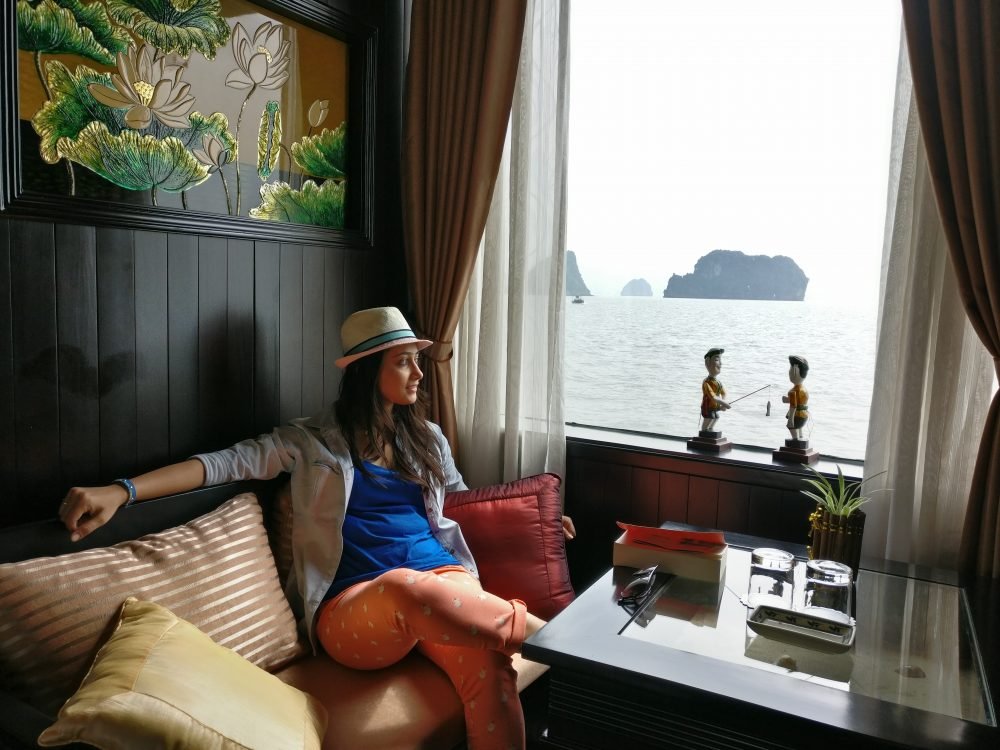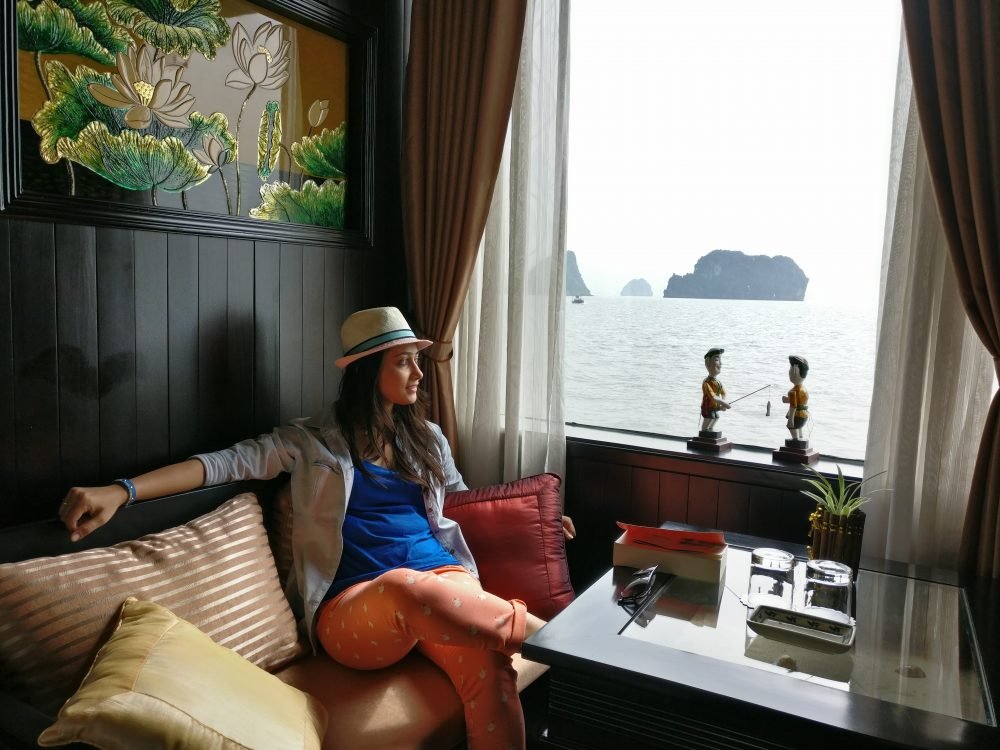 After boarding, we chose to relax on the sundeck and enjoy the panoramic view of the bay, floating past a thousand islands. As we entered the quieter corners, I watched the sunset and captured the fantastic views of nature. Their wooden cabins are furnished to perfection and offer luxury accommodation with a large window to gaze at the spectacular Bay. Inside you will find a display of artful presentations and decorative features that speak volumes about the Vietnamese culture and values. It also has a well-appointed bathroom where you can lay in a bathtub and immerse in the soapy bubbles.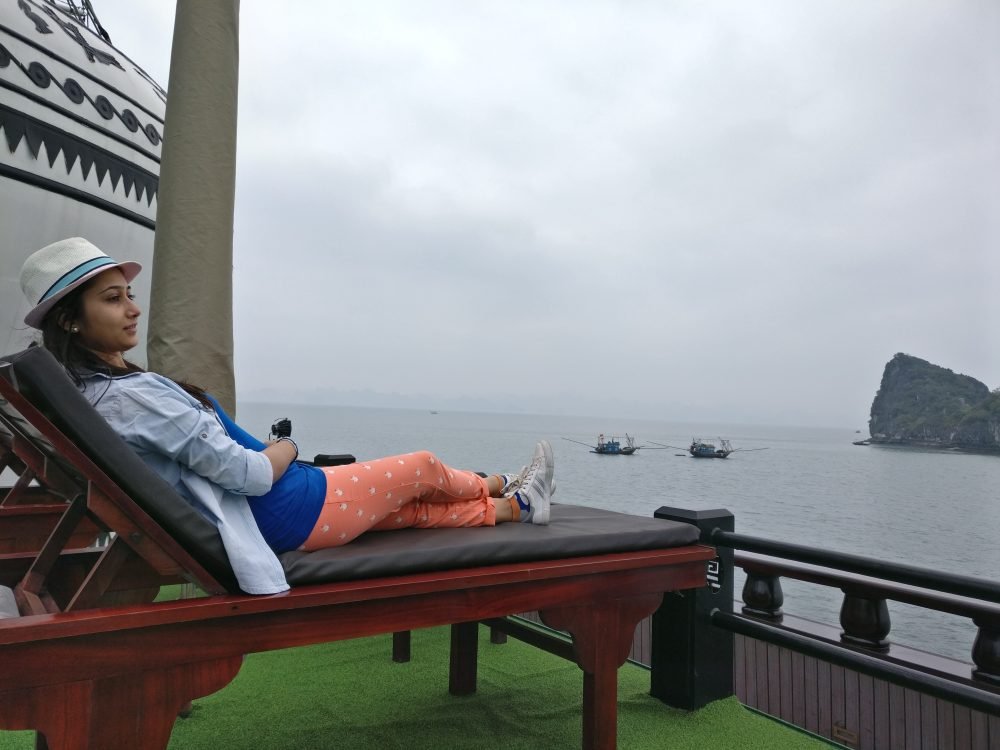 Our cabin was on the lower deck, and we felt much closer to the bay because our floor was slightly submerged in the waters. We stood by the window and looked at the massive limestone towers.
They also offer various spa treatments curated by their in-house masseuses. The unique feature is that their spa room got a circular space on the top deck, where you can witness a 360-degree view of the bay during the treatment process.
My husband loves to be pampered, and the essential oils spa treatment did magic to him, taking relaxation to another level.
The Restaurant and Food Services
The food served at Dragon Legend Cruise is a treat to our taste buds. They serve a set menu or Ala carte and buffet meals with a selection of traditional Vietnamese cuisine which is not only healthy but delicious. Their in-house chefs are super talented and craft some amazing food displays to treat your eyes. There are diverse choices of seafood, meats, vegetables, and desserts. For those who would like to drink, they have a special menu to choose from. The best part about Vietnamese people is their hospitality. The team at the Dragon Legend Cruise will always take care of your dietary restrictions so just let them know what you need, and they'll make sure you eat till your stomach is full. They have both indoor and outdoor dining rooms- lunches are usually scheduled outside and breakfast and dinners inside. It may change depending upon the weather.

We are strict vegetarians and we pre-informed them about our food choices. Their chef presented us with a customized vegetarian menu with exotic options of fresh local vegetables. While everybody else was eating the fixed menu, we were enjoying the personally curated vegetarian versions of the authentic Vietnamese cuisine for breakfast, lunch, and dinner. If we didn't like a recipe, they always bothered to ask us what was missing and were also ready to adjust the taste as per our liking.
The Activities Involved!
If you are on Dragon Legend Cruise, you can never get bored. You may pick or opt out of the activities as per your likings – Kayaking, Tai Chi Classes, Cooking Classes, Swimming, Squid Fishing, Cave Exploring, Visit Floating Villages and Visit Pearl Farm, etc.
On Day 1, we explored the bay on a smaller jet boat, touring the area while others chose to go for kayaking. Since it was cold, we preferred not to swim. We spent the entire evening relaxing and admiring the natural wonders. Later at night, I also tried hands at Squid fishing, just for fun, without any intention of killing a fish. We started our next day with an early morning Tai Chi lessons, followed by a short hike to Cong Do area to discover the well-hidden Thien Canh Son Cave. As the final exploration, we got to watch a traditional Vietnamese water puppet show at a local village, on our way back to Hanoi.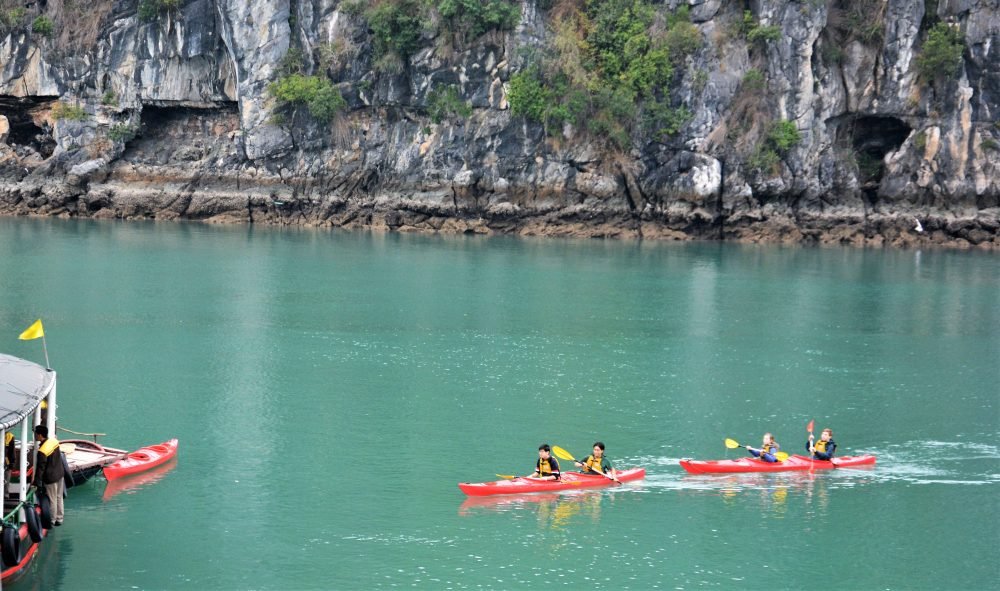 Costs / Charges / Packages
The charges for this cruise is on per person basis. The basic package starts from 200 USD pp + VAT and goes up to 500 USD depending on the duration and season.
We booked the package directly from their website and got a steal deal at USD 200 pp inclusive of transport, accommodation, food, and activities.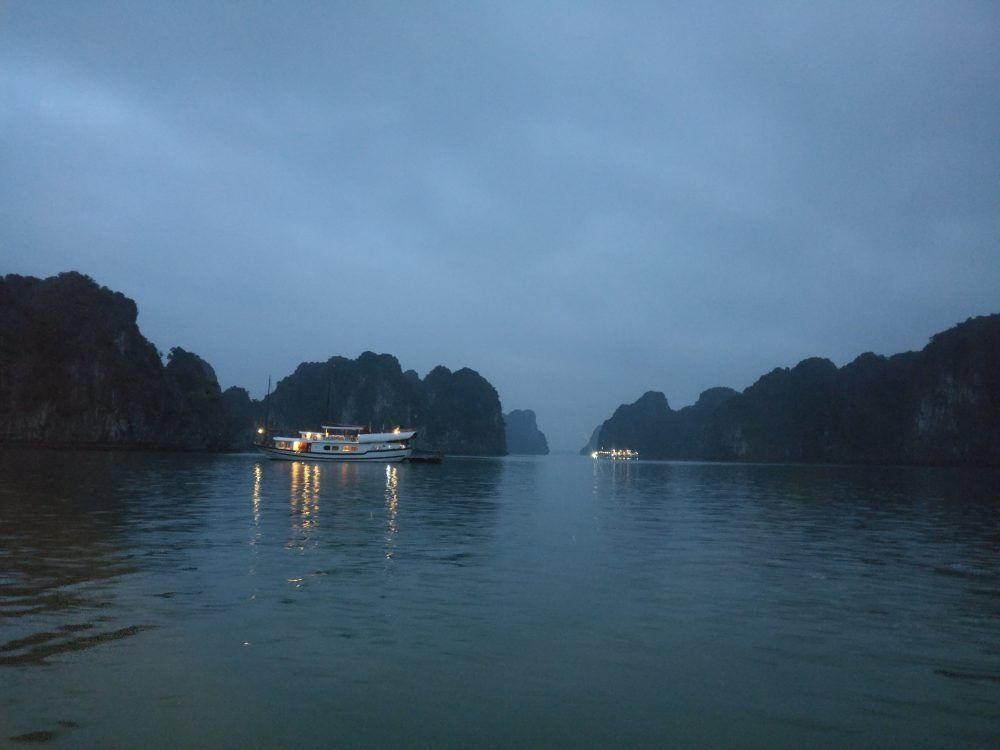 Ready for the Romantic Escapade?
We made memories of a lifetime while cruising through the picturesque seascapes of Halong Bay in Vietnam. It was a perfect way to unwind and romance all the way long.
Watching the ocean move past your room window, catching the first glimpse of sunrise and sunset, gazing at a thousand stars and feeling the ocean breeze together is undoubtedly a magical formula to boost your intimacy. So what are you waiting for?
Book your cruise and get on board to this romantic escapade!