The Hindu mythology believes in the holy trinity. They create, preserve and destroy the universe. Destruction, perhaps is the most liberating process of them all. Imagine doing away with what no longer serves you and making way for something new. Wiping the slate clean is, in fact, the biggest superpower of them all. But wouldn't it be nice to go back and witness what destruction did to mankind?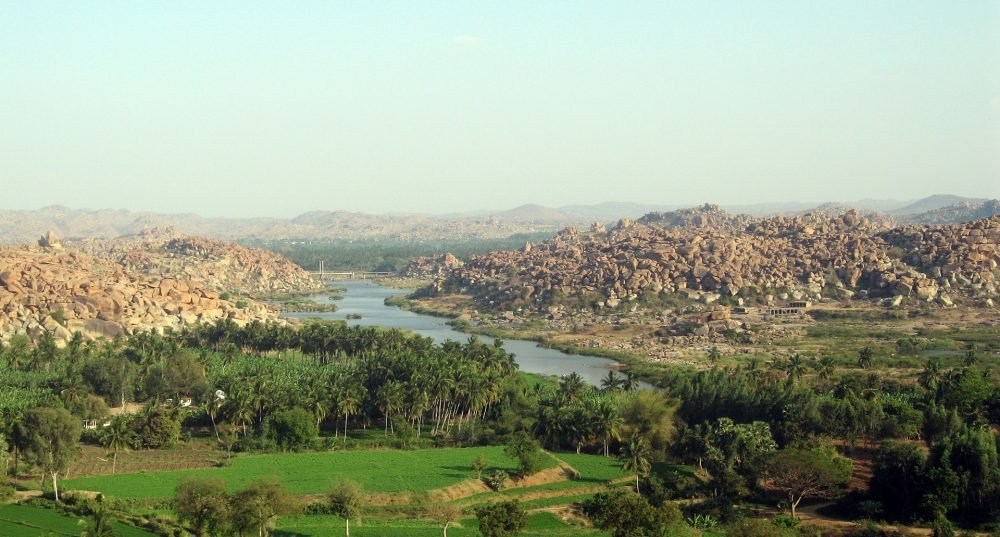 Hampi made it to my travel list as a young teenager. With nails painted jet black, eyes lined with kohl and a fascination for the stories that remained buried in the ruins, I scribbled "Hampi" in a piece of paper that was long forgotten until 2017. The only thing that remained was the fond desire to visit the place once if not more. Call it my definition of beauty or how the gothic culture influenced me to see destruction as the most powerful force of them all, Hampi had made it to my list of must-visit places long, long ago before I realized that travel is meant to be a mere source of recreation.
What Kind of People would Love Hampi?
Hampi is raw and versatile. It is for hiking lovers, wannabe hikers and history buffs alike. You would love Hampi if:
You don't mind the dust, the heat, and the bumpy roads.
You travel to experience nature.
You have never hiked, not traveled a lot but would love to give it a shot.
You hate that the city traffic won't let you speed through the roads.
Let's admit it, Hampi is a very small town enriched with scenic splendor and stories. You do not need to spend more than two nights to explore the place. Once you are in Hampi, you can get your two-wheeler and go explore the place by yourself. Two-wheeler rental services are available. You can buy petrol for as much as 20 bucks from local grocery shops. So if you have a basic budget of 2,000 INR, you are good to go.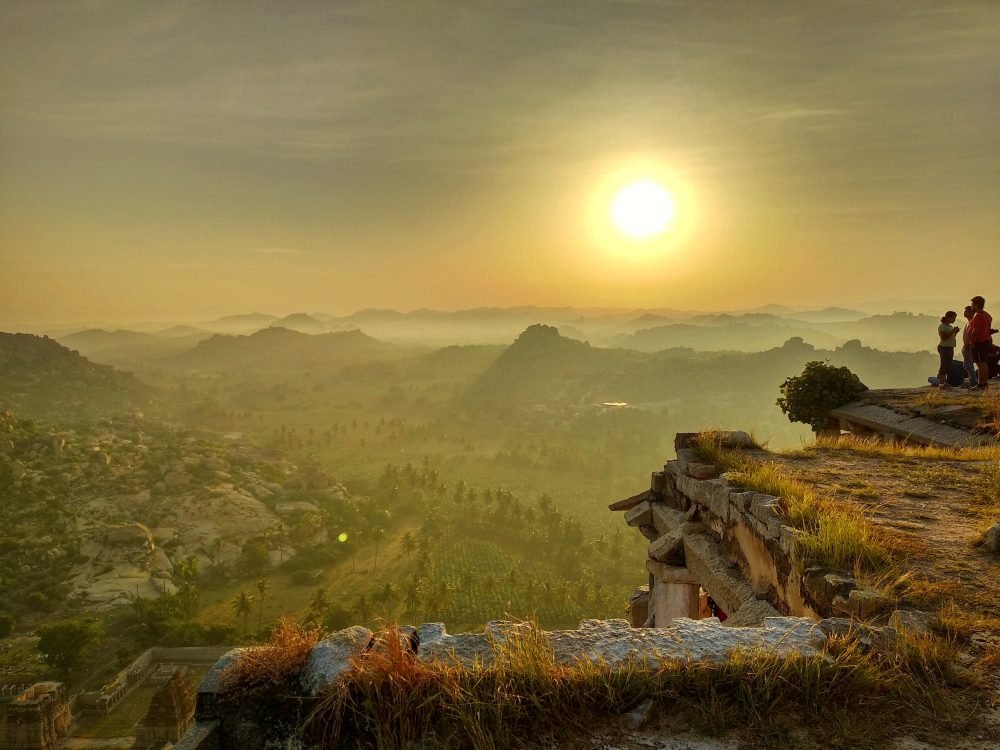 Hampi Travel Routes
The most convenient way to get to Hampi is to take a sleeper bus from Bangalore or Hyderabad. After an overnight journey, the bus drops you to Hospet. You can take another bus or auto-rickshaw to get to Hampi. While trains are another convenient too, the nearest railway station from Hubli is another six-hour drive away. Air connectivity though available via Bellary can be very unreliable since there are no frequent flights. It is not a practical choice for millennials traveling on a shoestring budget anyway.
Eating out in Hampi
Hampi has mediocre food, at best. In terms of eating options, you can either go to a small restaurant that serves meals, or you could go to slightly upscale places like Laughing Buddha and German Bakery. They have better ambiance and serve alcoholic beverages on the menu. Irrespective of the areas that you go to, you will find better Chinese and South-Indian food than North-Indian dishes. We made the massive mistake of ordering palak paneer, and the result was inedible.
Laughing Buddha has a friendly owner who went back after having a life in Bangalore. His furry friends are lazy and love being cuddled. Cat lover's paradise, I tell you. German Bakery hit the sweet spot for us with creamy pasta, thin crust pizzas, and frizzy mocktails. Nevertheless, the thalis still remain the preference from the value for money front.
Pro Tip: Another friendly hack is to take a closer look at the seating well before you settle on the table. The ground seating at most of these restaurants often inhabits bed bugs.
Places to Go Around
Let's put certain things into perspective. There's plenty to know about the history of the place, but there are better travel experiences in Hampi.
Experiences that have very little to do with architectural ruins or staying in the Hippie Islands. Over time, we have only seen them hike their prices. Yes, I am saving the best for the last.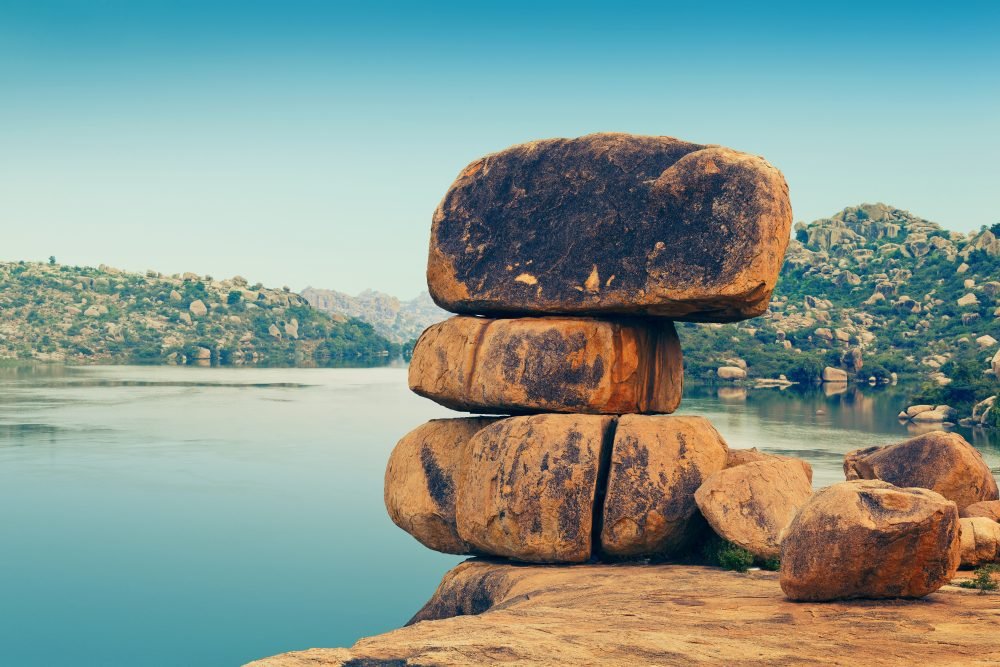 Cliff Jumping from Sanapur Lake: Yes, the coracle ride is fun but you know what's even more exciting? A swim on the other side of the lake or even better, the cliff jumping. The safety precautions are well in place. The experts understand your apprehension, and they make sure you feel accomplished after you take the plunge.
Walk around the main town: The walk in and around the main town is not all about visiting Virupaksha temple. The lane will lead you to the Flinstones era of medicinal herbs, ruins, and light leaking through the cracks and crevices of huge rocks. Just make sure you take the effort to climb the not-so-steep cliffs, and the views are rewarding.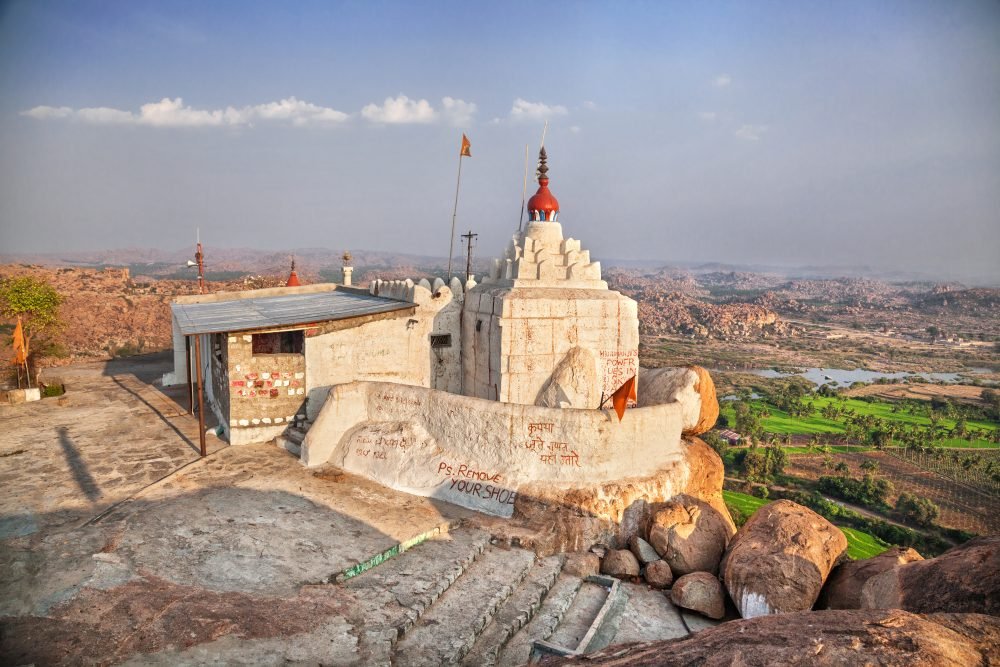 The hike to Anjaneya Temple: Climbing the steep, rough stairs of Anjaneya (Monkey) Temple can be pretty taxing. With thousand plus stairs, the top of the small cliff houses a small temple dedicated to Lord Hanuman. Surrounding the temple is a vast area that gives you a 360-degree view of the small town, and it is to die for! Particularly for photography enthusiasts who are interested in taking candid portraits yet do not want to capture just the architectural ruins.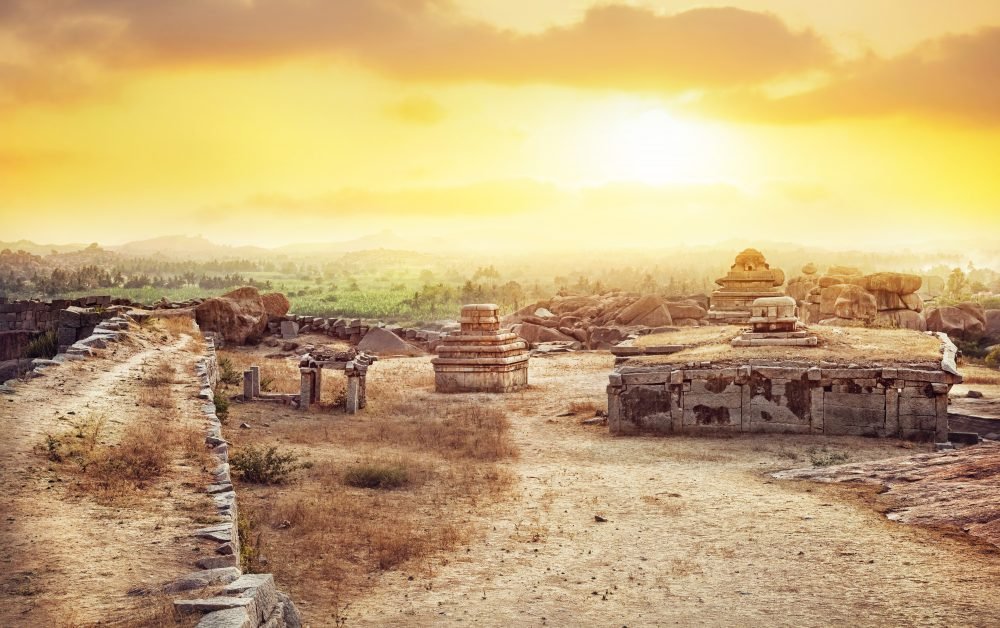 Sunset point at Hemakuta: Hemakuta is the perfect way to spend a laid back evening before you head back. After a nice, cozy lunch, head to Hemakuta. Witness the skies turn from a light aqua blue to carmine bleeding into bright yellows and orange. If you stay long enough, you get to experience the bright fuchsia and purples too.
The drive to Tungabhadra Dam: Taking advantage of a cloudy, breezy afternoon is something that you shouldn't think twice before pursuing in Hampi. The ride is smooth. The water is still. And the crowd is predominantly corporate honchos who temporarily got off the shackles that tie them to their desks. The roads are long, winding and most importantly smooth with no high-rise buildings. Just make sure you are on your way back in time.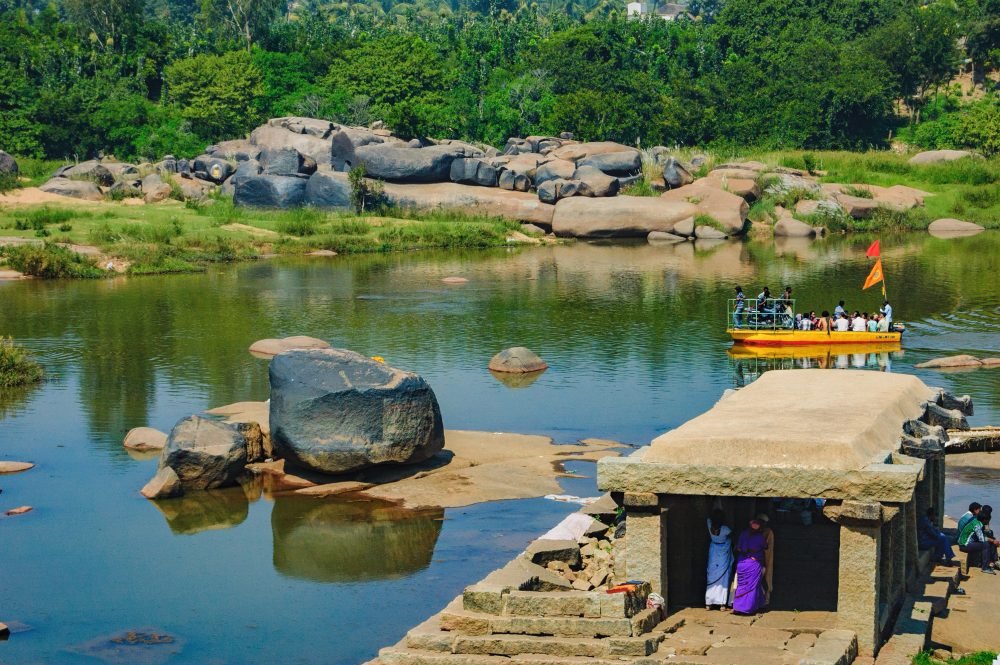 Some Points of Caution
Do not even think of taking a four-wheeler around. In fact, I wouldn't recommend taking any personal vehicles either. The roads are narrow, and unleaded petrol can do long term damage to the machinery. Skip that altogether.
There are no street lights in Hampi. Call it a day well after the sun starts setting. Getting stranded with the bleak front light is not safe.
There are NO ATMs in Hampi. Make a pit-stop at Hospet; withdraw around 2,000 INR to take care of miscellaneous expenses including food.
This one is just in case you are in Hampi and running out of cash. Hit an internet parlor and ask them to give you cash in exchange for a nominal amount.
Hampi gets hot, and the uneven terrain does not help. Carry your heavy duty running shoes and a bottle of water at all times. Sandals and open-toed shoes are a massive no-no.
Ladies, this one is especially for you. Invest in sports bras, light activewear, and a vaginal wash.
Do not carry your bulky suitcases. There is no way on earth you can go around in a two-wheeler with a bulky suitcase.
Network fluctuations are pretty standard and can last for time immemorial. Keep a BSNL sim card handy even if your aim is to be disconnected from the world.
You do not get any alcohol at MRP prices. If you are planning on a night by the bonfire with rum and coke, you need to loosen the purse strings a little.
Always carry a raincoat. The weather can be pretty erratic.
[Bonus Content] Souvenir Shopping in Hampi
Another reason you would want to keep going back to Hampi has to be the souvenirs. For junk jewelry fanatics, this is what paradise looks like.
German silver with semi-precious gemstones is priced at 100 INR- 400 INR. Hammocks are priced at 100- 200 INR.
The tank tops and breezy pants range from 50 INR- 300 INR. Nevertheless, the quality isn't too good. If you are in Hampi and do not have the kind of clothes that would help with the heat, it is only then that we would recommend these.
But what grabbed our attention was the collection of antiques. We found a 16th Century Nataraja statue for 1,500 INR (and the numerous times we have looked at the price tags on the antique stores in Bangalore, we have shied away; this was approximately one-tenth of the price.) Bargaining becomes easy if you are in a group of two or three. We made a purchase of around three Nataraja statues and four incense stands that were priced at 1,000 INR each and negotiated on a bill of 7,500 INR to bring it down to 5,000 INR. Once we reached the price point, we picked up a wooden statue of Buddha priced at 2,000 INR and convinced him to give it to us to 500 INR. Another wood-based goth ashtray priced at 500 INR caught our fancy.
Later, we bargained that to bring the price to 150 INR again. To cut a long story short, we purchased antiques worth 50,000 INR in 12,000- 13,000 INR. Boarding the bus back home with the souvenirs was a little hectic, but the loot was worth it. It was only then that we realized why you need an extra, foldable bag in your trekking bag too.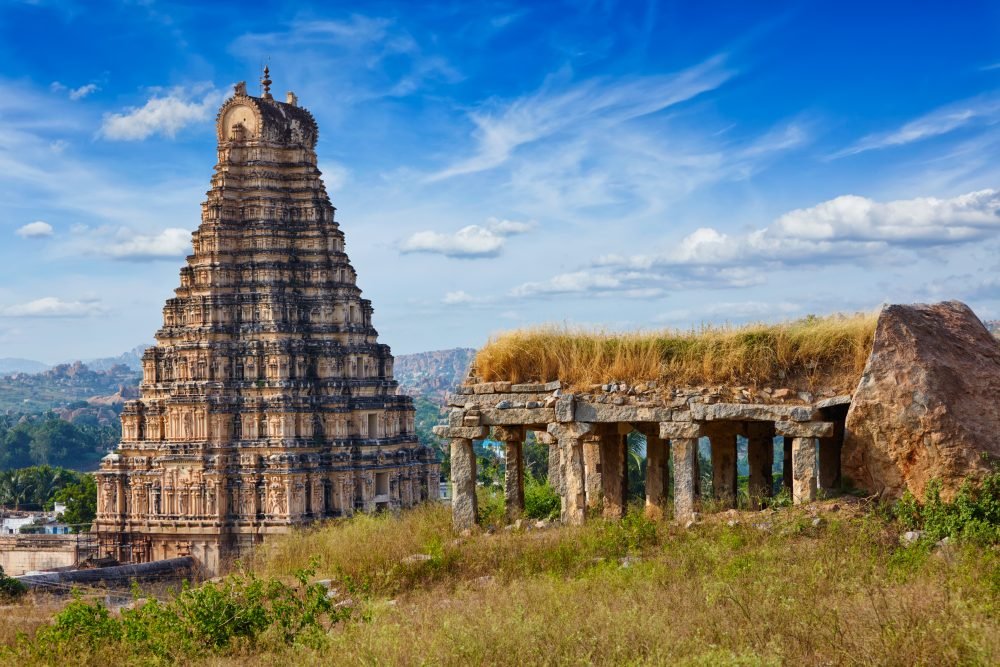 Hampi is the perfect getaway destination to detach yourself from the mundane city life and be the free bird that you have always wanted to be.