I am a Monsoon baby, and just as the season arrives, I get high on traveling. It was the month of June, and I could only think of getting away from the city, to someplace quieter; driving through the mountains, soaking up in the seasonal rains, hiking the countryside trails, relishing the local hillside food, and losing myself in the forest greens.
For Those In Delhi-NCR
If you are from Delhi NCR or have ever lived here, Uttarakhand will always be on your travel list – for a spiritual purpose or for a nature retreat or just for some clean air. And if you are looking for close distance weekend getaways or road trips, the Google search engine is bound to suggest you the most popular tourist places in the area such as Dehradoon & Mussoorie, Nainital & Ranikhet, Haridwar & Rishikesh or Jim Corbett National Park & Valley of Flowers and some other 15 places.
I do not deny that most of the top listed places in Uttarakhand are amazing in their own way but trust me, if you happen to visit them in the peak season, you will be totally lost in the tourist bustle. In fact, they are so famous that you visit them any season, they would still be loaded with the city crowd.
Taking The Road Less Travelled – Mukteshwar!
When we say Weekend Getaways, the whole idea is to "get away" from something; I would say getting away from things that you usually do or the life that you live every day. Since you are already living in busy cities, don't you deserve some quietude? My travel goal is sometimes to do the infamous and therefore when I look for places, I fix my eyes upon those that are less traveled. It is just like taking the Road Less Travelled.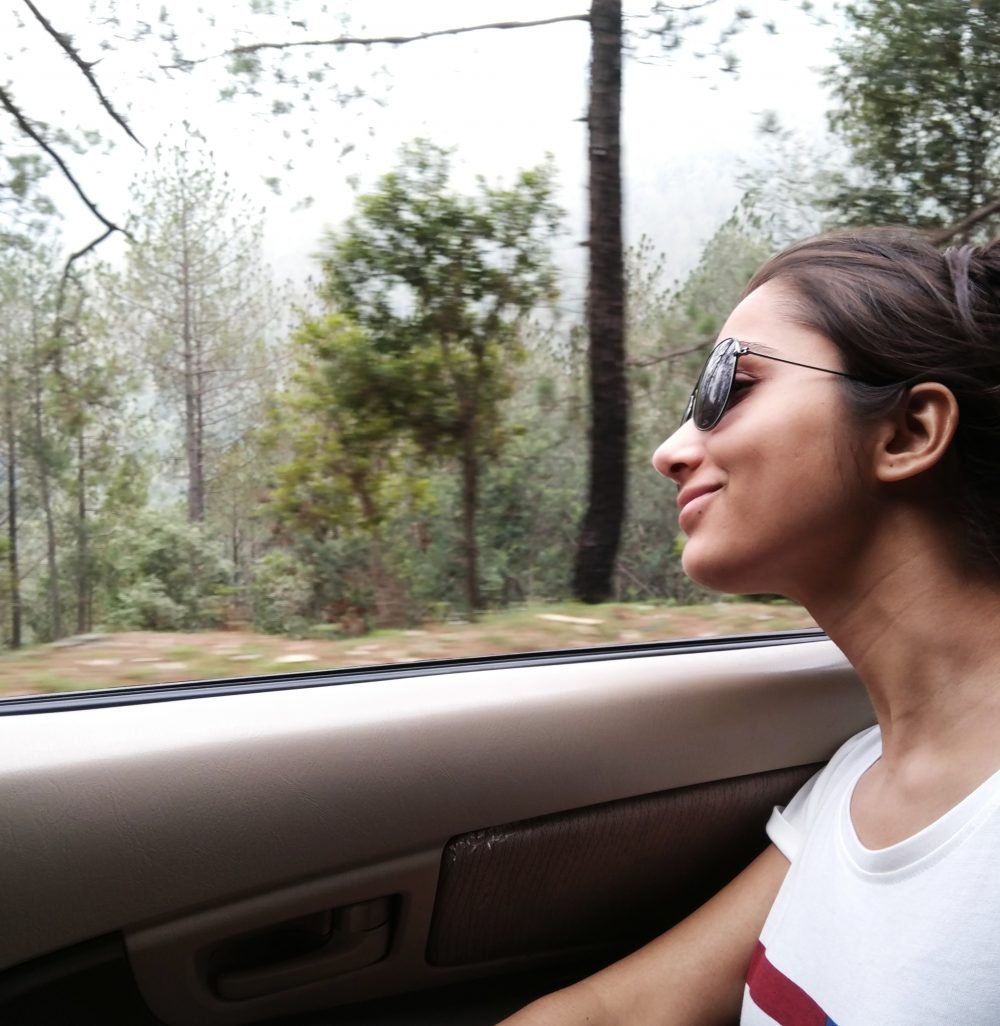 So instead of the top listed over crowded places, we decided upon Mukteshwar; a small town nestled in the higher altitudes of Kumaon hills, surrounded by the mighty Himalayas and draped in some stunning landscapes. It also has great religious importance, so when you choose Mukteshwar, you can not only sightsee nature but also discover the divine value it holds. You can visit it any time of the year, just that the scenery will change as per the seasons.
I will not only tell you about the place but also about some exciting stories, fantastic pit stops, foods to try, where to stay, what to buy and some must do things in and around Mukteshwar. Let's begin!
Our Journey – Traveling in a Group?
My husband and I were both traveling with our younger brothers who are big-time foodies but very lazy when it comes to exploring or doing certain activities. When you travel in groups, big or small; it gets challenging to follow the needs of each person. Therefore, I had to plan the trip very wisely, leaving no room for regrets in terms of food, stay and off course a few activities that were meant for myself. And because I was traveling with three boys, our purpose was mostly to relax and enjoy a bit of everything without burdening ourselves with too many tasks.
We began our trip from Noida early morning in a local taxi, and it was almost evening when we arrived at our resort in Mukteshwar. This was our route –
NH 24 Route: Noida– Ghaziabad – Hapur – Garhmukteshwar – Rampur
NH 87 Route: Rampur – Rudrapur- Haldwani – Kathgodam – Bhimtal – Mukteshwar
It is a 9 Hours Drive – Wondering How to Pass Time?
Now when I say 9 hours, you may think that is Mukteshwar really ideal for a weekend getaway? I would say yes! A 9-hour road trip may sound boring or tiring, but the real fun lies in the journey to Mukteshwar. There are so many exciting pit stops on your way that will add value to your 9 hours and make your trip super exciting. Here are the things you can do:
Have Breakfast at a Roadside Dhaba.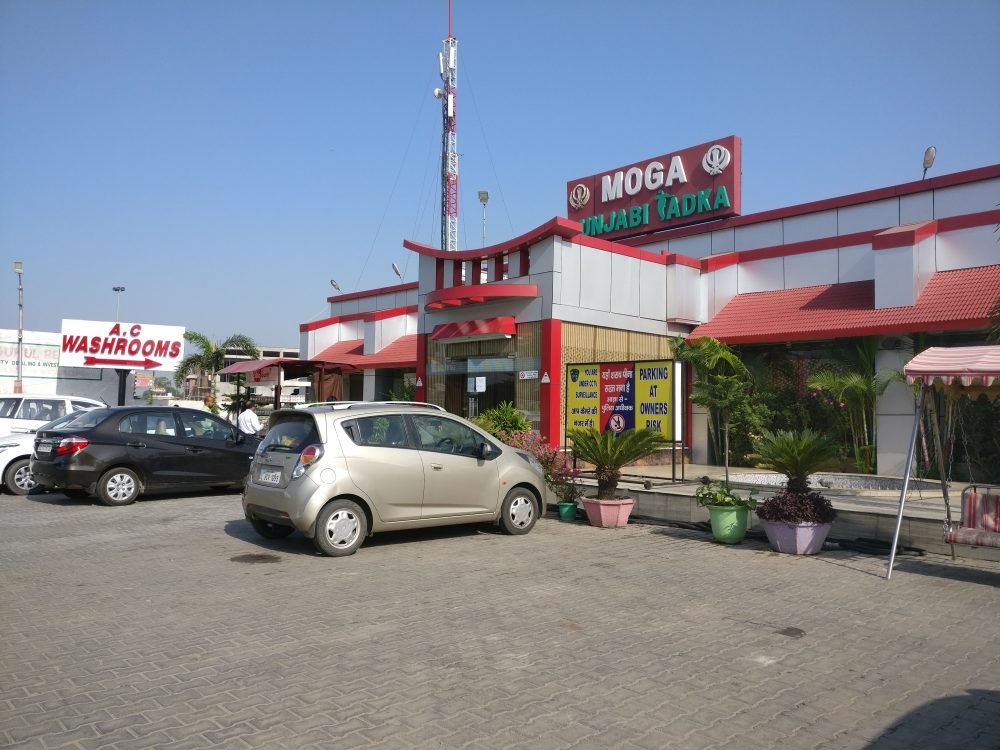 If you leave before sunrise, you will arrive Garhmukteshwar at breakfast time, and it is an ideal pitstop to grab some morning energy. We got down at Moga Punjabi Tadka Dhaba and relished some amazing Aloo Paranthas served with Pickle and Curd. They have a vast menu for the food lovers, so go ahead and order what you like.
Pick Fruits from the Fruit Stand.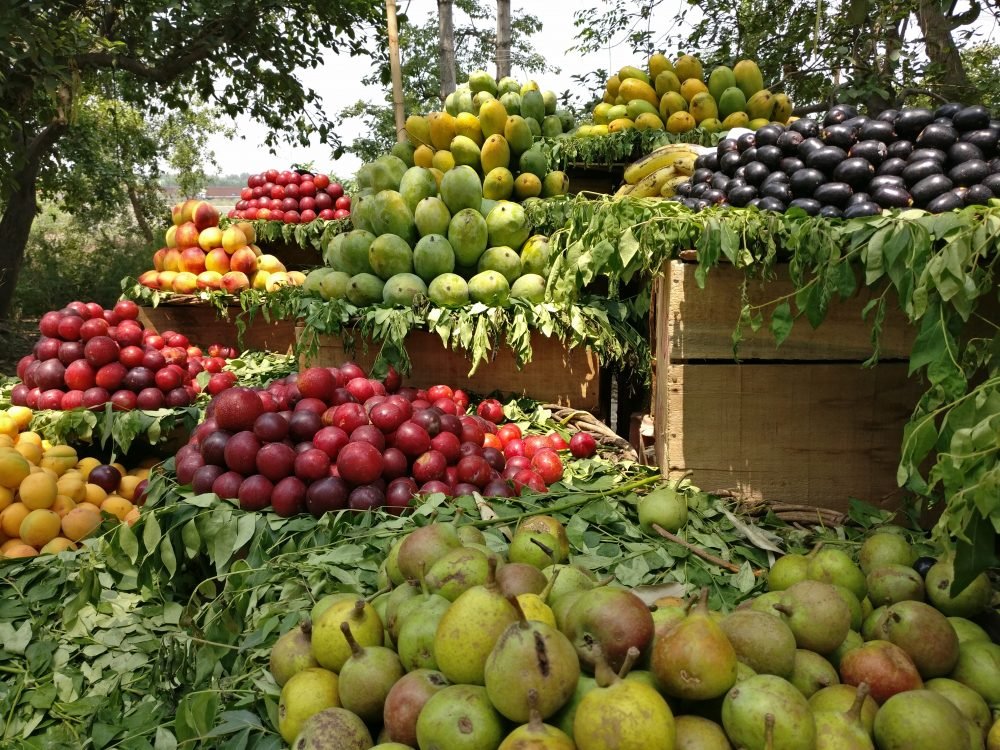 As we approached the state border, we spotted many fruit stalls on the roadside. We stopped at one of them and picked some of the fresh local fruits and berries that come directly from the foothills of Uttarakhand.
Enjoy Boating and Paragliding in Bhimtal.
For those who only know of the lakes in Nainital, there is another place for lakes in Uttarakhand called Bhimtal (Tal means Lake). And only after seeing both, I can say that Bhimtal Lake is much scenic, quieter, less touristy and prettier than the commercial lake in Nainital.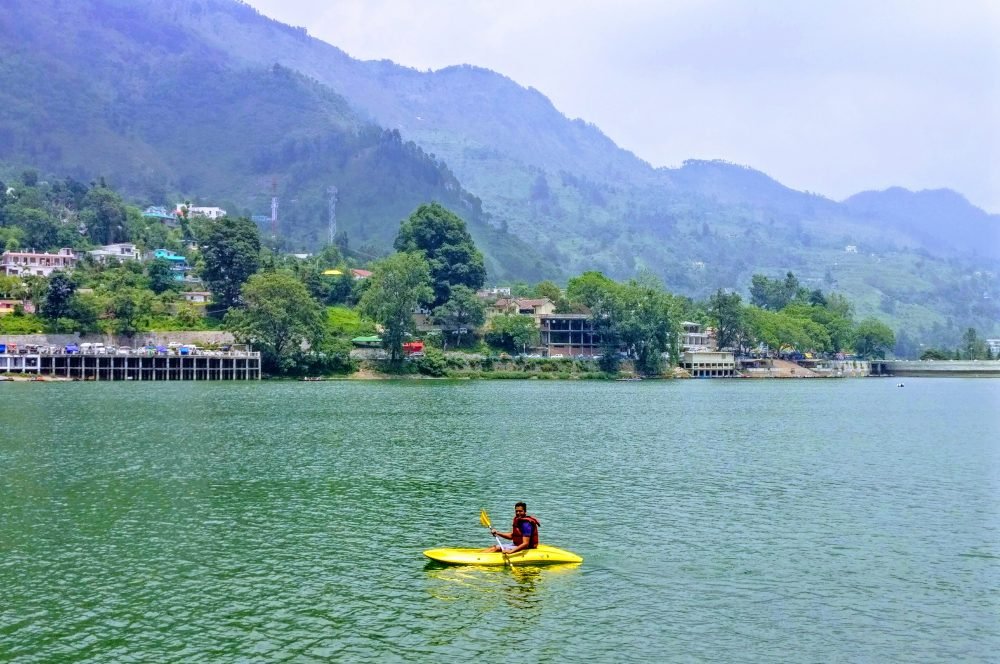 We arrived at Bhimtal around noon when the lake was so serene, speaking silence to us. We sat near the lake and threw stones in the water only to see it ripple. Our brothers chose to do kayaking while we took a romantic walk along the shore. We wanted to arrive Mukteshwar before sunset, so we did not stay longer. But for those who wish to stay longer and try paragliding, this is a perfect stop to do so!
Eat Lunch at a Hill Side Café.
While reading about the food in Uttarakhand, I came across this quaint Café called the I Heart Café Himalayas, and I knew that it would make a perfect stop for lunch. Just 4 km from Bhimtal Lake, located at Mehra Estate, this café is run by Liz and Tim, a couple from the US who moved to Bhimtal in 2009 and started their own café in 2016. Enclosed in the hills and surrounded by peach trees, there is a unique vibe attached to this place, and it is bound to attract you instantly.
They offer a variety of dishes from around the world but their Pizzas, Pasta and Quesadillas, are a must try. They are known to serve the best coffee in the Kumaoni region. They also have an in-house bakery where you can pick some fresh pieces of bread and desserts. Like the café already? Read more about them: http://iheartcafeindia.com/
---
Stay Options in Mukteshwar
It was nearly 4 PM when we checked in at the Ojaswi Himalayan Resort located at Sitla Estate in Mukteshwar. Our resort was a 30 min drive from the main town and at a very serene location. With lovely looking cottages offering a mesmerizing view of the Himalayas, there cannot be a better place than this resort to spend your day in Mukteshwar. It is also an excellent choice for group travels as their rooms are very spacious. We explored the property and left for a short nature walk to catch a glimpse of the sun, setting over the snow-capped mountains. On our way, we stopped for some scenic photographs and returned to the resort to relax for the remaining day. You can check the property here: https://www.ojaswiresort.com/mukteshwar-nainital/

In recent years, Mukteshwar has managed to develop as a hill station, and you can now find some well-rated resorts, homestays, and camps in the town. So if you wish to stay closer to the tourist areas, you can choose the accommodation accordingly. Google should help!
Exploring Mukteshwar
The next day, we got up early and headed for a local tour. Since Mukteshwar is all about stories, we started the excursion by visiting the temples followed by exploring the nature spots and lastly, trying out some adventure activities.
The Legend of Lord Shiva – Mukteshwar Dham
It is believed that Mukteshwar got its name from the word Mukti. Years ago, Lord Shiva killed a demon here and granted him salvation, i.e. Mukti+Ishwar hence, it is called Mukteshwar. There is a 350 years old temple called Mukteshwar Dham dedicated to Lord Shiva. To reach the temple, you need to take a short hike through the dense forest which itself is a refreshing experience. You can also hire local guides to dig the stories and facts.
The Unique Bell Temple – Ghorakhal Golu Devta Temple
You must have seen people tying threads and prayer clothes at temples, but the uniqueness of this particular temple is that the trees, the walls, the railings, and the pillars; everything in this temple is covered with thousands of bells. People write their wishes on a piece of paper, tie it to the metallic bells of varied size and hang them at different places. They are supposed to come back and remove the bell when the wish is fulfilled. The temple is the shrine of Lord Golu who is called the God of Justice by the locals. He is also believed to be an incarnation of Lord Shiva.
Chauli Ki Jali – The Big Rock Hole
It is a famous cliff located just behind Mukteshwar Dham and is a significant attraction in the town. In the local language, Chauli means Rock and Jali means Hole. It is basically a big rock with a hole. You can view the Nanda Devi Peak (the second highest peak of India) from here and witness the spectacular sunrise. You can even climb the rocks, sit on them and click some jaw-dropping profile pictures. There are stories related to how the hole was formed with the mighty powers of Lord Shiva. Locals also believe that when women having issues with their reproductive health put their head in the rock hole, they are soon blessed with babies.
The Tiger Tales by Jim Corbett – PWD Bungalow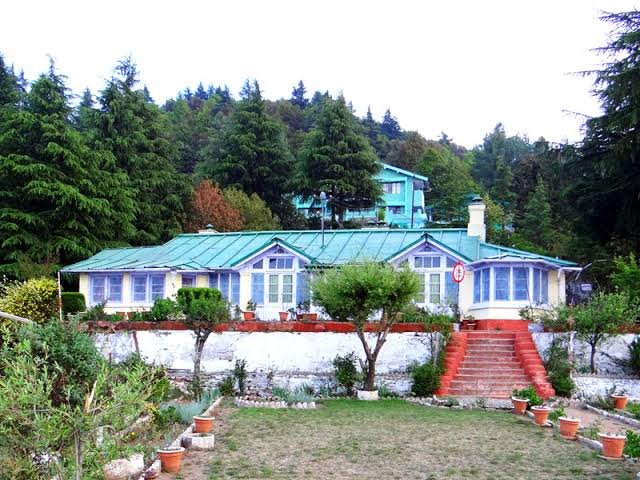 Earlier, Mukteshwar was only visited for its ancient temples and remained unknown to the tourists. Later, it becomes a research ground for the British. Jim Corbett, the famous British hunter, and naturalist came to Mukteshwar to hunt a man-eating Tigress. While living at his PWD Bungalow, he wrote "The Man Eaters of Kumaon"; a novel that changed the history of Mukteshwar and brought this place to the public eye. You can visit the Bungalow and learn some exciting tales about tigers and the great hunter.
Outdoor Activites –Taste the Thunder
Mukteshwar is home to rocky adventures such as Rock Climbing & Rappelling, nature trails for Trekking & Hiking, and aerial adventures such as Paragliding and Zipline.
I went for Zipline at the cliff which was operated manually by experts. I stroked through the line between two huge rocks distanced at approx. 200 meters and at the height of 2,000 ft. They stopped me at the center point and asked me to look down at the view. It was one hell of an adventure!
What to Shop in Mukteshwar?
Shopping in Mukteshwar is all about woolen apparels and local food items. Here are a few suggestions:
The Kilmora Shop
The best place to shop in Mukteshwar is Kilmora known for its Kumaoni knits and handicrafts, operated by the Central Himalayan Rural Action Group (CHIRAG). You can find hand-woven shawls, mufflers, scarves, gloves, socks and caps in all sizes and even some cute soft toys. They also sell local agri-produce such as fresh herbs, honey, jams, fruit bars, and sherbet. You may even check their 100% natural soaps, body oils, and cosmetics, all made from the local resources. Read more: http://www.kilmora.in/
Wild Berries and Sherbet
Kumaoni region produces a local wild berry called Kaphal or Boxberry. Local tribes prepare pickle and refreshing drinks from the berry. Do try it if you find it in the local market!
Also, there is a bright red forest flower called Buransh (Rhodendron) that is native to the Himalayan region. It is a medicinal gift to the mountains having great healing properties. Locals make refreshing drinks from the flowers and also sell it as squash and sherbet. You may buy that too.
Buy Something from the Locals
You will also see other shops selling local honey, fruit jams, pickles, squashes and sherbets in the region. Believe me, they taste so pure and are free from adulteration. Try to buy something and support the livelihood of the locals!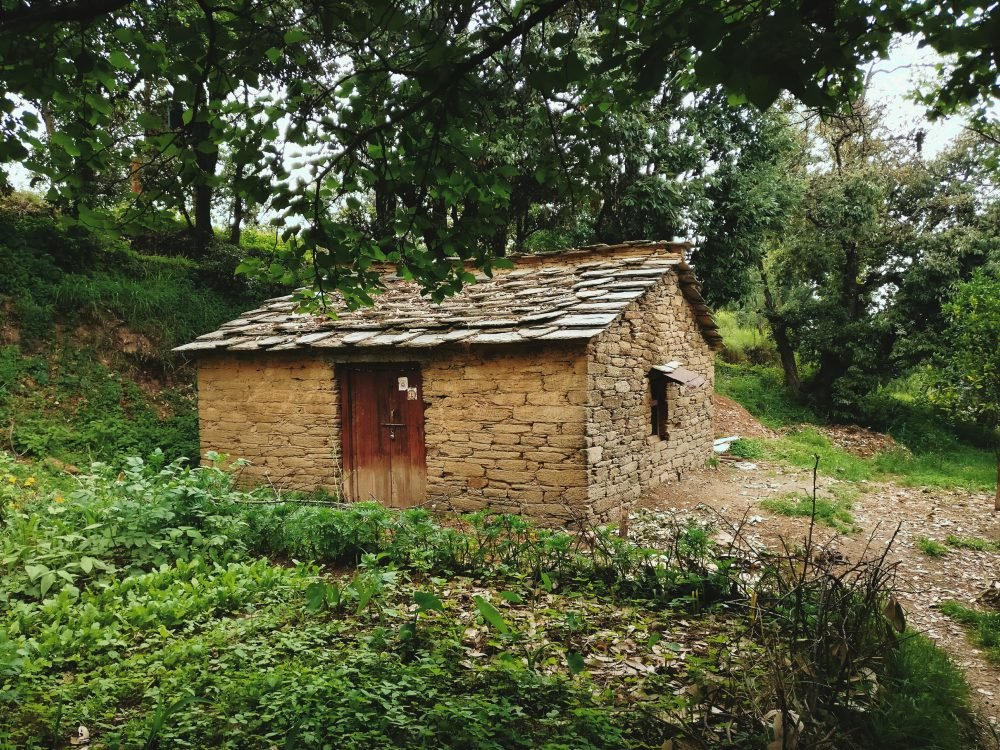 Storytime – The Grandma Who Makes Apricot Jam and Pickle for a Living

We discovered a small fruit orchard near our resort, and I was keen on meeting the locals to understand their livelihood in the Kumaoni region. A local guy guided us to his home and introduced us to his grandma who made fruit jams and pickles for a living. She showed us around and was kind enough to let us taste the apricot jam that she was making. She even packed a handful of freshly plucked Apricots from her orchard. We couldn't thank her enough for the sweet gesture.
Where to Eat in Mukteshwar?
Mukteshwar is all about eating fresh food sourced directly from nature!
Café Chand Mati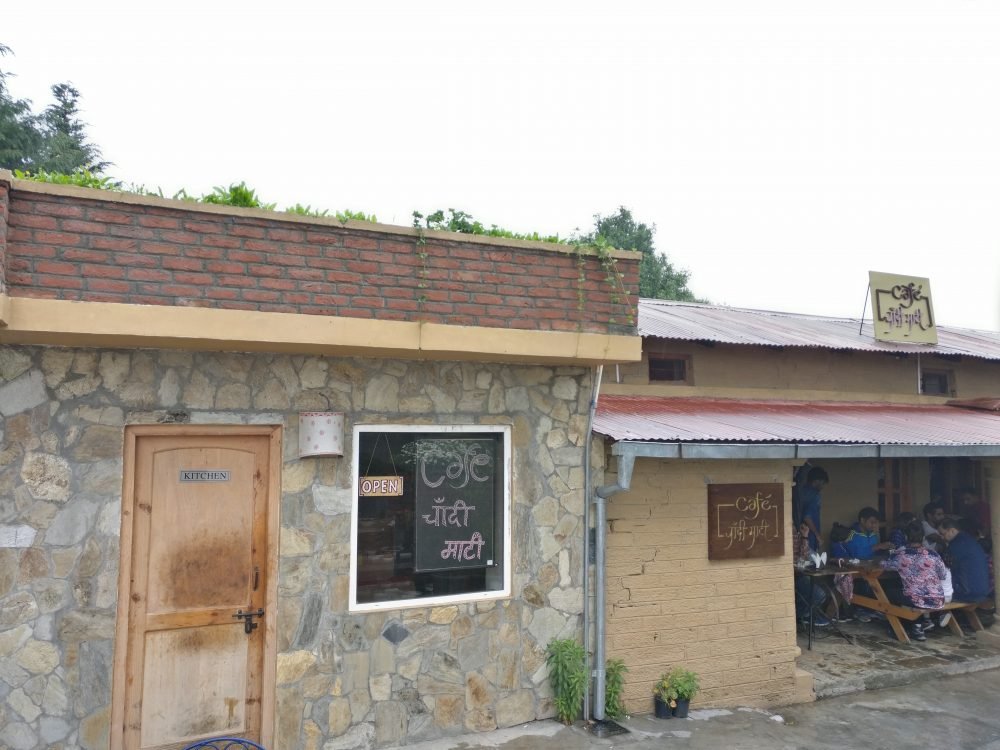 If you are a big fan of home-like regional food, Café Chand Mati is the place. They serve delicious earthy meals inspired from the region such as the Kumaoni Dal, great coffee & chai and homemade cakes and slices of bread.
Nirvana Organic Kitchen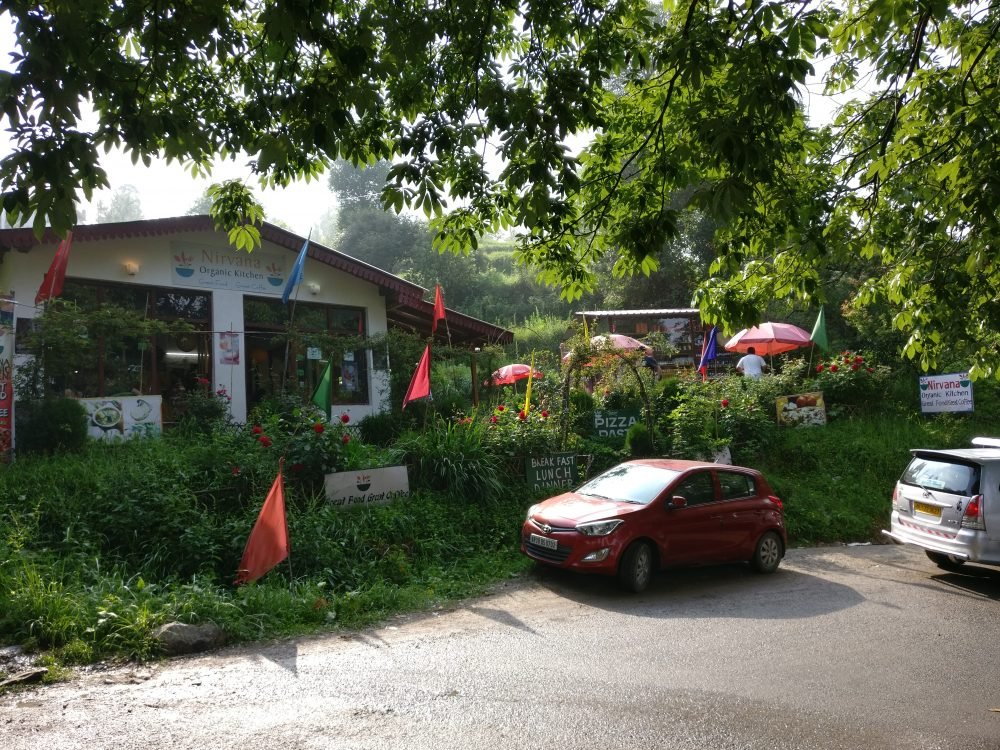 If you like the global food, Nirvana Organic Kitchen is an ideal seating. They serve amazing Italian and Indian food, and the vegetables and spices that they use are all homegrown. You can also check out other places such as Rosefinch Café and Café Local.
Things to Do While Returning to Delhi!
We had an extra day to spare so while returning from Mukteshwar; we chose to spend the night at Ayar Jungle Camp near Nainital. And the next morning, we departed early for Delhi. But again, it is a long journey. Here are the interesting things that you can do on your way back:
Visit the Royal Dutch Doll Museum.
Opposite Nirvana Organic Kitchen near Mukteshwar, there is a place called the Royal Dutch Resort which also has a Doll Museum. There are some incredible displays of handcrafted clay mold dolls modeled after real babies created by artist Sarita Goel. The owner, Mr. Anil Goel showed us the exhibits and encouraged us to promote it for others to come and see their unique doll collection. You need to purchase a ticket at a nominal rate. You may inquire details before the visit -http://www.royaldutchresorts.com/
Explore the Jim Corbett Heritage Village.
Our driver took a slightly different route to Delhi so that we could also visit the house of Jim Corbett. We returned via Choti Haldwani at Kaladhungi which is now called the Jim Corbett Village. The village community is dedicated to carrying forward the legacy of Jim Corbett by organizing tourist programs on nature and wildlife. We visited the Corbett Museum which once used to be the summer house of the legend himself.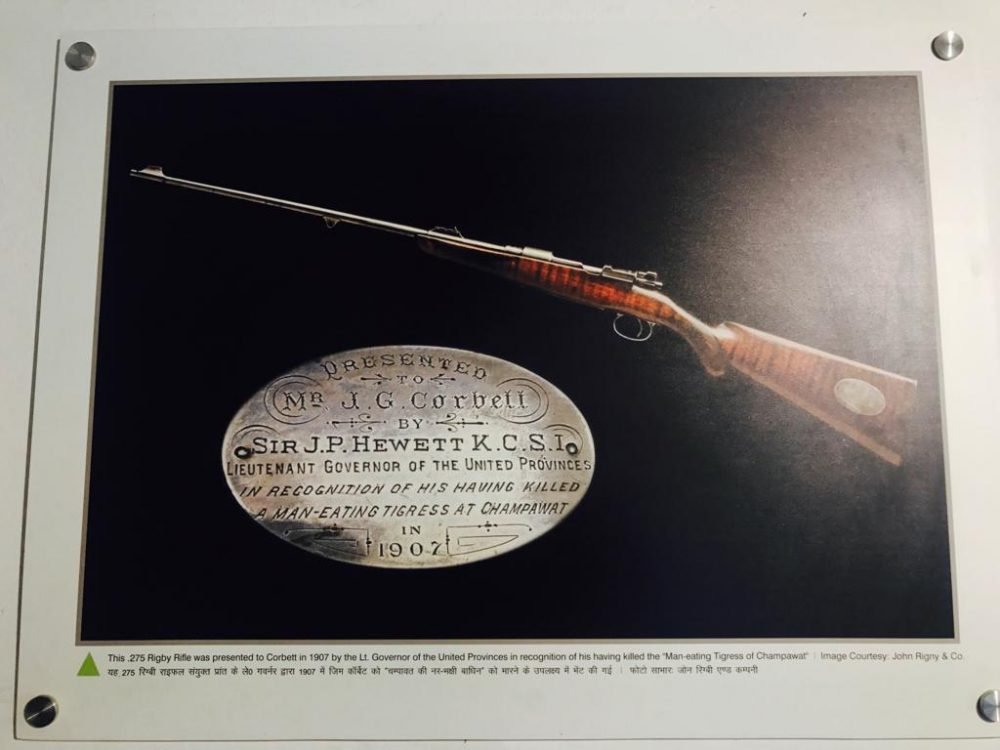 We discovered stories on the life of Jim Corbett, his achievements and contribution in the field of nature conservation. I picked some souvenirs as a remembrance of my visit. Again, there is an entry ticket to the museum. If you have time, you can go for some nature walks and detailed tours of the place. Check the info here: https://corbettvillage.in
---
How to Reach Mukteshwar?
By Road – Roughly about 350 km from Delhi NCR, it should take you approximately 8-9 hours by car via NH24 till Rampur and changing to NH87 till Mukteshwar.
Tips: The drive from Delhi NCR to the state border would be easy. But once you enter Uttarakhand, the roads are going to be tricky as the route mostly consists of loops and ghats. Therefore, it is advisable to hire a professional driver or book a taxi for a comfortable journey. It keeps you energized and lets you enjoy the views better. Also, the drive is usually very slow in the mountains so plan your pitstops accordingly so that you reach your destination on time. It is best to avoid driving at night.
While returning, we got stuck in a traffic jam of nearly 2 hours close to Nainital. The roads are so narrow that there are no chances of overtaking or driving fast for safety reasons. Even a minor road accident may block the way. We were glad that we hired a taxi otherwise we would have gone through the pain driving and would have returned home with tired legs.
By Train – If you suffer from motion sickness or don't enjoy the roads much, there are direct trains from Delhi to Kathgodam (nearest railway station to Mukteshwar). But you still need to hire a taxi for going up till Mukhteshwar (2 hrs drive from Kathgodam).
By Bus – There are buses available from Delhi till Haldwani, Almora, and Nainital from where you can hire a taxi and head to Mukteshwar.
Getting around in Mukteshwar won't be an issue because it is just a tiny hamlet and all the places are within walking distance. It will actually be nice to explore it on foot, take smaller steps, stop by at interesting places and see things your way. But if you have walking difficulty, traveling directly by car will be the best choice.
Ready to Breath the Mountain Goodness?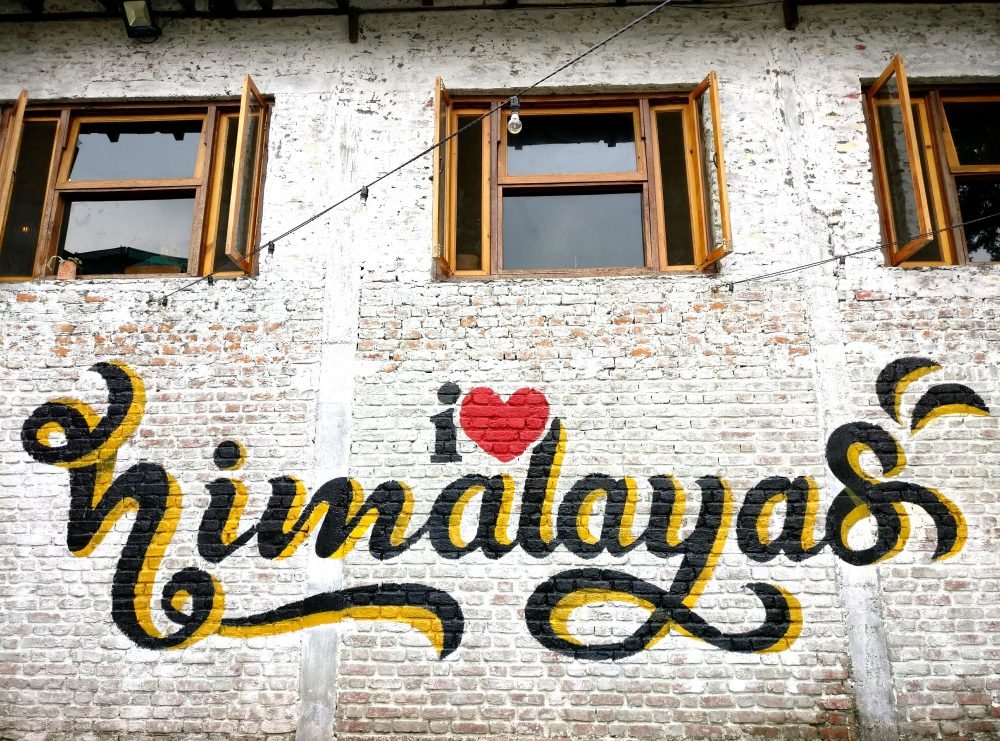 Mukteshwar is all about Dense Green Forests, Tricky Trails, Rolling Topography, Mountain Gods, Lovely Locals, Lip-smacking Food and Handcrafted Goodies. We had a great time breathing the mountain goodness and chilling in the serene lap of the Himalayas. The place will genuinely cast a spell on you. So pick your favorite tribe and head straightaway to Magical Mukteshwar!