It was last year. A mad March day. The hotter the day, the colder the water. I'd already spent a week trekking in the Sahyadris and was about to call it a wrap in Maharashtra– when a friend announced that one can't claim love for Sahyadris until they've dipped their parched soul in the blue lagoons of Sandhan valley.
So there I was standing at the door of the grand canyon of Maharashtra. It's pretty much like walking in between two high mountains with the perpetual bliss of wading through blue lagoons and traversing through roaring waterfalls. They call it the valley of shadows for a reason; the slit ravine creates a space of about 200 to 300 feet and 3 to 25 feet wide, which barely lets the harsh sun in. Therefore, this wide water cut ravine is a perfect respite in the Sahyadri summers.
Quick Highlights:
Located: Maharashtra
Region: Sahyadri, Western Ghats
Starting Point of the Trek: Samrad Village in Ghatghar
Endpoint: Dehne village, Shahapur
Best Time to Visit: December to May
Duration: Five to Six Hours
Altitude: Approximately 4000 Feet above the Sea Level
Gradient: Easy to moderate with some technical patches
Distance: Nashik (90 km), Mumbai (183 km), Pune (194 km)
Here's how I broke my foot in Sandhan:
Having trekked in the Himalayas, Sandhan was nothing like I'd ever set my foot upon.
A flat patch land, with the typical feels of Maharashtrian barrens, leads to the valley. With rappelling ropes on our shoulders and a backpack full of edibles and drinking water, we started the trek. Soon the flat land turned into a rocky terrain of boulders, and we started hopping on one after the other.
The entry to the vast valley almost looks like a gateway of rocks like the one they show in one of those fancy time travel movies. It reveals a long, bleak path that almost looks like a secret passage. So much so that more than slipping on the boulders there are chances of slipping into daydreaming on the rocks. This is where my foot trembled for the first time. Completely ignoring my instinct to be careful, I forged ahead to enter the heart of the slit ravine- partially hypnotized by its unique beauty.
We chose a huge tempting rock to rappel down. My host Sangram and his diligent team started fixing the ropes. We set all the equipment such as cameras and tripods aside for rappelling. There is no dearth of rappelling opportunities in Sandhan. One can almost turn to any rock and start bouldering or rappelling.
About half a kilometer in the valley, one is suddenly surprised by the discovery of water. Small blue turquoise lagoons rest at the bottom of the Valley of Shadows. Having witnessed that, my host's suggestion about how one can't claim love for Sayadris until they've dipped their parched soul in the blue lagoons of Sandhan valley, felt more real than before.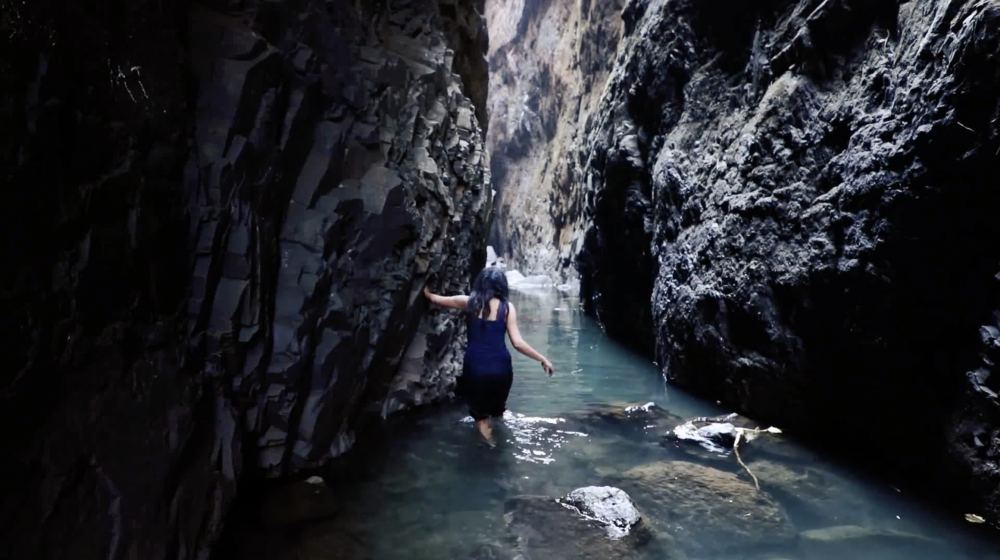 I have always loved water, regardless of my inability to swim. But fear not in Sandhan, the water is a cooling respite. One can glide or swim from one end to another and hit the rocky terrain again. What becomes a little tricky is traversing through a waterfall or any section where the water flow is high, that's when one needs to climb to the boulders on the side and maintain an unpardonable lateral progression wading above the water. It's a tad bit technical and precisely the reason why the trek remains inaccessible (advisably so) during monsoon. Instinct kept ringing at the back of the head, cautioning me to be careful. I continued, mesmerized by the rocky terrain.
All was going well: the water was breezy; a cold swirl of wind in the valley of shadows kept our travelers' heart humming, the trek was about to end, all was well- Until the moment when the world turned upside down in great confusion.
At that moment, my left foot slipped and got stuck between two boulders.
At that moment, I couldn't balance my body with a stuck foot, and I fell.
At that moment, I heard, and it still rings in my head sometimes the breaking sound of my dear bone.
At that moment, Sangram rushed and held me stable as I screamed to God.
At that moment, I realized one should always listen to their instinct in the mountains. It was mortifying!
Adventure travel is like meditation. You've got to be focused on the pulse of every moment. A lot may be going on outside yet one has to be in complete control of the mind, body, and soul.
And this is what breaking a foot in Sandhan taught me.
Here's why I'd still go back to the valley of shadows:
Trekking in the Valley of Shadows: This 2 km long thrilling trail, stretches across rugged boulders, technical descends and pools of natural turquoise water. Need I say more?
Rappelling: There are several rappelling patches on the trek. One of the exciting rappelling patches is around 130 feet high. By design, Sandhan is such that one can enjoy rappelling down from any possible rock. It is a playground for bouldering and rappelling.
The Reverse Waterfall: Another reason why a broken foot story cannot deter my spirit from revisiting Sandhan valley is because of this extraordinary experience. During monsoons, this unusual phenomenon takes place because of high-pressure winds that pull the water upwards. Absolutely no kidding!
Cliff Camping: Hanging mid-air in a tent is a bucket list experience. There is an exclusive tent for this reckless adventure; it is called portaledge. With proper harness and a reliable aluminum tent base, living on the edge cannot be missed. A lot of professional climbers and enthusiasts use this in expeditions all around the world.I don't mean to sass you, but here's a word of caution from a broken foot, get a professional on the task. Though the experience is to die for, you really don't have to.
Photographer's Paradise: The play of light and shade throughout the day, silhouette captures and water reflections is a photographer's dream come true. At night, far away from city glitters the sky is free from any light pollution. So one can fix the tripod or enjoy star gazing.
A Cool Respite of the Natural Pool: After completing the trek, there is a 25 feet deep natural pool. Trekkers can swim around and camp next to it.
Some Pro Tips You Should Know!
Photography: In case you want to make this a photography trip, it is advisable to go there on a weekday. With so many people wading through the water on weekends, the color of the water changes from clear turquoise blue to a murky brown. Another word of caution from the broken foot, carry a professional camera bag. Take along the one with thick cushion pads. It will keep your equipment safe at all times.
Rent Gear: Rappelling ropes, carabiners, helmets, harnesses, knee-caps, elbow guards and other safety gears are rented out in Samrad village. A rickety shop with carabiners and thick climbing ropes situated right at the end of the town and beginning of the trek can easily fool you into believing that a cowboy with rugged overalls might just pop up from anywhere, any moment.
Mobile Network: Most likely, you will be out of network. I was using Vodafone cellular network at that time, and there was no coverage.
ATM: Nearest ATM is in Shendi. Advisable to carry cash as stores around usually do not transact online.
Medical Help: There are no fancy hospitals around. However, the nearest clinic is in Shendi. For those wondering about the broken foot, we hitchhiked till Shendi with a broken foot. Strangers are random sweethearts. They never turn their backs on you, especially if they know you need help. A gentleman from a nearby unnamed village lent us his motorcycle. Then a good Samaritan truck driver took us furthermore and beyond. The point is, they'll always help. Carry a first aid box, to say the least.
Be Careful: The boulders seem easy to descend, but you still need to watch every step. Be a tad more cautious, while wading through the water patches because the rocks are slippery. Let me not have an I-Told-You-So moment.
Trekking Shoes: It is recommended to wear waterproof, high ankle trekking boots. To wade through the water patches, one can also wear sandals with a grip while negotiating with the water patches.
Clothes: Prefer wearing quick dry clothes. Carry a small quick dry towel as well. Make sure your bag is waterproof
Camera: In case you are visiting around monsoons, it is advisable to get waterproofing done.
Take a Local Guide: It is recommended to take a local guide along. The trail can be misleading, and specific patches are technical. Local guides also provide food and water as there are no eateries inside the valley.
Transport: There are no direct buses to the valley. Instead one can book a jeep from Kasana village. Also, don't rely on public transportation much.