Beyond the snow wrapped mountains, the colorful tales of Manali Mall Road, and the hippie vibe of Old Manali, there are trails unexplored. One may conveniently believe that Rohtang Pass is Manali's peak hype, except for which it is not. The best way to explore the soul of any place is to see it with eyes of locals. Having visited Manali for so many years, I believed that I had known the nook and corner of this quaint hamlet. However, ever since I moved here I realized, that there are so many secrets trails hiding in plain sight that I explored and I'd be happy to share them with you:
Manali Secret Places: The Unexplored Beauty!
1. Prini Village to Banara Temple
Duration: 3 to 4 hours
Trail: Manali – Jagatsukh – Banara Village – Banara Temple
Gradient: Cakewalk / Easy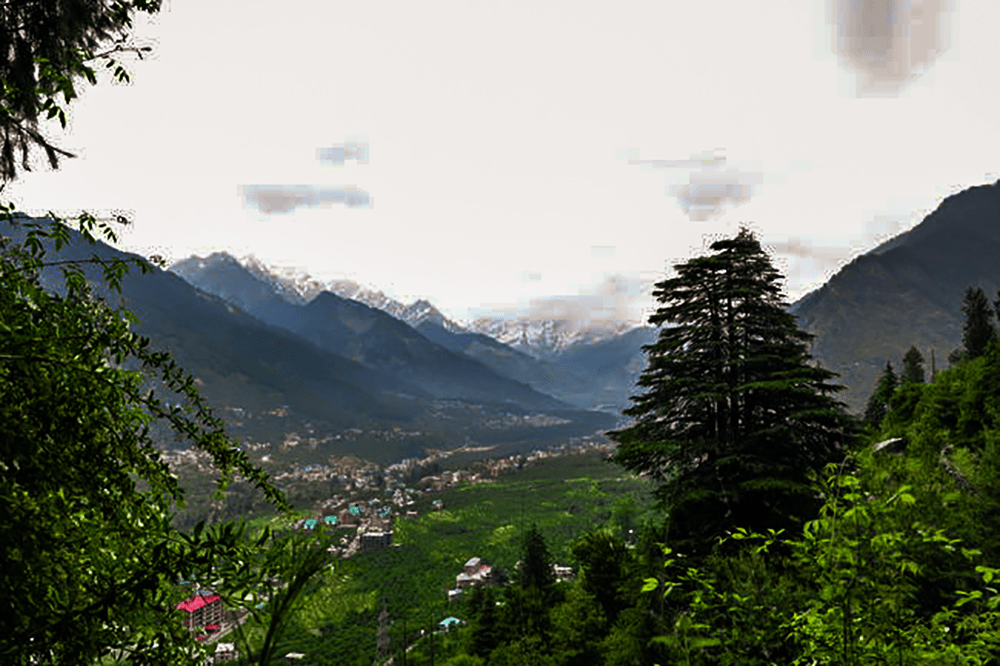 Jagatsukh is a quaint hamlet tugged just 5km away from the Manali mall road. A trail starting opposite from a hotel called Serenity suddenly opens a woodland path of Oak and Pine. The combination of jungle trail and tracks leading to small villages make this an exciting trail. I personally like the hiking amidst these small villages. It's impressive to see village folks still living in wooden cottages architectured in the Kathkunni (traditional Himachali) style.
Around an hour and a half into the trail, we reach a viewpoint where we get a bird's-eye view of Manali, overlooked by the towering Friendship peak. This trail is usually taken through villages; hence, it's not touristy and well preserved. Without many diversions in the forest, the trail opens up in a small clearing, sighting the Banara temple.
2. Chikka (Deo Tibba)
Duration: 2 to 3 hours
Trail: AD Hydel Project – Chikka
Gradient: Easy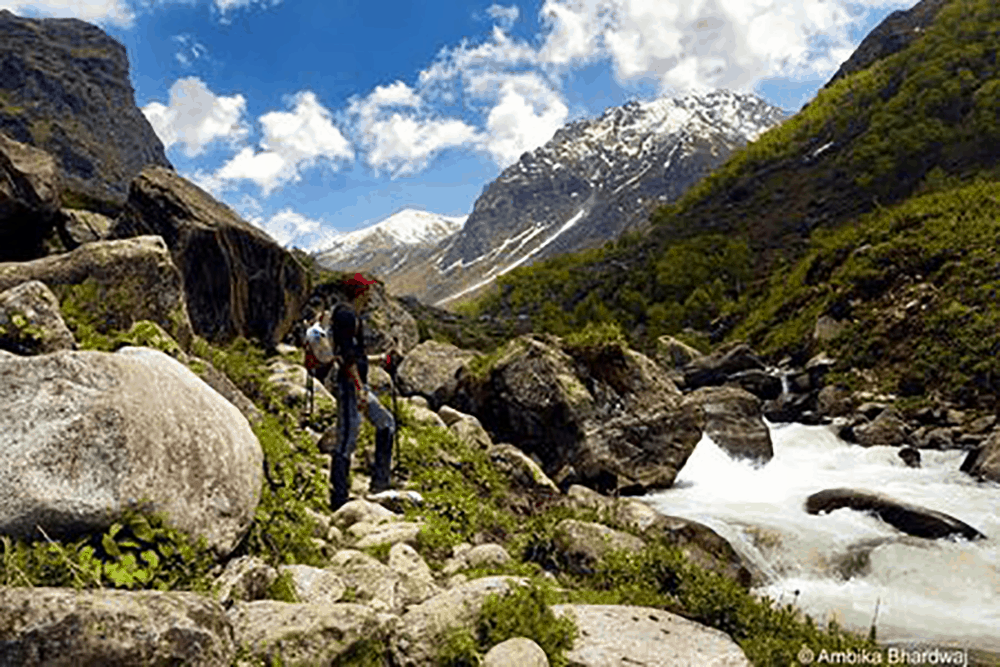 Chikka, you will realize, is a postcard beauty. The lush green mountains, well pitched comfortable tents along with the emerald blue water of river Dohangan, makes one feel as if in paradise. The trek begins from the AD Hydel project on the Chikka road. Next to the water dam is a trail that diminishes into the thick jungle. The dense forest trail, walking next to the river, with unknown species of birds flying around, truly keeps the traveler's heart humming. I personally love this trail in monsoon. The drama in the sky and the mountains makes it look as if nature is photo-shopped.
Interestingly, Chikka has a story. There is an ancient snake fossil on the Chikka campsite. There is a rock, with a snake fossil engraved in it. It is very close to the campground. Far enough to make sure that snakes don't wander around the camps and close enough to be visited.
3. Chakki Nala to Rumsu Village
Duration: 4 to 5 hours
Trail: Manali – Prini – Jagastsukh – Chakki Nala – Rumse village
Gradient: Easy
Try this trail in monsoon Manali. It is a surprise full of waterfalls. Rumse, the ancient Himalayan town, is also the basecamp of the Chandrakhani Pass trek. A quick 45 minutes away from Manali leads to Chakki Naala that unfolds into a hike amongst deodar woodland and apple orchards.
4. Goshal Village
Duration: 1 hour
Trail: Manali – Old Manali – Manu Temple – Goshal Village – Old Manali
Gradient: Easy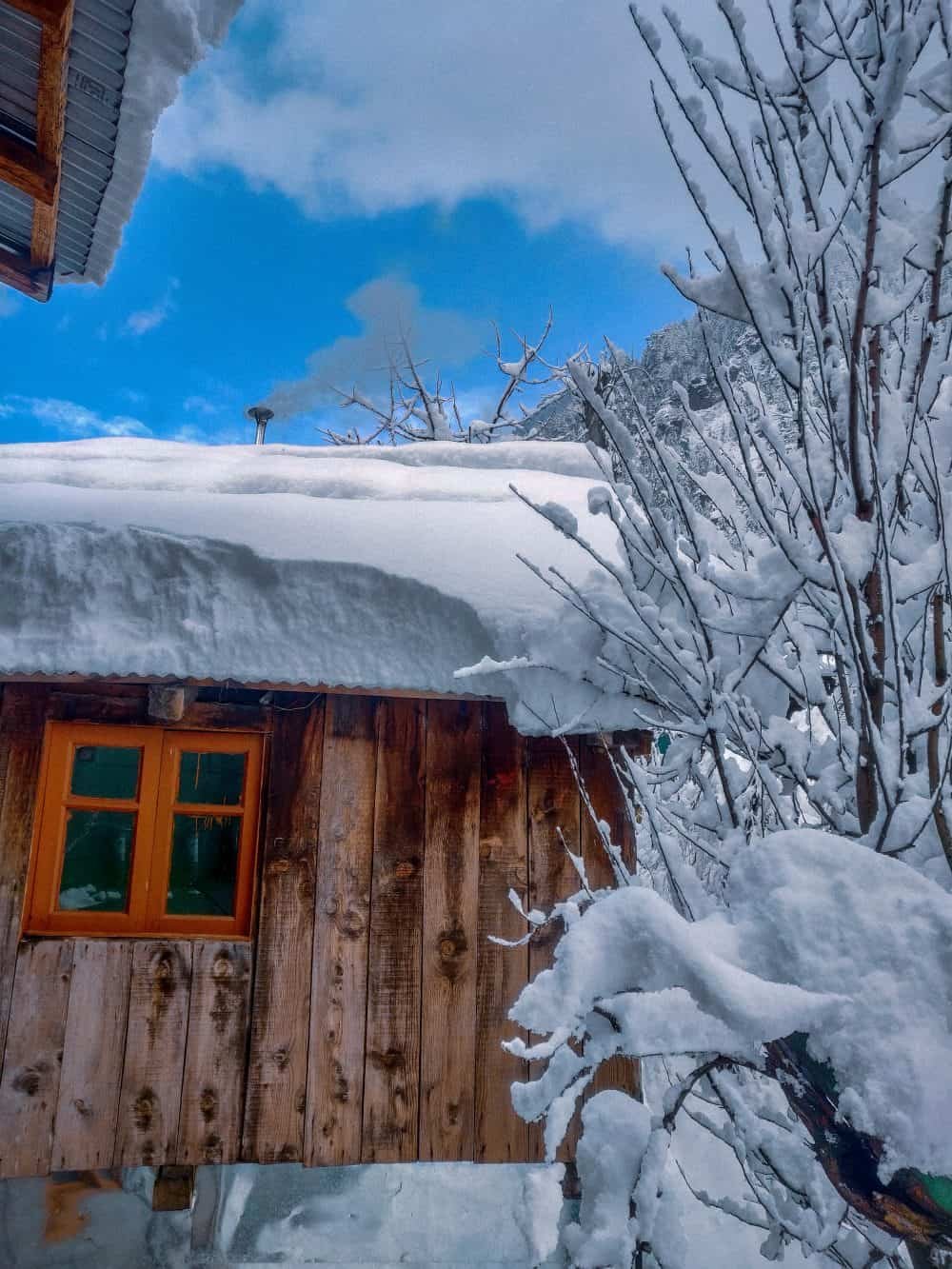 Hiding in plain sight, amongst the colorful lanes Old Manali, a trail leads to the old world charm of Goshal village. Given my everlasting love for Old Manali, rising concretization in the past few years has broken my heart- the fading sight of the traditional Kathkunni homes and rise of modern concrete structures. However, once we wade through the superficial layer of concrete, we enter the other side of Old Manali. A side that tells the tale of what Manali use to be like before it became a popular hit in the tourist circle. I practically had to fix my dropped jaw when I saw, what I saw on my little hike to Goshal village. It is a huge surprise to know that the village still exists under the wraps of the popular café culture in Old Manali. Straight out of a Himachali postcard, Goshal is also adorned by a small wooden bridge on a little rivulet that flows around the village. It is always a pleasure to watch the sunset behind the snow-capped mountains.
5. Lamadugh Trek
Duration: 6 to 7 hours
Trail: Manali – Lamadugh – Manali
Gradient: Easy with some steep patches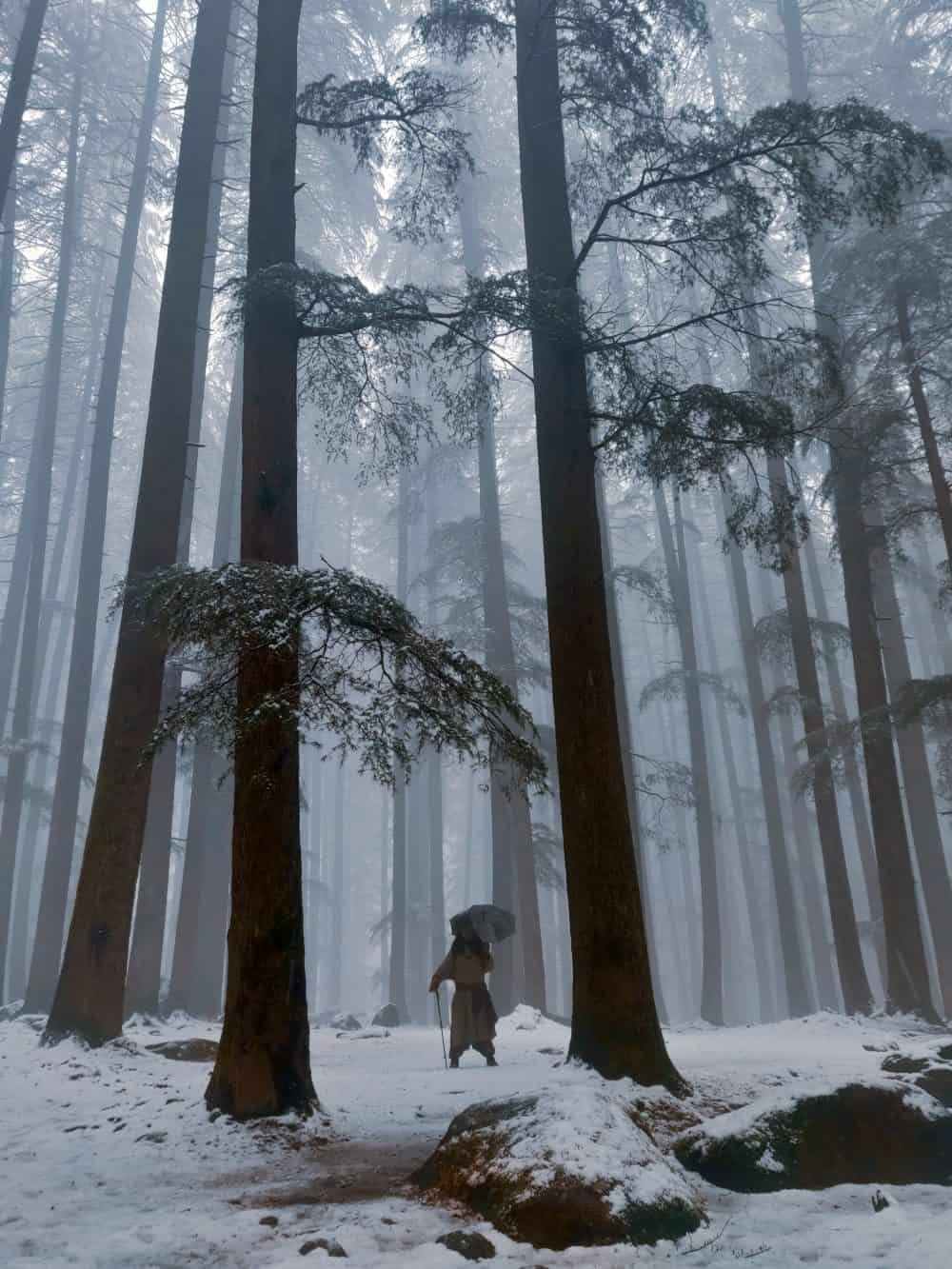 Sometimes little distances covered can offer a lot, in the unexplored trails of Manali. An easy walk from the Manali mall road leads to the famous Hadimba Devi Temple. From the temple, an easy hike unwinds into the thick forest of pine, deodar maple, and cedar forest. Suddenly, the hustle bustle of Manali is left behind the silence of the jungle takes over. This trek is quite a stunner for the sweeping view of Manali overlooked by the Dhauladhar and Pir Panjal range and a distant view of the Manalsu glacier.
The Hidden Manali Locations: The Conclusion!
Most of these trails are either in old Himalachali villages or forest; there are few food joints around. It would be a great idea to pack some food and water, depending on the distance you decide to travel.
Wear comfortable hiking shoes or gum boats. In case you are hiking in summer, shoes with a thick sole and a firm grip should be enough.
However, if you are traveling in winter, which is a great idea, but you must wear gum boats. The village and forest trails can get really tricky in snow. Gum boats are readily available at the New Manali mall road for just 300 to 400 INR.
Carry a small day pack with your essentials and a first aid kit. In case, you are traveling in monsoon, make sure that you pack a rain court or a poncho.
A local guide is not required for these treks. However, it is always a good idea to interact with the village folks and keep asking around.
ATM or banks are not available in the villages mentioned above. Please make sure you carry cash.
Sharing little-unexplored village trails like these is always a dilemma for most of the travel writers for that matter or me. It is a huge matter of concern. So please travel responsibly and maintain the sanctity of the mountains