Rajasthan to me is my ancestral home; where my forefathers probably owned havelis and palaces in their name, built greatest of all Jain temples and added prodigious value to the Marwari culture that my family breathes day and night. Therefore, a visit to Rajasthan is an annual ritual for me. In fact, I believe for every Marwari who lives in this country. Since my childhood, I have been visiting the same old popular places, again and again, so much that I could possibly qualify for a tour guide. Until one day, I decided to explore Rajasthan my way.
In this article, I will take you through my journey to 5 offbeat stays in Rajasthan, all of them visited in the past year, yet entirely different from each other. Rajasthan is much more than just a desert state. Imagine residing in a dense forest surrounded by wildlife or camping on a vast desert under a starry sky; living like the Royals at the centuries-old fort or staying like a local at a homestay. If that is not enough, how about spending a luxury day on an island, away from the worldly chaos? Yes, everything is possible in Rajasthan. Let's begin!
Trees & Tigers Wildlife Resort (Sariska)
Experience Amazing Wildlife and a Bit of History.
I was always intrigued by the idea of sighting tigers in Rajasthan after seeing enough of camels. Therefore, it was either Ranthambore or Sariska for me on the list. I drove to Sariska in the scorching summers in search of the Big Cats, accompanied by my husband and a childhood friend. Honestly, I wasn't expecting much as the sun was killing us. But to my surprise, this resort cooled me down.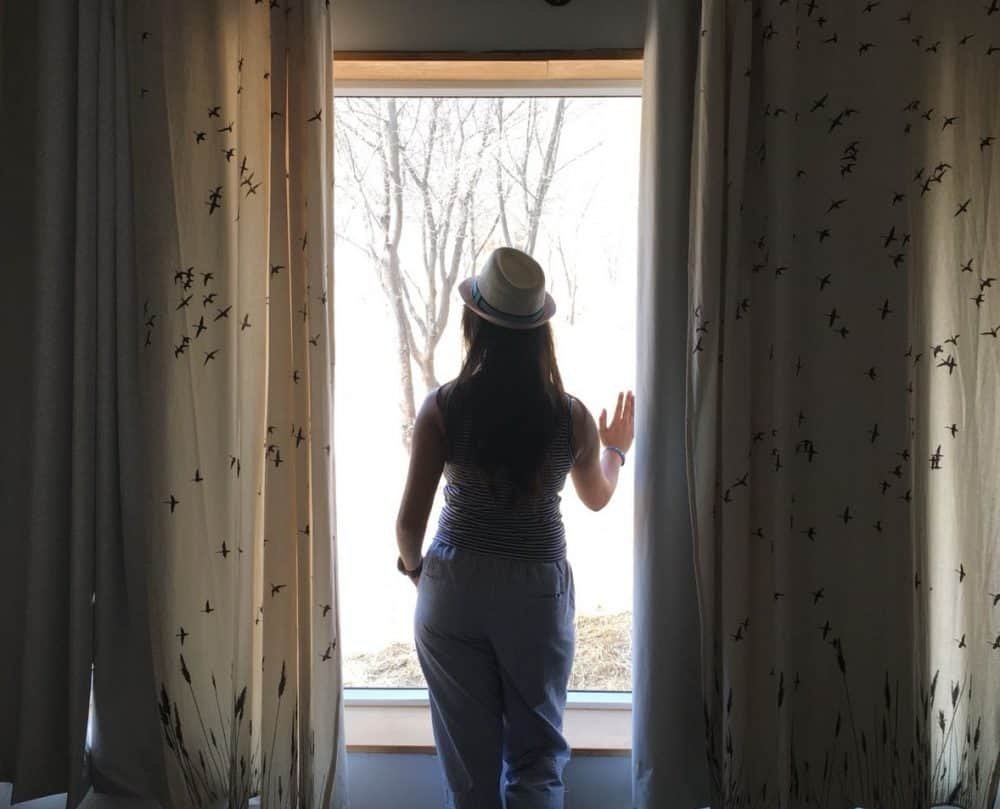 Nestled in the beautiful valley of Sariska, Trees N Tigers Wildlife Resort is a perfect place to communicate with nature. It is just 15 km away from the Sariska Tiger Reserve; a green patch in the Aravalli hills of Rajasthan. You can breathe fresh air from the green surroundings, and also enjoy fantastic wildlife by spotting various species of birds and animals. And if you like to listen to ghost stories, Bhangarh Fort is nearby.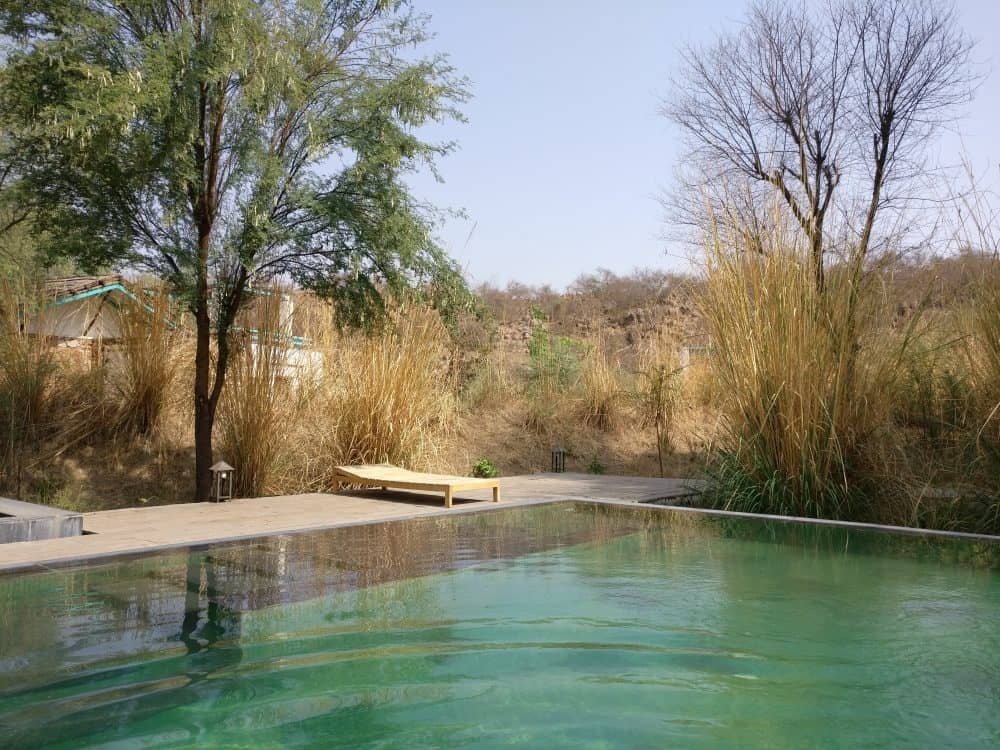 We arrived here by noon, had lunch and soon headed for our jungle safari. We were super lucky to spot a Royal Bengal Tiger in Sariska and many peacocks (the sanctuary becomes very dry, and chances of spotting are extremely low). We got back and settled in our luxury cottage which was very eco-friendly and all covered in woods. We even had a private verandah outside our room and a small terrace to sit and chill. I chose to spend my evening by the pool, sipping fresh lemonade and listening to my usual music. As it became darker, the surroundings became even quieter and the sky much clearer (Sariska is an excellent place for star gazing). We finished our dinner, and I slept to the soothing silence of the jungle.
This place features Wildlife Safari, Nature Walks, Historic Sightseeing and Swimming Pool & Sports.
Average Pricing Per Night: INR 7,000 – 12,000 +Taxes
Pro Tip: On your way to Sariska, you may come across roadside dhabas and eateries that serve great Rajasthani food so you can grab traditional lunch over there. Local villages around Sariska sell freshly made Alwar ka Kalaakand and Milk Cake. You must taste and get it packed. Their Kadhi-Kachori and fried namkeens are also popular. Pre-booking is required for the Safari and Nature Walks so kindly check availability with the resort before arriving.
Website: https://www.treesntigers.com/
1st Gate Home Fusion Hotel (Jaisalmer)
Experience the Majestic Fort and Exotic Italian Food.
Jaisalmer is mostly about the fort and havelis which I have seen already during my previous visits. I came to the city to relax, yet experience a bit of the fort that made me chose 1st Gate Home-Fusion. It is a modern-day home-stay fused with all comforts and amenities one would get at a luxury hotel. Located near the 1st Gate of Jaisalmer Fort, it has sweeping city views; be it from your room or from their rooftop restaurant. Their concept is very different from the usual homestays and hotels as they don't keep you time bound for any of their facilities. You can enjoy their indoor swimming pool and spa at any odd hour or spend time readings books from their open library across your room. They have limited rooms, so it works great for those who don't want to stay in a crowded touristy hotel.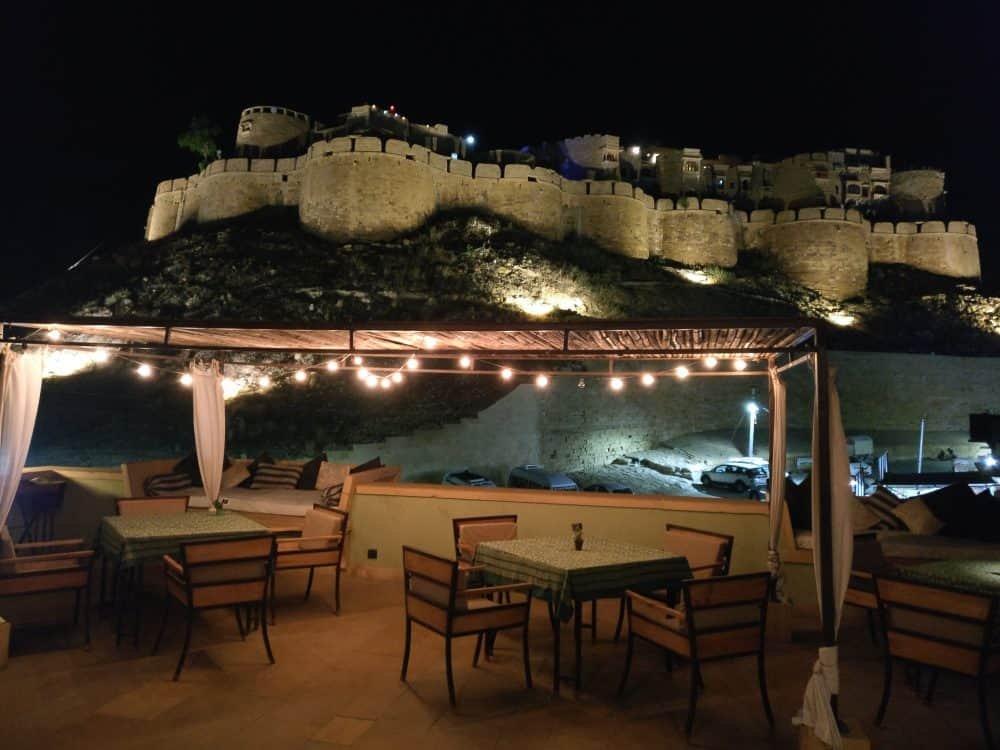 I arrived here with my husband and my brothers after our desert safari. As we stepped in, we were greeted with a welcome drink of our choice and some cookies which are actually available throughout the day in their cozy breakfast room that also serves amazing pancakes, bread, coffee, and fresh juice. Just grab when you like. We took a quick tour of the place and entered our rooms. Our accommodations were speaking comfort to us – a super fluffy bed, lots of snacks and fruits, huge bathroom and a lovely benched sofa by the window with a sprawling city view. They also have free water bottles stored outside each room, some books and magazines stacked up and a cornered balcony to sit and chill during the evenings. We took some rest and did sightseeing until sunset. Walked back, sipped coffee and enjoyed a swim. All relaxed, we headed upstairs for delicious wood fried pizzas, creamy pasta, and drinks for our dinner. We chatted and cherished our day overlooking the magnificent fort.

This place features Swimming Pool, Spa, Library and Heritage Walk Tour.
Average Pricing Per Night: INR 7,500 – 12,000 +Taxes
Pro Tip: This place is co-owned by a lovely Italian lady; Federica. If you like socializing, ask for her at the reception and meet her for a great conversation. Also, try having an Italian meal at the terrace restaurant. The fort is walkable from the homestay and self-exploratory, so you need not hire any guides. Avoid shopping from the fort premises as it will burn a hole in your pocket. Just grab basic souvenirs from the outside market. If you like to get high, do try the local bhang available just outside the fort. Also, try the traditional Ghotua laddus from Dhanraj Ranmal Bhatia Sweet shop if you have a sweet tooth.
Website: http://www.1stgate.in/
Neemrana Fort Palace (Neemrana)
Experience Century Old History and Live Like the Royals.
Celebrating one of my birthdays at a palace was on my bucket list, and Neemrana Fort helped me check it off. If you wish to be transported to the 550 years old grandeur historic past of our country, you shall immediately pack your bags and head to Neemrana Fort Palace in Rajasthan. With state of the art infrastructure, this fort is a 14-tiered property and is guaranteed to give you one of the best palace experiences in India. This historic wonder was converted into a modern heritage hotel under an architectural restoration project. It has about 75 rooms categorized as mahals, and you can choose them as per your budget, requirements, physical strength and the view.

Climbing more than a hundred steps and walking up the tricky ramps, I was finally led to my room Mor Mahal on the 13th tier. Trust me, it requires a good amount of physical fitness to arrive upstairs, but the effort will be worth every penny. As I stepped in, I was absorbed by centuries-old cosmoses where the royals lived once. My curiosity led me to the corridors, stairways, and courtyards of the palace, which were refurbished and fortified into the modern day spaces. Later, we were invited for high tea and a cultural program, which is a daily thing at the palace. Soaked up in the history, I stood at the edge of the fort and watched the orange sun melt into the shades of the sky. Soon, the palace began to light up in the dark, and the view was spectacular. We sat for a royal dinner and raised a lemonade toast for my birthday.
This place features Zipling Adventure (India's First Zipline), Vintage Car Ride, Camel Safari, Audio Tours, Sports, Swimming Pool, and Spa.
Average Pricing Per Night: INR 6,000 – 15,000 + Taxes
Pro Tip: Before you select a room here, make sure you ask them to share pictures. There are rooms in the palace that are very tricky to access and need you to be physically fit. It is always great to check, especially, if you are traveling with children and older persons. Also, most of the rooms will give you a complimentary breakfast so do take that. But for dinner and lunches, their quaint little café and bar serve amazing continental food and drinks, and you can order whatever you like. Don't waste your money on the restaurant buffet unless you love eating voraciously. In fact, at high tea, you will already get lots of in-house snacks and freshly baked cookies and tea cake, so it is best to eat light for lunch and dinner. Burgers and Lemonade were my favorites!
Website: https://www.neemranahotels.com/fort-palace-neemrana/
Desert Springs Resort (Sam Sand Dunes)
Experience Rajasthani Folk Culture and a Thrilling Desert Safari.
When one says Jaisalmer, a camping experience at the Thar Desert is a must. Since I had already been to the Khuri Sand Dunes as a kid, I chose to visit Sam Sand Dunes for a change. If you want to experience the nomadic life in the middle of a desert, you must go to Desert Springs Resort located at Sam Sand Dunes near Kanoi village, Rajasthan. It not only offers luxurious accommodation in the Comfort and Royale tents but also lets us witness the breath-taking Rajasthani folk art, music and dance performances by India's Got Talent fame; Queen Harish and troupe.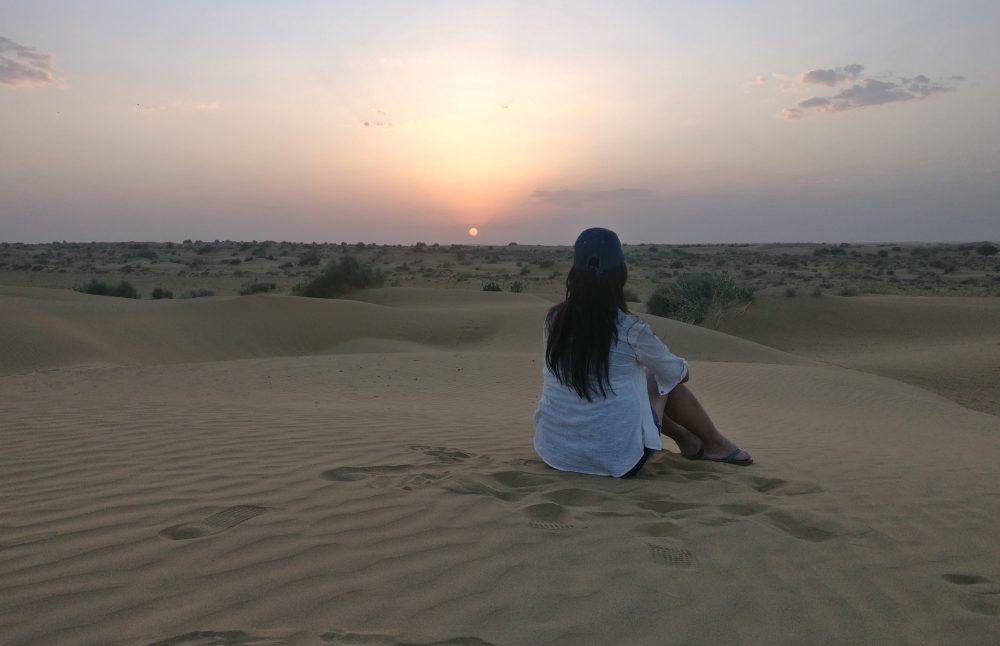 We checked in at our Comfort tent, relaxed a bit and headed for high tea. We soon rushed for our complimentary camel safari. We jockeyed quite a distance and finally arrived at a higher dune to witness the sunset over the dunes. It was a bumpy ride! On reaching back, we shed the sand off our clothes, freshened up and headed to Jhankaar; the fun and food zone. It felt great to be entertained all night though the food was a big disappointment.
We had also booked a night safari with the locals we met earlier at the dunes, and our Jeep had arrived at 11 PM. People dream of doing desert safaris in Dubai, but this one was no less. A sky full of stars, glowing with moonlight, endless sandscape and the speedy adventurous Jeep ride at the dunes was one hell of an adventure. Our rider was kind enough to stop over in the middle of literally "nowhere" and set us a bonfire as the temperature dropped. We sat by the burning woods and warmed up for the night. We were so energized that we also booked a Sunrise Safari with the same guy at a steal deal. Next morning, he picked us up early, and we again drove through the highs and lows of the desert only to grab the first ray of the rising sun. I sat on the jeep bumper, took a deep breath and sipped the homely chai watching the sun emerge from the dunes.
This Place Features Champi & Spa, Camel Ride, Jeep Safari, Star Gazing, Sightseeing.
Average Pricing Per Night: INR 5,000-8,000 + Taxes
Pro Tip: Choosing the right camp is the trickiest thing in Jaisalmer as they all offer nearly the same stuff, at similar pricing. We chose Desert Springs because it is located in the interiors, therefore, much secluded and provides a peaceful experience than the other camps. They feature the Queen Harish show which none of the other camps do so it is the best place to be if you want to enjoy Rajasthani cultural performances. Choose the Royale tent only if you are more persons. Otherwise, it is same as the Comfort tent, so why pay extra?
Regarding the Day and Night Jeep Safari, avoid booking it through the resort as they will charge much higher. Talk with the locals you find on the dunes, take their number and fix a combo deal. We did not have to pre-book it as we went in the off-season – fewer tourists, lowest prices and best of everything. But plan ahead and pre-book if you are going in the peak season. Camel ride is available everywhere, but the real thrill is in the Jeep safari so don't miss it!
Website: https://www.desertsprings.in/
Jaisamand Island Resort (Jaisamand)
Experience the Island Life and Explore the Wild.
People fantasize Udaipur as one of the most romantic destinations in India, and recently Ambanis even professed it as the most Royal Wedding destination too. But I did not want to stay in any of the Royal lake housings of the city and therefore, to "do it differently," I booked a stay at Jaisamand Island Resort. We grabbed a Zoom Car, explored the Udaipur city until noon and drove 60 km further through a dense hilly forest only to arrive at the Jaisamand Island Jetty.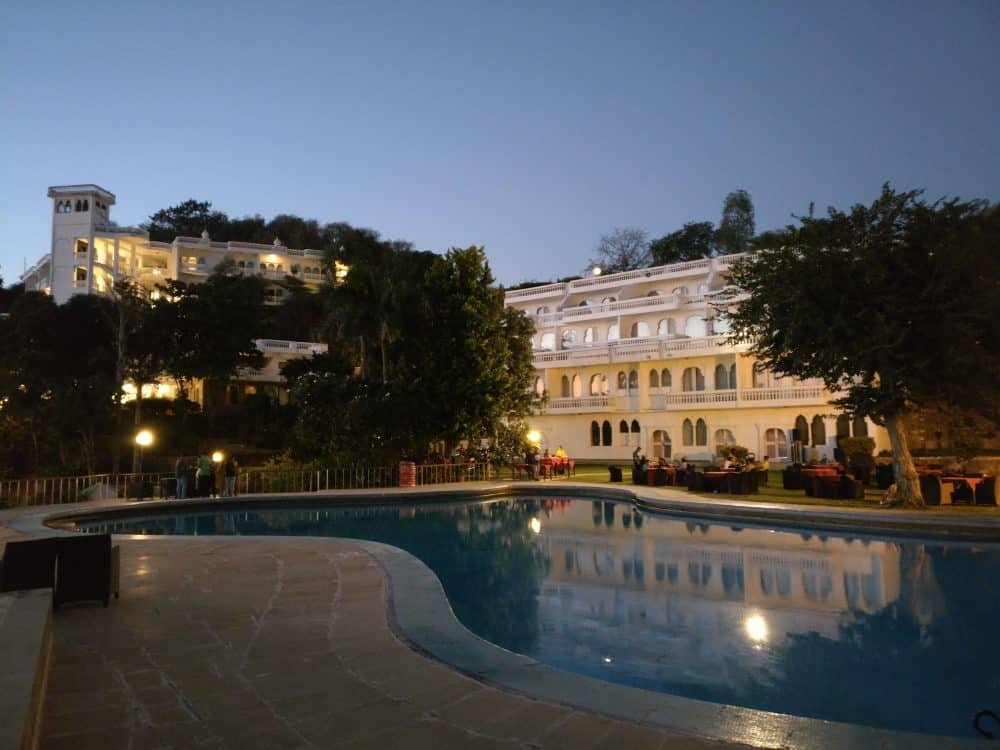 It is built on a 40 acres private island at Jaisamand Lake, Jaisamand Island Resort of one of a kind. If you want to have an intimate romantic escapade or just want to spend some alone time, it would be an ideal pick. You can choose to stay in Deluxe Rooms, Suite Rooms or the Villa as per your idea of luxury. Since the island is a part of the Jaisamand Wildlife Sanctuary, it is also an excellent place for the wildlife lovers.
We parked our car and were transferred to the island on a ferry. I was already thrilled as I could not even spot the resort and I had no idea of what we had signed up. Upon sailing further, I finally got a sight of the island resort, shining white in its glory and waiting for us to get off. After a 15 min ferry ride at the lake, we got off at the island. We walked up the stairs, finished our lunch and entered our Golden Suite. It was no less than a fairy tale – a lovely wooden swing, hanging by the window and a huge comfy bed facing the lake and an attached balcony having a panoramic view. We took a power nap followed by a warm shower and headed for the high tea by the poolside. I sipped tea and watched the sky turn orange with reflections dancing in the pool.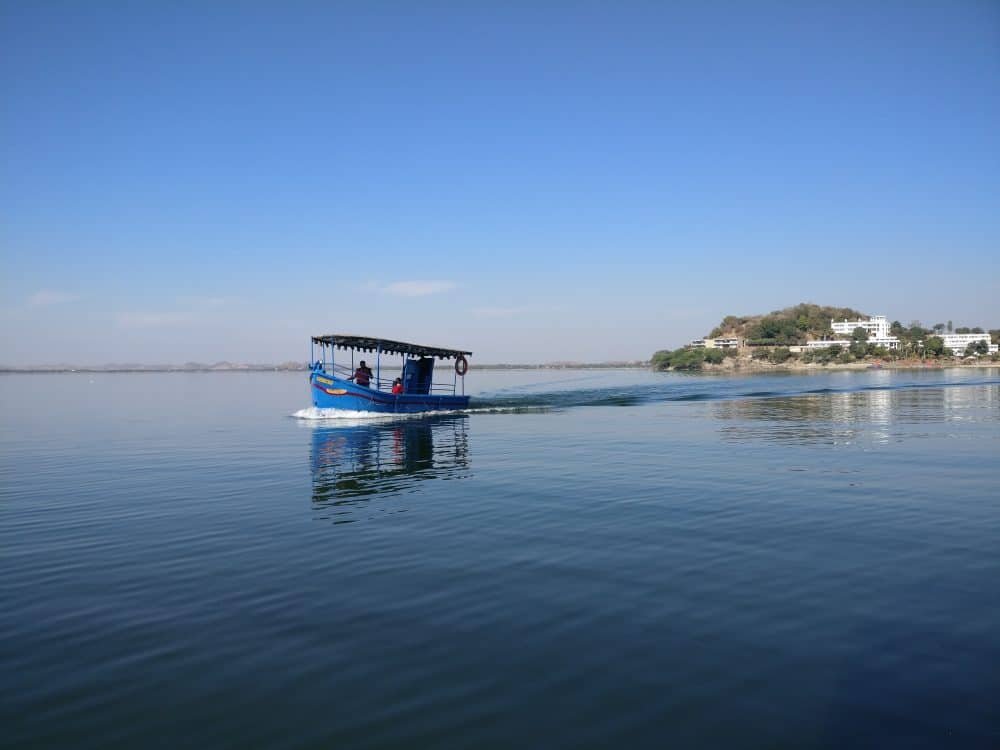 Almost at sunset, we headed for our complimentary row-boat ride. We even tried hands at rowing and badly failed as our boat didn't move an inch. It takes muscles that I obviously don't have! We got back, explored the property, had dinner and slept to a few romantic tracks. Waking up was the best part as you do not usually open your eyes to the sight of lake, mountains, boats, and forest. It was spectacular. After breakfast, my husband chose to relax in the Jacuzzi while I did a quick hike at their nature trail. We packed up, chilled a bit and got back to the jetty on the ferry again.
This place features Bird Safari on a Boat, Jeep Safari, Camel Ride, Row-Boat & Motor Boat Ride, Nature Trail, Swimming Pool, Spa, and Jacuzzi & Sauna.
Average Pricing Per Night: INR 7,000 – 30,000 + Taxes
Pro Tip: Udaipur already has multiple stay options if you want to spend a night on the lake. But that is too clichéd. Therefore, an island experience is something quirky and is not too far from Udaipur. I recommend taking a Zoom Car or a taxi. There are parking facilities in the jetty premises. Also, my experience with their food was terrible so don't expect something very tasty or out of the world. They usually have lunch-dinner-breakfast buffet included in your package, or you may just order from Ala Carte. You cannot come back to the jetty until you check out from the resort (unless it's an emergency) so it is advisable to carry all essentials at once to avoid the hassle.
Website: http://www.jaisamand.com/
These are our list of awesome offbeat places in Rajasthan you should explore! Which is your best one out of these? Did we miss your favourite one? Do let us know in the comments below!