This story begins back in the summer of 2015 when my wandering soul reached Manali. As travelers, there are places we leave explored, and then there are places that never leave us. At least, not from the heart. Somehow, the towering mountains, the hippie vibe, the colorful lanes that sing at night, could never leave my heart. Thus decided it was, if ever I were to call four walls my friend and build a home, it had to be in the little snowy, little sleepy village of Old Manali.
All our lives we may live under a roof and yet be homeless. The idea of moving to the mountains wasn't just about living a life with a view, but to build a home. Create a place, where I could scribble on the walls, enjoy magical evenings sitting next to the fire, be closer to the mountains, write, read and on some days do nothing and yet be at peace. By the design of destiny, it took me four years to run around a few projects, collect funds and finally pack my backpack – not to take it somewhere to wander around but to take it home. And thus began my fairytale:
Finding Home in the Mountains!
It's not easy to look for a place in the mountains. Unlike cities, there are no property dealers or brokers here. Given the fact that this time around, I was not looking for a guest house but a place called home; finding one was quite a task. It took thorough research of around six months for me to finally be able to fulfill the dream of a wooden cottage at the edge of a mountain. Out of sheer experience, I conclude that you'll find one only when you are destined to find it.
No Water? Electricity? Wait, What?
Before moving in, I asked my landlady the usual question about the availability of water and electricity. She let out carefree laughter to reveal that in winter, water freezes in the pipeline and electricity lines are unreliable. In fact, I write this article under the warm flames of a candle that may die any moment now. Not forgetting to mention that I haven't bathed in about a week now. The water froze last week and ever since then I venture out on a little jungle trail that leads to a community well. However, this in itself is such a celebration. All the village folks take their small buckets of hope to the well and refill it to revive their life.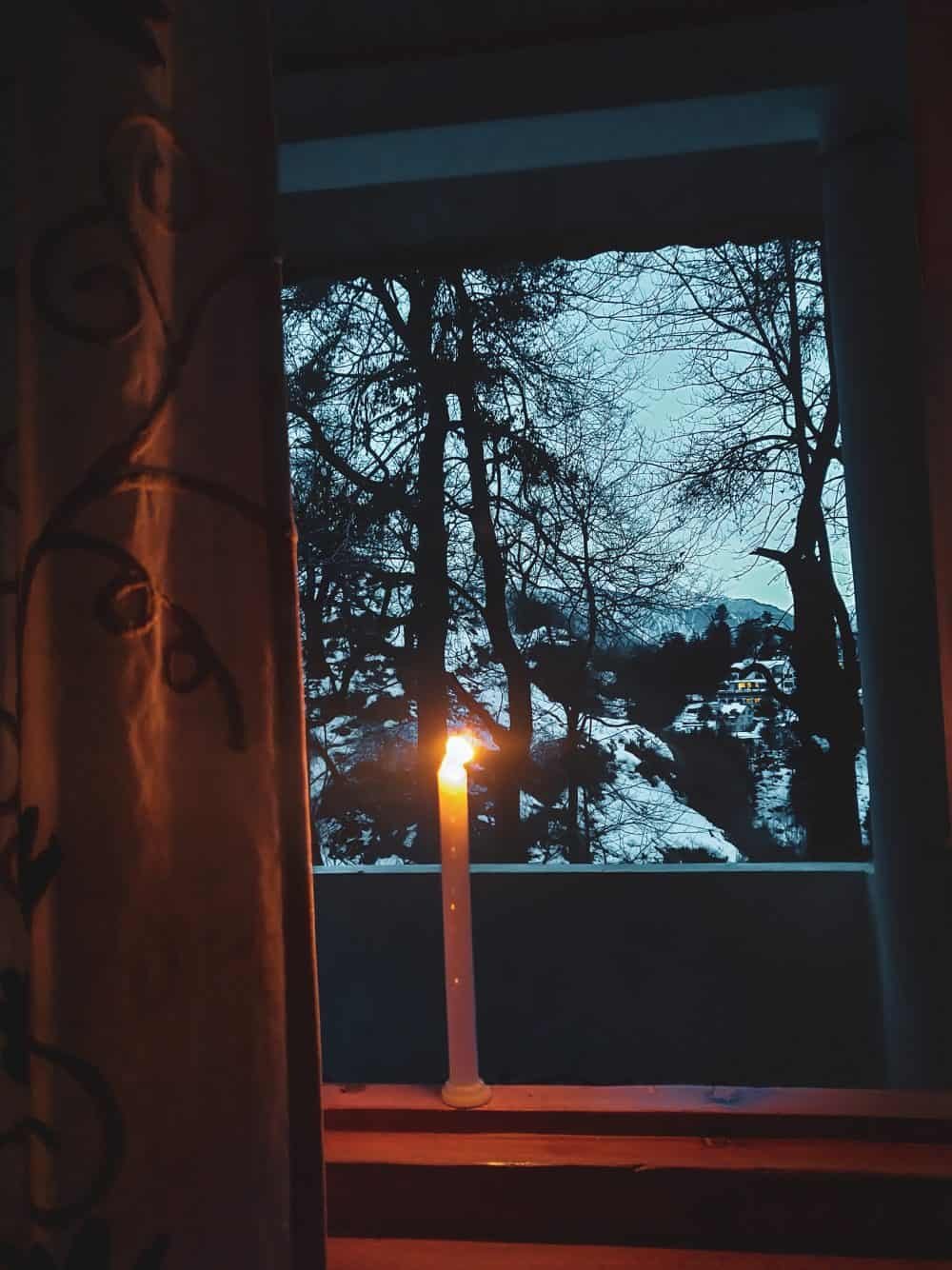 Winters are Harsh, especially on your Pocket!
Well, let's face it, winters are expensive. When the temperature dips upto -12, snow falls, and the wind blows, all you think of is a cozy fireplace. Ohh well, because guess what electric heaters are more often than not useless. For one, they are fancy city glitters, and two, electricity lines are not your reliable friends anymore. I learned this one hard way. The icy hard way. I purchased an electric heater first, only to realize the above. Now because winter has come, and it's better to get a tandoor than lie like a frozen log all day, I decided to buy one. By the time I dawned upon this realization, the roads were already blocked by part snow and part ice. No auto or taxi could travel the four-kilometer distance from the market to my home. Necessity being the mantra of this cold hour, I went to the market, only to trek my way up with a large tandoor and two pipes. However, I always say this and maintain – the warmest souls inhabit the coldest places. I was helped by random strangers and friends alike to bring home warmth. The cost of staying warm involves two thousand rupees of wood and fuel every week. But hey, it's still better than lying like a frozen log.
The Enchanting Long Walks…
God forbid if you run out of milk or ginger. My folks and I trek up a mountain every day to get groceries, need I say more? The other day, we had to get the gas cylinder refilled. It was snowing like Narnia, and we braved our way out to accomplish the task. We tangoed our way to the market in the snow. Our flat shoes sliding at every step and we couldn't help but laugh each time one of us fell. By the end of it, we couldn't feel much left of our legs. Yet it was so much fun to be out there.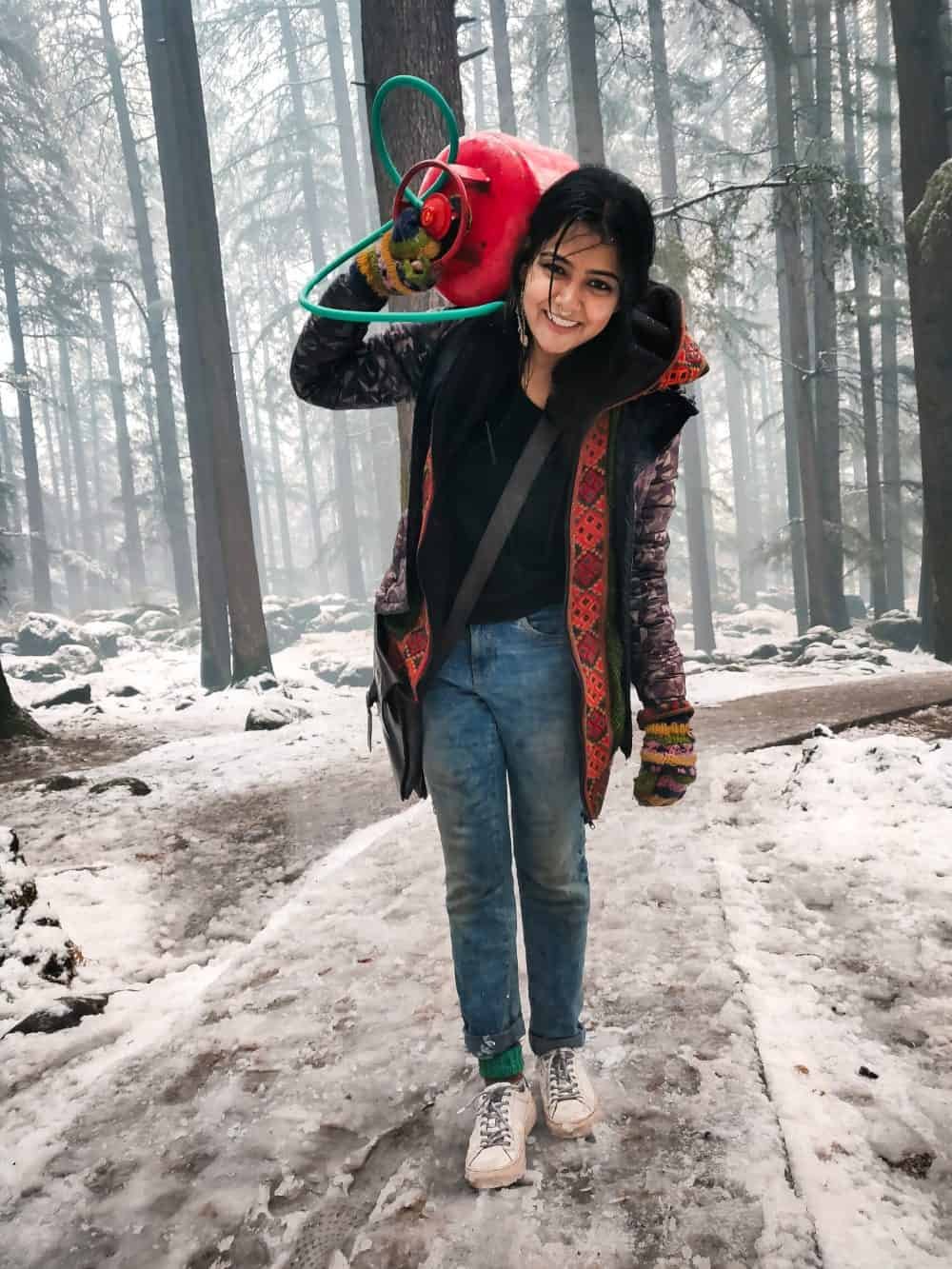 These walks are long but never tiring to the soul.
A Happy Goodbye to Mr. 4G
When it snows the connectivity lines become weak. However, losing internet connectivity is blissful. In a world where one cannot imagine 15 minutes of their lives, without entering the realm of Social Media, no internet is quite a breather. It is indeed magical when folks start visiting each others' home, they sing and dance together to keep warm. It's like a retro party where you don't need to check a social media account to know the pulse of the moment.
Gags when People fall on Icy Roads!
No matter how rude this may sound, but it's funny to see people fall. Sometimes, I sit in the balcony just to see them fall. It's sheer joy to see the daredevil village kids slide down the mountains whereas adults freak out at every steep step.
Mornings Sunshine and Snowballs.
Sometimes, mornings are not just mornings. They are the celebration of a bright new day. There's absolutely nothing more cheerful than a bright sunny morning in a snow-laden mountain village. In case there is no sun, there will be snow. Life is simple in the mountains. When the sun shines, we burn our cheeks red to soak in the warmth, and when snow falls, like mischievous little kids we run out in the wild to throw snowballs at each other and make a snowman.
The Sleepy Village of Crows.
Thousands of mountain lovers in summers visit Manali. However, come winter, few and fewer visitors set foot here. The whole town enters a hibernation mode. The lively cafes and stores shut down, making Old Manali a sleepy village. Once when it was snowing, I decided to have coffee in the balcony. There were just two crows and me breathing in the landscape. Old Manali is a cool place, except when it is not in the death of winters. What I intended to state is that the village life can get slow at times. Especially for the city dwellers, who are always on a lookout for a new adventure on the next turn. We've spent plenty of days doing nothing but igniting the fire and making food at home. Some days, nothing really happens, and yet it creates the place for everything to happen.
Moving to Mountains: Conclusion!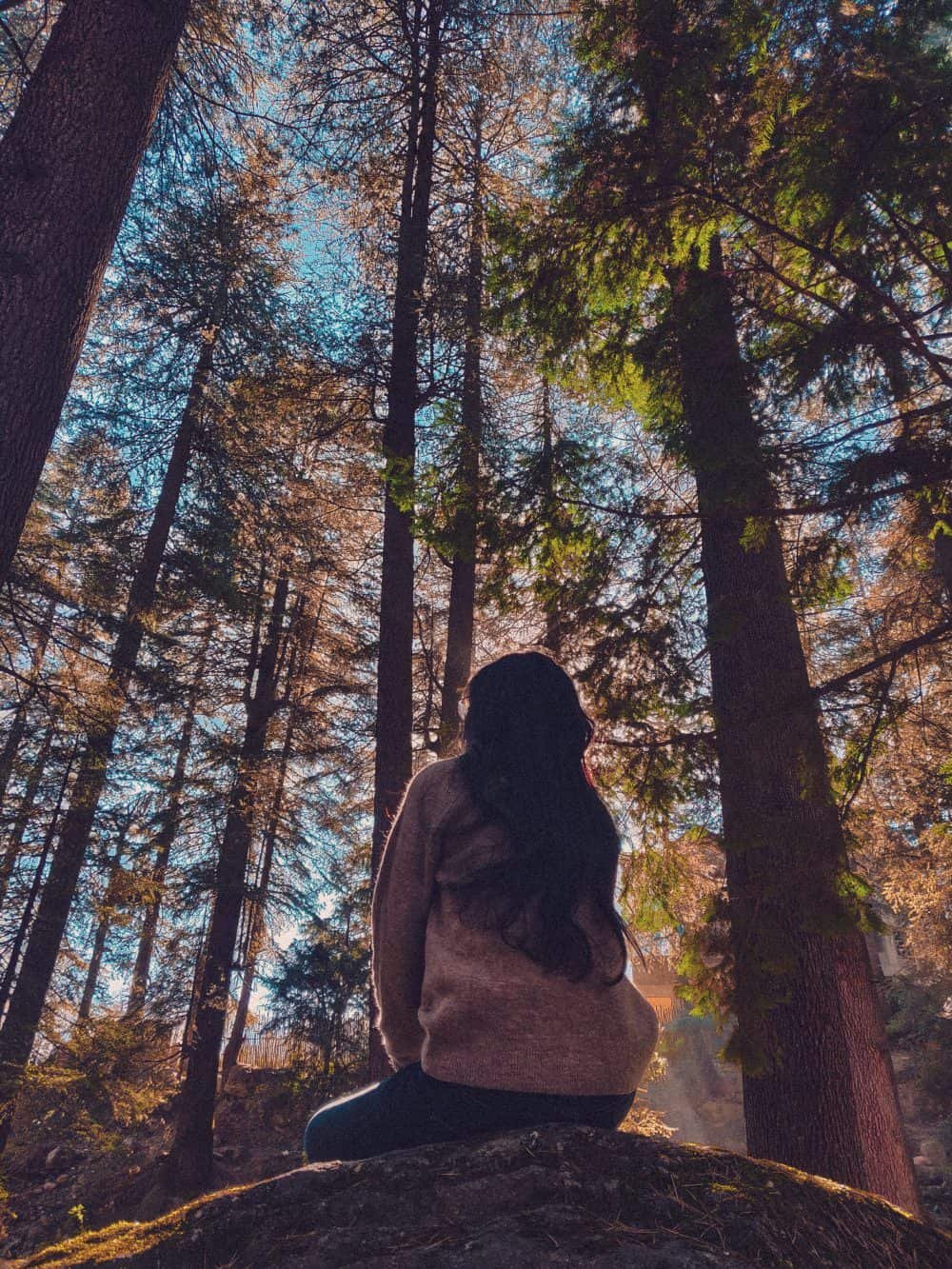 Many times in the evenings of the mountain life, I sit alone and look at the fire, and I get entangled in the warmth of this life. Sure the mountain life is harsh, but far away from the concrete jungle, it's so much more fun.
Remember that there is a cabin in the woods waiting to be made home. A simple life, with simple joys of sunshine and snow.