Wrapped in an armor of gold, beautifully tucked in the North-Western edge of India, lies the Golden City of Jaisalmer in the hot, arid and the Indian touristic state of Rajasthan.
Jaisalmer (Golden City) – A Detour
Jaisalmer under the reign of the Indian King Rawal Jaisal was considered to be a place of punishment where criminals of faraway lands like (present-day) Pakistan and Persia were sent to be punished in the deserted stretch of land where water was close to unavailable, and the weather was extraordinarily harsh with arid winds and loo blowing by. Visiting Jaisalmer in the historical era meant no less of a curse.
However, present-day Jaisalmer is very different from the one history has ever known. Being entirely out of the loop of a punishment site, present-day Jaisalmer enjoys the commercialized pomp and splendor of about half a million tourists visiting annually.
The tag of being known as 'The Golden City of India' comes from the fact that all houses big and small are constructed of yellow sandstone which glistens like a mirage in the backdrop of what stretches to the lengths and breadths of golden sand as far as our naked eyes can see!
Where it all began?
My first-ever (and last yet) solo rendezvous with Jaisalmer happened at the daybreak of 30th October 2018. At 5:00 am when I'd first seen a glimpse of Jaisalmer it was draped in the hues of dawn with tiny lights shimmering like stars at the rooftops of congested homes and far-off army cantonments.
Only in the awakening of a comforting morning Sun did these congested little homes appear to be golden in color. Sitting by the balcony of the Jaisalmer Fort which apparently happened to be my home for the next seven days; let me admire the Sunrise from the topmost corners of an 800-year-old fort that was as well India's last living fort.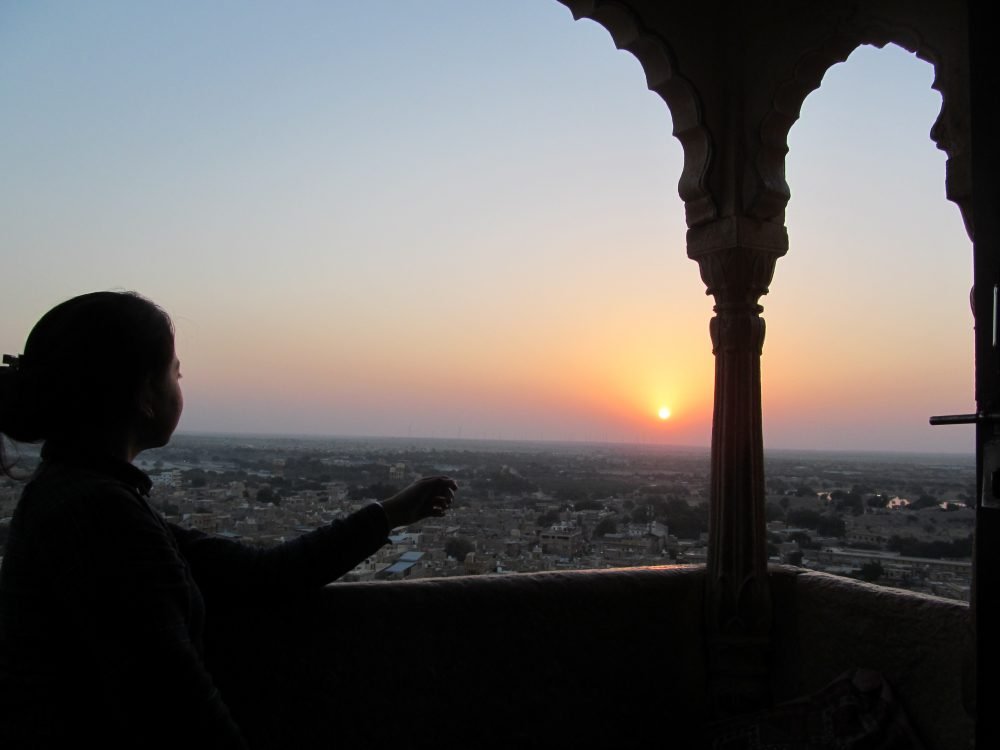 With the scorching heat of the afternoon Sun dipping and merging with a cold nip at the start of a wintry evening, I'd set out to randomly wander the narrow lanes of the busy touristic markets of Jaisalmer. From the golden balcony of what I'd comforted as home, the map of the not-so-big and not-so-spread a city of Jaisalmer seemed cushy and less of a maze.
But, down the narrowed streets, casually meandering by the lanes just to sense the buzz of tourism caught hold of a Jaisalmer that only appeared to be more of a maze. Every house was groomed in an identical yellow sandstone with minute variations in the ornate. The goods sold in the market shops were repetitive; ranging from camel-leather bags to cowboy boots.
The Jaisalmer Fort is centrally located and the market expanding like river tributaries on all its outlets; it becomes indeed tricky for a first-time gazer to distinguish the phases of the fort from different nooks of the sprawling marketplace.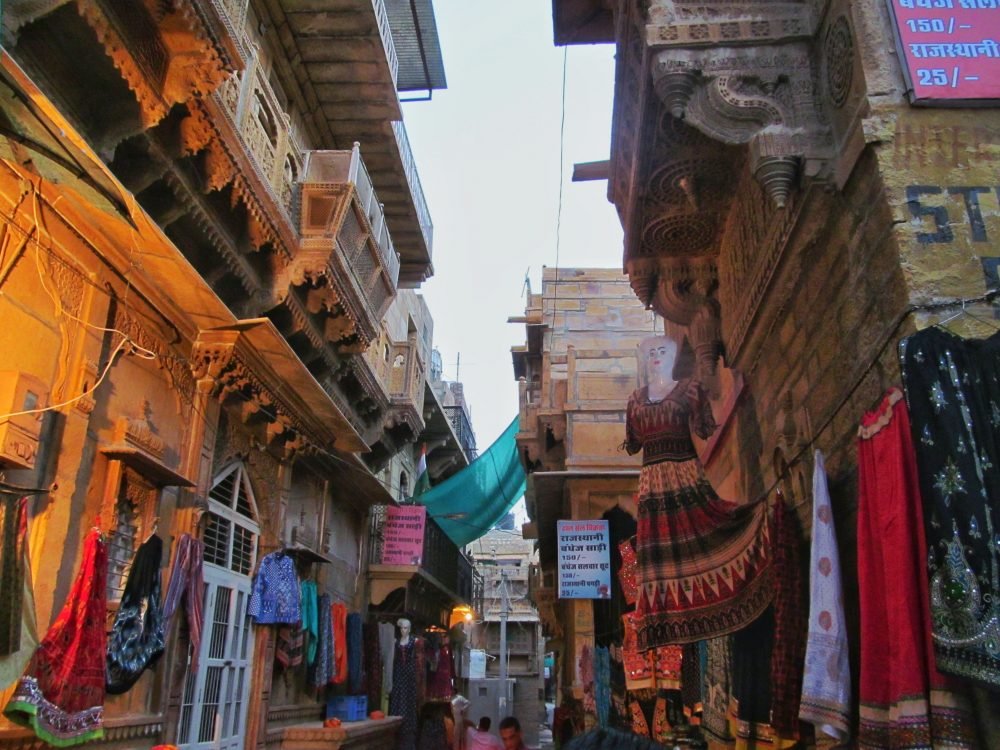 With bastions and every inch of the Fort terrace being commercialized, every roof-top restaurant and a hotel looked like a twin of the other. Spending an afternoon entirely to myself by the balcony of one of those bastions, I'd fancied the city pass by until I was down the chaotic streets amidst the crowds standing on the opposite of the Fort and blankly staring at how the other side looked like!
I was awestruck at this golden beauty that gleamed in the chromatic light of the setting Sun. At the same time, also feeling a little dizzied when I couldn't clearly recollect the point I'd started from.
But with much of how a carefree stroller I am, I kept walking, passing through temples that shone with the ringing of the many bells, locals decorating their homes with colorful string lights to welcome the festival of Diwali (Indian festival of lights) in their much adorned golden homes. Some roadside turns emitted pungent odors of littered waste while some turns were just meant to walk leisurely in the company of happy Marwari women dressed in reds and pinks. Some distances were spent in the company of fellow tourists while some were spent with merely any soul in sight.
With the evening getting darker and troops of tourists settling down to the comfy vibes of jammed cafes, I wandered solo only in the company of overly trolling shopkeepers who tried pitching the same goods every time I landed at the same turn only coming from different points of the same street. With a hugely poor sense of navigation, in a part of Jaisalmer that barely saw the face of any tourist post Sunset, I totally knew, I was LOST!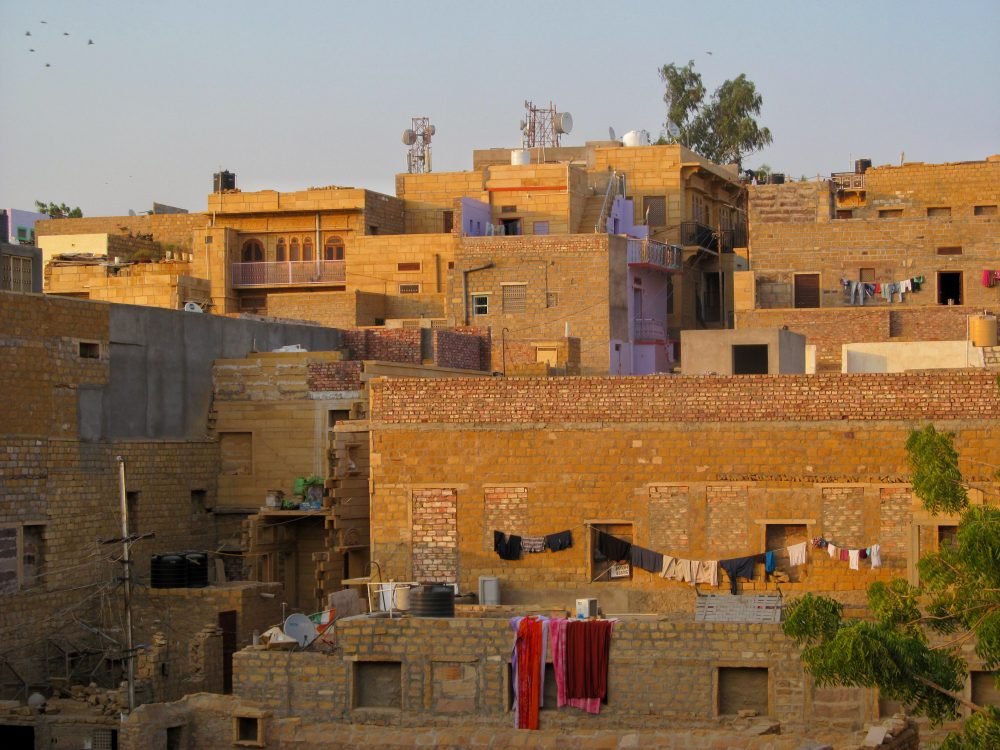 Some rickshaw wallahs at halt eyed my movements while some drunk men mocked and passed by. Holding a tinge of fear within but none that exposed a mask of apprehension, I walked straight up judging a middle-aged shopkeeper to be decent enough to guide me find my way back safely.
Standing firm, I asked for the direction (in Hindi), 'Fort ke entrance pe kahaan se jaate hai?' (How do I go to the entrance of the fort?) considering which he himself popped up a question, 'Kya aap akele ho?' (Are you alone?), much of being hesitated to answer his awkward question I replied, 'Ji ha, kyon?' (Yes I am, but why?), he advised me, 'Phir aap yahaan se jaaiye' (then go this way) pointing towards a dark, narrow lane with shutters pulled down, a stink of rotten vegetables lingering by my nostrils and the mooing of cows accompanying the tinge of fear in my mind.
Having no option to think of following an alternate way, I mustered courage and briskly walked down the same lane that smelled of stink and fathoms. Ten footsteps down the lane, I'd stumbled upon few homes that aired local TV shows, and familial women chatted by the pavements beneath which ran narrow drains and sat tamed street dogs. A feeling of comfort calmed my mind. In all likelihood, the shopkeeper's question seemed awkward but only to not drop me down an awkward choice.
Walking down straight with a few more turns in between I was finally in the safety net of crowds where local women escorted me halfway through narrow drain-like lanes and dropped me right before the crowded entrance of the Fort. Gasping a breath of relief and contemplating on how my first evening in Jaisalmer looked like, I chose to treat on some fresh lime soda, finger chips and took myself out on a light-on-tummy solo dinner date with the shiny Fort as my company, just to cheer up the solo traveler in me who wasn't as afraid as her first solo trip to Revdanda, Maharashtra.
Few more days later in Jaisalmer, while returning from a hearty visit to the Bada Bagh cenotaphs perched away from the city, a booked rickshaw alighted me a little away from the center of the marketplace.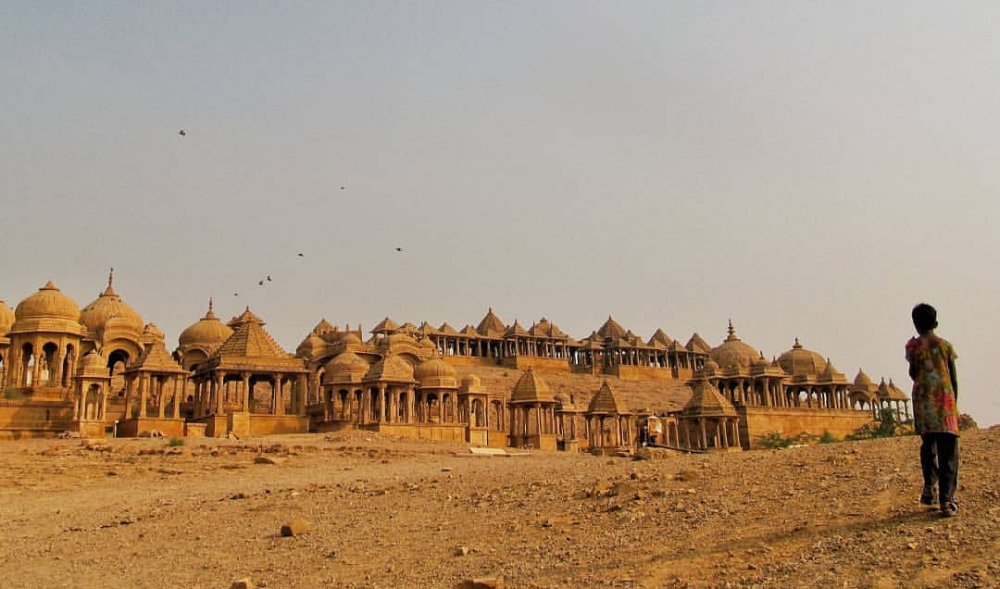 Just as the first time, the nooks of the Fort appeared to be quaintly similar. Assuming it to be the right way I walked straight only to be in the middle of yet another lonesome street funnily revealing to myself in the back of my mind, 'Yet again, here, I stand. LOST'.
Unlike the first time, I found it a little too uncomforting to be comfortable being lost for the second time.
This time the tinge of fear and I had no conversations at all. We both kept mum. The alarm had indeed been suppressed, and I was busy walking straight up, coming to a point where I realized I'd set foot on none of the roads that my eyes held before me!
I could speculate isolation on the streets but no fear within. I'd certainly gained some unwanted attention from a handful of mechanics loitering around, but I trusted my instinct, and responded to that tiny voice that whispered, 'Straight up, walk!'
For about twenty to thirty steps later, I was happy to spot two fully loaded tourist buses. With about some more steps further, I was content to be among a spree of hospitable tourists who shared the same queue as mine to fetch a rickshaw.
About four or five rickshaws being packed in a fraction of seconds and just one seat to be left with they happily offered to join them.
Upon sharing the same bumpy ride, conversations in Bengali flowed by. Coming from the land, we both called home, and a few minutes of small talks later, the old grandma enquired (in Bengali) with curiosity in her eyes and generosity in her words, 'Aka ghurte beriyecho?' (Are you all by yourself?) to which I nodded a plain simple 'Haan' (yes). 'Besh shahosh ache to tomar' (Oh! You are courageous), 'Ma-Baba Charlo ki kore go?' (How did your parents allow?) ~ 'Ageo onek baar giyechi, taara bojhe' (I've been on multiple trips before, they understand me).
With that our ride came to an end and so did our modest conversation at the entrance of the Fort.
Come the last time, while I was out with a French couple visiting the Patwaon Ki Haveli, walking down the tapered golden lanes of Jaisalmer, strolling through the sharp turns of what did not seem any less of a maze, I'd sufficiently learned to have a grip of what my tryst with traveling in Jaisalmer had in store for me.
Getting lost in the slender corners of Jaisalmer seemed history and what I've carried within after all these months of my visit to the Golden City of India only brings me a feeling of nostalgia.
In the middle of finding the right directions past the lost lanes, I'd somewhere discovered the flavor of Hiraeth (longing for a home that never was). Among all of the many perspectives the internet boasts about taking a solo trip, possibly this is one of the many things I've learned hands-on from traveling.
What mattered the most actually?
I'd not go by the cliched quote ~ 'It feels good to be lost in the right direction.' Because it didn't.
I didn't feel 'good' when I realized I was lost not once but twice. I knew I wasn't even in the right direction, had it been; I'd probably wouldn't have been lost.
But what seemed rather rational and superficial was the fact that I'd learned to be okay when things turned out to be absurd or unforeseen.
What mattered then as I walked past the lonesome streets and what mattered as I write this was only looking at the larger picture and looking forward to seeing the light at the end of what felt like a dark tunnel.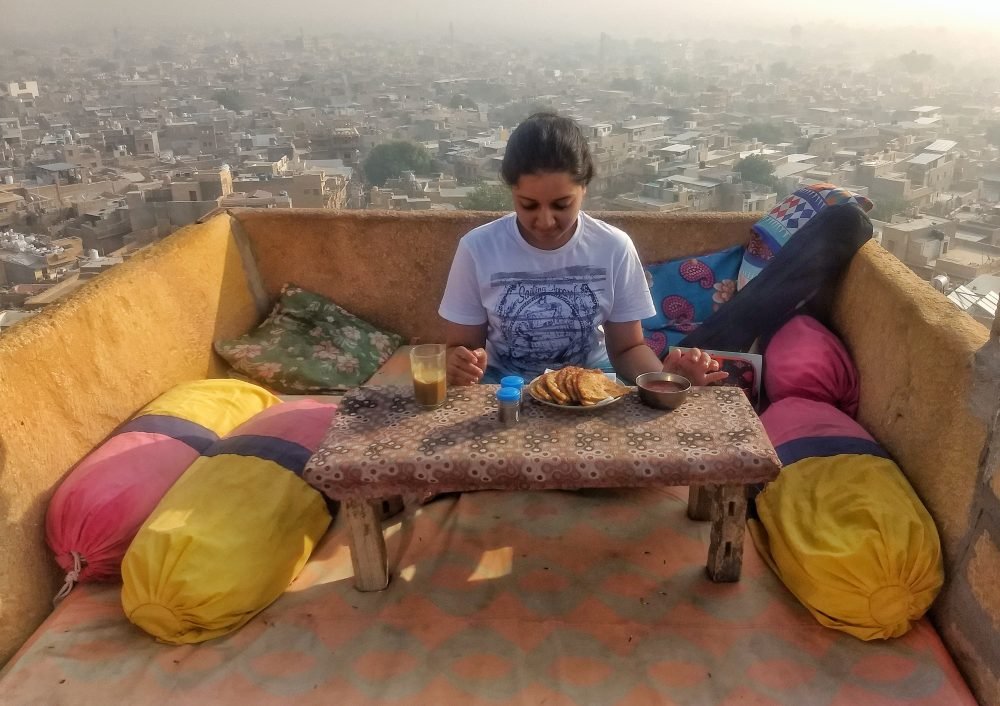 No matter how many solo trips I'd set foot on before, every solo trip has turned out to be an acquisition in itself. It has not only been about the place but a cluster of experiences bundled with a lot of introspection within. And somewhere though that's the magic I always look up to.
As Swami Vivekananda once said, 'You have to grow from the inside out' ~ learning is always internal. And solo trips have always seemed to add that tint of raw and honest chapters of learning to my life.
Twice being lost and yet brave in Jaisalmer was a lot different from wearing a mask of apprehension despite being in the right direction in Revdanda.
What started with my first solo trip in Revdanda with taking ten steps backward and just one step forward was entirely opposite to taking ten steps forward with only a tinge of me looking back, just to sense how far this journey has taken me.
My love for traveling has endured over the years. What had merely commenced as an affair of taking photographs in exchange of the visuals my eyes were treated to; to contemplating how different people and varied perspectives, of every journey, has spoken to me. From finding unmatched kindness on the road to talking to a part of me that is only unveiled while I am traveling, it has been one-of-a-kind.
With all the hope I've held dearly I look up to unfolding more unforeseen chapters in the book of my life.