New Zealand is one such country in the world that is probably on everyone's bucket list – the backpackers, the solo vacationers, the honeymooners, the adventurers and all different categories of travelers. So, if you someday plan to visit New Zealand in this lifetime, this blog is for you!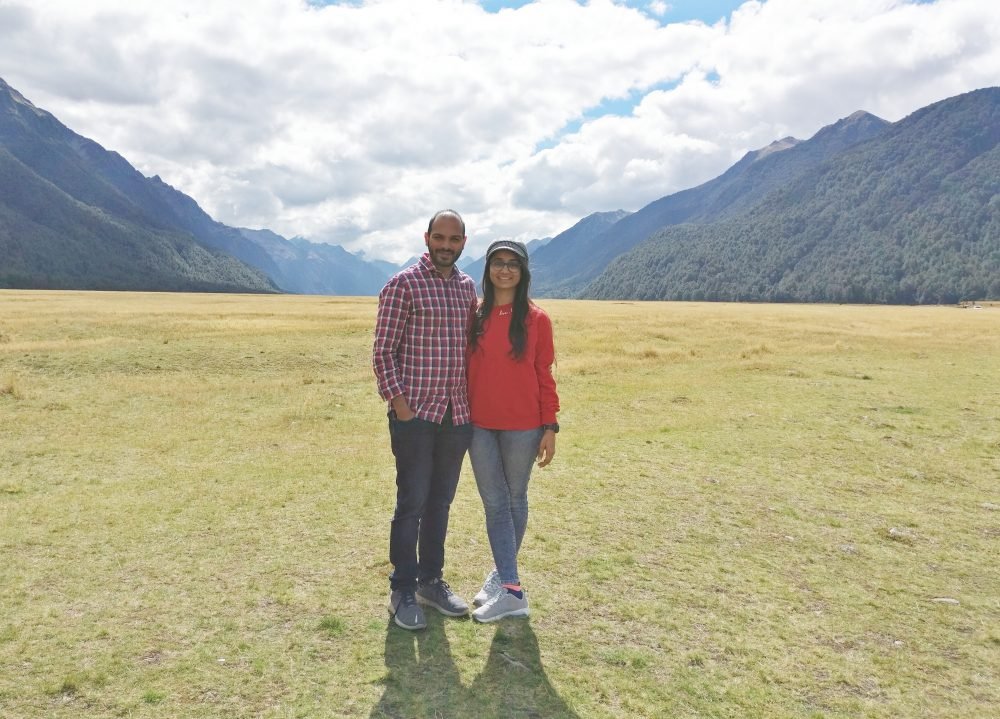 However experienced you may be as a traveler, planning a trip to New Zealand is way tricky than it sounds and you can be spoiled for choices. We recently did a couple-trip to New Zealand as a part of our anniversary celebrations and trust me, we are still hung-over on the idyllic landscapes and the scenic wonders. Though it is a very small island country located in the Southern Hemisphere, there are too many places to visit, too many things to do and too many itinerary recommendations that are bound to drive you nuts! And not just that, going to NZ has a lot of money involved and every unique experience comes with a huge price tag, so it is always better to plan it by yourself rather than falling prey to the travel agencies.
Well, I am not playing with your hopes but only giving you a reality check. Let's leave the fancy talks behind and instead go for a conventional way of planning a perfect trip to this island country; just like my husband and me did. Let's get started –
Step 1: Study the Map of New Zealand
Yes, you read that right! The easiest way to explore NZ is by knowing its basic geography and gradually tick marking places that you would like to visit.
As mentioned previously, NZ is an island country and comprises of two chunks – North Island & South Island. North Island is known for its gorgeous coastline, stunning white-sand beaches, geothermal hotspots, volcanoes, natural hot water springs, glow-worm caves and the essence of traditional Maori arts & culture. Whereas, South Island is home to majestic mountains, serene fjords, pristine and colorful lakes, dark & starry skies, snowy peaks & glaciers, and thrilling experiences and adventures.
Read and research about each island separately and jot down the places you would like to see or visit on both. Generally, one makes times for both islands on a single trip, but we also met travelers who were only doing one island as they had limited time and budget. But if you are flying all the way from India or any place that is far, try doing both islands on a single trip as it will reduce your travel costs to a great extent.
North Island

South Island
While I was doing my readings on New Zealand, I maintained a diary where I used to make notes about the places that really interest me. I made a separate list for both the North and South Islands so that I could decide how long should I stay in NZ and where should I spend more days. From what I experienced, prioritize North Island if you are a beach person and like to be in the waters and prioritize South Island if you are a Mountain person and like to drive through the woods!
Did You Know? On your trip to New Zealand, you will be on the world's 12th largest island, i.e., South Island and on the 14th largest island, i.e., North Island.
I had the following places on my list:
North Island – Auckland, Rotorua, Lake Taupo, Waikehe Islands, Bay of Islands, and The Coromandel.
South Island – Queenstown, Milford Sound, Wanaka, Mt. Cook, Lake Tekapo, Christchurch, and Franz Josef.
Well, your selection can be the same or totally different.
What I would also like to mention here is do check the seasons and temperatures while you study the map. Seasons can largely affect the sceneries and completely transform a place and the beauty associated with it. We went to New Zealand in mid-March, which was the onset of their autumn. Just sharing a quick season guide for your reference:
Summer (December to February) – the best time to be at the beaches. The temperature is ideal, and it is the peak tourist season in NZ.
Autumn (March to May) – the scenic beauty is at its best and driving will be fun. It is less touristy, and the weather can get coldish and windy.
Winter (June to August) – it is the skiing season in NZ, and the landscapes get magical. Days are short and gets freaking cold.
Spring (September to November) – nature at its best and with fewer tourists. The weather is usually dicey and switches between hot & cold.
Step 2: Fix a Budget
Once you roughly have an idea about the places you want to visit, it is time to decide your spend limit for the trip. Honestly, New Zealand is more expensive than one thinks; be it flight tickets, car rentals/transportation, accommodation, activities, food, etc. Everything is priced heavily and therefore, fixing a budget is a key step to plan the itinerary further. Your budget may also vary depending on the type of traveler you are. Some people like to stay at lavish hotels and eat at good restaurants but can even travel in buses and compromise on activities whereas others may be okay staying anywhere and eating anything but would want to spend more on the activities and experiences. And there are also the ones who don't want to compromise on anything. Well, that is for you to decide, but keeping a balance will help cut costs.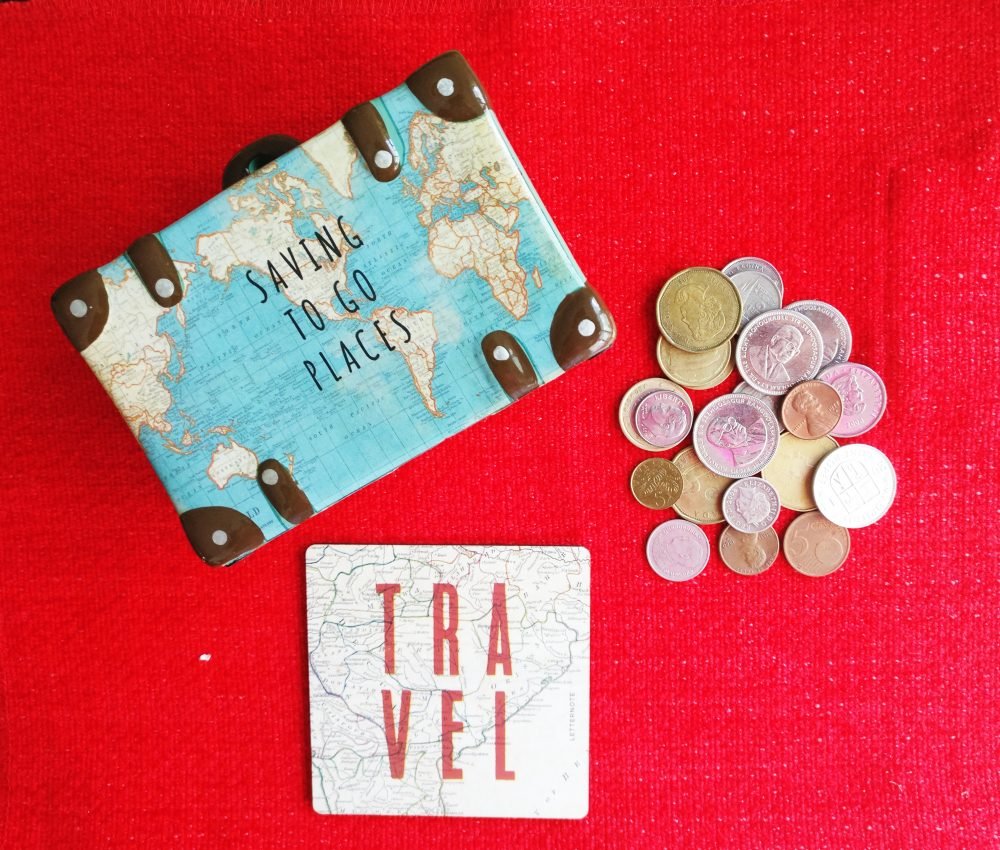 Flight tickets are usually priced seasonally and as per the demand so you cannot really do any major savings. The only way is to check for some deals online or book them way in advance.
Travel budget will also be determined by the mode of transport, type of vehicle, distance traveled, fuel cost, and insurance cover. If you want to get around on a budget and follow a fixed route, buses are an economical option. But if you wish to map the roads yourself, be flexible with your schedule and explore the country, car rental is a great choice. For those who prefer luxury and do not really count the money spent, there are some amazing scenic flights and helicopter rides for various routes and places. Well, we were on a medium budget, and we rented a car (Sedan) for both North and South Island trips.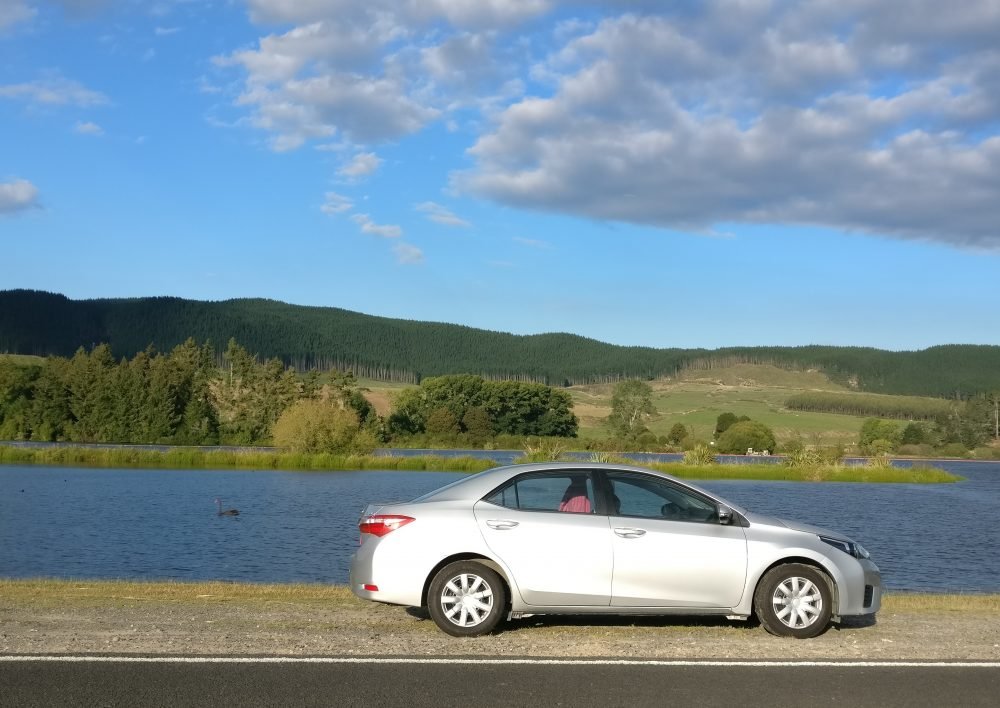 Areas where you can do some real savings would be accommodation, activities, and food. We, as a couple, decided to save on accommodation by staying at Airbnb across New Zealand and also saved a lot on eating by cooking our own food.
While you are working on the budget, you can Apply for Visitor Visa and complete all the necessary documentation. It is best to do it by yourself just by visiting their website and not relying on any travel agents or third party. Once you submit an online application, you also need to visit the New Zealand High Commission of the selected city for passport and document submission. Check the Immigration New Zealand website for more details.

My husband applied for Visitor Visa under his name, and I was an additional traveler for a fee of 160$ (11K). The Immigration department issues Visa in the form of a letter and does not stamp it on your passport. The Visitor Visa is valid for four months and expires one month after each arrival. Therefore, do not apply too many months in advance; otherwise, it will expire even before you start your trip. We had to travel in March, so we applied for it only in February.
We set an upper limit for the entire trip and decided to pick our activities and adventure sports accordingly. We roughly allocated the budget for three major categories –Transport (Visa, Flight Tickets, Car Rentals, Fuel, and Insurance), Accommodation (Airbnb Home Stays and Hotels) and Activities (Sightseeing Tours, Adventure Sports, and Leisure Activities). Food and Shopping were listed as sundry expenses. This whole process made our final booking step very easy and convenient because we had an allotted budget to look at. We tried our best to stay within the upper limit and not spend anything beyond it.
Just for your information, our Medium Budget NZ trip cost us approximately INR 5 Lakhs (per couple) inclusive of everything.
Step 3: Make a List of Activities
Your budget will dictate the activities you want to do, and those activities will dictate the number of days you spend in NZ, places you should finally be and spend more time at and in general, the island that you must favor. You will get a rough idea once you start reading more about the places. Now go back to your previous list and start writing the things you want to do at each place, along with a rough cost estimate per person and also the time taken to do it. The thumb rule is – One Place at a Time!
But to shorten your reading time, let me share my notes with you –
North Island
Auckland – City Life, Piha Beach
Rotorua – Glowworm Caves, Geothermal Park, Maori Village, Redwoods Tree Walk, Hot Water Pools, Hobbiton, Lord of the Rings Tour, Luge Ride, Gondola, Polynesian Spa
Lake Taupo – Sky Diving, Waterfalls, Tongariro National Park (Hiking)
Waiheke Islands – Wine Tour
Bay of Islands – Beaches, Dolphin Eco-Experience
The Coromandel – Cathedral Cove, Beaches
South Island
Queenstown – Jet Boating, Canyon Swing, Canyon Fox, Bungee Jump, Hiking
Milford Sound – Te Anau Village, Scenic Drive, and Cruise
Wanaka – That Wanaka Tree, Lake Visits, Hikes
Mt. Cook National Park – Hooker Valley Track
Lake Tekapo – Star Gazing, Southern Lights
Franz Josef – Fox Glacier, Helicopter Ride
Christchurch – Victoria Park, City Tour, Art Walk
Once you are done making a list, add all the activity cost and time estimates, and compare it with the first budget and time limit that you had set. If it exceeds drastically, try chucking out activities that you can do without. It is crucial to prioritize them as per your budget and time.
For e.g., I chose Sky Diving and Canyon Swing for adventure sports (all with photo and video package) and canceled the Bungee Jump as it exceeded my budget. Since I had some extra time left after the Swing, I also did Canyon Fox as they offered it at a lower price. My husband only did Sky Diving but from a much higher altitude which obviously cost way more and skipped the Canyon Swing + Fox and Bungee Jump as he had already done those in another country.
Quick Tip: Check the activity costs on the official websites and compare their prices with sites such as BookMe, Backpacker Deals, Grabone NZ, etc. These websites offer great deals and last minute discounts; be it adventure sports, food coupons, leisure activities, events, etc. and sometimes you can even crack a booking at just half the price or even less. We made some of our reservations through BookMe.
Step 4: Chalk out a Route Plan
The next step is to write down the distances and time estimations for each place. If two places look closer on a map, doesn't necessarily mean they are close. Sometimes bad weather or geographical placements actually affect the time taken, so you need to plan wisely.
For e.g. Milford Sound and Queenstown look closer on the map but it is approximately a 4 hours 15 minutes' drive due to winding roads and with all the scenic spots and photo ops, takes nearly half a day for a return trip from Queenstown.
Secondly, your mode of travel also has to play a role in the same. Let's first understand that there is no direct road connectivity between the North and the South Island that leaves you with two options – Flight transfer (faster and economic) or Cruise transfer (slower and luxurious). Well, what you choose is totally up to you!
But if you are looking for the distances within the North or the South Island, almost all places are within a time frame of 4-5 hours by road. The Route you plan greatly relies on the number of days you plan to spend on each island and the activities that you wish to do.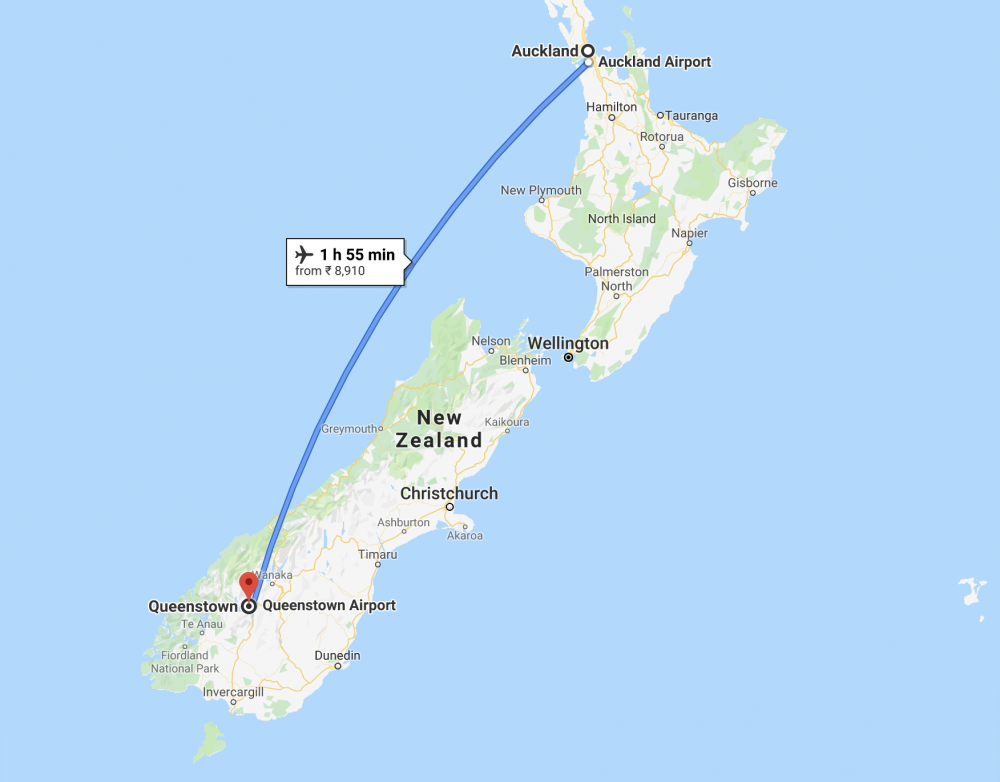 The next big step and probably the hardest one is to make choices. Chalk out a rough route and re-check if all the places you want to visit and things you want to do fall on your route and if you have enough time to accomplish what you wished for. The ideal way is to measure distances realistically and the travel time between the spots, select the ones that you really want to visit, cross-mark the ones you won't mind skipping and finally make a draft itinerary and followed by a day-wise plan. Along with your route map, also create an Activity Calendar so that you know on which day you are doing which activity and distribute your time accordingly.
Here's a quick chart of distances and time estimate (By Road) –
North Island
Auckland to Taupo – 3h 20 m (278 km)
Taupo to Rotorua – 1h (82 km)
Rotorua to Auckland – 2h 44 m (228 km)
We had to skip Coromandel, Waiheke Islands and Bay of Islands as they didn't fall on our route and we didn't have the time for. Instead, we were able to do the beaches at Bay of Plenty (Tauranga) that was only a short detour from Rotorua but much similar and feasible. We even skipped Maori Village visit and Redwoods Tree walk and instead did a Three-cave tour at Rotorua. We also skipped Hobbiton, LOTR as they were expensive.
North Island Route Map

South Island Route Map
South Island
Queenstown to Milford Sound – 4h 15 m (287 km)
Queenstown to Wanaka – 1h (67 km)
Wanaka to Mt. Cook National Park – 2h 30m (209 km)
Mt. Cook National Park to Lake Tekapo – 1h 15m (105 km)
Lake Tekapo to Christchurch – 2h 50m (227 km)
We had ample time in South Island, so we were able to add many exciting stops on our route such as Glenorchy (Queenstown Surrounding Region), Arrowtown, Gibbston Valley, Lake Pukaki, Lake Twizel, Lake Hawea, Fairlie and Woodbury to our trip. We skipped Franz Josef and Fox Glacier because we didn't have the time and budget for the scenic flights and Heliski. To experience a scenic drive and learn about the area, we took a fully guided glass roof bus tour from Queenstown to Milford Sound and way back.

Quick Tip: Always keep room for extra activities and places if you are having your own car. You cannot really trust the weather in NZ and might have to cancel a few activities or find replacements. We were unfortunate towards the end of our trip as there was a thunderstorm in South Island. We could not do the Hooker Valley Track, and our Star Gazing tour also got canceled due to heavy rains. So in the remaining time, we explored Lake Pukaki, Mount John Observatory, Astro Cafe and simply enjoyed the scenic drive to Mount Cook.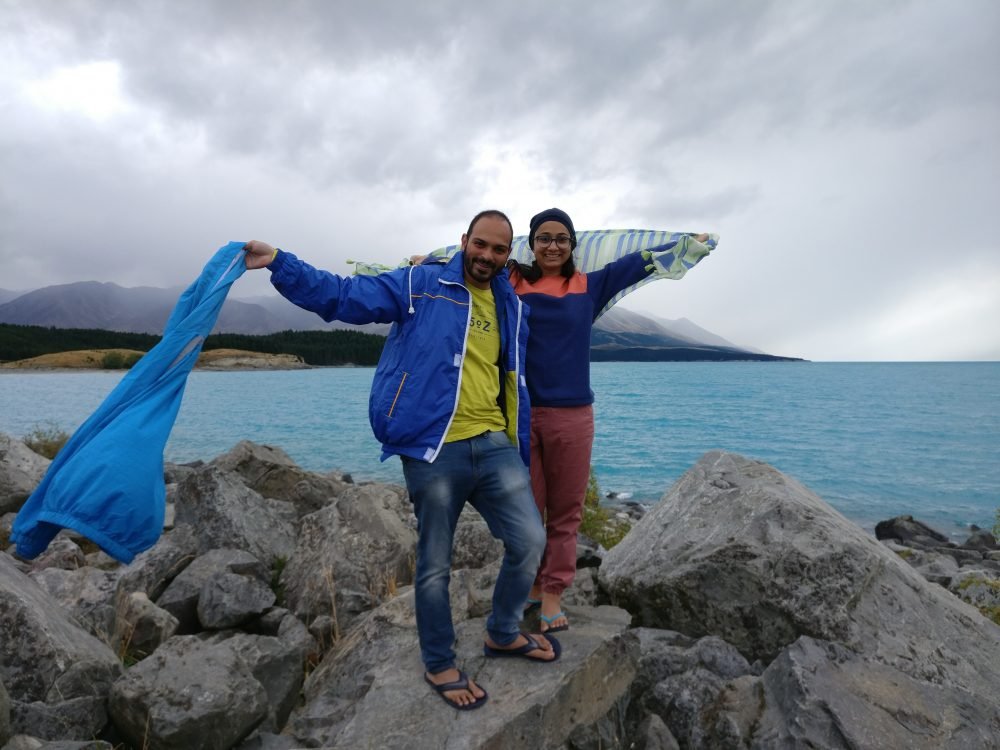 Ideally, one should spend a minimum of two weeks in New Zealand, but we spent 11 nights and 12 days in New Zealand out of which we gave four nights to North Island and seven nights to South Island. We took an onward China Southern Flight from New Delhi to Auckland via Guangzhou and return flight from Christchurch to New Delhi again via Guangzhou. So basically, we began our trip from Auckland (North) and ended it at Christchurch (South).
There is no written rule on where to start and end the trip. Many people prefer a round trip from the same place to save travel costs, and many people go from South to North Island. It is up to you which way you want to travel and how much time do you have. You are free to follow our itinerary and extend it by 2 to 3 days by adding Coromandel and Franz Josef or just do any of the two islands.
If you are still clueless where to begin and end the trip, let me help you out with my route plan –
Step 5: Proceed with Bookings
Once you know the route and where you are headed, it is time to check accommodation for each place and if it fits your activity calendar. After going through hotel booking websites such as Booking.com, MakeMyTrip, Agoda, etc., we still felt that the hotel accommodations are damn expensive and we decided to look only for Airbnb. When I exactly knew the places I had to visit, I started searching for homes in the region and nearby areas, compared prices and saved the ones I liked the most. It took me almost a month to shortlist the homestays at all different places in the country.

The pricing starts from as low as INR 2,000 per night as goes as high as it can totally depending upon the location and the facilities. For those on a medium budget, INR 3,000- INR 7,000 per night should be a price bracket which may vary place to place and season to season as a few towns will be cheaper, and others will be expensive. Since we already had a budget estimate for Accommodation, we were clear in our heads where to book what.
Quick Tip: The homes in the main towns and cities will be expensive. Therefore, you can even go for the homes that are located slightly away from the main area because if you have your own car, driving won't be a problem. For Auckland, we had to choose a home close to the airport as we had an early morning flight. But for other locations, we actually went for homes in the suburbs as they were not only cheaper but were also placed on some amazing scenic backdrops in the outskirts.
E.g., For Rotorua, we booked a homestay at Lake Okareka, which was a 10 min drive from the city and had a beautiful lake surrounded by mountains as its backdrop. We booked an Airbnb at Lake Hayes Estate; a suburb in Queenstown instead of the main town just to cut costs. It was only a 15 min drive to the downtown. Similarly, at Wanaka, we stayed at a Rural Cottage located near Lake Hawea (a 20 min drive) because we wanted to experience village life and off the grid living.
The only place we found to be the most expensive was the Lake Tekapo. Even the home stays here cost way more than a decent hotel would because it is a small village popular for star gazing and the property cost is very high. Hotels get sold out quickly due to limited availability, so it is advisable to book a room in advance. Since we got late for this one, we had no choice but to book a basic hotel room that alone cost us INR 12,000 per night. And that was the cheapest deal for that place.
Ideally, you should only book anything once you have a Visa letter in hand, but sometime any delay will cause unnecessary price hike and sometimes unavailability. But my husband was confident about the Visa, so we started making bookings even before we had the Visa; even our flight was booked prior to the visa arrival! If there is free cancellation or easy cancellation policy for Airbnb and Hotels, there is no harm booking them in advance. Take the risk only if you are confident.
Now once you have the Visa and you are sure about going to New Zealand, you must proceed with booking all the activities and adventure packages.
Quick Tip: Sometimes, booking last minute can be cheaper than booking in advance. We got a few last minute deals for activities such as Jet Boating and Star Gazing only because there were empty slots for the day. Therefore, always keep your eyes on offers on different websites. And we actually booked the Three Cave Tour on the spot at one of the booking centers in Rotorua. So do try your luck!
Are you ready to visit New Zealand?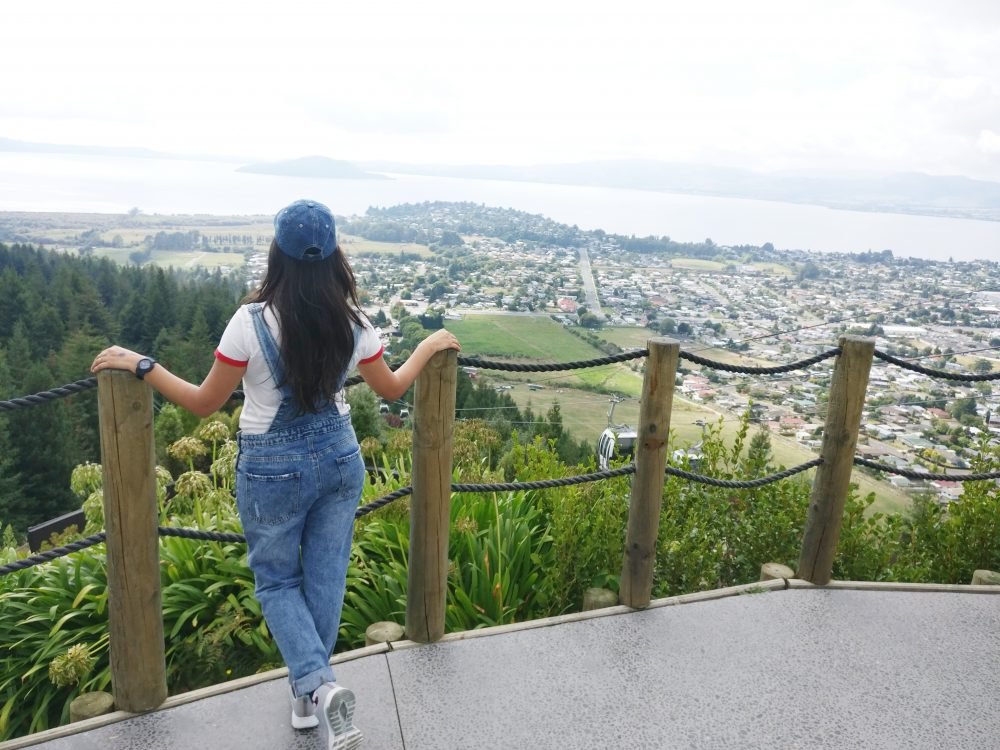 Well, that was a lengthy blog to read, but I am sure the simple Step format will be easy to follow and to look up to whenever you plan a trip to NZ. My homework about the places really helped me explore everything better, and I hope it will do the same to you. Happy Travelling!