I fondly remember waking up to a rooster's call in the sleepy little coastal town of Diveagar, in the Raigad district of Maharashtra (India). My tryst with this quaint town grew instantaneously over a handful of experiences. Something just as simple as driving along the dreamy coast of the invigorating Arabian Sea, that drew us closer to a natural setting with a hundred coconut plantations, paddy fields, betel nut, and casuarina trees with barely any soul in sight, and a smatter of cattle sparsely dotted over the velvet-like green pastoral lands.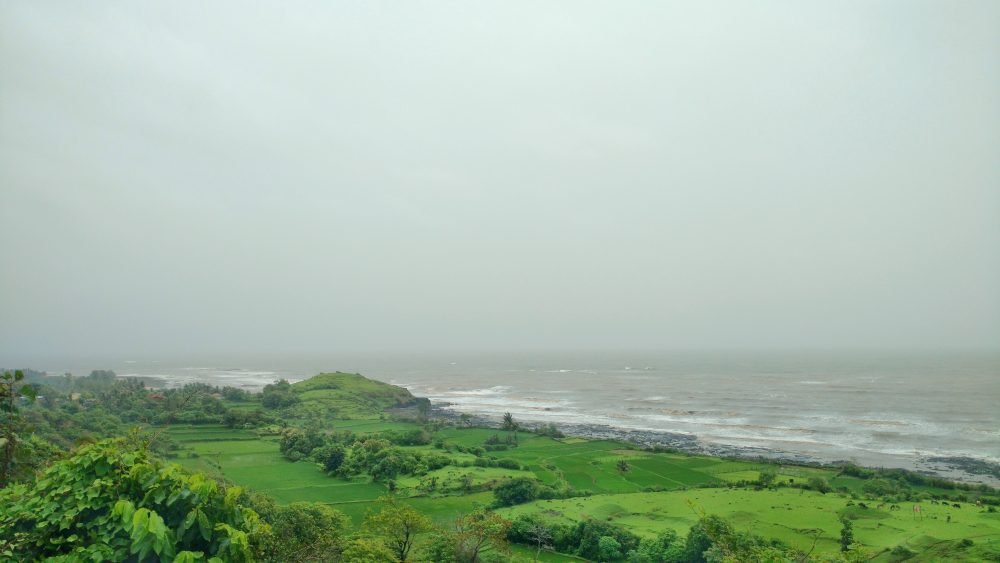 The next thing that swept me off realism, was the 5 km long stretch of the white sand beach of Diveagar, which extended to a couple of mist-kissed hillocks east and west with the barren shore entirely to us along with a local camel herder, a mule chasing the mysterious waters at a distance and an old soul strolling down the beach with no darn care in the world!
Amidst the erratic pitter-patter of the July rains, we were sure to have unraveled a place not less than a paradise!
How to reach Diveagar?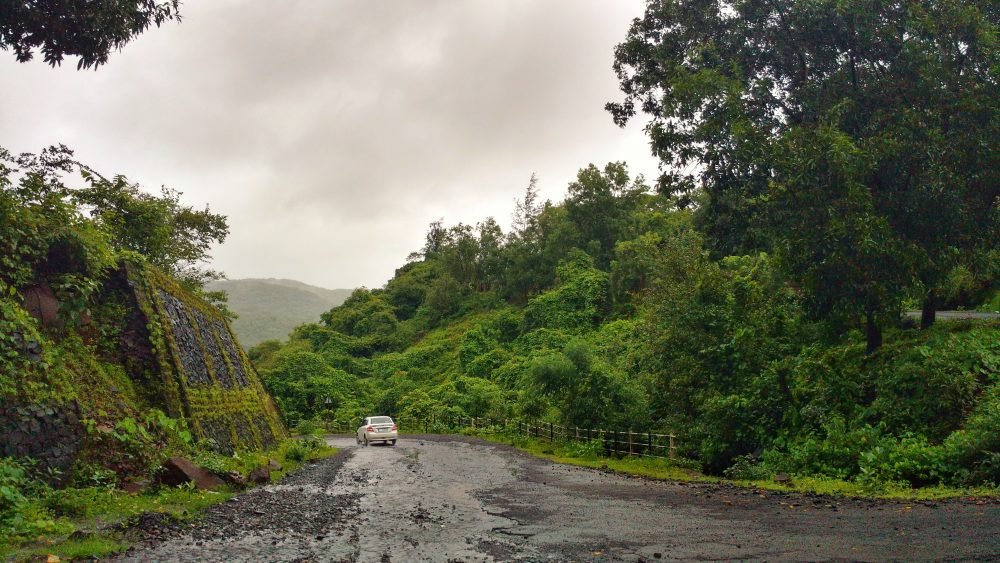 The best possible way to reach Diveagar is by roads. Roads starting from the major cities of Mumbai and Pune are considered to be the most convenient options.
By Road:
Mumbai to Diveagar – 190 km
Route: Mumbai – Panvel – Mangaon – Mhsala – Diveagar
Pune to Diveagar – 220 km (approx)
Route: Pune – Mulshi – Mangaon – Mhsala – Diveagar
By Train:
Nearest railway station – Mangaon. 50 km from Diveagar.
Local buses and taxis from the railway station ply to Diveagar very often.
By Bus:
AC, as well as non-A/C buses, run regularly from Mumbai and Pune till Srivardhan. On reaching Srivardhan, you could hire a taxi to Diveagar, which happens to be roughly within a distance of 10 km.
Local Transport in Diveagar:
The best way to explore Diveagar is on foot. However, during my stay, I'd come across a handful of homestays that rent-out a two-wheeler. You could also lookout for a bicycle to rent. Even though I've tried none. I'm sure it could be one sort of a glorious adventure to ride down the coastal route and navigate around at your pace in this sleepy little coastal town. 
Diveagar – Suggested Itinerary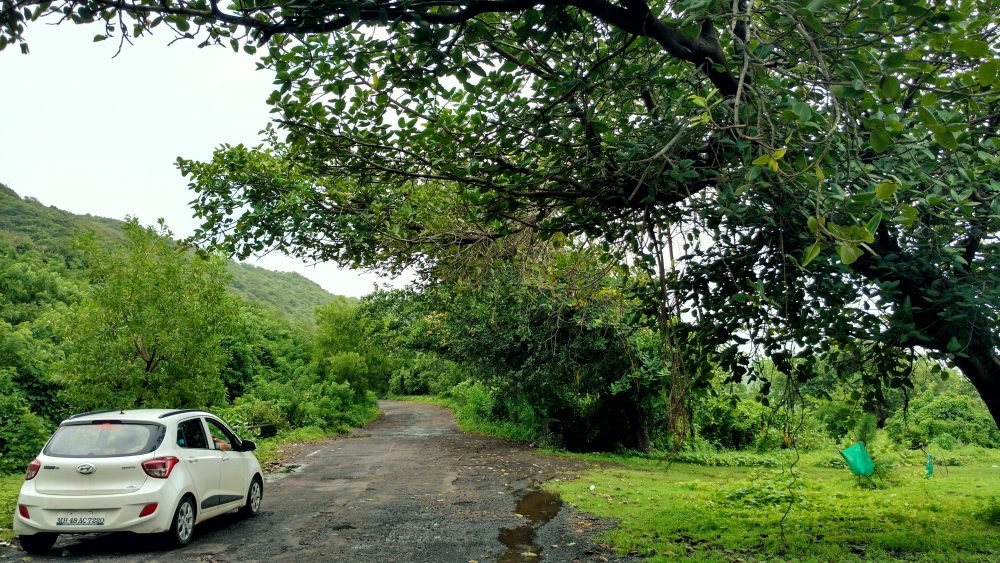 Harihareshwar – Shrivardhan – Aravi – Diveagar.
Harihareshwar to Shrivardhan: 19 km
Shrivardhan to Aravi: 9 km
Aravi to Diveagar: 14 km
Harihareshwar is well connected by roads from Mumbai as well as Pune.
Mumbai to Harihareshwar: 201 km
Pune to Harihareshwar distance: 172 km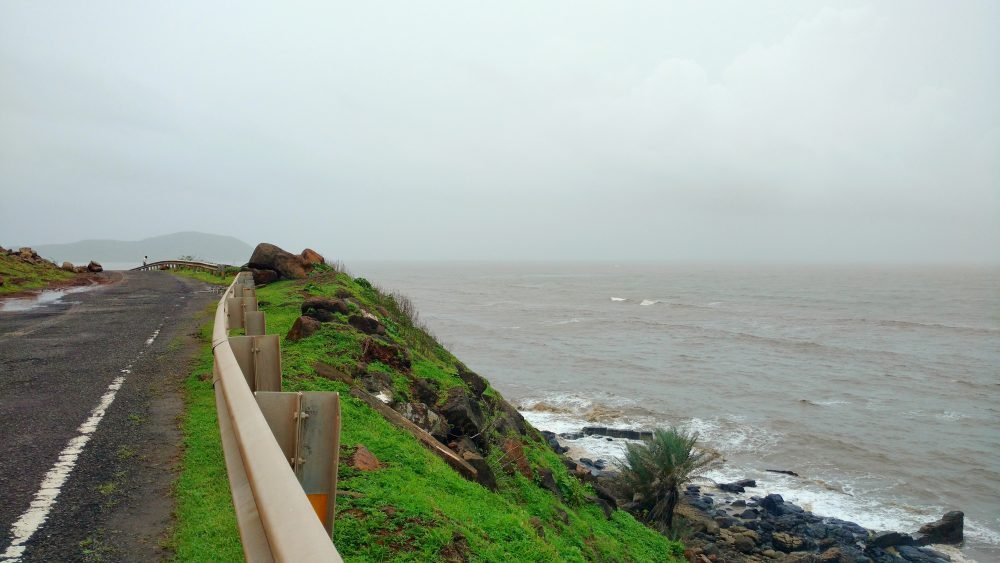 Our itinerary was Diveagar – Aravi-Shrivardhan – Harihareshwar. But, I'd recommend Harihareshwar – Shrivardhan – Aravi – Diveagar to keep the 'wow' element intact and to keep the best of the lot towards the end. 
Aravi, Shrivardhan, and Harihareshwar were only our pit-stops, and we didn't spend more than a few hours in all of these places other than spending a day and a half in Diveagar.
However, if you consider staying in Harihareshwar or Shrivardhan, you'd have a lot of options including an MTDC (Maharashtra Tourism Development Corporation) resort in Harihareshwar, and quite a lot of hotels in Shrivardhan. You could possibly stay for as long as you'd want, but I'd suggest at least a minimum of 3 – 4 days to have a good break from the humdrum. 
Out of the four places, if you'd wish just to choose one, I'd say, to opt for a good long stay at Diveagar from/to Aravi.
Where to stay in Diveagar?
Diveagar offers plenty of budgeted-hygienic options of homestays, some of which offer free freshly cooked homemade breakfast. The one we'd booked came at a price of INR 650 per night for four people inclusive of free breakfast. I suppose that was the rate for the offseason. Apart from homestays, Diveagar also has good options in resorts and hotels. However, during the monsoons, a lot of these hotels/resorts are shut, thus, making business open only to the local-run homestays! (yay!)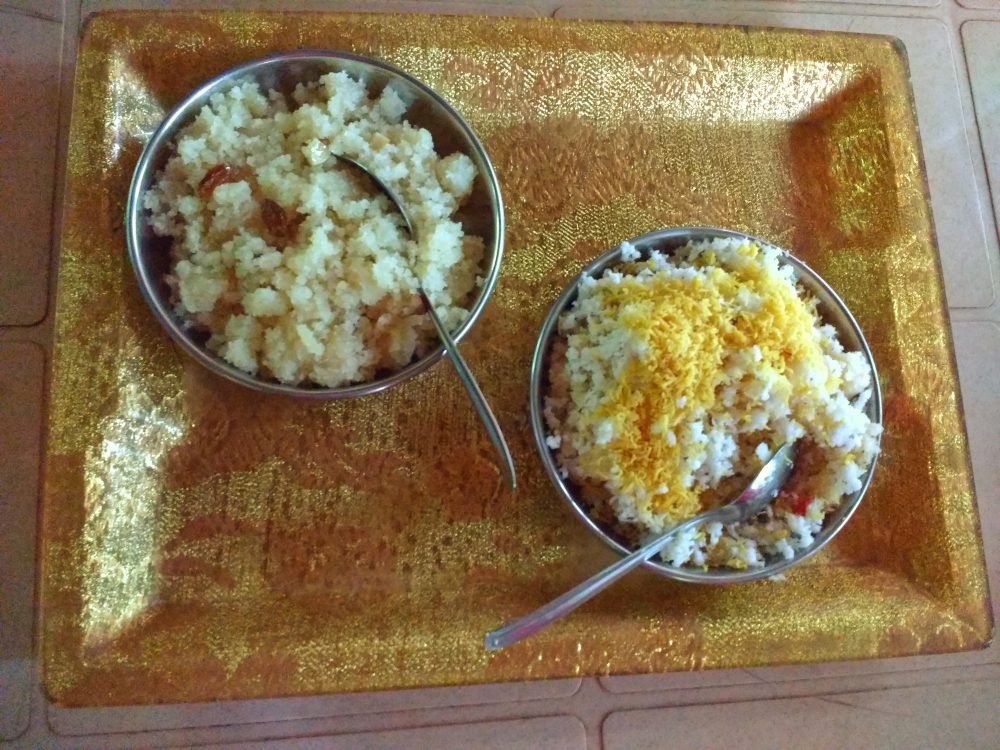 A lot of homestays in Diveagar do not offer meals. In that case, you could stop by at one of the Khanewales (canteens, in Marathi/Konkani) located in very close proximity from the homestays. These Khanewales offer budgeted home-cooked Malvani and Konkani meals, especially, seafood, to savor your taste buds. 
When is the best time to visit Diveagar?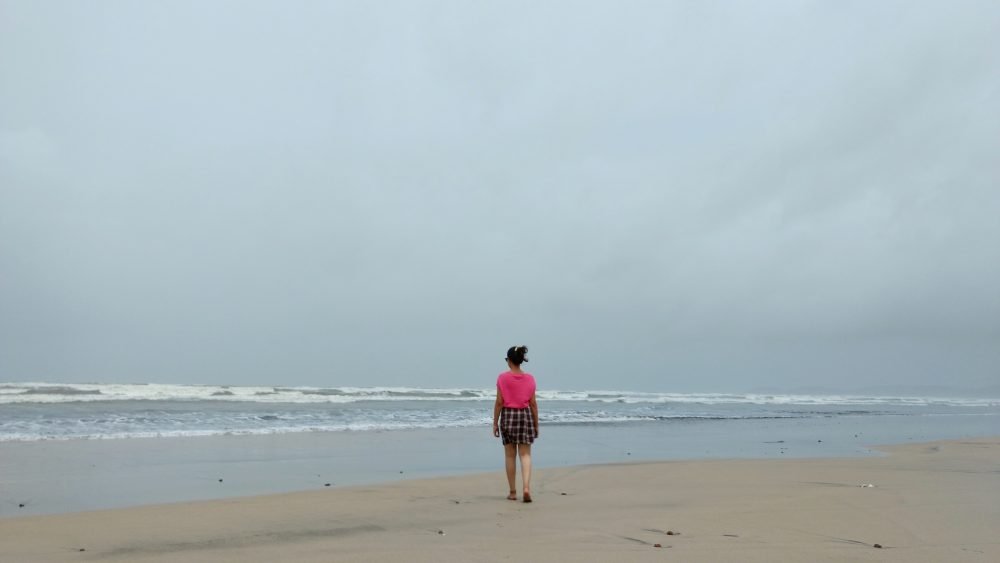 Ideally, the post-monsoon winters are considered to be the best time to visit Diveagar, which also means a lot of options in water sports are available, which also attracts larger groups of tourists!
Summers in Diveagar is a big NO-NO for the temperature rises to about 42-degree celsius. However, we'd planned our road trip, in the peak months of monsoon, around the end of July. The roads were certainly bad, below average which extended our drive to odd 3 hours. But certainly, that was what brought the serenity of an offbeat experience in Diveagar. Imagine, waking up to a sleepy little beach town by the backwaters of the coast acquainted with betelnut trees, and white sand beach, all to yourself!
So, technically, if you too would want to have the offbeat experience, I'd suggest you have an experienced driver or be one yourself, ride down those below average roads, and find yourself amidst the tranquility of Diveagar.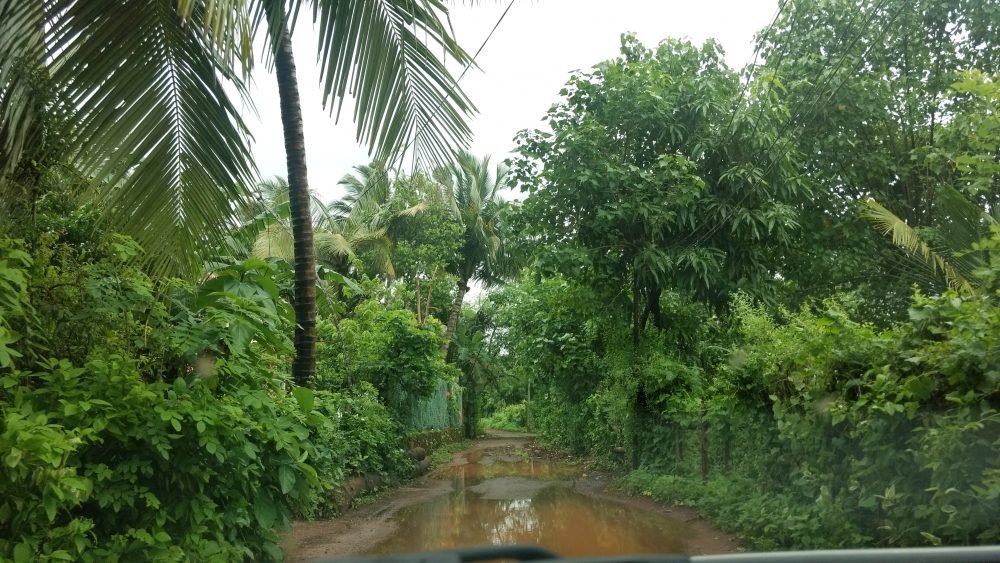 In my opinion, I'd say the monsoons to be quite a nice time to visit Diveagar with all the greenery and waterfalls around! And, to be honest, I wouldn't mind missing out on the water sports for the rains do not bring in any scope for that and instead, indulge myself in a rejuvenating break, some thrilling hikes down the coast and leisure stroll on a barren beach with barely any soul in sight!
What to do in Diveagar?
During the monsoons, the time we'd visited, the entire stretch of Diveagar beach, was left open for lazying around and just living in the moment. However, brief conversations with locals informed us about a variety of adventure sports that take place in the Diveagar beach, during the peak season, which happens to be winter. To name a few, are Jet Skiing, Parasailing, Banana boat rides…
Offbeat Places to Visit in Diveagar 
1. Rupnarayan Temple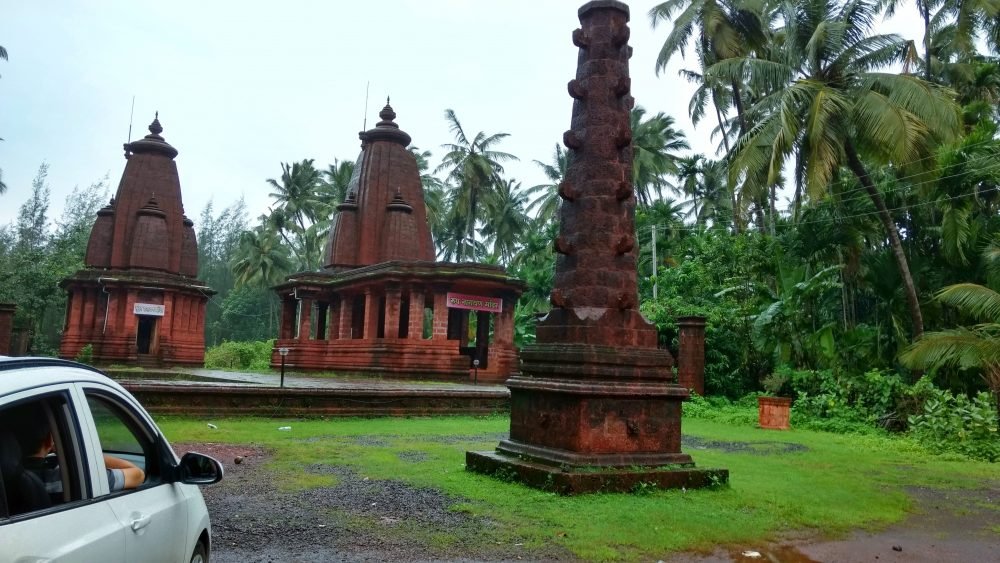 Lined with betel nut trees, the 13th century, Rupnarayan Temple, is devoted to the idol of Lord Vishnu and is built in black Sagamravari rock. Its close proximity to the Diveagar beach makes it a pleasant walk down the quaint alleys of this serene beach town.
2. Swarn Ganpati Temple
According to the legends, the Ganpati idol of the Swarn Ganpati temple made up of gold was found buried in a farm, and certainly, this is the very fact, that makes this place of worship special, and with not many tourist crowds around.
Unfortunately, in 2012, the golden idol of Lord Ganesha was stolen by a group of thieves and has now been replaced by an idol made up of silver.
3. Diveagar Beach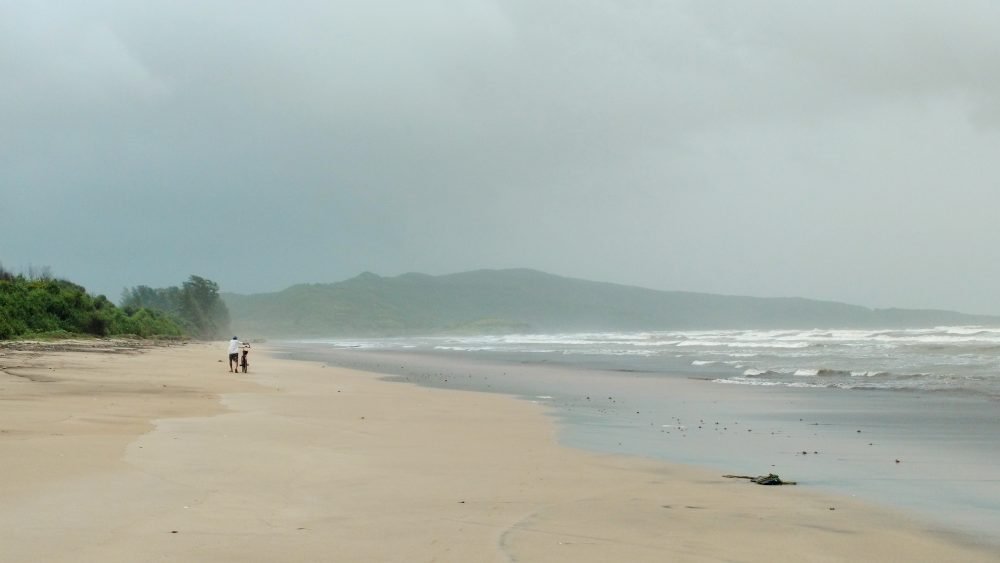 A long stretch of the clear white sand beach stands out to be the most exciting place to visit in Diveagar.
Offbeat Places to Visit around Diveagar 
1. Shri Laxminarayan Temple
About at a distance of 14 km, sits the Shri Laxminarayan Temple, typically situated close to both Harihareshwar and Diveagar. This beautiful attribute of heritage, culture, and history can be decoded back to the Maharashtrian era of the Peshwas and still stands the test of time as one of the major temples built in the Hoysala style of architecture.
2. Padmadurg (Kasa) Fort
Located at a distance of 25 km (approx.), the Padmadurg or Kasa fort was built to attack the much popular Fort/tourist attraction Murud Janjira. Padmadurg/Kasa fort is one of the five historical sea forts built by Chhatrapati Shivaji Maharaj which presently falls under the diaspora of the protected monuments of the Archaeological Survey of India. In order to visit the fort, one has to hire a private boat and procure official permission from the customs department.
3. Aravi Beach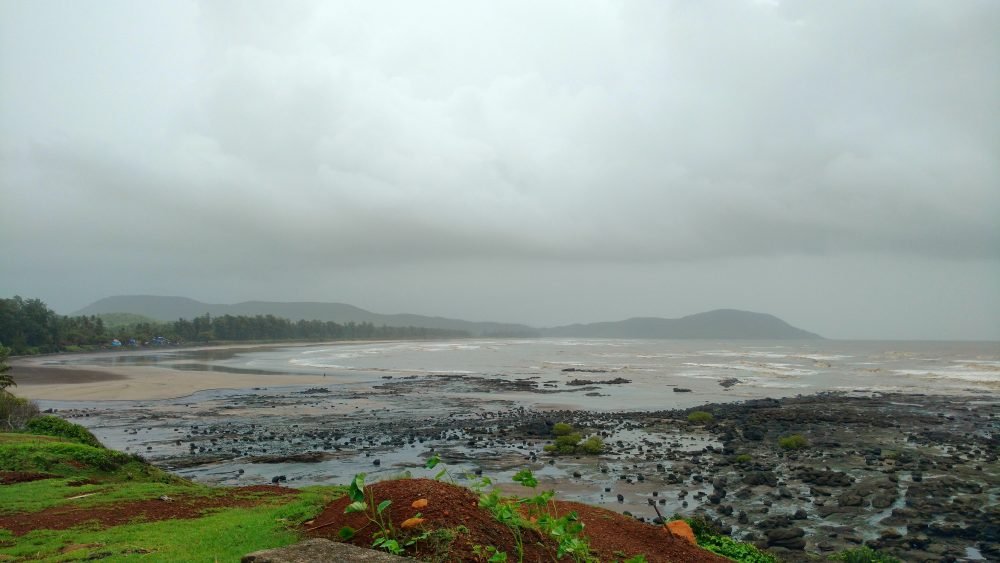 Starting from Diveagar, towards the tip of the very scenic coastal route, that runs alongside verdant hills, paddy fields, and a handful of brimming waterfalls, lies the pristine and untouched white sand Aravi beach roughly at a distance of about 15 km.
How to Travel Responsibly in Diveagar?
We'd visited Diveagar, back in 2017, when the town, as well as the shore, was much cleaner. However, times are changing now. Recently, I've had come across discussion forums discussing the plastic trash found over the Diveagar sea beach.
Considering all the damage, we've done to these once-beautiful natural resources, it's high time, we take action and travel responsibly to (not just) Diveagar but every other natural site you bump into! Here are my 2 cents:
1. First and foremost, please don't litter. If you don't find a dustbin nearby, then you have every reason to carry your litter back in one of those used plastic bags to a place where you find one, which could be your homestay or your hotel/resort or a bin down the street next door.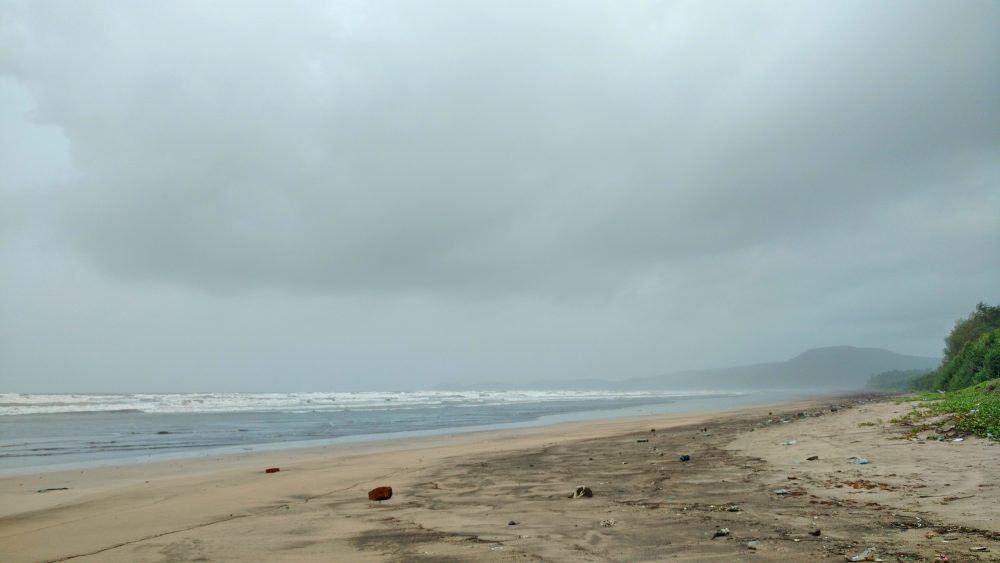 2. Here's no imposition, but as a community of 'responsible' travelers, I see every reason to support homestays over hotels/resorts. Tourism is done right when the money from the tourists go directly to support the local community.