Rolling up everything you own in a backpack and embarking on an adventure is the new age travel mantra. It is simply a smarter choice for those who want to explore more places in less budget. We, backpackers, want to plunge into the spirit of adventure and discovery yet not burn a hole in our pockets. Travel doesn't have to be expensive; it has to be smart. Looking around, I find two kinds of people a lot these days, the one kind that keeps traveling around and the other kind that wonders how the hell does the first category manage to keep traveling. It's simple; we manage our budget, exchange our skills, and prioritize experience over luxury. If you haven't tried Backpacking ever or have been toiling around with the idea but yet to take the plunge, this article is for you.
Before we get to Backpacking 101, here's something you need to understand. Backpacking is not your usual holiday; there will be bumps on the go, which is fine till the time you have an adventure to live and a story to tell. However, you need to open arms to the idea that you cannot control everything around you, when things go south instead of being anxious, backpackers embrace the change and help themselves. Remember that everything that doesn't fit your mold is not bad, it's just another road that you haven't traveled, but you could. And how you travel that will define the experience of your trip. So let's kick start our backpacking adventure while keeping the following in mind:
Ditch the travel companies: This is the era to go beyond the guided tours. Gone are the days of packages of two days, one-night luxury stays that one booked from a local tour operator who would arrange everything, and make huge profits out of it.
Early bird discounts and offers: But if the guided tour you must, then book it intelligently. There are a lot of travel companies in the industry today. It's a competitive world out there. While the price for the same trip or trek can vary from company to company, basis the services they provide, you must compare and then make the final choice. Most of these companies even provide early-bird discounts or other offers. I remember, a friend of mine, wanted to trek to Kedarkantha, but he couldn't afford a tour operator. So he made a list of all the tour operators he wanted to travel with and gave them an offer they couldn't refuse. He offered them ten people, and in lieu, his trip was sponsored entirely. Offers can be really enticing, from free accommodation to discounted tickets, all you need to do is some rigorous research. 
Forget the expensive hotels and stay in hostels: The hostel culture is not only pocket-friendly but also opens a window for wonderful social interactions and friendships between people from different countries, cultures, and walks of life. This can really be impactful; I once paid only Rs. 200 for a bunker bed and met so many travelers in the hostel that I did not really feel like I am traveling to one place; they all brought along fragrances and stories from their countries. After all, talking to people is another way you can travel without moving an inch.
Eat local or cook your own food: I usually eat from small eateries and dhabas, or if I am staying with a local family, then there's nothing better than eating home-cooked food with them. It's always a good idea to help them in the kitchen, learn their recipes, teach them the recipes you know or maybe help them with dishes— it is all about feeling at home with the locals.
Travel in local transport: One of the most magical moments from my Kanyakumari to Kashmir days was to sit by the side of the window seat and watch India change with every state— rushing past rural landscapes to lush green mountains and so much more. Even if there are no local buses or trains available, share a ride with other travelers. There are a lot of shared cab options available today that are easy on the pocket and eco-friendly. 
Pack light: Everything that belongs to you, like really essential to your survival, should fit in one backpack and no more than that. Traveling with huge luggage will slow you down and restrict movement. Imagine if you have to catch a bus and you have a huge suitcase to be dragged, versus, when you have a light backpack. The choice is simple.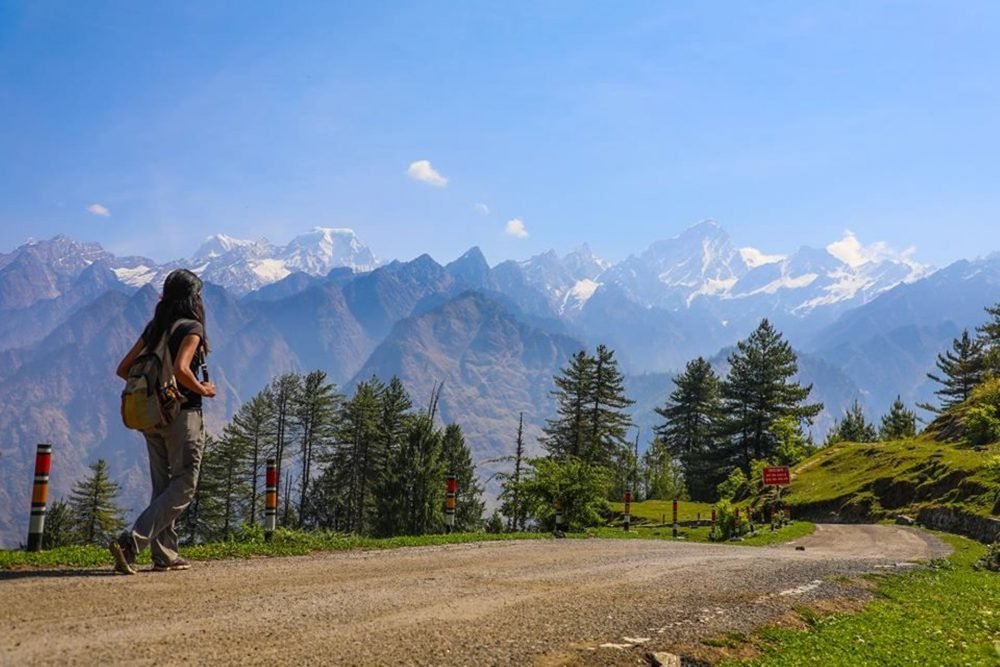 Do your own laundry: Since you are traveling light, your clothes need to be washed. If you are on a long backpacking trip instead of buying new clothes, wash your laundry. I remember once washing my laundry in a public washroom and then tying it on my backpack so that it dries quickly.
Save money while on the trip: You anyway have just one backpack, what do you need all that shopping for— is what a backpacker thinks.
Low Forex: If you are traveling internationally, use cards with no transaction fees or the ones that offer low Forex mark up fees. You could use that money rather than paying the bank for international transactions.
Get to know: Speak to local friends, new or old, to know if there are any cheap or free activities in the town or about the best things to explore. Thanks to online backpacker groups on Facebook and other portals, this should be easy. A lot of suggestions pour in when you ask for recommendations; after all, no one knows a place better than the people of the land.
Keep your stuff safe in the hostel locker: Important stuff like Passport, documents, or anything that you cannot afford to lose, keep it safe at the hostel locker. Carry the required cash and leave the rest rather than worrying about it while going to the loo.
Stay aware and alert: Know the notorious neighborhoods, if any, and simply avoid them.
Be like the locals: There is no need to look like the black sheep in the herd. Blend well with the locals. For instance, there are places people may not be comfortable with the show of skin, applies to both men and women, so rather than inviting attention, just dress suitably.
Important numbers: Make a copy of all the important contacts in your phone list and documents. Memorize at least a couple of numbers you could call even if you lose your phone.
Carry a sleeping bag: I always do that. Even if you may not need it, carry it for the emergency's sake. In fact, I even use a sleeping bag on long train journeys so that I can snuggle in with my important stuff, such as cash or any other valuables. I usually keep my camera inside the sleeping bag when I am about to sleep and zip it up. Thieves just end up thinking that I have big feet.
Carry all your essentials: Depending on the place you are going to visit, you may or may not find your basic essentials. For instance, I always use Suncros gel sunscreen, which is not available in small towns or villages. So I take an extra pack depending on the length of the trip. When we live in big cities, everything we need is easily available, that may not be the case with the place you are traveling to.
Carry a small first aid box: Put in anything you think you or anybody else around could use in case of an emergency. Band-aids, basic medicines, sanitary pads, bandages, anti-allergy medicines, it's always good to be prepared.
Connect with locals, online and offline: One of the best parts about traveling solo is that you really don't travel solo, you always find other people on the way that soon become friends. People usually don't bite, so give them a chance and enjoy your time, but don't be stupid.
Travel off-season: If it's not much of a hassle, then travel to a place when it's not flooded with tourists. For instance, in Manali, the season usually sets in by April or May, but for travelers coming here during early March or October end, things are cheap, easily available, and less crowded. Accommodation is almost half the price as compared to the season time. Even the auto guys are easily available and charge less. And what's more, there's barely any traffic.
Trust your instinct: Traveller's instinct is a real thing; trust it! This could be as small as making friends depending on what your instinct says or traveling to a place, taking up a hotel, or catching a pickpocketer. Just follow the gut, and you'll land up at the right place.