For winter is tiptoeing its way to the mountains with promises of snow and adventure. Soon every inch of every mountain will be lulled to sleep in thick snow blankets, and the world will change to being unrecognizably beautiful. The otherworldly landscape of the mighty Himalayas spreads across wide and far, so why waste the winter vacations?
Ah! What a pity it would be if you don't experience this magic. So let's make this winter count. Here's a list of treks you could plan and book in advance for the winter chronicles:
1. Kedarkantha Winter Drift
Quick Facts
Region: Uttarakhand
Highest Altitude: 3800 meters
Duration: 6 days
Best Time: December to March
Grade: Moderate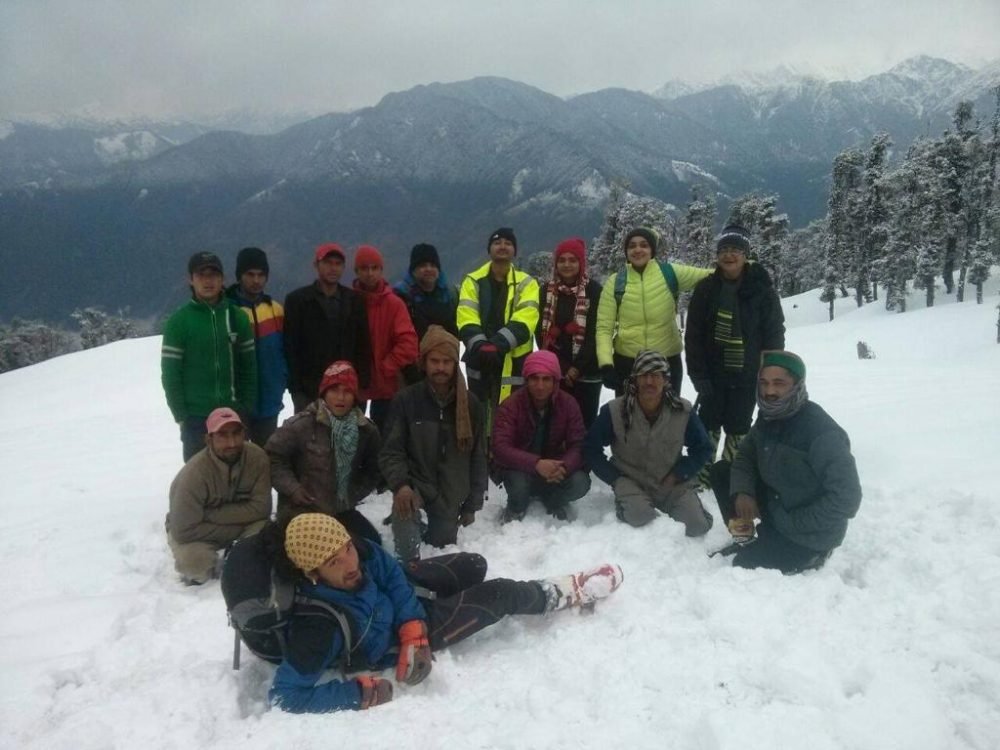 Introduction
This adventure begins with a remote Himalayan village called "Sankri." I still remember visiting Sankri a couple of years ago. It is a place that leaves a bookmarked memory in the travel journal. The mountains are overwhelming, and so is the night sky. But that's just the beginning of a memorable trek which finally climaxes with an unforgettable view of the Yamunotri, Gangotri and Kinnaur Kailash ranges. This trail is beyond trekking; there are other adventure sports you can explore here, such as skiing, snow tubing, jumaring, and valley traversing. The winter slopes of Kedarkantha hands-down win when it comes to trekking and skiing in Uttarakhand.
Itinerary
Day 01: Dehradun to Sankri (2000m) (Drive for around 7 to 8 hours)
Day 02: Sankri to Juda Ka Talab (2600m) (Trek for 3.5 to 4 hours)
Day 03: Juda ka Talab to Base Camp (3000m) (Trek for 3.5 to 4 hours)
Day 04: Base Camp to Kedar Kantha (3800m) – Base Camp (2800m) (Trek for 7 to 8 hours)
Day 05: Base Camp to Sankri (2000m) (Trek for 4 to 5 hours)
Day 06: Sankri to Dehradun (Drive for 6 to 7 hours)
2. Sandakphu: A Tale of Mountains, you'll Fall in Love with!
Quick Facts
Region: North Bengal
Highest Altitude: 3642 meters
Duration: 7 days
Best Time: October to April
Grade: Moderate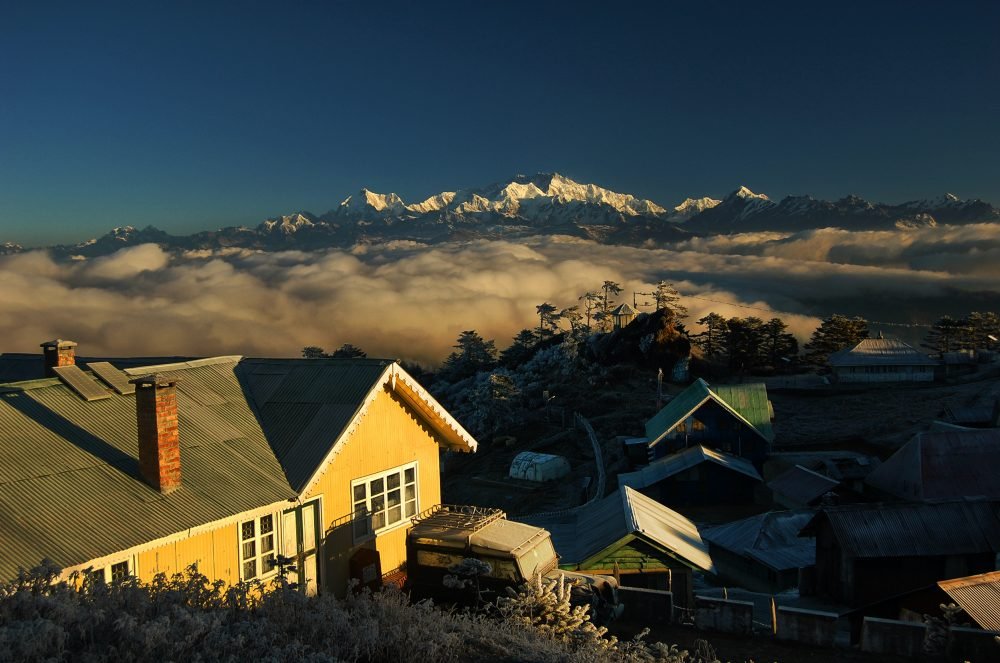 Introduction
The trail traverses through the mighty Himalayas of West Bengal and Nepal. This Trek is the mystical tales of tea estate stays, lush meadows and remote Himalayan villages.
Trekkers on this trail will experience the magic of the famous Sleeping Budhha mountain range. Sandakphu offers a jaw-dropping view of Lhotse, Makalu, Mount Everest, and Kanchendzonga. The range of mountains that gives a view of the popularly known as Sleeping Buddha cluster of mountains are: Kokthang, Rathong, Frey, Kabru South, Kabru North, Simvo, Mt. Pandim, Tenzingkhang, Jubanu, and Narsing.
Though this Trek is absolute magic in the month of March/April because of the widespread Rhododendron trees, it is no less magical in the snow.
Itinerary
Day 01: Darjeeling to Manebhanjan to Tumling (Drive for 1 hour) (Trek for 5 to 6 hours)
Day 02: Tumling to Kalipokhri (Trek for 5 to 6 hours)
Day 03: Kalipokhri to Sandakphu (Trek for 4 to 5 hours)
Day 04: Sandakphu to Gurdum to Timure (Trek for 6 to 7 hours)
Day 05: Timure to Rimbik to Darjeeling. (Trek for 2 to 3 hours) (Drive 3 to 4 hours)
3. Chandrashila: Easy Hike to Great Rewards!
Quick Facts
Region: Uttarakhand
Highest Altitude: 4000 meters
Duration: 4 days
Best Time: December to March
Grade: Easy
Introduction
This was one of my first treks. Deemed ideal for beginners, this Trek offers amazing view led by an easy trail. Picture this: A night full of stars, a lake called Deoriatal— a high altitude lake situated far into the forest, and a panoramic view of the mighty mountains of western and eastern Uttarakhand. The trail leads to the highest Shiva shrine, the highest in the Panch Kedar temples—Tungnath and further, unfolds a majestic view of the revered mountain, Nanda Devi. Need I say more?
Itinerary
Day 01: Haridwar to Kund (1350m) (Drive for 6 to 7 hrs)
Day 02: Kund – Ukhimath (1300m) – Sari (2000m) – Deoriatal (2438 m) Sari to Kund (Drive for 2 hours) (Trek for 4 hours)
Day 03: Kund to Chopta (2800m) to Tungnath (3680 m) Chandrashila Peak (4000 m) to Kund (Trek for 4 – 5 hrs) (Drive for 2 hours)
Day 04: Kund to Haridwar (Drive for 7 to 8 hours)
4. Dzongri—Goechala: The Magical Shangri La Trail!
Quick Facts
Region: West Sikkim
Highest Altitude: 4986 meters
Duration: 10 days
Best Time: March to June and September to November
Grade: Moderate plus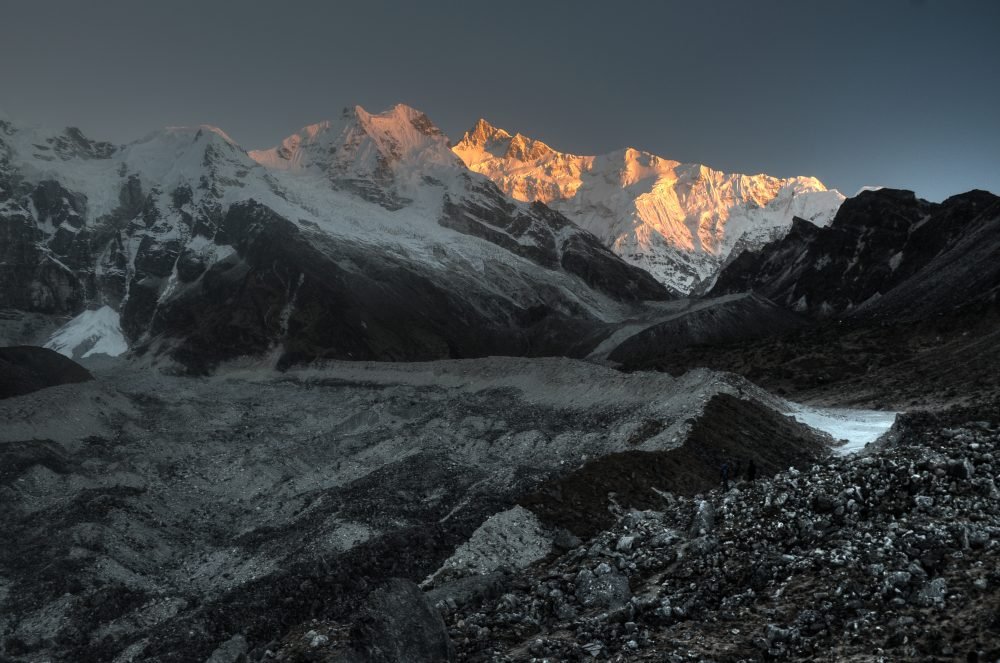 Introduction
Dzongri—Goechala is not just a trek. It is an awakening experience for many. Somewhere between starting the Trek from Yuksom, a quaint Himalayan hamlet, to climaxing at the feet of the revered Kanchendzonga— many souls have transformed to another level of existence. I still remember I couldn't move for a good half an hour or so when I saw Kanchendzonga (world's thirst highest mountain) for the first time. My jaw dropped, my eyes teary, as I was simply engulfed by the magic of this Godlike peak. The trail is difficult and tiresome but worth every bit of it. It is all about unending forest trails, thick carpets of moss, thousands and thousands of trees, wide landscapes of mighty mountains (Mount. Kabru, Mount. Pandim Mount. Kanchendzonga, and many more), and divine stories! Stories of the ancient legends, Sangri La, sages and monks, the trail is nothing less than magic.
Itinerary
Day 1: Siliguri to Yuksom (Drive for 7 to 8 hours)
Day 2: Yuksom (1750m) to Sachen (10 Kms) (Hike for 5 to 6 hours)
Day 3: Sachen to Tshoka (3040m) (7 Kms) (Hike for 5 to 6 hours)
Day 4: Tshoka to Dzongri (3930m) (10 Kms) (Hike for 6 hours)
Day 5: Dzongri (3930m) to Dzongri Top (4175m) – Dzongri to Thangsing (Trek for 5 to 6 hours)
(Please note that this can also be a rest and acclimatization day. We cross the trees line, and hence, the oxygen level drops drastically. It is highly recommended to rest on this day. Here's what you can do—One can camp at Dzongri and hike up to the Dzongri Top in the early morning to catch a beautiful sunrise and come back to Dzongri to rest. The next day can be utilized to Trek from Dzongri To Thansing)
Day 6: Thansing (3800m) to Lamuney (4164m) (Trek for 2 to 3 hours)
Day 7: Lamuney (4164m) to Goecha La Pass (4930m) – Thansing (14kms) (Trek for 7 to 8 hours)
Day 8: Thansing to Tshoka (16kms) (Trek for 6 to 7 hours)
Day 9: Tshoka to Yuksom (17kms) (Trek for 6 to 7 hours)
Day 10: Departure from New Jalpaiguri Railway Station or fly out from the Bagdogra airport
5. Chadar: The Frozen River Bed!
Quick Facts
Region: Ladakh
Highest Altitude: 3680 meters (Nerak waterfall)
Duration: 9 days
Best Time: January to February
Grade: Difficult
Introduction
When river Zanskar freezes and turns into a frozen river bed, it becomes the paradise of adventure lovers, called Chadar. It is an otherworldly experience to see everything turn into ice and walk the trail in temperatures as low as minus 30 (your toothpaste is going to freeze). The icy trail navigates to the upstream path of river Zanskar, as trekkers forge ahead to experiences the surreal beauty of Ladakh.
If you want to experience this trail, you've got to be quick here. Thanks to global warming and climate change, since the past couple of years, Chadar hasn't been fully formed. There are potholes of icy water, and the frozen river bed can crack or even break wherever the ice is thin. It is predicted that in the next four to five years, the river won't freeze and Chadar won't be formed. This makes Chadar an endangered trek and all the more reason for you to experience it before we lose it.
Proper acclimatization is crucial for this Trek. Ladakh is a high altitude region and unimaginably cold during winters. If one is not properly acclimatized to the harsh environment, altitude sickness and extreme cold weather can take a lethal toll. No kidding.
Itinerary
Day 01: Arrive in Leh (3500 m)
Day 02: Acclimatisation in Leh (IMPORTANT. If possible acclimatize for three to four days)
Day 03: Acclimatisation in Leh (visit the local market, walk a lot, drink plenty of water and buy appropriate shoes for walking on ice. Be on a Diamox course if your doctor advises so)
Day 04: Leh to Shingra Yokma ( 3200 m) to Tsomo Paldar (3169 m) (Drive for 2 to 3 hours & Trek for 2 to 3 hours)
Day 05: Tsomo Paldar (3169 m) to Dibb cave (3400m) (Trek for 5 6 hours)
Day 06: Dibb Cave (3400 m) to Nerak (3680 m) (Trek for 6 to 7 hours)
Day 07: Nerak (3680 m) to Hotang (Trek / 5 to 6 hours)
Day 08: Hotang to Shingra Yokma (3200m) to Leh (Trek for 9 hours and Drive 2 to 3 hours)
Day 09: Departure from Leh